Antiques and vintage items add character to a room. But they can often be expensive. Here are some vintage decorating ideas that are budget-friendly and can add character to any space.
Crates or Storage Bins
Vintage Coke (or any soda) crates are one of my favorite vintage finds. Not only do they add character to the space, but they also provide handy storage! I use Coke crates around my home for a spice rack, craft storage, and magazine/remote control storage in the living room!
You can find vintage soda crates at flea markets, usually for $20 or less.
Light Bulbs
Lighting fixtures can cost you pretty penny, but Edison-style light bulbs add vintage style for only about $10/each.
I used Edison-style bulbs to make our builder-grade bathroom fixtures look more vintage and in the style of our 1929 bungalow home. You can find these bulbs at home improvement stores or through online retailers.
Doors or Windows
Old doors and windows are inexpensive and can be repurposed as decor throughout your home.
Old windows make great memo boards:
Or as a backdrop for a holiday wreath:
Tripods or Camera Equipment
If you can find an old wooden tripod, you can turn it into a lamp easily, and for under $20!
Maps or Globes
I have a soft spot for maps and globes, and love decorating with them.
Rugs
If antique rugs aren't in your budget, try this vintage-inspired area rug from Mohawk: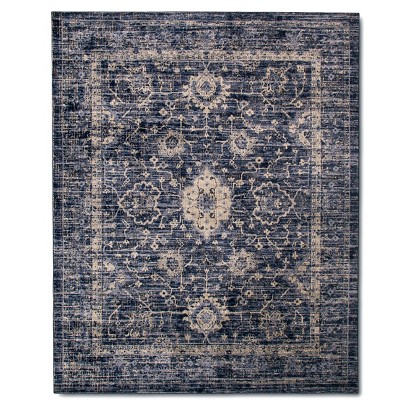 This 8×10 area rug is $184 – a great way to get a vintage look without a vintage price!
Where are my favorite spots to find vintage decor items on a budget?
I shop thrift stores, estate sales, and flea markets. They are the best sources for inexpensive vintage decor.
What's your favorite vintage item in your home? What's your favorite source for vintage home decor on a budget? I'd love to hear!