It is officially Springtime, which means it is time to clean and refresh your home! Organizing and cleaning after the winter months can seem daunting, but it's time to kick the winter blues and reset your mind. You will be surprised how a clean and fresh home will give you a boost of energy for Spring and get you ready for Summer! There is something so pleasant about opening your windows on crisp Spring days as the warm sunshine and blooming fresh air fill your home. Take that happy energy and get to work! We want to share with you a simple spring cleaning check-list that will cover all the basics, and five affordable Mohawk Home rugs that will refresh your newly cleaned homes!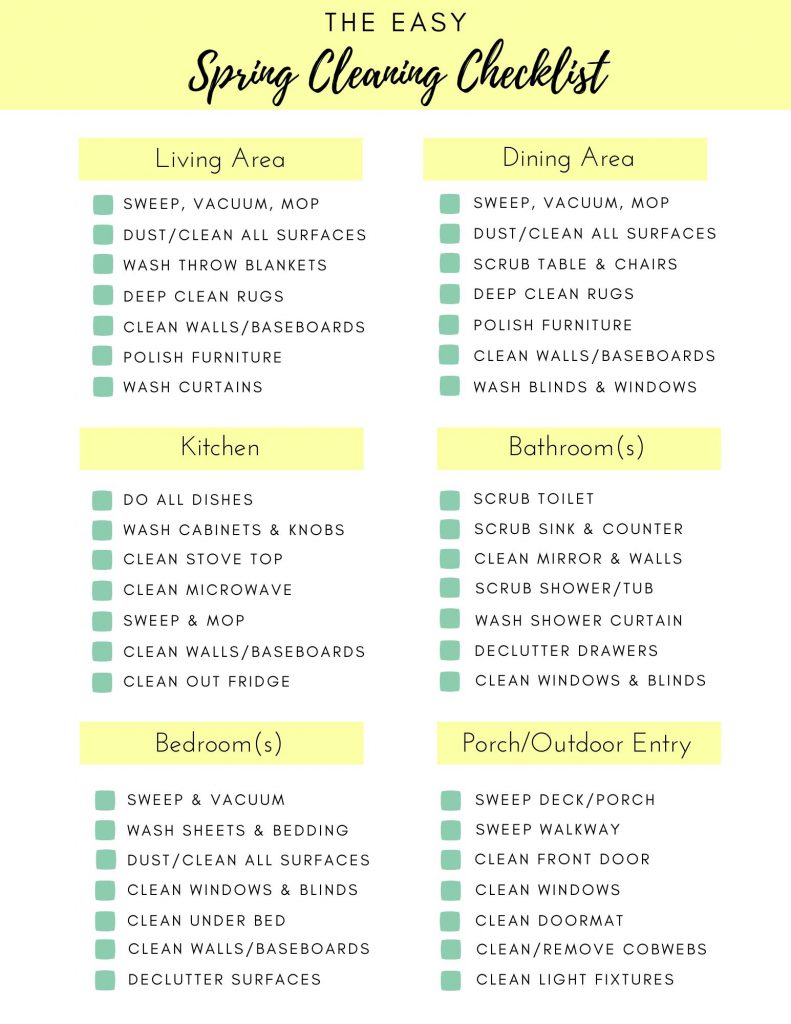 Following this list will give you a great start to your Spring cleaning goals. Prevent cleaning burn-out by tackling the basics before moving on to the big projects, like your closet, kid's toys, or attic. Once your everyday living spaces are clean and tidy, you will be more motivated to keep cleaning!
Once your home is clean and fresh, a new area rug is one of the easiest and most affordable ways to transform a space. No need to completely revamp everything about your area, just a new rug, and some throw pillows or accent pieces will refresh and revive your space. Save yourself time and money by selecting a few colors that are already present in your home décor and then choose your new rug based on those themes!
Here are five of our favorite budget-friendly Mohawk Home area rugs that are perfect for your Spring home refresh.
1. The Francesca Round in Cream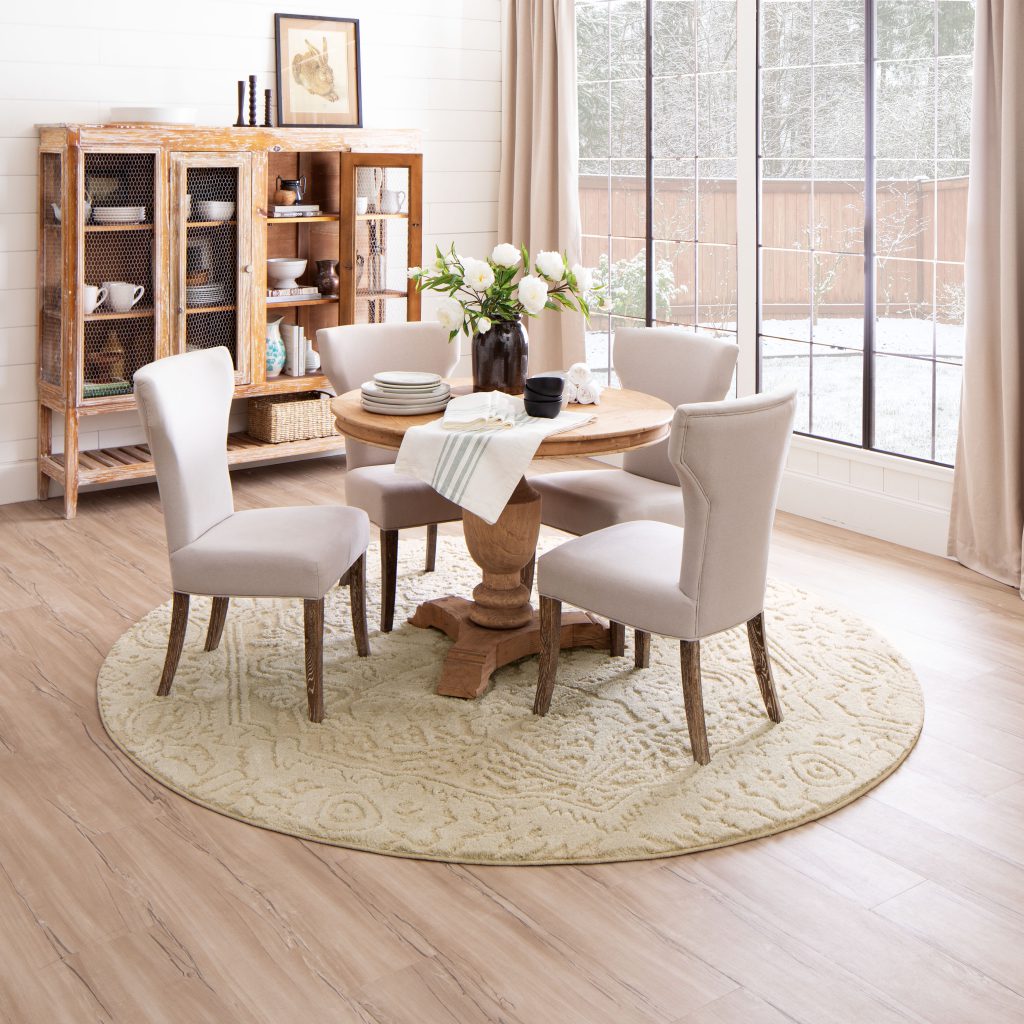 Instantly elevate your dining area with the luxurious and soft Francesca area rug. The high-low pile, intricate floral pattern, and neutral cream color will freshen up any space! We love this rug because of its sophisticated style, but it is also affordable. This plush rug is cozy and quality made, crafted with a woven-construction and polyester yarn. The great thing about the Francesca rug is that it is versatile and can be styled in many spaces. Round rugs are on-trend right now and look excellent in entryways and office spaces. This rug also comes in a variety of other popular sizes, so if you love the pattern, you can choose from the many shapes and sizes!
2. The Prismatic Empearal Area Rug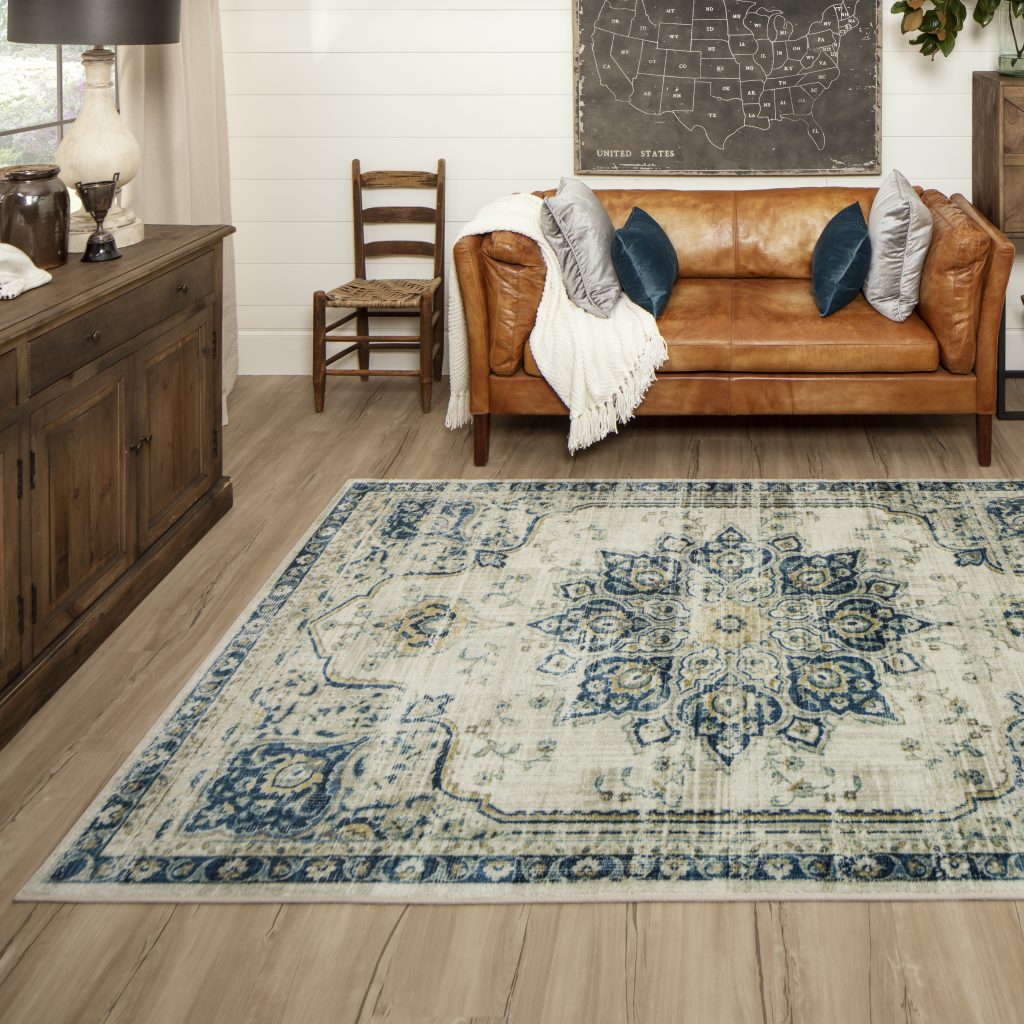 The Empearal area rug has elements of many contemporary design trends! The modern traditional style, distressed vintage pattern, and blue and cream color palette offer a popular, but timeless style. The rugs from our Prismatic collection are stylish and eco-conscious, crafted with Everstrand polyester yarn, made from recycled water bottles! There are so many things to love about this rug, but one perk is that it is stain and fade resistant, making it perfect for high trafficked areas and busy homes with pets or little ones! Not to mention, we also love the affordable price!
3. The Vintage Distressed Area Rug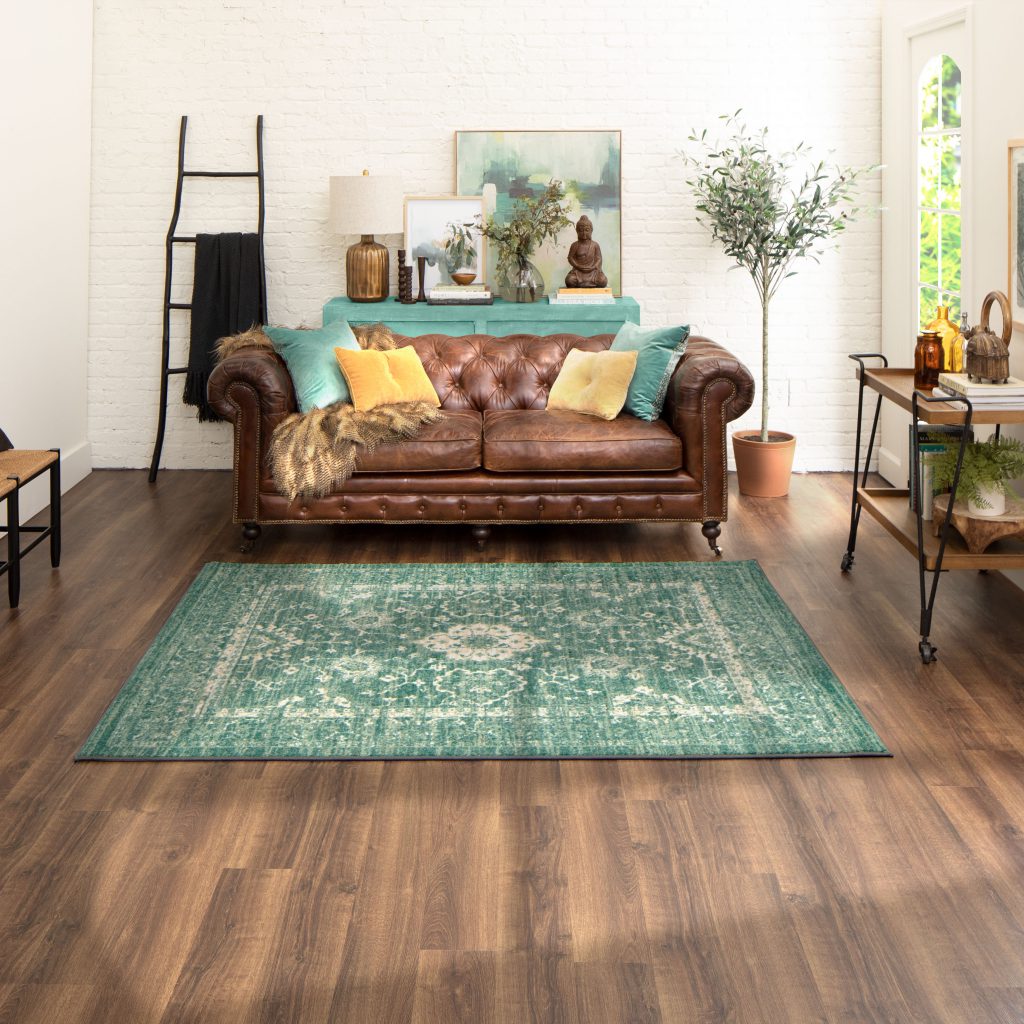 The timeless look of the Vintage Distressed area rug will never go out of style, and it's at a budget-friendly price point! Offered in six vibrant colors and five versatile sizes, this is the perfect go-to rug to freshen up your living room, bedroom, or home office this Spring. Whether you want to make a statement with the cheerful mint color or create a calm atmosphere with the neutral cream shade, the sizes and color options offer unlimited design opportunities to revive your home. This collection is crafted with a quality woven-construction, and the nylon and polypropylene yarn is fade and stain resistant allowing for the vibrant colors to last the test of time!
4. The Prismatic Vintage Emiko Area Rug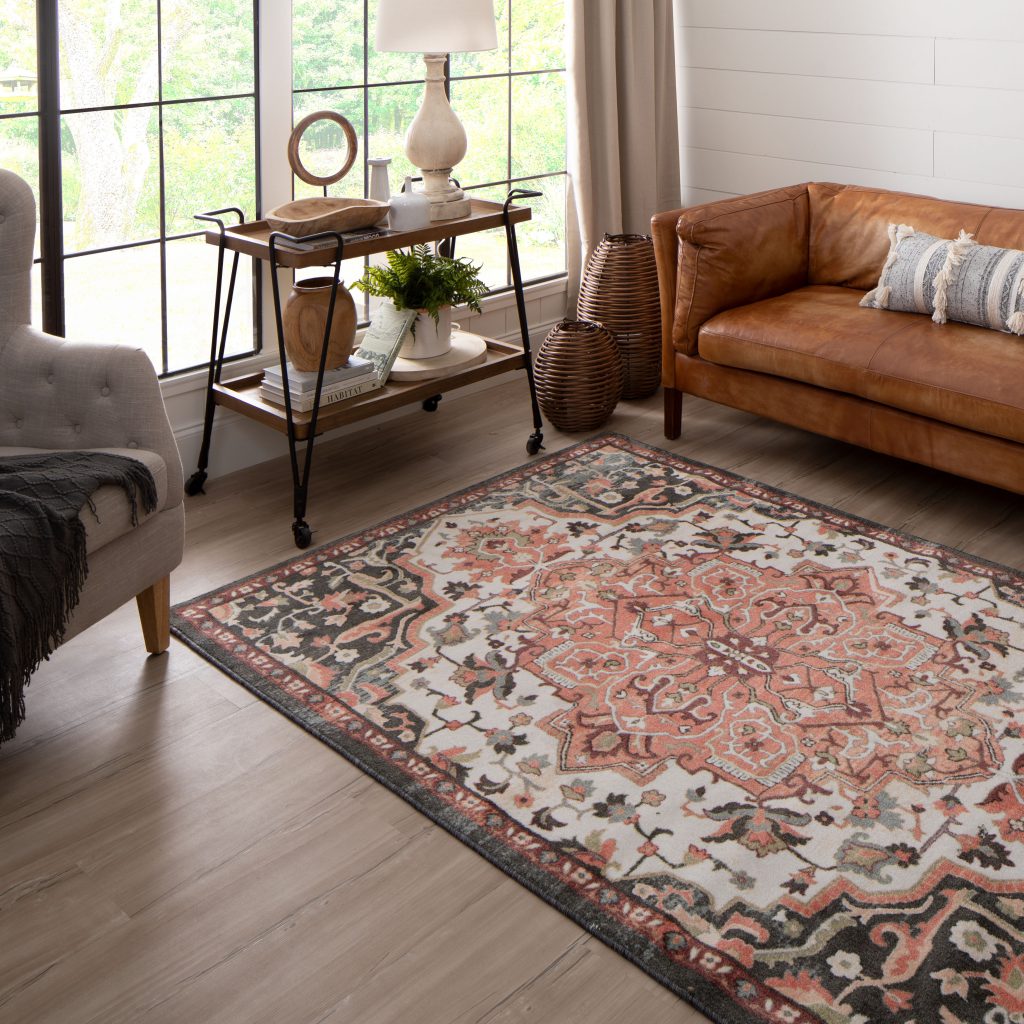 This trendy rug will make an impression on your guests and be the highlight of any room! The gorgeous gray, pink, and cream colors mixed with the antiqued modern design will instantly refresh your space. We love this rug for a home office or contemporary living room! The exquisite detailing and radiant colors are perfect for a Spring-time home update. Crafted with a 100% soft polyester yarn, this machine-made rug was thoughtfully designed to be durable in high trafficked areas of your home!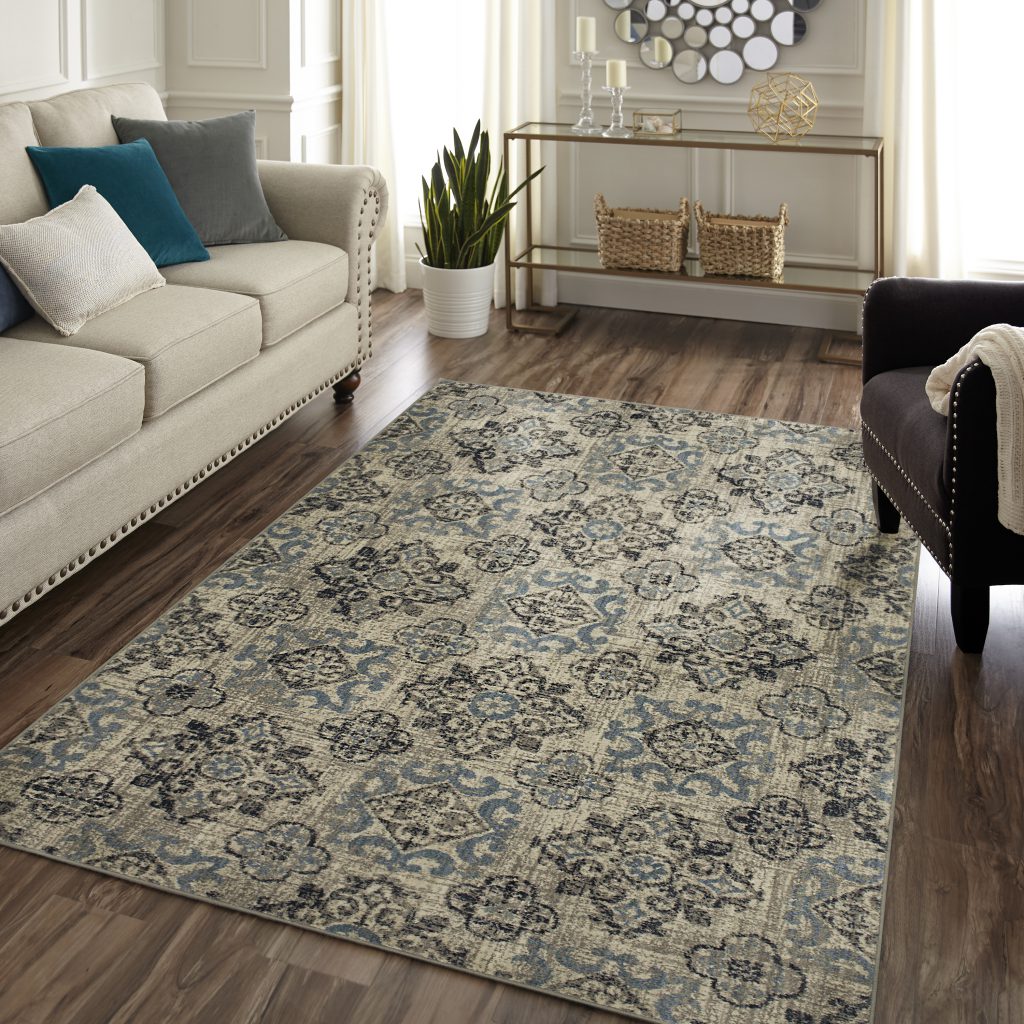 Gray and blue are two of our favorite color combinations this year. The Bentwood Gray area rug displays a modern medallion pattern against a distressed gray background. It is neutral enough to coordinate with many décor styles, but could also stand alone to be the main focus of a space. This quality-made rug, designed with woven-construction and soft premium polyester yarn, is both luxurious and soft! The sophisticated style and warm tones would look stunning in a bright gray or white living room or bedroom.
These five area rugs are perfect for an on-trend and affordable Spring home refresh. There is a rug for every home décor style in this round-up, ranging from bright colors and fun patterns, to neutral and cozy! Which one was your favorite? Tell us in the comments below!