The Christmas season is finally upon us! My calendar is quickly filling up with family gatherings, company Christmas parties and lots of opportunities for holiday hosting. One of my favorite rooms to decorate for every season is our family dining room. This year, I decided to go with a modern farmhouse tablescape to coordinate with the rest of the farmhouse décor throughout my home.
Tip 1: Select a Focal Point
When putting together a tablescape, I select a focal piece that I love and then design the rest of the room around that piece. When I saw the black and cream Mohawk Home Estelle area rug from Lowe's, I instantly fell in love! This Mohawk Home rug is the perfect base for our dining room décor. The intricate black floral detailing adds a beautiful feminine touch, but this rug is by no means delicate! Even though the base of the rug is cream, the fibers are stain-resistant so I don't have to worry about spills and stains when hosting holiday parties (or simply enjoying dinner with my family). Just recently, our two-year-old spilled a bowl of spaghetti and the red sauce came right out! I couldn't believe it! Now, on to the table…
Tip 2: Select staples that transition between seasons
Who said creating the perfect tablescape should be expensive? My Lenox table runner and neutral patterned napkins are staples that easily transition from Thanksgiving to Christmas, New Year's Eve and beyond! Using the timeless pieces you have on hand keeps your tablescape easy to update and very budget-friendly.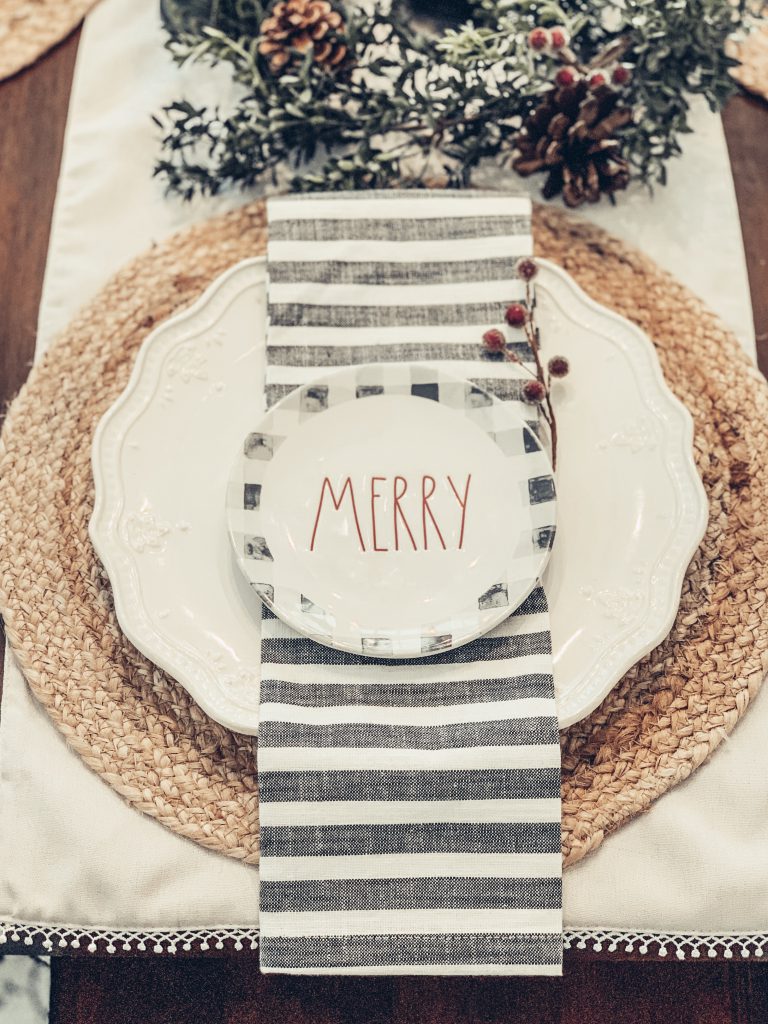 Tip 3: Find the right centerpiece
For the centerpiece (regardless of season or holiday), my 'go-to' accents include a dough bowl, glass demijohn bottle, and a tiered tray or pedestal tray. For this year's farmhouse Christmas tablescape, I decided on a rustic wooden pedestal tray and added some small vintage pots, a few more trees, and a little wooden 'Merry Christmas' sign that I found at Hobby Lobby.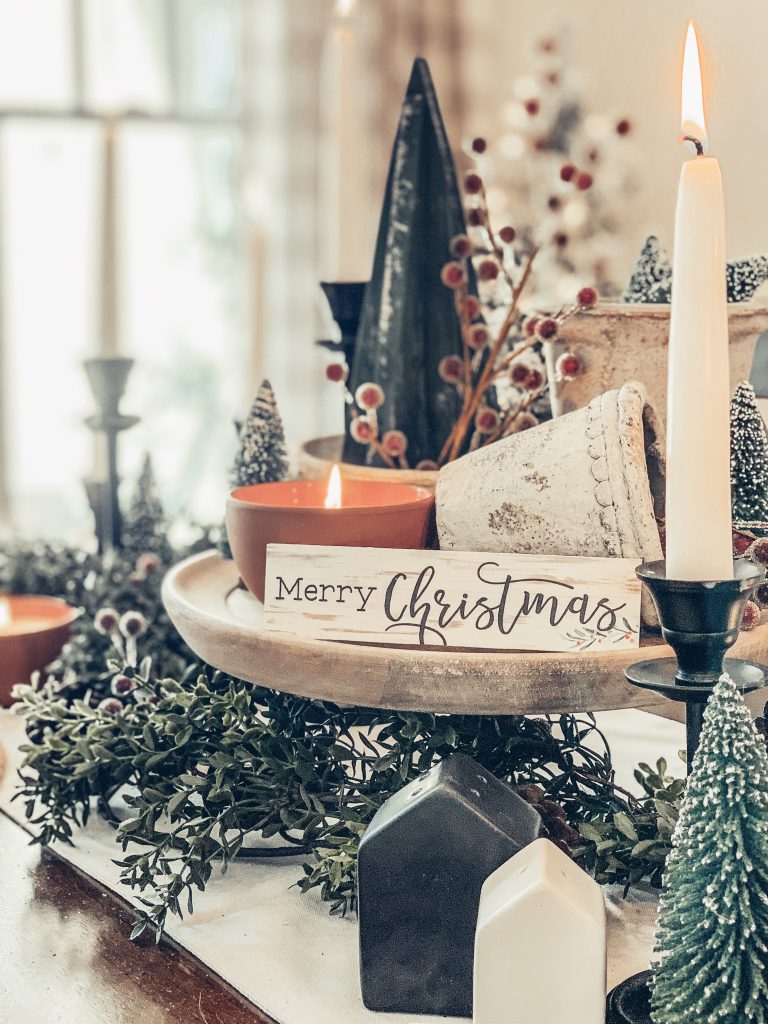 Tip 4: Layer up!
As with most of my tablescapes, I LOVE to decorate in layers. After my table runner was set, I added jute placemats, my Pioneer Woman lace-look farmhouse dinner plates and carefully folded striped gray and white napkins. Then I began to fill in the 'holes' in the table with accent pieces like greenery, frosted eucalyptus garland, and candles. Finally, I layered in seasonal décor like bottle brush trees, wooden trees, pine garland, and red holly picks. To tie the look together, I added Rae Dunn appetizer plates with a buffalo check pattern and Christmas sayings to each setting.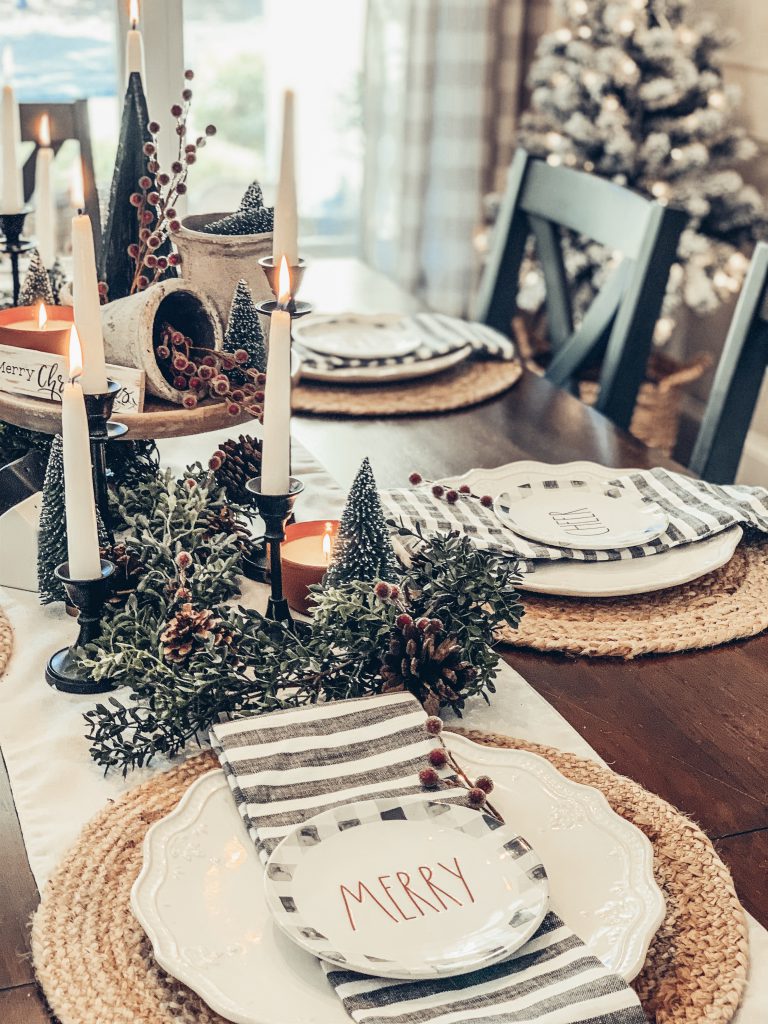 Tip 5: Keep the tablescape beautiful and livable
I often focus on creating a setting that is visually appealing, but also livable. I never want our friends and family to feel they can't touch anything or sit at the table because it's "too pretty." After all, you want your home to feel welcoming and for your guests to relax and enjoy themselves! Avoid overstuffing–the goal is to give the appearance of a full table, but not to the point that guests cannot move or eat comfortably.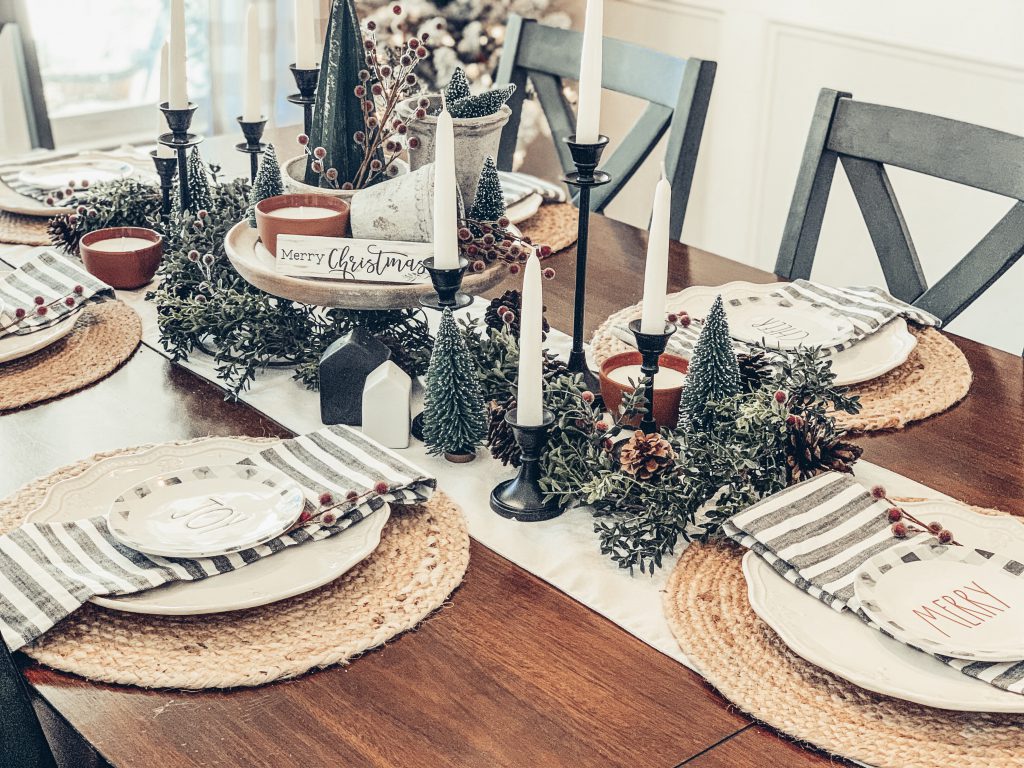 To finish off my holiday dining room décor, I hung a pine wreath and added the red holly spray picks that I used in the tablescape. I also set up a gorgeous flocked Christmas tree in a natural seagrass wicker basket, giving this classic farmhouse tree a more modern feel.
The final product was a simple, beautiful holiday setting that didn't break the bank. It all came together perfectly. I can't wait to host our family and friends for Christmas parties!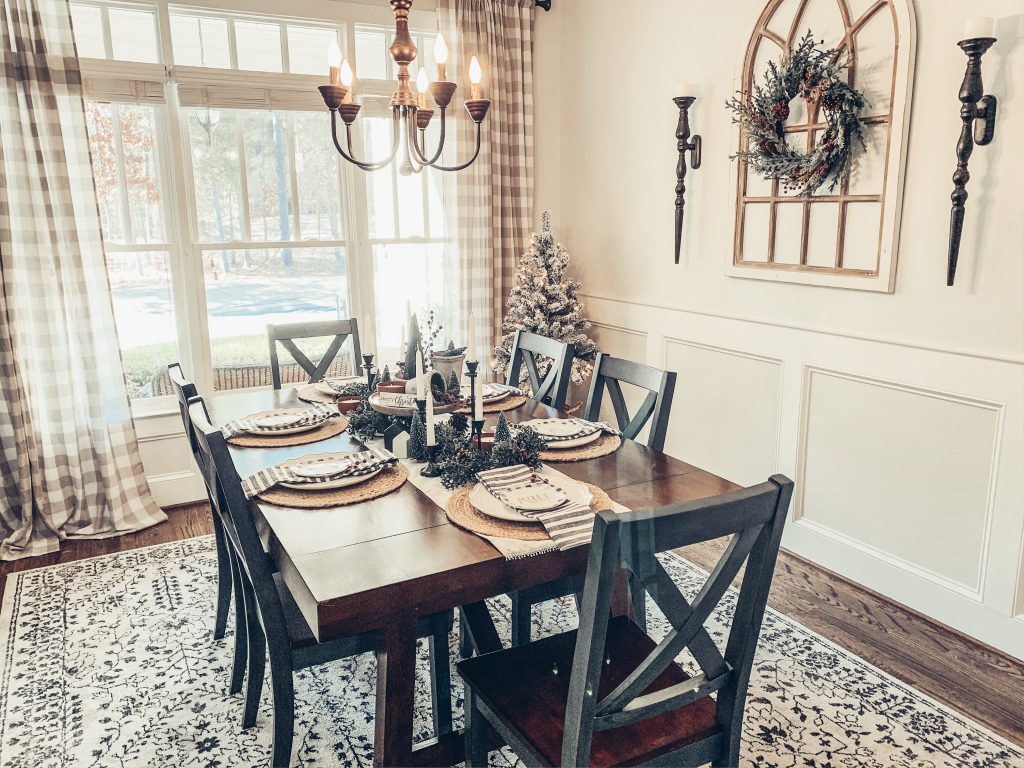 Wishing you and your loved ones a very happy holiday!
-Christie