Interior design trends tend to evolve over time. Wood paneled walls and bright, shag carpets were all the rage in the 1970's, while preppy styles, chintz and pastels dominated the 1980's. Our homes were filled with inflatable furniture, fake plants and plenty of wicker in the 1990's and then we thankfully emerged into this century to spa baths, nautical themes, stainless steel appliances and white kitchens. This decade has brought us Hygge, modern minimalism, rustic-industrial aesthetic and the preference for area rugs.
The final year of this decade promises to be an exciting one for interior design, with a spotlight on area rug trends. Some consumers still tend towards traditional, Oriental inspired area rugs for a sophisticated look while others prefer modern neutrals to add warmth to a room. Over the years, bold use of color has made a huge comeback in home décor with Pantone and popular fashion designers like Victoria Beckham, Kate Spade and Jason Wu setting the tone.
It wasn't easy to compile this list, but here are 5 area rug trends we love and we promise you'll love them too!
Layering Area Rugs – We could write an entire blog post about layering area rugs but we'll summarize some of the highlights here! When done right, layered area rugs can do everything from warming up a room to making a bold, fashion statement. There are so many options to choose from when it comes to layering area rugs, it's hard to pick our favorite. We love wild, animal prints over plush rugs and layering area rugs to add texture to a room. Play with positioning by placing a patterned area rug on a diagonal over a neutral colored rug or mix up styles by layering rustic over traditional. Layered area rugs aren't exclusive to hard surface flooring either, adding a couple of area rugs on top of a solid colored carpet is a fabulous way to introduce pattern, color and dimension to any room.
Looking for that perfect layered area rug look but not really sure how to begin? Check out our "How to" video below!
Modern Bohemian Style – Whether you refer to it as modern bohemian, tribal or global style, this artistic and nomadic style is making a huge comeback and for good reason. It's an easy, affordable avenue for self-expression in your interior design. This style breathes color, life and culture into your space and the more the merrier when it comes to this look. Cover your entire floor with an eclectic array of nomadic bohemian style area rugs to support your fabulous Boho chic lifestyle. Check out this Nomad Vado area rug, which is one of our current best sellers!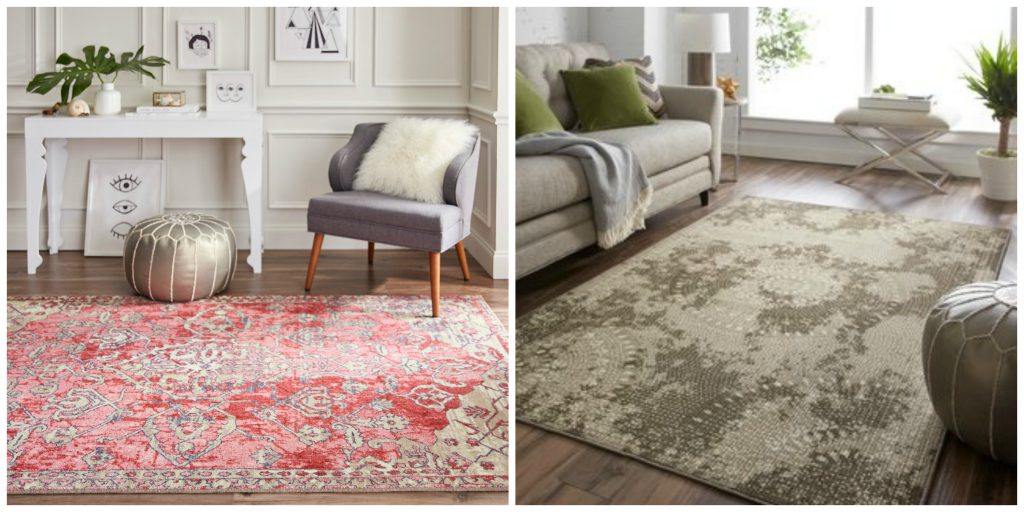 Distressed Vintage Prints – The distressed look has moved beyond wood furniture and into area rugs, and it's a hot trend that's gaining in popularity. From traditional, Persian patterns to global inspired prints, that distressed, faded look adds just the perfect vintage element to the area rug. Fortunately, our Prismatic collection is just brimming with gorgeous, distressed styles like this Siena Area Rug.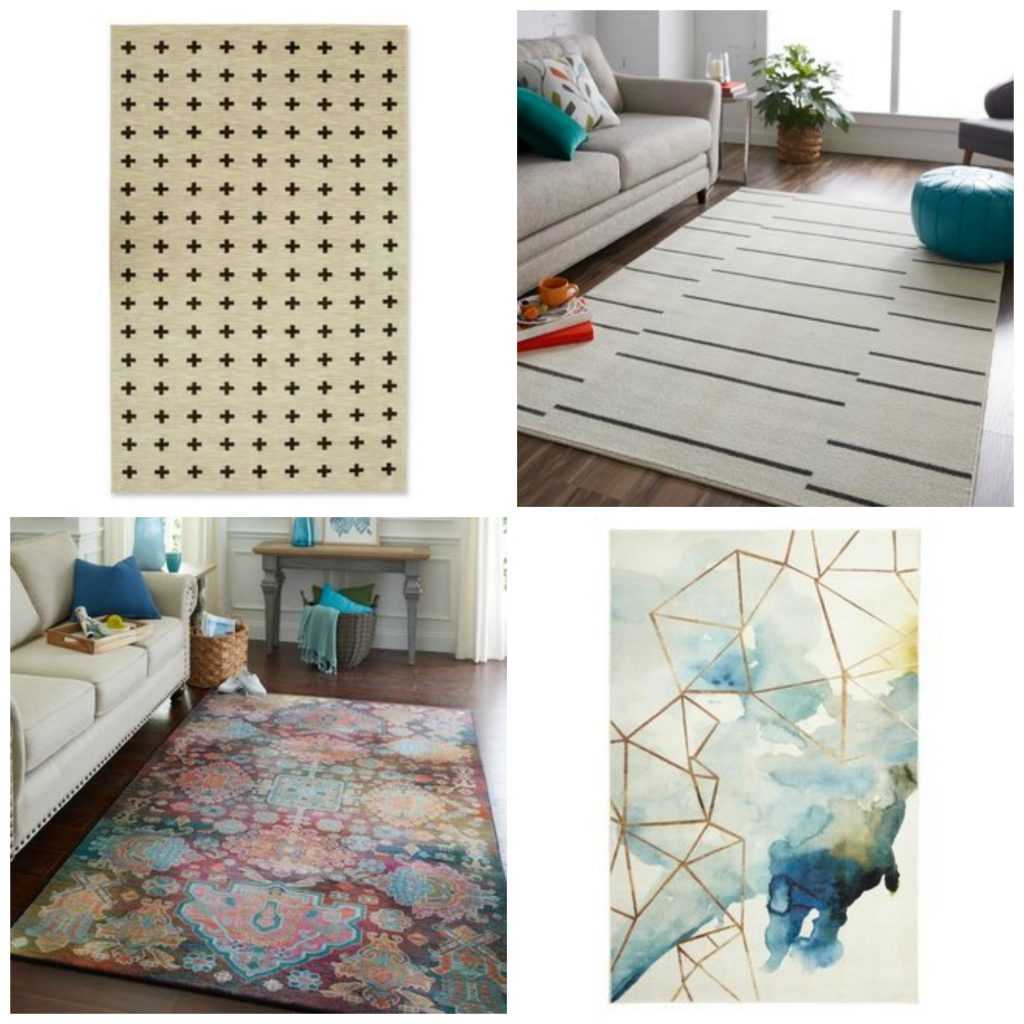 Bold & Geometric – From wallpaper and fabrics, to tiles and area rugs, bold geometric design is a great way to infuse your home with colorful personality. Geometric accent pieces like votive holders, ceramic vases, and area rugs are a great way to make style statements throughout the home. For people who are interested in the trend but aren't ready for a long-term commitment, bold geometric area rugs are really the perfect selection! Easy to change out, it's a transitional, low-cost and effective way to embrace this trend.  This Mohawk Home Aurora Sahana area rug combines two hot trends right now: geometric pattern plus black & white color way.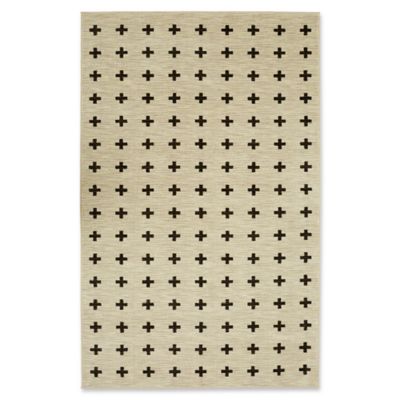 Other styles we love: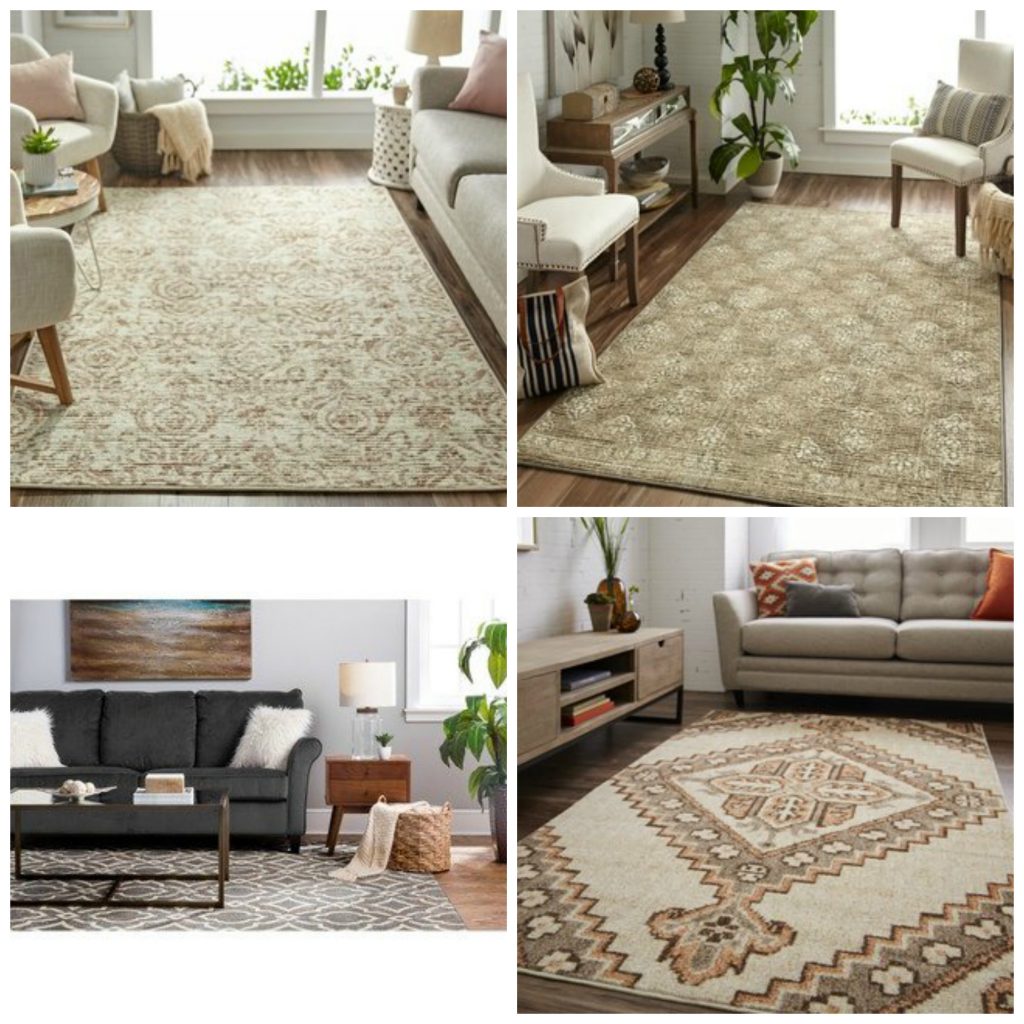 Neutral Area Rugs – The preference of Scandinavian décor – that almost stark, minimalist interior – has elevated neutral area rugs to nearly celebrity status. We are entrenched in the era of gray/beige/cream/white area rugs with just a hint of soft complimentary colors weaved throughout in blush, millennial, gold, blue, and pink. The demand for neutral area rugs continues to be high, and fortunately we have designed plenty of neutral, sophisticated styles to satisfy this crucial need. Searching for a modern, neutral color palette but craving a contemporary design? You'll love this Grey Prismatic Modern Gem Area Rug:
Which area rug trends do you think are here to stay? Share with us in the comments!