The holidays are over and all you really want for Christmas is your nice, clean house back. Caroling is over, the decorations are down, and the pine scents and cinnamon spice of the holiday are gone. How do you keep your home smelling nice through the rest of the winter?
Adding heavily scented or perfumed candles and room fresheners can be difficult if you or your family have any chemical sensitivities or allergies. Many migraine sufferers can have severe headaches triggered by the wrong scents. Staying away from potpourris and intense artificial smells is a good idea and can be less offensive or overwhelming for guests.
Everyone has their own natural preferences, so start by choosing a scent that pleases you and is not offensive to anyone else living in your house. Vanilla can be a good place to start. It's simple and not heavily perfumed, but as with anything be sure to use it in moderation.
However for a powerful secret weapon this year, try adding the world's greatest natural room deodorizer—coffee beans. Yes, whole coffee beans! The beans neutralize unpleasant or strong odors that may be hanging around while the vanilla candle adds a subtle and pleasant note to the room. The combination of coffee beans and a few vanilla candles can really brighten up your house.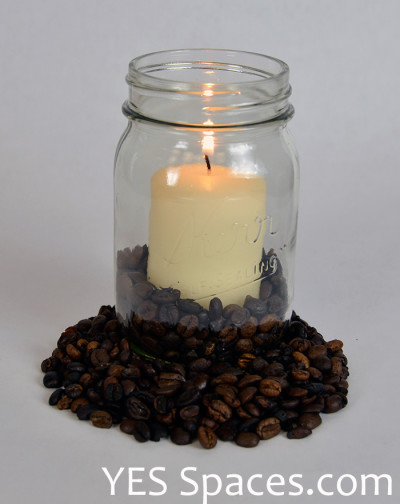 Putting some coffee beans in the bottom of a mason jar with a vanilla votive is a charming touch. Be smart about any use of flames and don't let your candle burn right down to the coffee beans — it might give roasted coffee a whole new meaning.
The jar we used here occasionally melted the candles a little faster than normal, so be on the lookout for wider mouthed jars that let the heat escape more readily. As the candle melted it encased the coffee beans for a very interesting visual effect that smelled wonderful.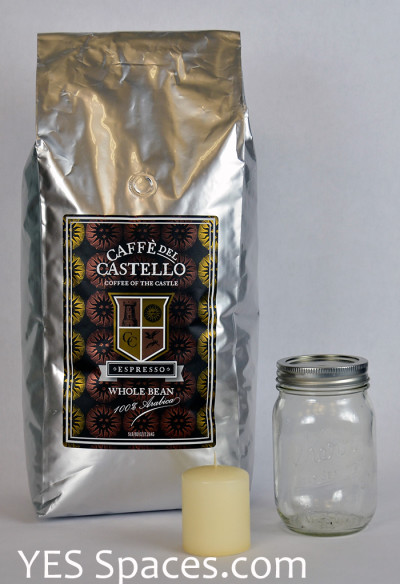 In addition to the candles, feel free to add just a few open bowls of coffee beans. It's particularly good if you have any kind of musty damp smell in a room as it actually absorbs and neutralizes those odors while adding a gentle roasted coffee scent and contributing to your aesthetic.
You can use this technique in decorative ways, even dressings it up in a crystal bowl for even the most elegant settings.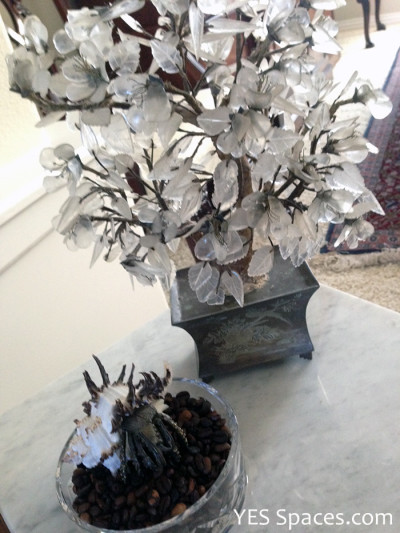 Even use the coffee as a layer on a tray under a potted plant — the whole beans look just like small pebbles.
Keep in mind that coffee is a natural material, so change these out every so often to avoid any rotten beans, especially if your plant drains to the plate or tray.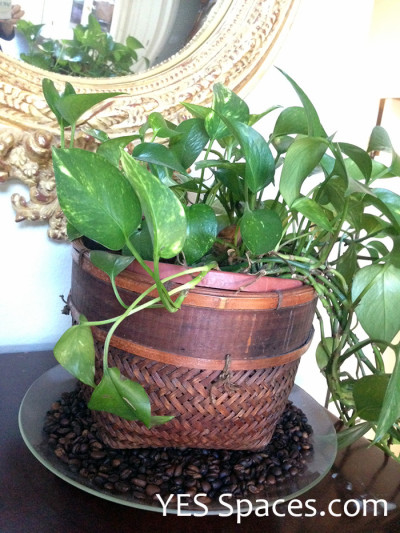 Be sure to buy the coffee in bulk! Don't use your expensive imported beans for this project. Go for the cheapest whole bean coffee in the world – many stores (including home stores) will sell enormous bags of low grade coffee beans for cheap. Don't use ground coffee as the effects will not last as long. Do change out the coffee occasionally though, because as the beans absorb odors they lose their effectiveness over time. Swapping them out every two months should be sufficient for the average home.
Enjoy a clean, fresh smelling home for a fraction of the cost and without any of the downsides of store bought room deodorizers. Put your feet up and enjoy a cup of coffee just to celebrate a job well done!