I think when we talk about "statement lighting" we automatically think dining room chandelier.  But today's lighting designers have made it easy to envision statement lighting in every room of your home by varying shapes, sizes and finishes.  A statement lighting piece can be the crowning jewel on the simplest decor.  And if you haven't shopped light fixtures in a while, you're in for a treat! Today I'm sharing inspiration for lighting different spaces in your home.
The foyer. 
Let's start at the beginning… where you welcome your guests.   Your foyer doesn't have to be expansive in order to host an eye-catching light fixture.
Your living spaces. 
Family and living rooms don't have to be lamps and recessed lighting alone!  Capture an element of surprise by adding a statement fixture to a reading nook or center stage.
The kitchen. 
Today's kitchens with islands and breakfast nooks offer ample opportunity to showcase an amazing light fixture.  Hardworking spaces don't need to skimp on style!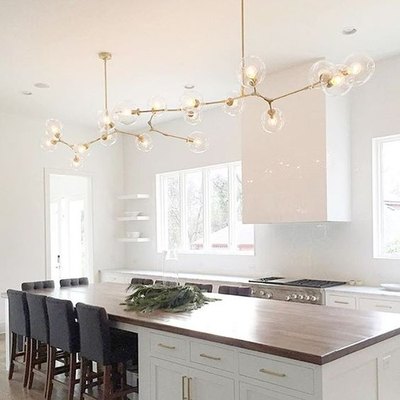 Pencil and Paper Co via Instagram
Dining room spaces. 
Big or small, a bold light fixture will make this space extra special.  Go for an unusual shape or finish for big impact.
In the bedroom? 
Yes!  If you can forego the ceiling fan in your bedroom, consider a gorgeous light fixture to ramp up your boudoir style.
Unexpectedly…the bathroom. 
This utilitarian space deserves high style!  You'll be enticed to relax and soak with a statement light fixture in your bathroom.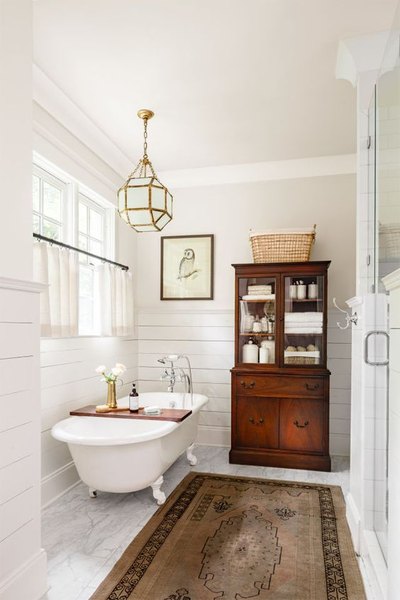 I hope you're encouraged to take a chance with a statement lighting piece in your own home. In which room would you choose to make your statement?
Find more home decor and DIY inspiration on my blog, Decor & More.