Thanksgiving is one my most favorite times of the year. For me it is sort of the official kickoff to family get-togethers, delicious meals, and a time to reflect on all the wonderful things we have to be thankful for.  Traditions develop and end up sticking around for years to come.  At my family Thanksgiving gathering, we have a very special tradition that I look forward to each year.
As we set the table, each place setting is laid out with place cards for each family member. And as everyone arrives and before the meal is ready to be gobbled up, we all take our corresponding name place card and write something that we are thankful for on the back of the card. Place the card back on the table and let the eating begin!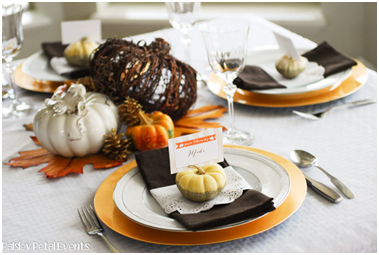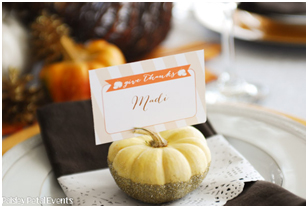 Once the last piece of my mother's famous pumpkin pie is scoffed down and we all feel about 10 pounds heavier, each member then reads aloud their place card to the rest of the family. Each year we all seem to come up with something different to write down that is uniquely special to each and every one of us.  As we go around the table, you can really see all the wonderful things we have to be thankful for.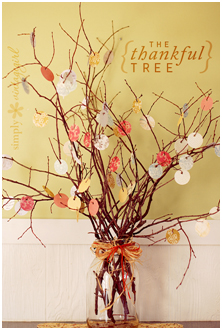 (Simply Vintage Girl did this Thankful Tree pictured and has another great chalk version)               
Another great idea to try before your Thanksgiving meal is the Thankful Tree. This easy, thoughtful touch is made up of a simple vase, some sticks/branches from your yard, and tiny sheets of cardstock paper. Simply put the branches in the vase, cut out some pieces of plain or designed cardstock paper and either hole-punch the individual sheets to place on the branches or tie them on with jute twine to get the fall feel. Tie some pretty straw ribbon to the vase to top it off and there you have it … your own Thankful Tree. Add a Thanksgiving blessing each day leading up to the holiday.  Come Thanksgiving day there will be blessings abound!
It's easy throughout the year to lose sight of all the many blessings we have.  Choosing either of these thoughtful Thanksgiving touches get the whole family involved and can be continued for years to come.
What's your Thanksgiving family tradition?
Written by:
Hailey Green, Intern