Pregnancy brings a lot of new emotions – mostly good, but some can be bad, too, especially when you find yourself crying over the wrong paint color. With hormones flying all over the place, what you think you like one minute might change in a matter of days… sometimes hours. That's why I like to visually plan my nurseries before I jump the gun. Here are some of my tried and true steps to planning a nursery the smart way.
1. Make a "baby name" list
Just as you would with baby names, make a list (or a Pinterest board) full of ideas you love. As you find new ideas, new themes and new colors, your mind will be filled with inspiration, but you might not be ready to make a decision just yet.
2. Consult your "honey"
Keep dad informed and feeling like he's part of the design process (if he isn't already). Dads often feel left out during pregnancy because there's only so much they can do. So before you hand over your "honey do" list, consult your honey about the paint colors and nursery themes you like and make a decision together.
3. Make sure the final choice feels right
Don't just pick a theme because it's cute, make sure it fits your personality and your preferences. It's a room you'll likely spend a lot of time in, so you're going to want to love it. I've been known to pick a theme for a nursery based on the name we picked. It's amazing where you can find your inspiration sometimes.
4. Are you sure?
Like I said, hormones are a crazy thing. Be sure you're completely happy with your decision before you start painting and buying the expensive nursery essentials. While you can repaint and change up the smaller decorations, it's not as easy to return a crib or special ordered furniture, which most nursery furniture is.
5. Put a vision board together
After I made a Pinterest board full of nursery ideas (and after we found out the gender of our newest child), I went to work on a more specific nursery board and a vision board. I chose to make my vision boards with PicMonkey simply because it's extremely user-friendly and I could save pictures to my computer then place them together to visualize the outcome…and change things up as I changed my mind.
Here's a look at our current vision board with some ideas for our fourth baby's nursery.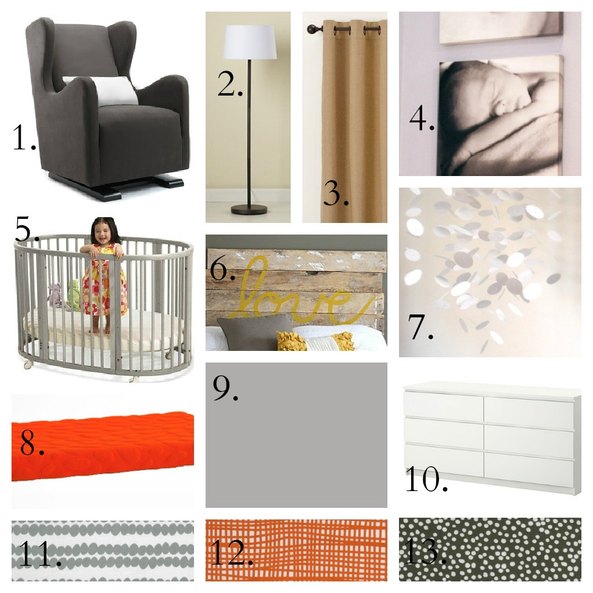 Get the look:
Monte Vola Glider in Charcoal ($995)
Land of Nod Graphite Floor Lamp ($59) with White Shade ($34)
Pottery Barn Peyton Linen/Cotton Panels in Chestnut ($99-149)
DIY stretched canvas prints after baby arrives
Stokke Sleepi Bed in Grey ($800)
DIY wood pallet wall hanging
White Circle Mobile by Baby Love and Kisses on Etsy ($58)
Nook Sleep Systems Pebble Pure Mattress in Orange ($395)
Benjamin Moore Natura Paint in Stormy Monday
Ikea Malm Dresser in White ($139)
Bella Circle Stripe Grey Fabric
Bella Plaid Orange Fabric
Bella Dot Grey Fabric
Written by:
Christina Holt, Writer/Teacher- Mommy Loves Coffee