If these sweltering 90-degree-plus days are any indication, summer is here and stickin' around! The sun shines brightly, birds are chirping and the warm breeze makes me close my eyes and just breathe it all in. With the summer in full swing, my husband and I finally got serious about cleaning up our outdoor space.
We bought our dream home about three years ago. While it was a great deal, there was A LOT of work to do to bring it back in style- and in working order. For the first two years, we've focused on rehabbing the inside of the home with fresh paint and much love. Now, it's time to focus on the outside. We've been saving up and this is the year of the pool makeover. To say I'm excited is an understatement!
Our pool and the surrounding surface had several visual issues as well as behind the scenes maintenance needed. As in all of our projects we are on a budget but, at the same time, want the finished product to be bright and beautiful. We hired an experienced pool/outdoor space company to execute our vision.
Our Pool Makeover Checklist:
• Stain concrete on pool deck to give it a new, fresh look
• Replace pool liner
• Replace pool cover (for safety)
• Replace pool pump
• Build outdoor kitchen under existing pavilion structure
• Furnish affordably with bright summer colors
The entire project from start to finish took around 6 weeks. Now nearing the end of the project, there is light at the end of the stressful, messy tunnel! This weekend, the family and I assembled our outdoor furniture from the Mainstays Crossman Collection at Wal-Mart. The bright green cushions blend well with the surrounding natural landscape and are a perfect splash of summer color.
To complete the look of my poolside sitting area, I added a beautiful Mohawk Home Outdoor Area Rug from Overstock.com. I tied the green cushions and navy rug together with outdoor pillows and drum tables. Many people make the mistake of ordering rugs too small, so I was sure to select the 8×10 size to expand the space. I'm in love!
Was the project easy and without hiccups? No. They never are. However, it's all coming together beautifully and the Mohawk Home area rug helped tie it all together. My two little girls love the new outdoor space- and I can see many relaxing summer days and great family memories in our future.
Cheers to summer!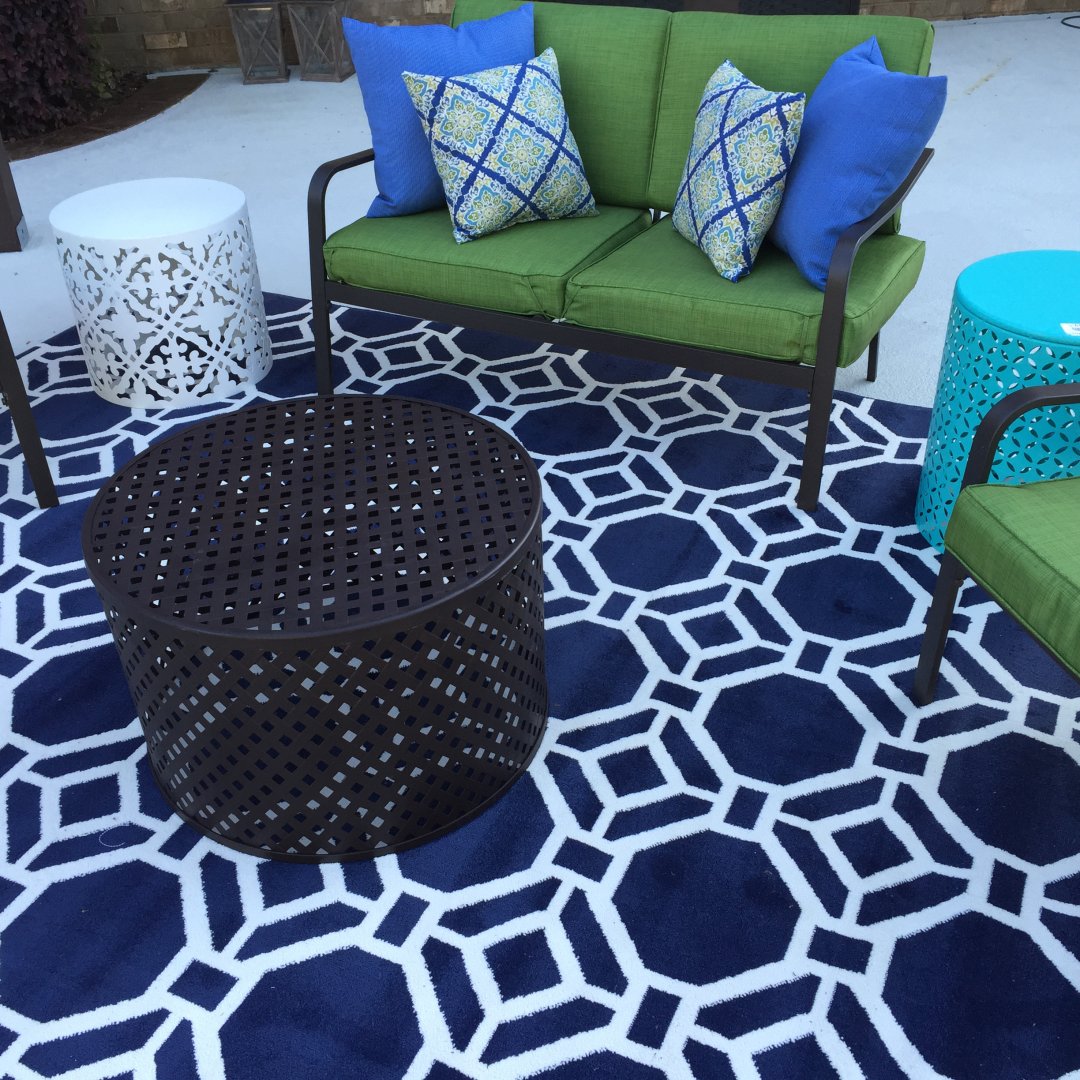 ~~~
Written by: Mollie Surratt, Mohawk Industries