The man cave –be it a retreat, a game room, a bar, a hideaway or a trophy room– is a coveted cranny every man wants.  But as décor isn't always a top priority here, why not give the fellas a hand and help create a space you both can be proud of?  Steal some inspiration from these pros and unveil a space that is far more lounge than lair!
Spice it up like this game room in Phoenix, AZ with a dash of sultry Southwestern flavor!  Supple leather furnishings complement the rustic exposed wood beam ceiling and paneling, creating rich texture and a finished look that is sophisticated without feeling the least bit stuffy!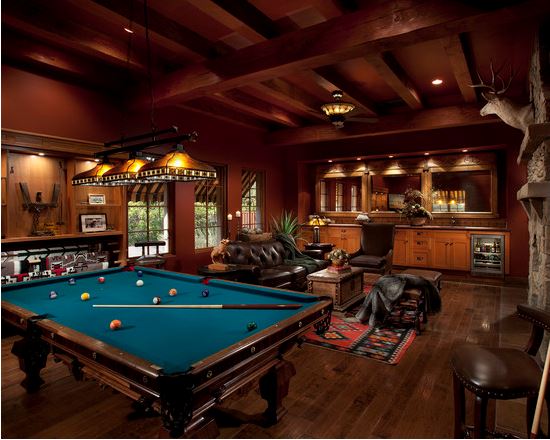 For a true car connoisseur, TD Swansburg Design Studio created this ultimate man cave, complete with a red Silestone curved bar, beer tap, beverage fridge and red high gloss cabinets designed to represent the snap on toolboxes of yesteryear.  The dream space even includes professional showroom lighting to showcase the owners' fleet of Mustangs and Shelby Cobras.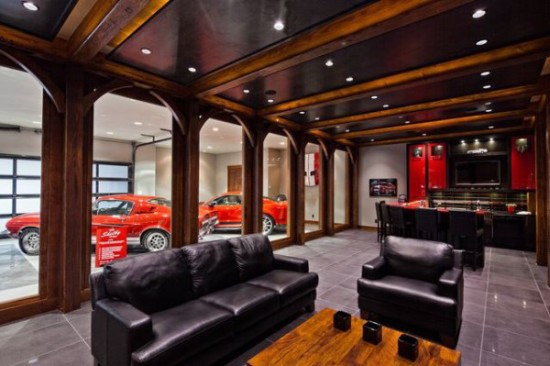 The entire bar of this English Pub themed basement was custom made, from the stain right down to the leather bar stools.  Strategically placed low voltage lighting, glass mosaic tiles and copper foil accents in the ceiling grid work are all additional details courtesy of the team at Design Connection, Inc.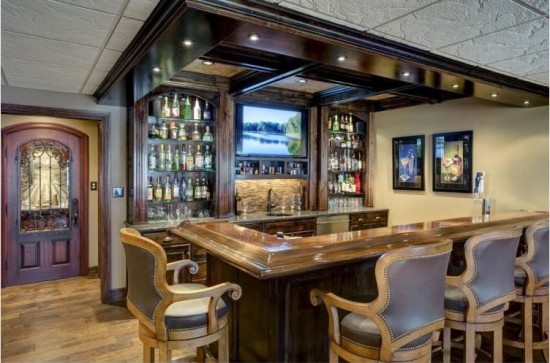 The owners of this East Coast home recruited the team at West Coast based Garrison Hullinger Interior Design Inc. cross country to remodel their estate.  This family basement can double as a man cave after hours with a basketball theme and plenty of televisions to watch all the big games.  Talk about a slam dunk!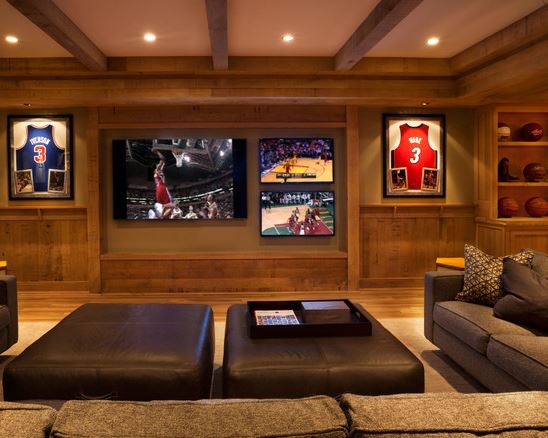 From the creative minds at Moceri Custom Homes comes this inspiration for a contemporary wine cellar and lounge swirled into one.  Different than the dusty, dungeon-like feel of many traditional wine cellars, the luxurious leather furnishings invite those who enter to sit a spell in this nostalgic library themed space.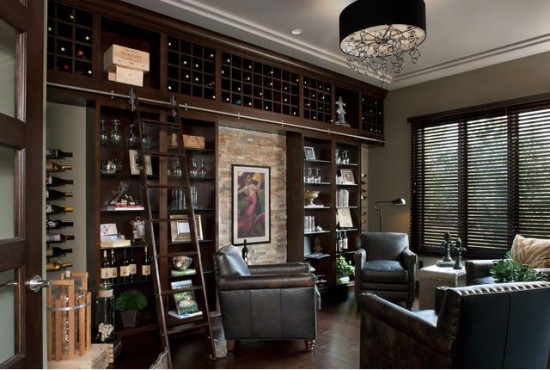 While these deluxe man cave editions are stunning style inspirations, you can add instant swagger to your fella's favorite hang out with one of our American Rug Craftsmen rug designs, no remodeling necessary.  Remember, flooring accounts for roughly 30% of your room's color and what better way to start than with a statement making area rug?  Not to mention our rugs' exclusive stain fighting fibers can withstand the aftermath of any guys' night!