It's time for a total re-haul of my master bedroom. I bought the house several years ago and have been focused on getting the other rooms in the house up to par, so my bedroom has been on the back burner. Until now.
I decided to do a total room redo, and I am starting from the floor up! This room is nowhere near done but I love where it is going so I will share along the way…
Floor:
The bedroom used to have thin,  awful pasty-beige cut pile icky-builder-grade carpet. I am sparing you the sight of the ugliness of that carpet by not including a before picture. YUCK! But not anymore! We've replacd the hideous carpet with this beautiful Black Walnut 5″ wide hand scraped laminate that I found locally at Dalton Wholesale Floors. I am totally in love with it!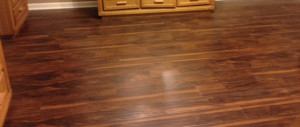 If you are anywhere near Adairsville, GA I highly recommend this retailer. They were so easy to work with! I got: AG05 8.33MM Acala Black Walnut Hand Scraped 4′ x 5'7″.
Rug:
Every good hard surface floor, no matter how gorgeous, needs a soft plush rug, right? After much deliberation I choose the Uber Shag in color Abyss. It's this beautiful, deep, rich, teal color that I am currently in love with! This rug is also so super soft and silky, it reminds me of those thick sink-your-toes-into rugs they have in luxurious spas.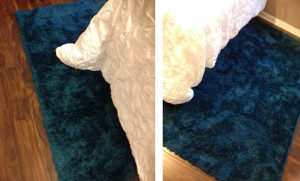 This rug also available in other fun, funky colors – see a select few below.

Bedding:
I've always adored the all white bedding with bright punches of colorful and whimsical designed pillows. So I decided to go with Bar III Box Pleat White Comforter from Macy's and ordered one size bigger to give the bed that plush, luxury feel. In efforts to simplify my life the dust ruffles are one of the things to go! I don't really think they add to the look and just catch dust. I also despise putting those things on….but I digress.  I love that the comforter is also washable and super comfy.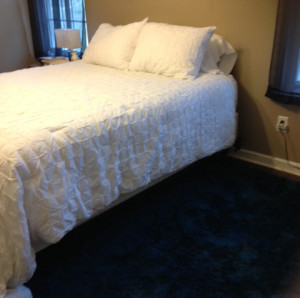 Decorative Pillows:
Have you priced decorative pillows lately? OMGosh!!! I have found TONS that I am totally in love with but the price tag severs the attachment very quickly! I've found several tutorials online for making my own so look for those coming soon.  But I didn't make my own this time around; instead I was able to find one below at Target and it matches the Uber Shag rug perfectly!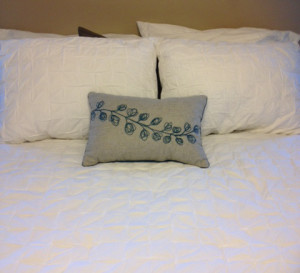 So that's it for phase I of my Master Bedroom makeover. I have high hopes for the rest of this room and am throwing around the idea of a DIY headboard. Has anyone used the Stikwood Adhesive Wood Panels featured on West Elm?
I know I want some type of textured wall for sure! Stay tuned to see how the room turns out!
* I am an employee of Mohawk Home. #mohawkhome #emp