Most likely, your kids are already on Christmas break from school and you know the routine that follows.  By about the third day of vacation, they're starting to get restless and anxious for Santa Clause to arrive.  Keep them busy this year and away from the television screen with these kid-friendly craft ideas, suitable even for the littlest hands!
Pom Pom Pinecone Ornaments
A variety of stores, ranging from Target to your local craft store, sell bags of pinecones for next to nothing right now.  Or better yet, if you live near pine trees, take the kids outside to collect your own.  Aside from that, you'll need a hot glue gun, some twine or ribbon and miniature pom poms.  The blogger who shared this idea, Debbie Chapman of One Little Project, said she purchased the pom poms and ribbon seen here at the dollar store.  "And the absolute best part was that both my 3 year old and 5 year old could help make them.  They are pretty much fool proof, even for a three year old!" added Debbie.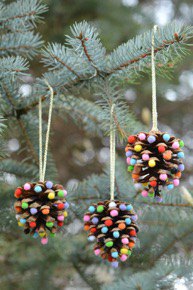 Keepsake Thumbprint Christmas Lights
As we all know, they grow up way too fast!  Create a keepsake reminder of how little your child was this holiday season with this Christmas light craft made with their thumbprints.  The blogger behind this idea made Christmas cards out of her little one's thump print art using watercolor paper and different colored ink pads, but you could also frame one to keep as sentimental seasonal décor for years to come.
Coffee Filter Snowflakes
The wintery, whimsical snowflakes seen here were created with coffee filters and the help of some decorative scissors and a hole punch.  The thin material of the coffee filters are easier for kids to cut through and their circular shape means there is no need to try to cut the shape into a circle.  Hang these sheer snowflakes on your window all winter for a nostalgic seasonal style!  And for those favoring a more rustic look, reach for the light brown coffee filters.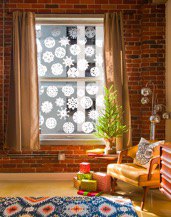 Graham Cracker Houses
Not only are these diy graham cracker houses more budget friendly than ready made gingerbread house kits, you'll be more aware of what ingredients your child is actually eating.  Blogger Jennifer Pimgrim, who shared this idea on her blog The Newlywed Pilgrimage, used muffin tins to sort the candy options for her daughter and keep the houses together with melted chocolate and icing.  "I love how easy it is to build graham cracker houses, even for tiny fingers. We like to make several miniature houses so eventually we have a little village of them," added Jennifer.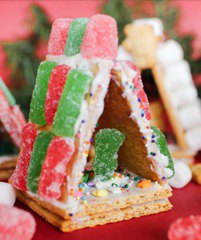 Handprint Reindeer Ornament
Save the memory of your little one's tiny hands this Christmas with this handprint reindeer ornament craft.  Keep these supplies on hand:  pencil, scissors, glue ribbon, cardstock, pipe cleaners, googly eyes (or draw your own), hold punch and save a pom pom for Rudolf's nose from your pinecone ornament craft.  Trace your child's hand on the card stock and cut it out with scissors, then help them decorate their ornament!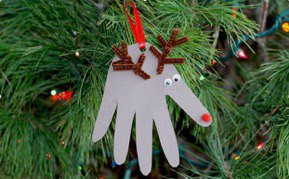 How is your family creating memories this holiday break?