There's nothing like a deadline to make you get your act together on your home decor projects!  In my case, my son's graduation is looming and I needed to makeover my guest space to graciously accommodate out-of-towners.  My budget?  Minimal.  But fortunately, I had a vision.
I was starting with a dark space, previously a teenage-boy cave, that featured twin pine beds pushed together to form a king size, various pieces of painted furniture and mismatched bedding.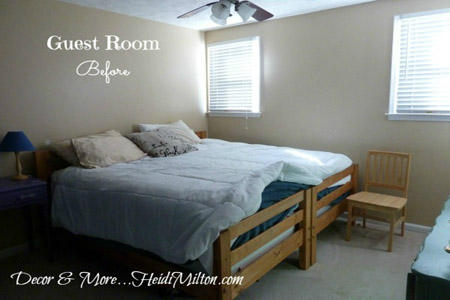 I was longing for light and bright and started thinking that twin beds were a more flexible option for a guest space.  So I began gathering inspiration images on Pinterest and these sparked my creativity.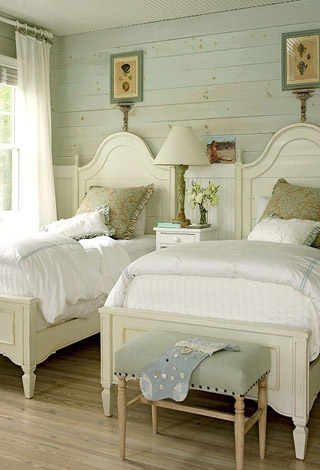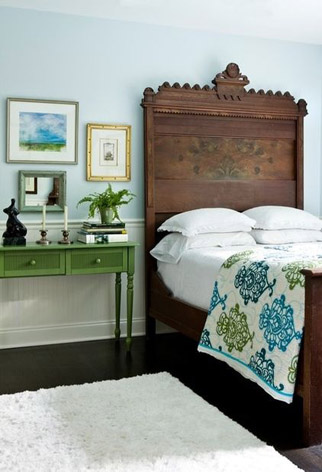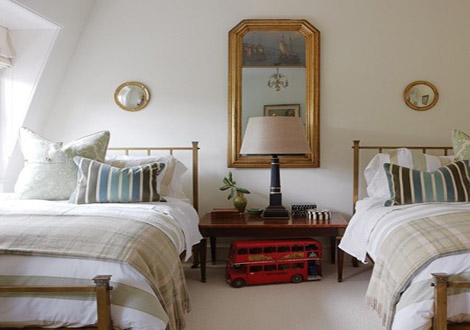 These are only a handful of the images I pinned, but it's easy to see what they have in common:  light walls and light or white bedding with punches of color, and some vintage and antique flair.
My budget (or lack of) was foremost in my mind, so that meant using or refurbishing what I had, shopping my own home, and filling in the gaps economically.  In other words:  CHALLENGE!  I also had a wonderful inspiration piece that I had picked up at a discount home decor store a few months ago…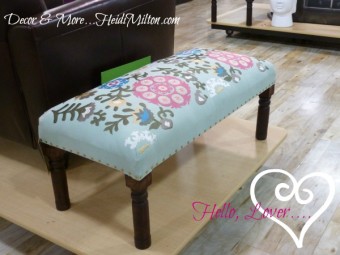 She was a marvelous jumping-off point for my color palette.  So, with all that inspiration swimming around in my brain, you be the judge…
Well, how did I do?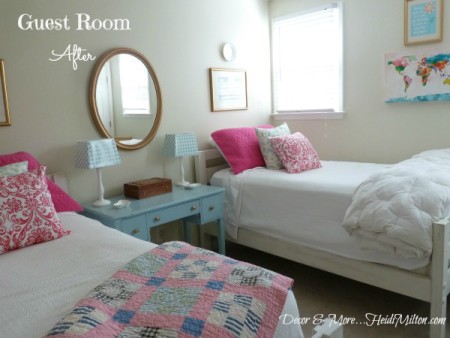 I used Behr's Belvedere Cream on the walls; this is a color we've used in other rooms downstairs and it really brightened up the space and gave me a blank slate with which to work.  I gave the twin pine beds a white wash treatment to tone down the yellow, and added all white sheets and blankets.  I had most of these already, so it was just filling in the gaps at my discount home decor stores.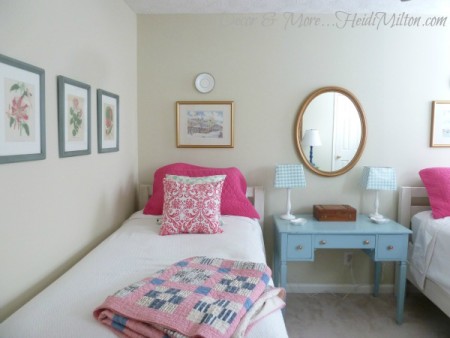 The quilt at the foot of the bed was made by my grandmother.  I love having a little piece of her in this room and the color palette was too perfect!  The vintage prints on the wall were reframed with box store frames in a beachy blue green, and the watercolors were moved from another room.  They're right at home here, I think.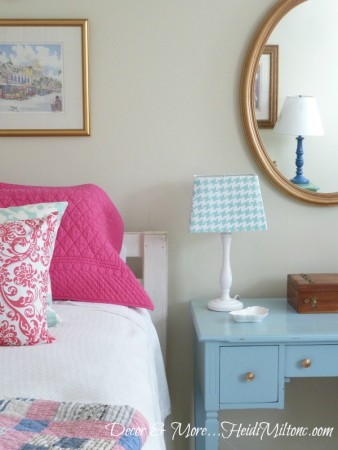 The raspberry shams were left over from my daughter's room of several years ago and I love the sorbet punch they bring.  The throw pillows were easy and inexpensive finds to round out the punch of color.
The little desk between the beds was a vintage find that I refurbished with a fresh coat of blue paint.  I love it's scale and with the open legs, it keeps the space from feeling too closed in.  The lamps I had from my daughter's room also, but I refreshed the shades, injecting some contemporary pattern into the space.  It's one of my favorite details.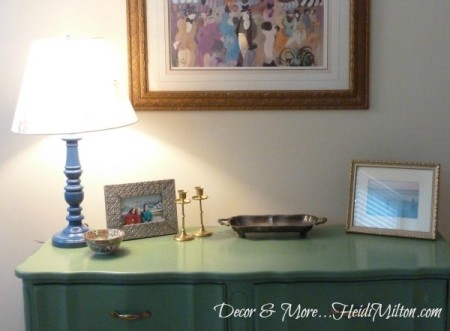 I originally planned to repaint the green dresser, but once the other parts and pieces started coming together, I rather liked the color!  So I added a rehabbed thrifted lamp in bright blue, a vintage silver tray, some vintage brass candlesticks and a couple of family photos.
With it being a guest space, I wanted to keep lots of open surfaces and a few trays, bowls, and dishes to help my guests corral their belongings during their stay.
Still left to do are drapes and maybe a colorful rug for the space between the beds.  I'll be working on those things in the weeks ahead — AFTER graduation weekend. 🙂
I can't tell you how happy this space makes me now!  I could just do a happy dance every time I walk by and to know that it was easily and inexpensively accomplished makes it even sweeter. 🙂  Get more details on my guest room makeover and my other projects at Decor & More.