"Are there grasshoppers in grasshopper pie?"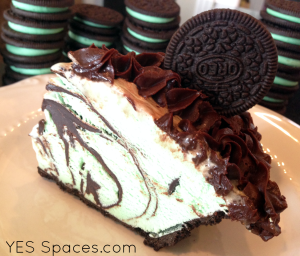 Grasshopper Pie was one of my grandmother's special treats. She saved it for spring when the world was starting to turn green. Which makes it perfect for St. Patrick's day! My kids even request it in place of birthday cake!
Now that my grandmother is not here using her handwritten recipe card it makes this a more meaningful treat.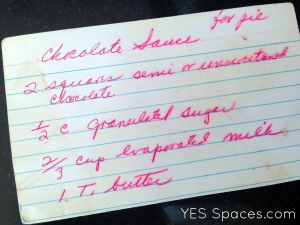 Over the years, the recipe has become easier and easier! The grocery store now sells Oreo cookie crusts and you can buy the fudge topping if your not up to standing over a double boiler while trying to figure out if you're achieving the right fudge sauce consistency.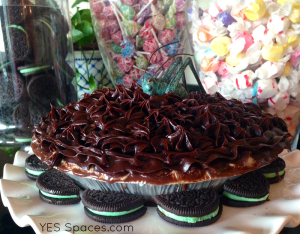 Here is what you need:
1 Oreo cookie crust
1 – Gallon of mint chocolate chip ice cream (or any ice cream of your choosing)
Chocolate frosting or ingredients for the homemade sauce: 2 squares of unsweetened or semi-sweet bakers chocolate, 1/2 cup granulated sugar, 2/3 cup evaporated milk, 1 T butter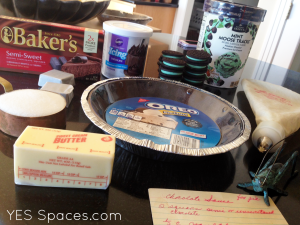 Start by letting the ice cream soften slightly, you don't want it to melt just soften. Dump it into your pre-made cookie shell and smooth it out. I like to mound it slightly in the center, but it is easier to get an even fudge topping if the ice cream is smoothed flat. Put the pie into the freezer to harden before frosting.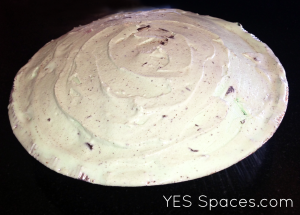 To make the home-made fudge sauce, melt 2 squares of bakers chocolate in a double boiler, stirring constantly. You can see that there are NO instructions on the recipe card so I just follow the order of ingredients. I stir in the sugar slowly and then whisk constantly while adding the evaporated milk in a slow stream. And finally finish it off with the butter. Stir until it starts to thicken to a consistency that will not run right off the pie.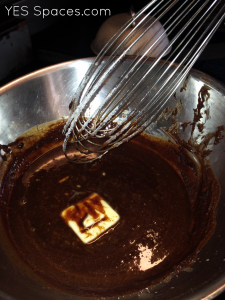 Let the sauce cool. I put it in the fridge. It should still be pourable but not hot. Pour a little bit of sauce onto the pie at a time letting the ice cream cool it in place, spreading with a knife as little as possible. I put on thin coats and re-freeze in between to keep the ice cream from melting through the chocolate.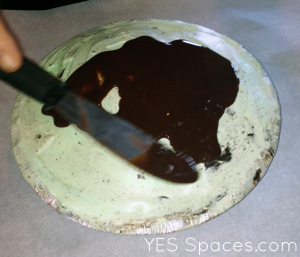 If I mess up the fudge sauce, which sometimes happens if the consistency is not just right. Or if I just want to dress up the pie for a special occasion I pipe on fudge frosting. You could make this or purchase it. Fill a piping bag and go crazy. I piped all over the top of the pie, put an Oreo in the center and used a fun grasshopper decoration I have to top it off. Oreo cookies are also a great decoration, especially at this time of year when mint is available.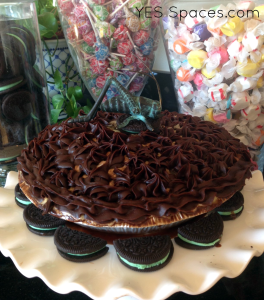 Enjoy! I hope you are asked if there are grasshoppers in your grasshopper pie!