Giving back to the community in which I live is very important to me. Especially during this time of year as we get close to Thanksgiving. I like to think about how myself and my family can give back throughout the year. Habitat for Humanity of Atlanta is one of those ways to do just that.
Several years ago Mohawk paired up with Habitat Atlanta to donate flooring for their homes. All of the flooring in the Habitat homes of Atlanta is provided by Mohawk. In fact our 150th home will be built in 2014!
We've donated over 2,700 square yards of carpet, and 1,065 square yards of Congoleum Vinyl! Mohawk Home also provides a "Mohawk Cares" package at the closing of the home. The package includes 2 premium bath rugs, 1 recycled rubber doormat, and 1 kitchen rug. You can find these products here on the Mohawk Home website rug search.
In addition to in kind donations, Mohawk employees of Mohawk put in their own sweat equity to help build homes throughout the year! Just a few short weeks ago myself and Jenny Cross, our Director of Sustainability, helped on a very special Women's Build Habitat project. You can see photos from the event on their Facebook: https://www.facebook.com/AtlantaWomensBuild
It was a fabulous day working along side the future homeowner as we trimmed windows and doors, painted and caulked. I did realize this day however that I am not handy, and I cannot read a tape measure. I left the heavy lifting to Jenny!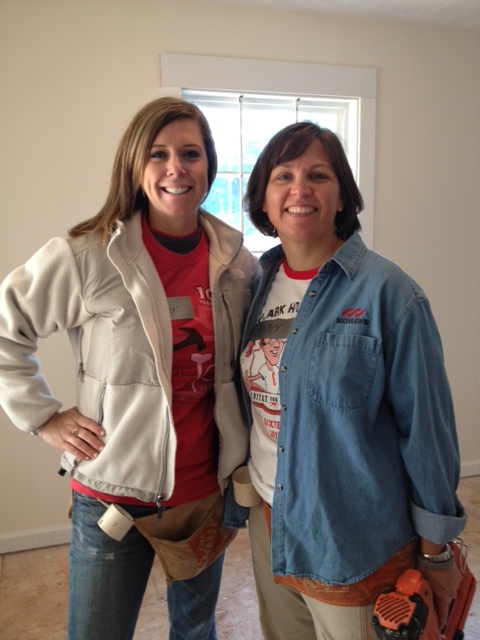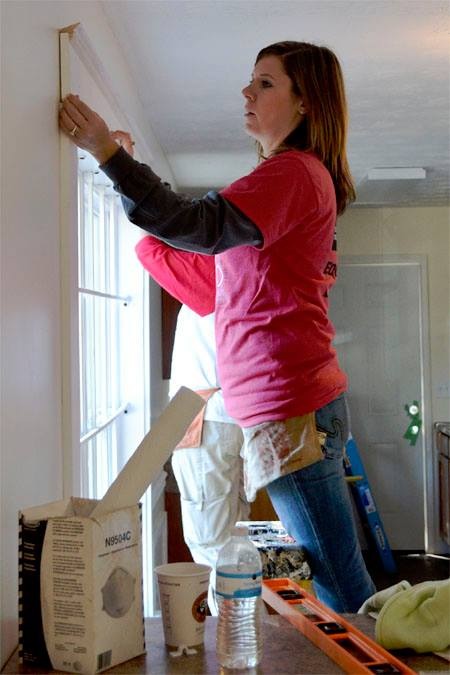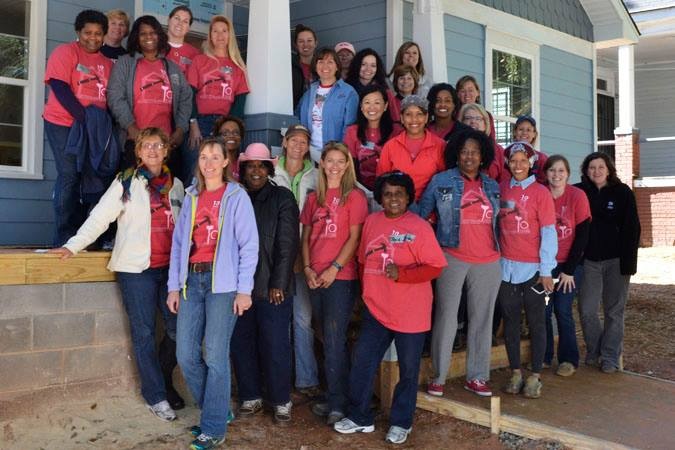 Did you know Habitat applicants are required to meet several qualifications to ensure success? Prospective homeowners must:
Be citizens or legal residents and live or work in the City of Atlanta, Fulton County, or one of the other metro counties served by local Habitat affiliates
Prove steady income
Show good credit
Have monthly income that falls within minimum and maximum limits, depending on household size
Sustain a savings account over six months
Be first-time homebuyers
Each homeowner invests 250 sweat-equity hours in building his/her home and others, makes an affordable down payment, leases the home for the first year, makes timely payments during the lease period, and attends at least 12 homeowner education classes.
Monthly mortgage payments typically average less than $650. Payments include escrow for taxes, insurance, a termite bond, and a maintenance savings fund, in addition to repayment of the loan on the house at no interest.
I can't say enough great things about Atlanta Habitat for Humanity! The staff is just amazing! I look forward to Mohawk continuing to help with this fabulous organization!
How are you "Giving Thanks" this time of year?