One my favorite things to refresh for fall is my front porch.  It's the first impression guests have of our home and we are fortunate to have a good sized porch to play with.  Last summer I decided to add some furniture out there so we would have a shady spot to sit and enjoy the outdoors.  And so this fall, I have had fun filling in the blanks with some accessories and seasonal goodies!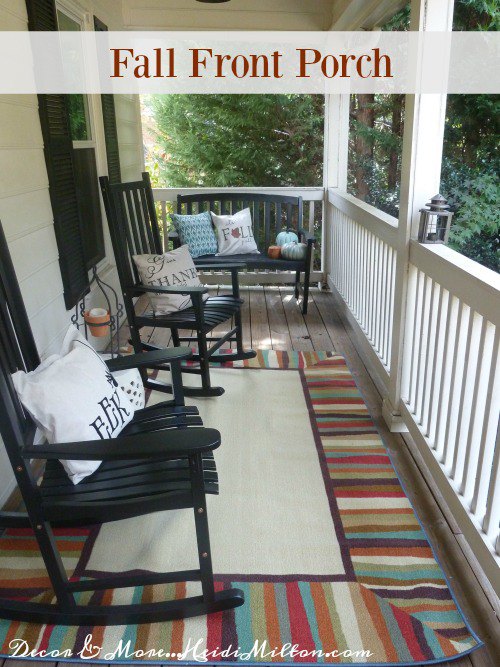 The first step was adding a cozy rug underfoot.  I found the perfect choice with this Mohawk Patio Border outdoor rug.  The colors are perfect for adding in fall touches and because my porch is completely covered, I knew the center block of beige would stay reasonably clean.  It's the perfect balance of color and pattern for that space!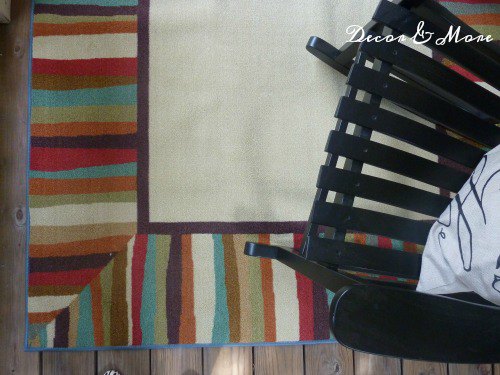 Next I added in some of my favorite pillows for the season.  I chose a graphic teal pillow from my back deck to help pull the blues and teals from the rug border.  I love that it is an unexpected color for fall, but works so beautifully with the browns, reds, and golds.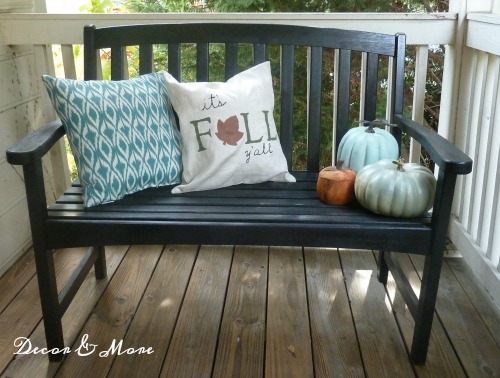 Even my pumpkins bring a pop of blue-gray to the mix!  Last fall I shared the easy DIY for this pillow with you and you can see it's still being enjoyed.
The rockers needed pillows as well to make the seating extra comfortable.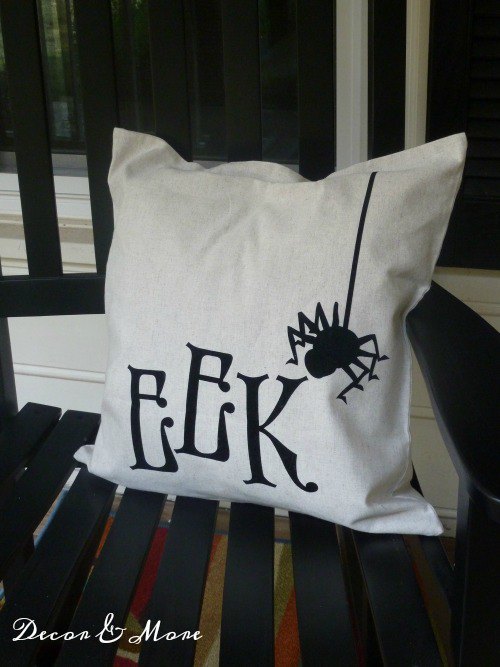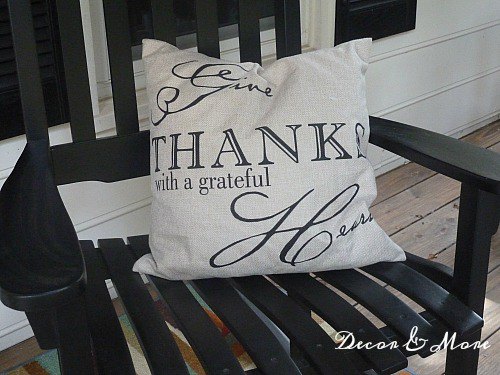 I'm still on the hunt for a cozy throw or two, but until the weather gets a bit cooler here in Georgia this seating set-up is just right.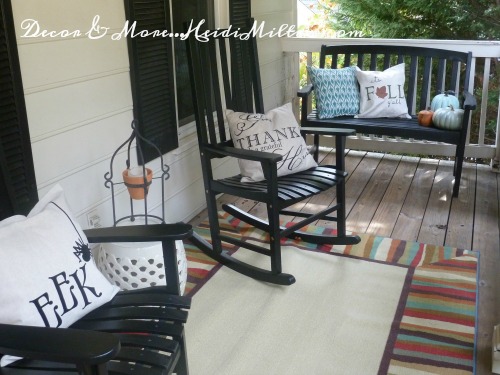 To keep the colors flowing to the other end of the porch,  I pulled in a thrifted wooden chair that I spray painted years ago.  This piece is a fixture in all of my porch decor, no matter the season.  It adds that perfect pop of color.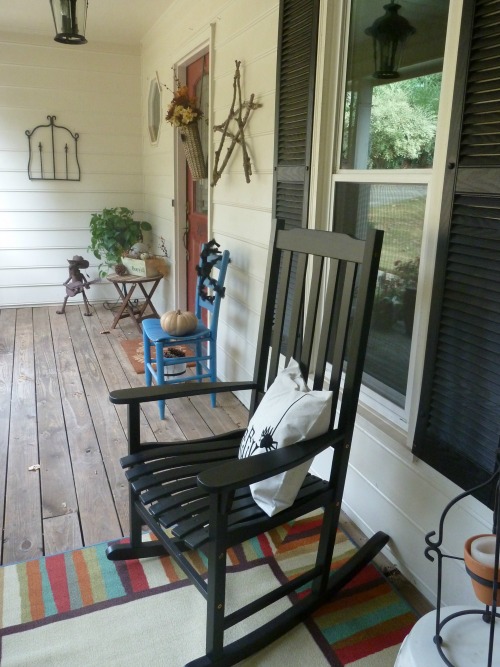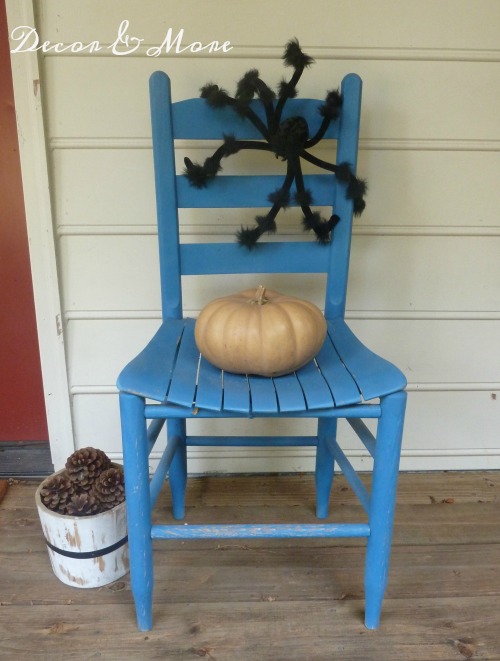 You can see the rusty red color of my front door. The warm tone makes it easy to add in that pale heirloom pumpkin and a rust door mat.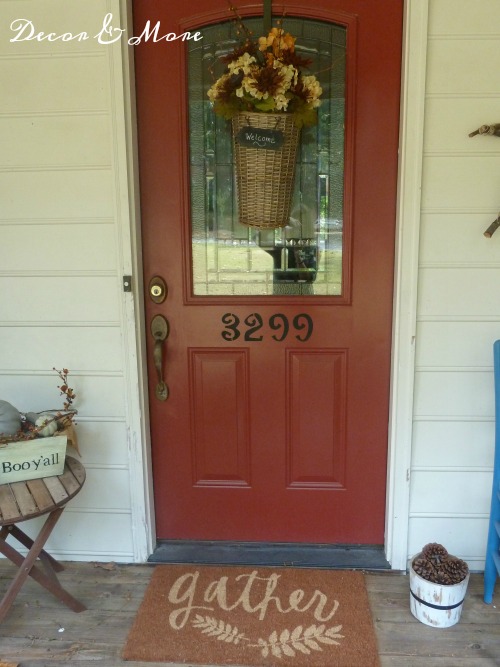 There's more I'd love to do with this corner.  In fact, I am on the hunt for one more piece to fill it out, but for now…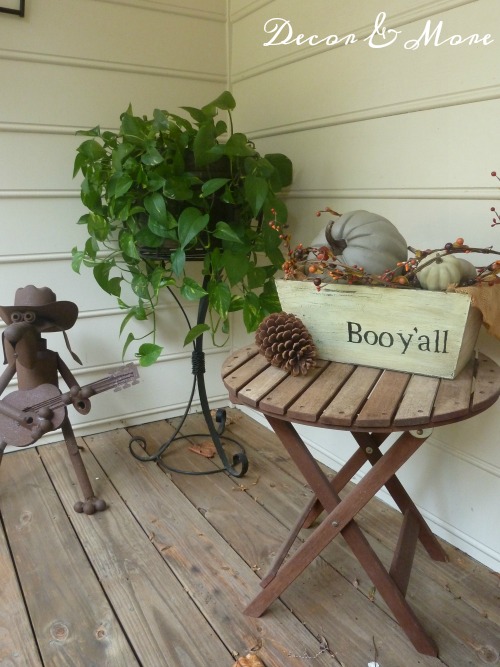 And every fall, I break out my hand-panted Boo y'all planter…  It's so fun to fill with pumpkins, pine cones, or to load up with pansies, mums, and cabbages.
This year I added in a garland of fall berries to tie all the colors together.  We are so enjoying this space in the evenings with a glass of wine!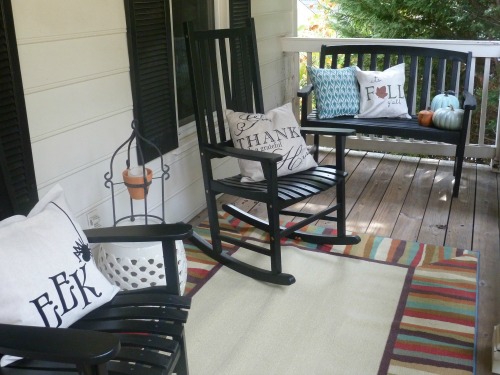 This weekend I think my coffee will be enjoyed out there as well!  And it all started with the perfect Mohawk rug as the foundation.  Have you refreshed your porch for fall yet?
Find more DIY and home decor inspiration on my blog, Decor & More.