I don't know about you, but May always seems busier than the month of December. All of the "year end" activities for kids, final exams, graduations just seem to pile it on.  And some years Mother's Day gets a little lost in the shuffle. If that's the case for you, I'm here to share five simple ways to make Mother's Day memorable, whether it's celebrating you or your own mom.
A handwritten note shows you care. 
A couple of years ago, I realized I didn't have a Mother's Day card for my mom or my mother-in-law.  Instead of dashing out to yet another store to browse their card selection, I decided to write a simple heartfelt note to each of them, expressing my love and gratitude for all they do and all they are to me.
They have both told me since that those notes are among their most treasured.  That simple act of taking the time and hand writing a note showed thought and caring that a store-bought card could never match.
Make the phone call. 
In a similar vein, carve out a few moments to call the special moms in your life.  It doesn't have to be a long conversation, but studies show that speaking to a loved one instantly boosts spirits.
In this day and age of texting and emailing, interpersonal contact is scarce.  Again, it's really just a matter of taking a few minutes and being intentional about communicating your appreciation for that special person.  Not so hard, right?
Set a pretty table. 
If you're celebrating with loads of family or just your kids, a beautiful table will make even the simplest lunch or supper feel special.
And beautiful does not have to mean complicated!  Some greenery from your yard and grocery store flowers for a centerpiece, colorful fruit accents, and simple place settings will do just fine.  Let the kids help!  Imperfection by little hands is beautiful by itself.
Indulge in a favorite food. 
Now that you've set a pretty table (or had someone do that for you!), it's time to enjoy something tasty.  It might be a full blown brunch of deliciousness or a simple sweet treat…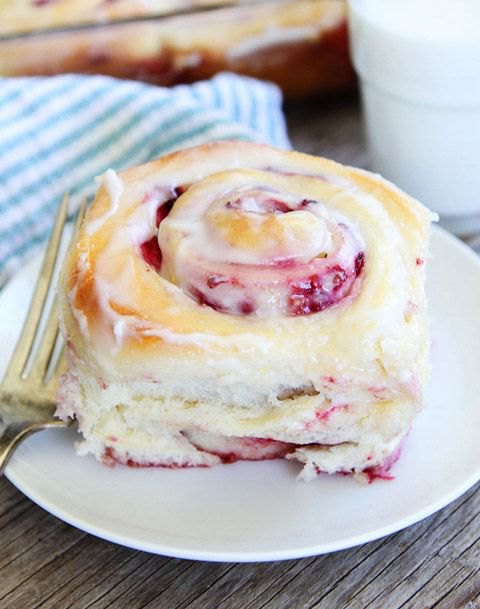 Raspberry Sweet Rolls via Homemaking Tips
A few years ago my stepson offered to prepare anything I wanted for Mother's Day.  I chose shrimp and grits and he whipped up a batch that I still remember fondly.  It could even be a frozen pizza, but if it's something you enjoy, go for it!
Make a little time for an activity that recharges. 
As moms, our days are all about those we're taking care of.  On Mother's Day, carve out a sliver of time to recharge your batteries or help your mom recharge hers.
I have a friend who spends every Mother's Day planting her summer annuals in her yard — that's an activity she enjoys that rejuvenates her.  Maybe it's a half hour to read a good book, taking a walk in your neighborhood, or squeezing in a cat nap.  Taking those moments to do something enjoyable pays big dividends!
So whether you're celebrating your own mom or your family is celebrating you (or both!) keeping it simple but enjoyable will make this Mother's Day one to remember.  Wishing you a blessed Mother's Day weekend!
Find more home decor, recipes, and inspiration on my blog, Decor & More.