Everyone loves a party! It doesn't matter if you are hosting a shower, house party or just a get together with a few friends, party sandwiches are the way to go! They are the perfect filling finger food. I like to mix it up some for my guests or even for a busy week night at home with my boys.
Here are a few of my favorite party sandwich recipes: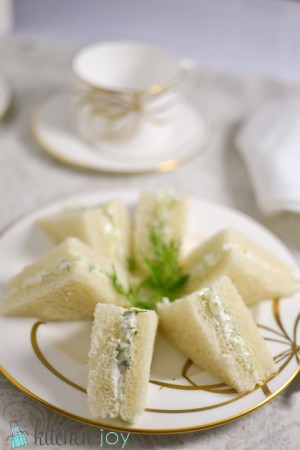 Cucumber Sandwiches
My aunt and her sister used to run a catering business. The first time I ever had a Cucumber Sandwich was at my cousin's wedding shower. It was love at first bite! These are now a staple at my house, especially during the summer when we have fresh cucumbers from the garden.
Ingredients:
8 ounces cream cheese, softened
1/3 cup mayonnaise
1 large cucumber, peeled, seeded, and finely diced
1/4 teaspoon garlic powder
1/4 teaspoon kosher salt
1/4 teaspoon pepper
1 tablespoon fresh dill, chopped
sliced white sandwich bread, about 16 slices
sprigs of dill for garnish
Directions:
In a medium bowl, mix together the cream cheese and mayonnaise until completely incorporated. Add garlic powder, salt, pepper, chopped dill, and diced cucumber. Spread on 8 slices of sandwich bread. Top with sprigs of dill, then close sandwiches with remaining bread slices. Cut crusts from bread, forming square sandwiches. Cut each sandwich into quarters on the diagonal, creating 4 triangle mini-sandwiches each.
*Adapted from The Unofficial Downton Abbey Cookbook by Emily Ansara Baines.
 ~*~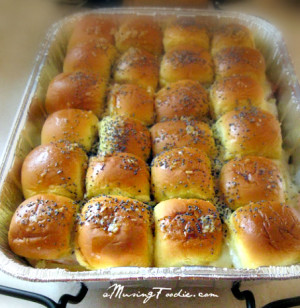 Poppy Seed Hot Ham & Cheese
These little hot ham and cheese sandwiches were a staple in my mother's kitchen! She would always prepare one pan with ham and one pan with turkey. They are best when they are still warm, buttery and delish! This recipe calls for Hawaiian rolls but you can use any dinner rolls you have on hand or wish to use. I prefer the small Colonial rolls that come in the tin pans.
Ingredients:
2 24-pack King's Hawaiian Rolls (Party Potato Rolls are an okay substitute)
1 pound shaved Virginia ham
24 slices Swiss cheese
1½ sticks butter
2 teaspoons Dijon mustard
2 teaspoons Worcestershire sauce
2 teaspoons dried onions
2 teaspoons poppy seeds
Instructions:
Slice the King's Hawaiian rolls in half. Line the bottom of two 9X11 baking pans with the bottom halves of the rolls, 24 in each pan (they should just fit). Spread the ham over the rolls, and then layer the Swiss cheese on top. Place the other halves of the rolls on top. Set aside.
In a small sauce pan, combine the butter, mustard, Worcestershire sauce, and dried onions. Over medium heat, stir until the butter has melted to create the sauce. Pour equal parts of the sauce over top of the rolls, and then sprinkle the tops with the poppy seeds. Cover the pans tightly with aluminum foil, and then refrigerate for at least three hours – or overnight (better).
When You're Ready to Bake:
Preheat the oven to 350°F. Place the covered baking dishes in the oven for 20 minutes. Uncover and bake for an additional 5 minutes, or until the cheese has finished melting. Serve warm or at room temperature. Makes 48 mini sandwiches.
 ~*~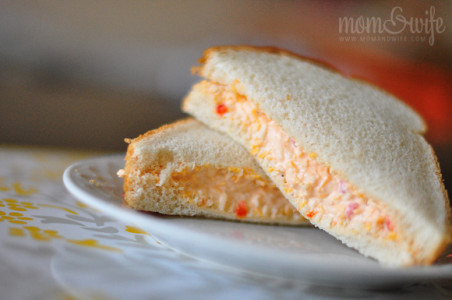 Pimento Cheese Sandwiches
There isn't a weekday that goes by that my daddy doesn't make homemade pimento cheese. While I prefer to just eat some of this delish spread on a cracker, it also makes perfect little party sandwiches. I mean who doesn't love cheese?!?!
Ingredients:
1 (3-ounce) package cream cheese, room temperature
1 cup grated sharp cheddar
1 cup grated Monterey Jack
1/2 cup mayonnaise
1/2 teaspoon House Seasoning, recipe follows
2 to 3 tablespoons pimentos, smashed
1 teaspoon grated onion
Cracked black pepper
Directions:
Using an electric mixer, beat cream cheese until smooth and fluffy. Add all of the remaining ingredients and beat until well blended. It can be used as a dip for as a sandwich filling.
 ~*~
While you are in the kitchen preparing these awesome little party sandwiches make sure you are prepping in style with some of our kitchen rugs from Mohawk Home. Check out our  Kitchen Rug Pinterest Board.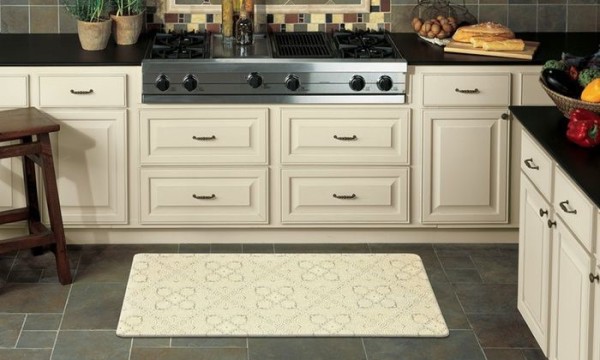 The kitchen rug featured in the image above is currently on sale at Groupon.com.