Winter weather is in full swing and has brought with it to my house an unexpected consequence—lack of motivation. (The first step in resolving a problem is to recognize it, right?) Shorter days and freezing temperatures have seemingly sucked the life out of my daily routine and even some of my favorite activities, including cooking. On especially chilly days, curling up on the couch with a warm blanket and a good book just seems more appealing than spending an evening in the kitchen or at the gym.
If you're experiencing the same kind of winter woes, avoid the traditional calorie-packed comfort foods and try these yummy and satisfying recipes that can be thrown together in 20 minutes or less!
BREAKFAST: Chocolate Chip Pancakes
Prep Time: 8 minutes
Cook Time: 12 minutes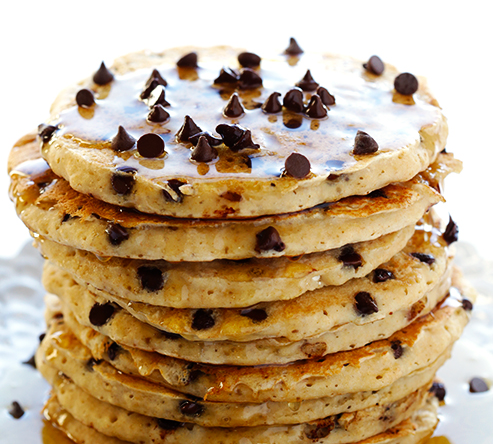 Ingredients:
½ cup white whole wheat flour
½ cup unbleached all-purpose flour
2 tsp. baking powder
¼ tsp. kosher salt
½ cup unsweetened applesauce
1 cup unsweetened almond milk (or soy or low-fat dairy milk)
3 large egg whites
2 tsp. canola or vegetable oil
1 tsp. pure vanilla extract
Cooking spray or oil mister
¼ cup mini chocolate chips
Honey or pure maple syrup for topping (optional)
Directions: In a large bowl, whisk together the flour, baking powder and salt. Separately, combine applesauce, almond milk, egg whites, oil and vanilla. Stir the flour mixture into the applesauce mixture until just moist, being careful not to over mix.
Heat a large nonstick griddle over medium-low heat. When hot, lightly spray the pan with oil. Scoop out one-quarter cup of pancake batter for each pancake, then sprinkle 1 teaspoon of chocolate chips on top. Cook until the pancakes start to bubble and the edges begin to set, approximately one-and-a-half minutes. Flip the pancakes over and cook until golden brown, approximately one-and-a-half minutes. Repeat until all of the batter is gone. Place pancakes on a plate and serve. Drizzle with honey or maple syrup for an even sweeter treat!
LUNCH: Fajita-Ranch Chicken Wraps
Prep Time: 20 minutes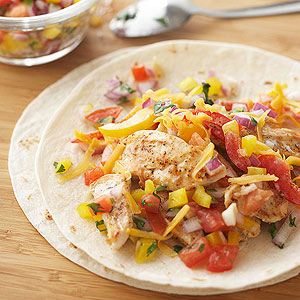 Ingredients:
12 ounces skinless, boneless chicken breasts for stir-frying
½ tsp. chili powder
¼ tsp. garlic powder
Nonstick cooking spray
1 small, red/yellow/green sweet pepper, seeded and cut into thin strips
1 tbsp. reduced-calorie ranch salad dressing
2 whole wheat/tomato/jalapeño/plain flour tortillas, warmed*
½ cup fresh salsa
1/3 cup reduced-fat shredded cheddar cheese
Directions: Sprinkle chicken strips with chili powder and garlic powder. Heat over medium-high heat in a medium non-stick skillet with cooking spray. Cook chicken and sweet pepper strips in skillet for four-to-six minutes or until chicken is no longer pink and peppers are tender. Drain if necessary. Toss in salad dressing. Divide chicken and pepper mixture between warmed tortillas and top with salsa and cheese. Roll up and cut in half.
*Heat tortillas by wrapping tightly in foil and placing in the oven on 350 degrees for approximately 10 minutes.
DINNER: Spicy Shrimp Linguine with Vodka Sauce
Prep Time: 15 minutes
Cook Time: 5 minutes
Calories: 359 (per serving, approximately 2.25 oz.)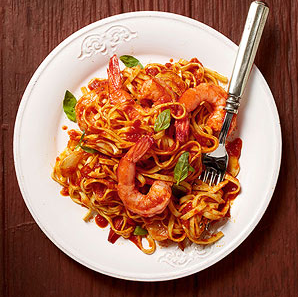 Ingredients:
9 oz. fresh linguine
¾ lb. large shrimp, peeling and de-veined
4 large garlic cloves, minced
¼ cup vodka
1 ½ cups reduced-sodium jarred arrabbiata or spicy marinara sauce
¼ cup small fresh basil leaves
1 tbsp. EVOO
Salt and pepper to taste
Directions: Bring large pot of water to boil. Cook pasta according to package directions and drain, reserving one-quarter cup of the cooking water. In a 12-inch nonstick skillet, heat one tablespoon of extra-virgin olive oil on medium-high heat. Season shrimp with 1/8 teaspoon of salt and pepper. Add shrimp to the oiled skillet in a single layer and cook one minute. Flip, add garlic and sauté for one minute. Transfer the shrimp to a plate.
Carefully pour vodka into the pan and cook for one minute. Add arrabbiata or spicy marinara sauce and bring to a simmer. Add drained pasta, reserved shrimp and juices, basil and three to four tablespoons of the cooking water. Toss well to combine and heat through. Divide into four servings and enjoy!
What's your favorite healthy winter meal? Share your recipes and tips in the comments below.