When I first moved in with my fiancé Matt, or invaded his lair, as he might say, we quickly learned our taste in décor didn't exactly click as well as we did. Matt gravitates toward rugged and durable pieces —  such as dark rugs ready to handle the wrath of a pair of muddy work boots, massive side by side televisions to watch both the game and a movie ("YOLO!") and one particularly large sectional engineered to fit his 6'5 frame. My single girl apartment was filled with prettier (a.k.a. delicate) purchases, like my glass top dining room table and a petite love seat Matt particularly loathed that was made more for aesthetics than actual sitting. I quickly realized post move that in between Matt and our rowdy golden retriever, Tucker, dainty décor didn't stand a chance.
As we navigated through unpacking and the union of belongings, our seldom used dining room somehow became home for everything that didn't have one. The corners were crammed with everything from my old apartment's orphaned décor to relocated bags of Matt's hunting gear, forced out of the upstairs closets by my collection of clothes. But with the holidays nipping at our heels, it was finally time to reclaim the dining room… and incorporate just a pinch of (Matt and Tucker approved) festive frill.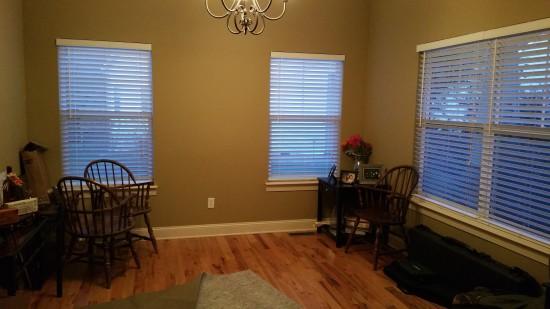 Our neglected dining room before its rehab.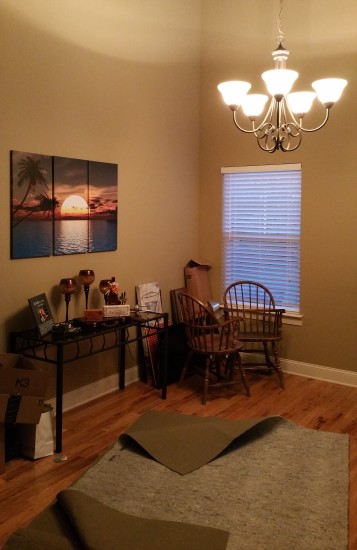 More of the dining room in all its (before) cluttered glory.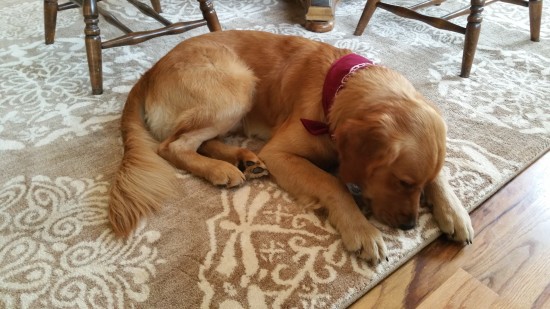 Tucker, our toughest critic, was a little wary of the change at first. We selected the cornstalk hued Reflections Dragonfly Medallion area rug (size 8" x 10") designed by the legendary American artist Bob Timberlake. While I love how the rug looks, I was really sold by the touch. It's crafted with the heavenly soft Smartstrand Silk fiber. Created with over 700 soft, silk-like fibers in each yarn, Smartstrand Silk also offers a built-in lifetime stain and soil protection that will never wear or wash off! That said, it's a great option with pets and Tucker quickly agreed.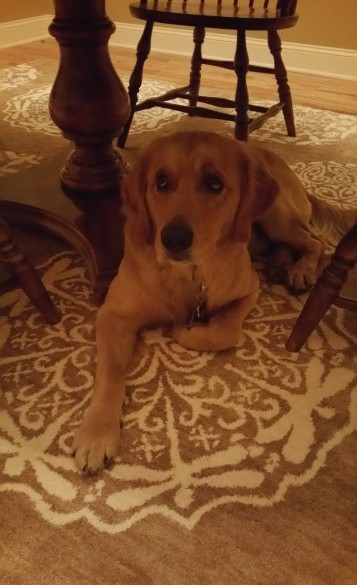 While Tucker wasn't so sure about all the hammering on the walls and moving of furniture, he quickly claimed a spot under the table where he could safely supervise.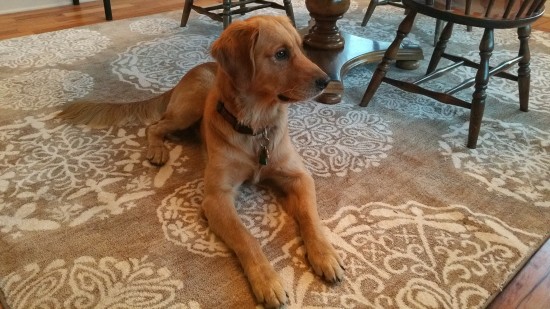 The subtle striations in the rug design add rich dimension and showcase the high quality craftsmanship.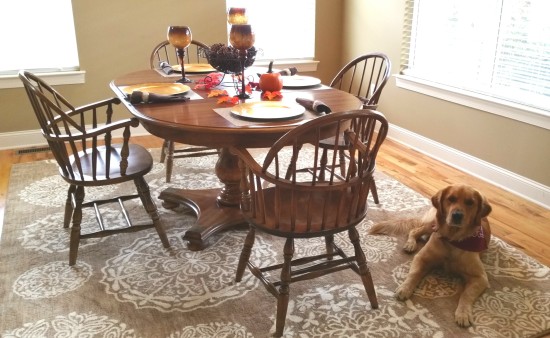 Another reason I chose this rug was for its versatile neutral color palette. While the rug's beautiful medallions are anything but bland, I didn't feel limited when it came to decorating the rest of the room. This rug will complement almost any look!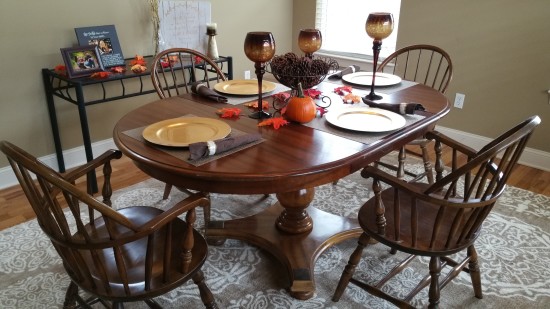 With Thanksgiving just a couple weeks away, I wanted to use an autumn harvest theme for the tablescape. The pinecone centerpiece and gold branches on the buffet will easily transition for Christmas too.
I love gold painted branches for the holidays. They're a great way to bring nature indoors and add a hint of sparkle to your space!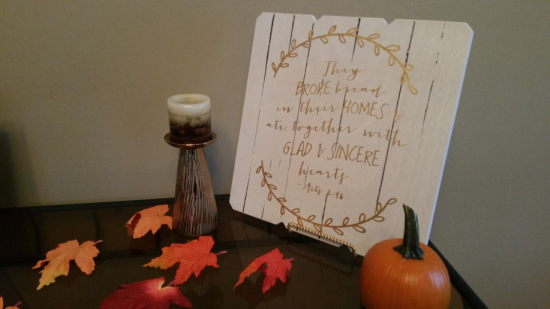 I was surprised how great of a resource Hobby Lobby was while shopping for the space. This wooden sign is perfect for a dining room and cost less than $20!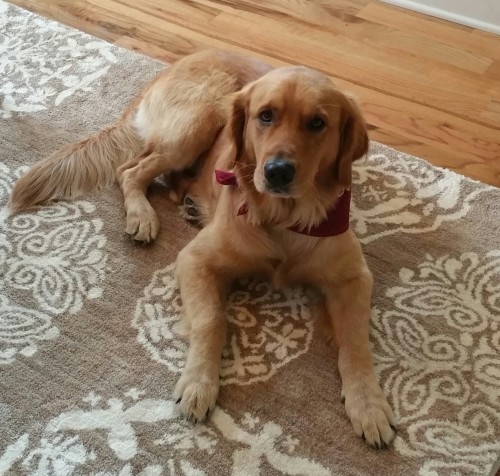 At the end of the day, the boys approved the new look and I couldn't have been happier with how the space turned out. Our dining room will now be so much more inviting to our friends and family this holiday season. And most importantly, our toughest critic looked quite cozy and content in his newfound nap spot!
The Reflections Dragonfly Medallion Area Rug and more of Bob Timberlake's rug designs are available for purchase at americanrugcraftsmen.com.