Brrr…when it's just too cold outside to want to do anything but relax in front of the fireplace or curl up with a good book, a slow cooker will be your new favorite kitchen toy! It's perfect for times when my schedule is hectic and I can't spend an hour making dinner or I simply want to take my chef's hat off for a night. I love being able to quickly throw ingredients together and let my slow cooker take care of the rest as I go about my day.
Here are a few of my favorite wintertime recipes:
Healthy and Delicious: Chicken Tortilla Soup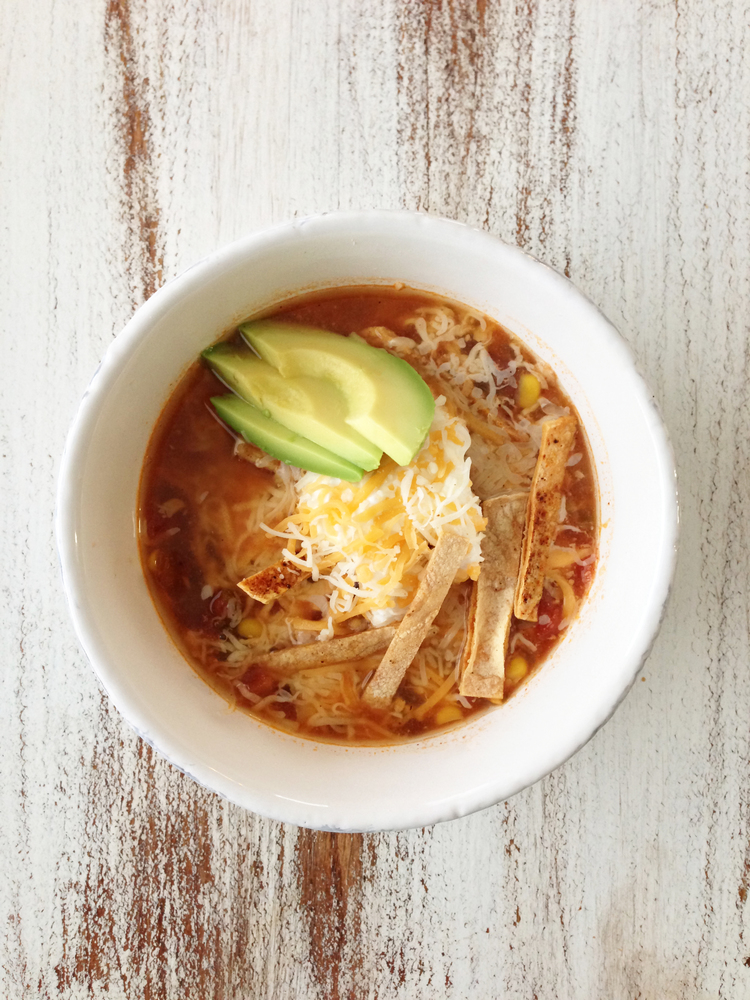 Ingredients:
– 1 lb. boneless skinless chicken breasts, cubed
– 10 oz. diced tomatoes with green chilies (Rotel)
– 14.5 oz. diced or whole peeled tomatoes (no salt added, undrained)
– 1 c. corn, frozen and thawed
– 14.5 oz. black beans drained and rinsed (no salt added)
– 1 medium white onion, diced
– 2 cloves garlic, minced
– 2-3 c. reduced sodium chicken broth
– 1 tsp. ground cumin
– 1 tsp. chili powder
– 1 tsp. salt
– 1/4 tsp. black pepper
Toss all ingredients into the pot and stir. Secure the lid and set to cook on low for six-to-eight hours, stirring occasionally. Before digging in, cut a lime into wedges and squeeze the juice over the top of the soup for the finishing touch of flavor. Add white corn tortilla strips for extra crunch. Additional topping suggestions include shredded cheese, diced onion, avocado, fat-free plain Greek yogurt and/or cilantro.
 Hearty Classic: Pot Roast with Baby Vegetables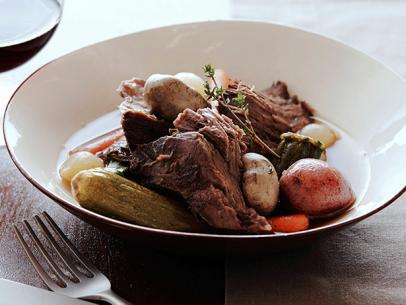 Ingredients:
– 3-5 lb. top beef chuck roast
– seasoned salt and lemon pepper
– 1 onion, peeled and halved
– 1 carrot, whole
– 1 cup beef broth (low sodium)
– 2 tbsp. Worcestershire sauce
– 2 garlic cloves, whole
– 1 rosemary sprig
– 2 thyme sprigs
– 1 lb. new red potatoes
– 1 cup baby carrots
– 1 cup boiling or pearl onions
– 1 cup baby squash, such as pattypan and zucchini
– 1 cup of button mushrooms, stems removed
– Kosher salt
Sprinkle roast with seasoned salt and lemon pepper to taste. Place the onion and carrot in the bottom of slow cooker and lay meat on top. Pour in the broth and Worcestershire sauce; season with garlic, rosemary and thyme. Cover and cook on low for five-to-six hours. Add the baby vegetables around the roast, sprinkle with season salt and continue to cook on low heat for an additional one-and-a-half hours.
Meatless Marvel: Garlic Artichoke Pasta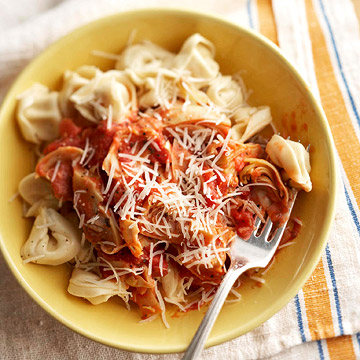 Ingredients:
– Nonstick cooking spray
– 3 cans artichoke hearts, drained and quartered (14.5 ounce cans)
– 6 cloves garlic, minced
– 1/2 cup whipping cream
– 12 ounces dried linguine or fettuccine
– Sliced pimento-stuffed green olives and/or sliced pitted ripe olives (optional)
– Crumbled feta cheese or finely shredded Parmesan cheese (optional)
Spray the inside of the slow cooker with cooking spray. Drain two cans of diced tomatoes (do not drain the remaining can). Stir together drained and undrained tomatoes, artichoke hearts and garlic. Cover and cook on low for six-to-eight hours or on high for three-to-four hours. Stir in whipping cream and let stand about five minutes to heat through.
After sauce is complete, cook pasta according to the package directions. Drain and top with sauce, olives and cheese.
Happy eating!