There is something so gratifying about freshening up your outdoor spaces, especially for the warm weather months.  And with a few hours, some elbow grease, and about $100, you can have a fresh, inviting deck or patio for your outdoor enjoyment.
I spent about 5 hours total over the course of a couple of days and got my back deck in tip-top shape.  I started with this…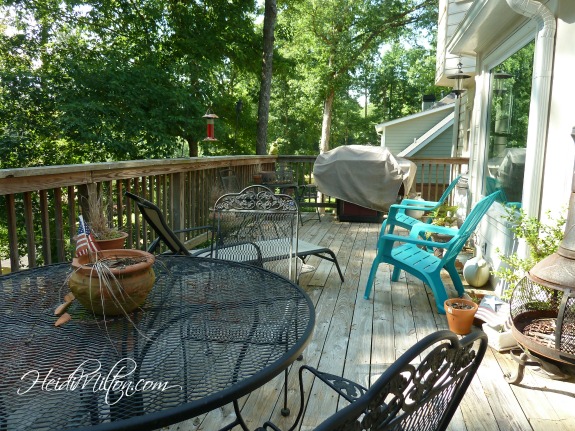 Our harsh winter had killed all my plants that usually survive the winter months and taken its toll on my furniture.  It was time to get busy!
1.  Clean it up.  Luckily my husband had pressure washed the deck for me at the end of our epic pollen season.   But lots of spring storms left it covered in debris, so a few minutes with a blower took care of that.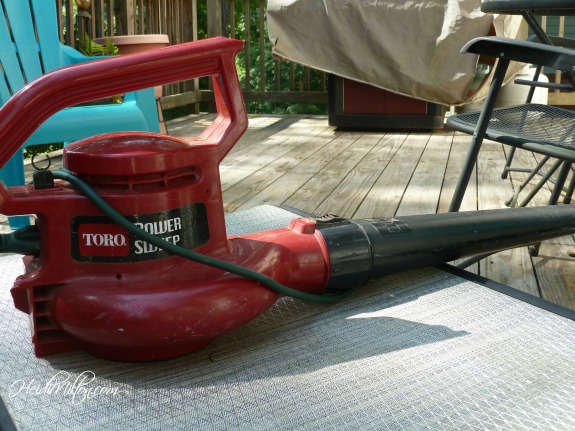 I dug out all the dead plants from my pots, too, and took stock of what was needed.
2.  Make repairs.  Our deck was in pretty good shape with this exception…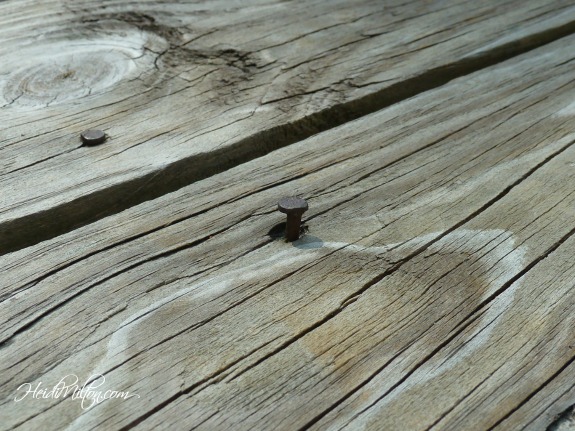 Looks like a foot injury and tetanus shot waiting to happen, doesn't it?  I spent about 20 minutes with a hammer getting all of these pounded back in.  We're a barefoot family in the summer time so this minor repair was essential.  Double check your railings or pavers for any needed repairs;  now's the time to do them!
3.  Repaint furniture.  I have lots of seating on our deck for our very large crew so this will take a while.  I started with a little resin side table I purchased from Target about 17 years ago.  Yes, you read that right!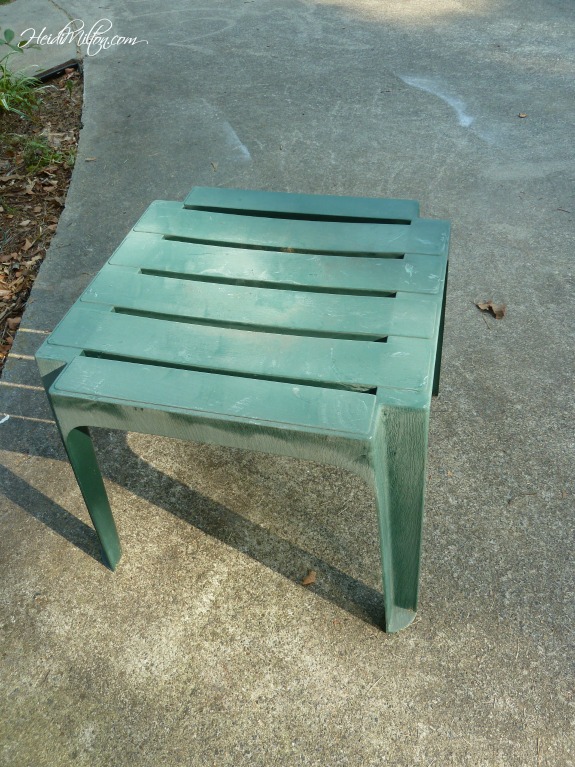 The resin Adirondack chairs that matched it didn't survive last year and were replaced with two fun turquoise chairs.  Time to make that little table shine again!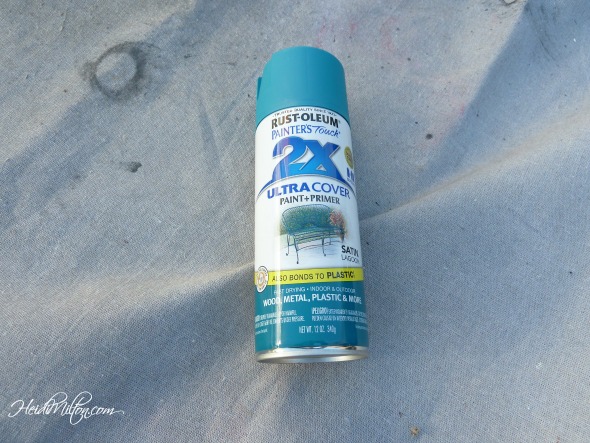 And luckily, my favorite spray paint was very close in color to my new chairs.  Two coats of paint later and she's the perfect companion for deck sitting.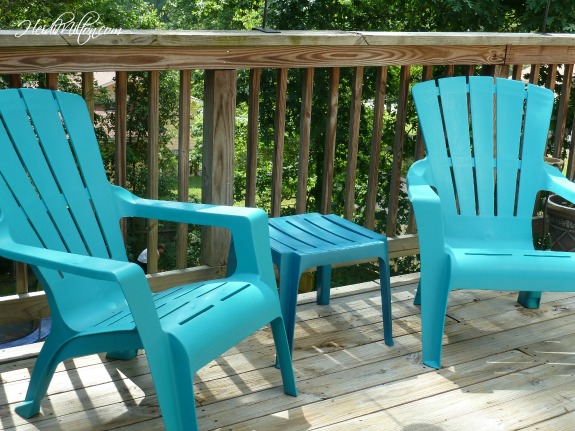 4.  Replant pots.  It was so disheartening to see only a couple of my plants survived the winter!  My herb garden got a complete refresh…
Mint, rosemary, cilantro, chives, and a new one — lemon balm!  And I filled in my other pots with sweet potato vine, begonias, some coleus, and creeping jenny.   I ended up spending more than I usually do, since I had to replace some of my old stand bys that have always wintered over well.  But the fresh pots are well worth it!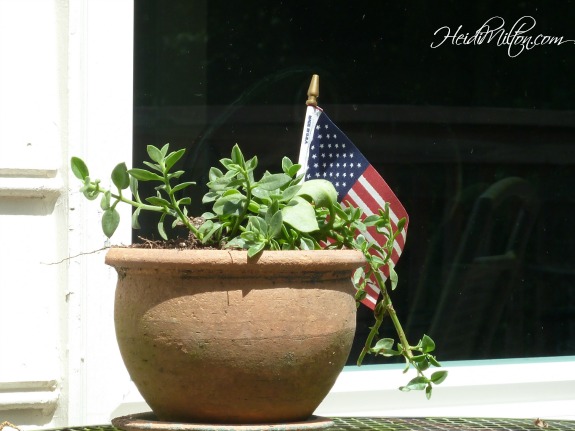 5.  Rearrange.  It was truly time for a fresh look, so I flip-flopped a couple of our seating groups, moving the bistro set under the kitchen window and the Adirondack chairs opposite.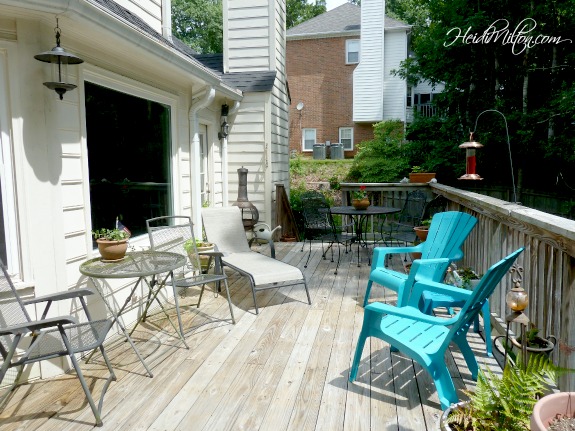 Now when I look out my kitchen window I see my cheerful turquoise seating group.  And the bistro table is still handy to the grill for staging food preparation.  Our entire deck is in shade from 4pm on, so we get lots of enjoyment in the evening hours.
6.  Add decorative touches.  This is the fun part!  My pots sport small American flags year round, but I add personal touches as well, like this miniature stone Uga (University of Georgia mascot) for my Georgia Bulldog daughter.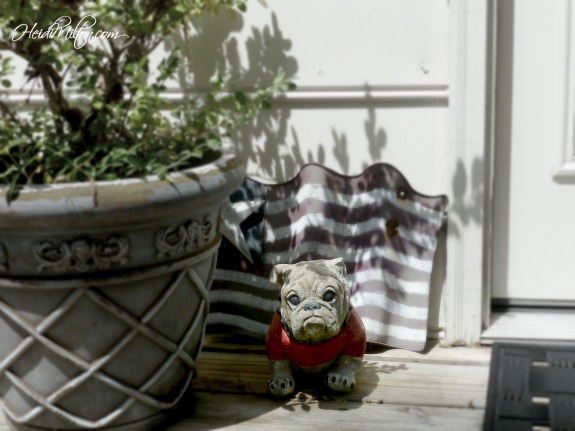 I also ordered this rug to tie my seating groups together…
and am on the hunt for some fun little outdoor lights to add extra ambiance at night.   Candles, sea shells, and bird feeders are also great outdoor accessories.
Explore Pinterest for some added inspiration for your outdoor space!  Here are some of my favorite looks…
Okay, outdoor living season is upon us, so get your outdoor space spruced up!  Cheers!
Find more of my home decor and DIY inspiration on Decor & More.