When I was a newlywed, my decorating style was super traditional.  I insisted that our first home have a formal dining room so I could throw lavish dinner parties with all of my new serving ware that rolled in from my wedding registry.  I had inherited my grandmother's dining chairs and her china, so all I needed was a china cabinet.  I scoured antique malls looking for the perfect china cabinet, and one day I found it.  A beautiful French Provincial piece that had been painted black and distressed to perfection.  It fit perfectly in my new formal dining room, where I kept the table set for a full course meal at ALL TIMES.  I'm telling you, I wasn't playing around with my job of being a perfect homemaker back then.   I took it seriously.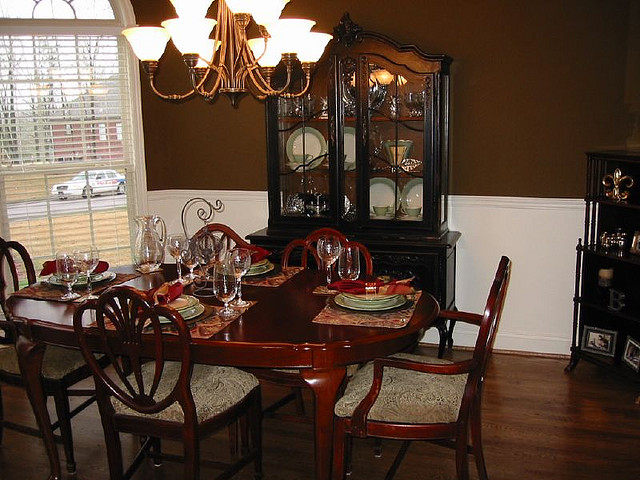 One night I invited my college roommate and her new boyfriend (now husband) over for dinner  in my new dining room where I served baked ziti with chocolate fondue for dessert.  I really thought I was something special.  My college roommate thought I had lost my mind. I'm sure she was wondering what happened to the laid back girl who ate ravioli straight from the can while lying on the couch reading the latest gossip magazine.
Fast forward ten years to a new house and add a five year old little boy in the mix, and my need to be a perfect housewife who serves five course meals in the formal dining room is long gone.  Most days my dining room is a dumping ground for shoes, back packs and school projects.   My style is much more relaxed and comfortable now, but I still have my super traditional, formal china cabinet that carried over from the old days.
In an effort to loosen up the stuffiness just a bit, I decided to give it a fun update with a new coat of paint and a stencil. The project was so easy, and totally transformed my china cabinet.  I chose to paint it blue to match my dining room wall, so that the black really pops out.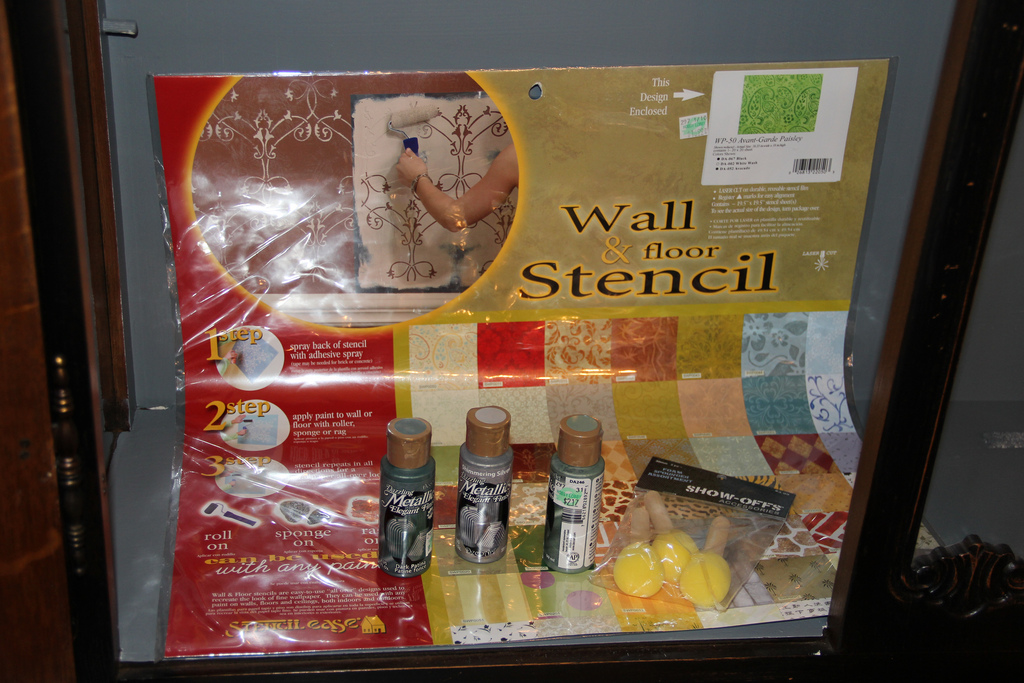 For the stencil paint I chose a shimmery craft paint in shades of silver, blue and green.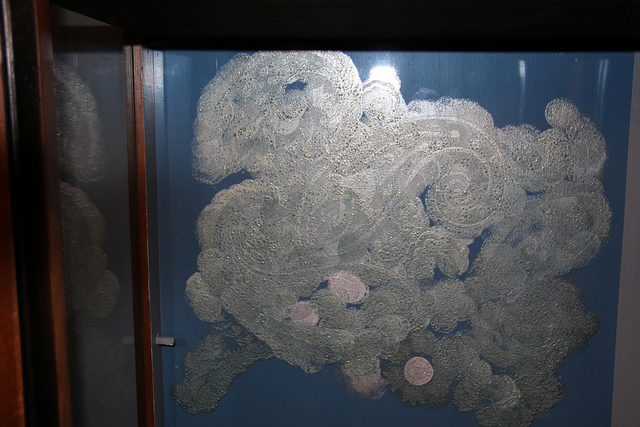 I love seeing the paisley stencil peeking out from behind my Grandmother's china.  It adds a whimsical touch of unpredictable fun to this formal french provincial piece.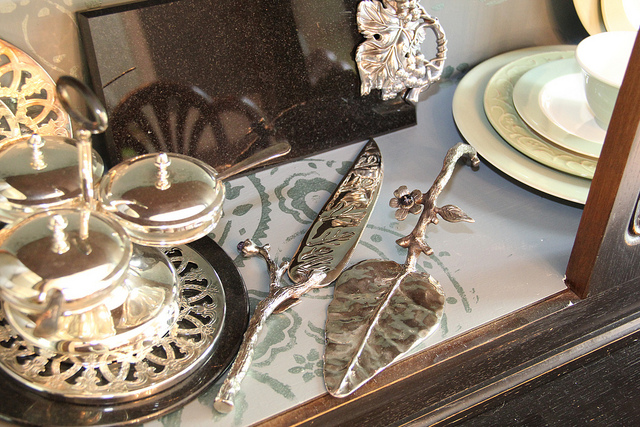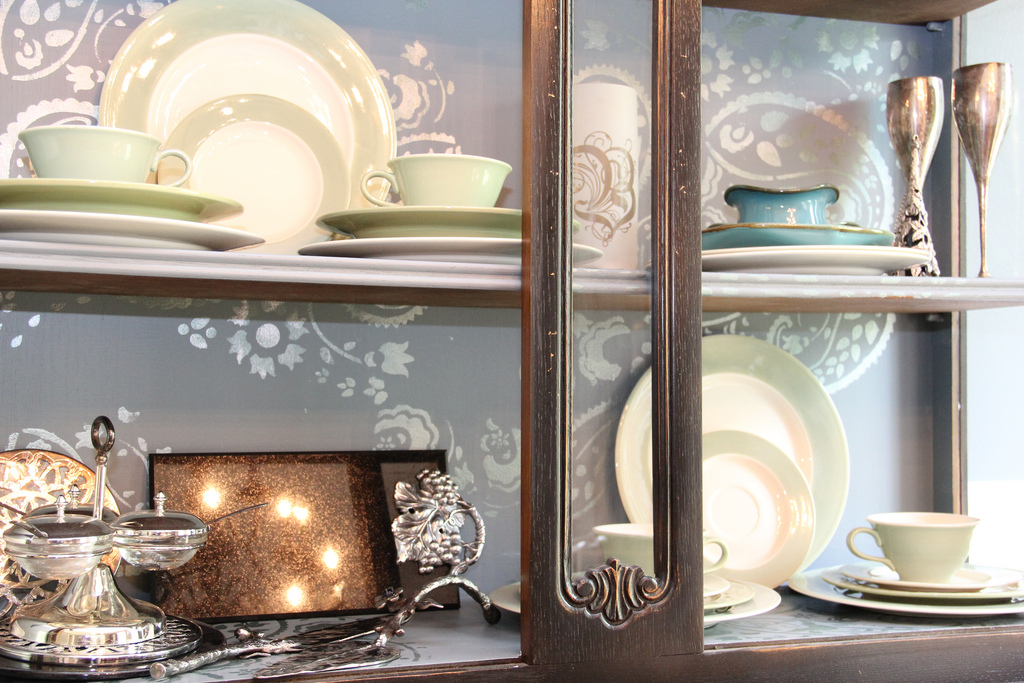 I have always loved this china cabinet, and now it fits my personality completely.  Business in the front, party in the back.  Traditional decor does not have to be predictable.  If you loosen up and have fun with your decorating, you will love your home even more.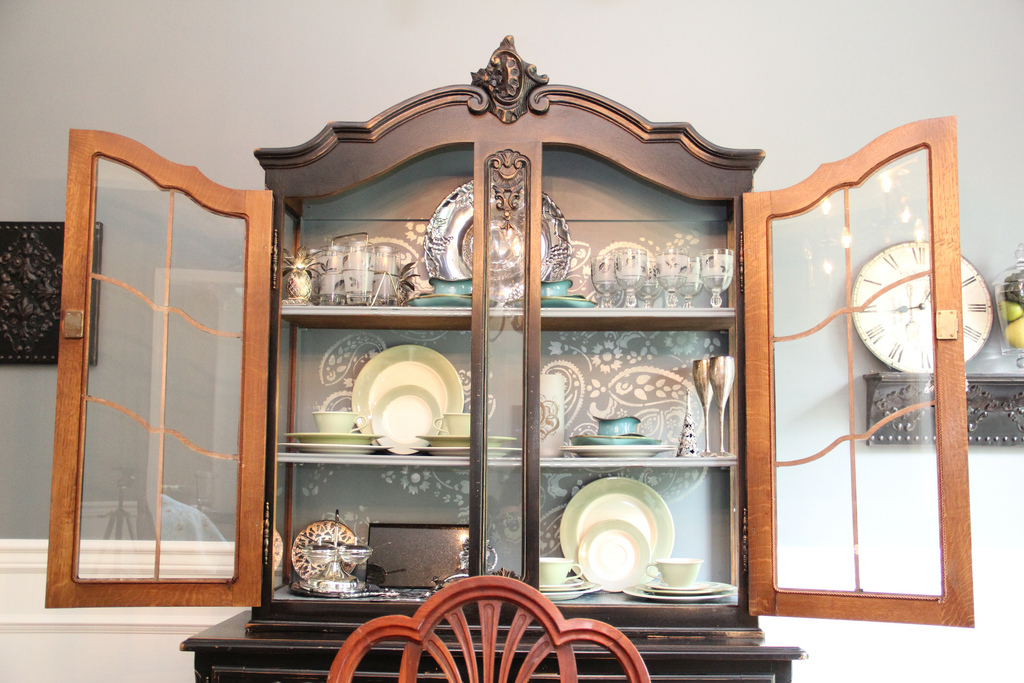 Written by: