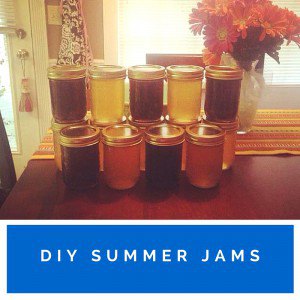 It's summertime in the south and that means a lot of canning and "putting up" fresh fruits and vegetables. While I can easily admit to have never actually made any homemade jelly's or preserves. I can promise you, I am huge fan of eating them! As a little girl my YiaYia (that's Grandmother in Greek) would always make Fig Preserves off the fig tree that grew in her back yard.  Figs are naturally sweet and full of flavor – think sweet cool homemade fig preserves on a warm biscuit. You can make your own home by following the DIY Jam recipe below or seeing the entire blog post here: http://bayouwoman.com/old-fashioned-fig-preserves/
Old Fashioned Fig Preserves
Prep Time:
30 Min
Cook Time:
3 Hr
Ingredients
4 Cups whole figs

2 Cups sugar

4 Lemon slices, seeds removed (1 slice per jar)

3/4 to 1 Cup water

1 pinch salt
Instructions
Rinse your figs in the sink really well and then drain. Remove the stems. Leave whole or cut in half–your choice.

In a large, heavy pot, add all the above ingredients.

Cook on low for about three hours, stirring occasionally so mixture does not stick or burn. DO NOT LEAVE POT UNATTENDED because burning happens quickly!

Cook until very thick.

Ladle hot preserves into hot, sterile jars, using canning funnel and oven mitt so you do not burn your hand.

Process in boiling water bath for 10 minutes. Preserves may be stored in fridge for up to one month without the bath.

Yields 4 half-pint jars.
The recipe calls for a 3 hour cook time. While you more than likely won't be standing for the full 3 hours you are sure to be on your feet in the kitchen. Make sure your kitchen sink or the area in front of your stove has one of Mohawk Home's Comfort Plush kitchen mats. Your feet will thank you!