For my fourth and final nursery I wanted it to be something unique, something special, but more than just a store-bought theme. I desired a personal touch based on my emotions, feelings and the items that I gravitated towards during my pregnancy. Which is likely why it took me so long to finally complete the nursery. I let my inner DIY fanatic take charge and never put a time limit on completion – even when the nesting instinct was full force. In the end, I'm thrilled with how it came out and love it even more each time I step foot in the room.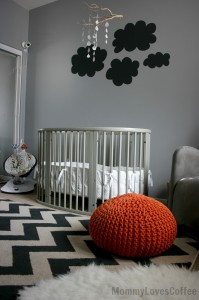 Even though I consider the entire room to have an eclectic DIY vibe, the mobile and clouds above the crib were, by far, my favorite DIY projects for the nursery. For the clouds, I purchased a set of large square chalkboard decals and turned them over. From there, I drew different sized clouds with a regular sharpie pen. With small craft scissors, I carefully cut out each cloud and positioned them loosely with tape on the wall to determine placement. Once they were all placed in the perfect position, I one by one pealed the backing off and stuck them to the wall.
For the mobile, I already had a medium-sized piece of driftwood as a decoration in the master bedroom. I had previously purchased a twig wreath, cross stitch circle and wire to test out which one would work best visually in the room and which one I could complete as the project. In the end, I walked past this piece of driftwood and it caught my eye. I cut rain drops from white felt and sewed them together with a straight stitch on my sewing machine. I then strategically placed them on the driftwood so they would hang properly (and at various lengths) and tied them extra tight to the branches and finished each knot off with a few drops of glue from a hot glue gun. With clear fishing wire, I hung the entire piece from the ceiling by an anchored ceiling hook.
(Important: With any DIY mobile, make sure your materials are securely attached to eliminate the choking risk or hazard to a baby)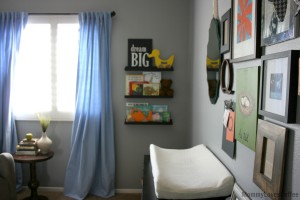 Some pieces for the nursery (like the driftwood) came from other parts of the house. The blue panels were previously in my oldest son's bedroom, but I have since updated his room to a pre-teen room with a different/older decor. The side table also came from the master bedroom after not being able to find one small enough for the nursery.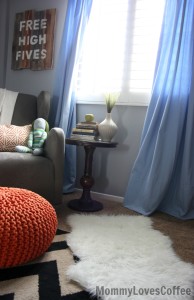 The books are all children's books and stories I loved as a child, and the teddy bear on the middle shelf is also mine from my childhood.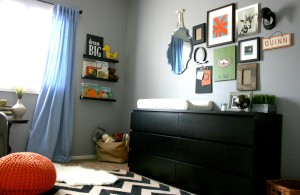 A perfect example of going with the flow – the room started out with burlap curtain panels. I was pretty set on only incorporating gray, brown and tan with white and orange accents. As the room evolved, I slowly acquired pieces that brought in green, blue, black and yellow.
For the picture wall, I composed a collection of frames, artwork and pieces that inspired or moved me (to tears) while pregnant. The top middle picture is a chalk drawing of a sun made by my oldest son when he was just five. The right, middle picture is from instagram, which I had printed and then hung in a square frame. All other frames are blank and waiting for new pictures, which I will add 1. as I have the time and 2. as he grows so they're not all of his newborn days. What I like to do while waiting for those perfect pictures is to add a piece of colored cardstock in the meantime to act as a placeholder for future pictures. The clipboard was also a DIY project – it's painted with black chalkboard paint, front and back. I have a printed instagram picture and a Q flash card there currently, but clipboards make a great place to display pictures and art because you can easily change it out as often as you would like. Plus, when you use chalkboard paint, you can write a message, date or caption for the photo or item on the clipboard.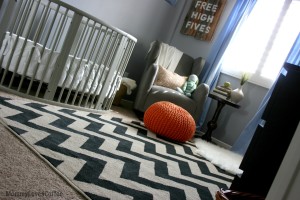 The rug was the finishing touch and instantly became one of my favorite pieces (right up there with the crib and DIY mobile). It really brought together the furniture pieces and added another dimension in a way I didn't think was possible.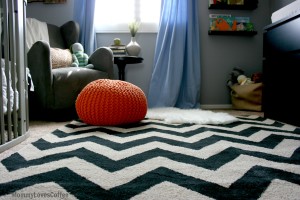 The one thing I did throughout the design process is create and maintain a Pinterest Board full of inspiration and ideas. It was extremely helpful (hello, pregnancy brain) to refer back to and sparked many great DIY ideas of my own.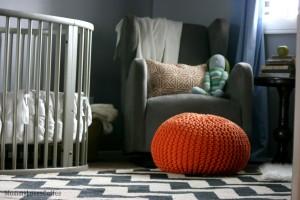 More nursery details:
Crib – Stokke Sleepi
Crib bedding- Stokke
Glider- Monte Designs Vola
Bunny in glider- Bla Bla Kids
Vintage children's books on side table- thrift stores
Rug- American Rug Craftsmen Panoramic Black Striped Herringbone Rug
4moms rockaRoo
Pouf- Threshold for Target
Dresser- Ikea MALM
Faux sheepskin rug- Ikea
Throw blanket- Ikea
Mobile- DIY
Clouds- DIY
Book ledges- Target
Books- collection of children's books
Dream Big sign- Evie Ivy
Free High Fives Wood Sign- Salty Bison
Mirror- Pottery Barn Kids
Panels- Pottery Barn Kids
Wall Color- Benjamin Moore Stormy Monday
Duck and Snail push toys- Manny and Simon
Diaper Pail- Ubbi
Side table, vase, picture frames, fake grass, burlap baskets, lumbar pillow, fake green apple, mini globe- Homegoods
Stuffed Taxidermy Bunny- Missfit Minagerie
Le Nid wooden print- (old) Pottery Barn Kids
Wooden "Q"- Pottery Barn Kids
Giraffe print- Brickyard Buffalo
Chalkboard clipboard- DIY project
Teddy bear on book ledge- My bear from when I was a baby
Quinn sign- Gift from The Guncles
Video Monitor- Summer Infant
Blanket next to glider- Little Giraffe
Written by:
Christina Holt, Writer/Teacher- Mommy Loves Coffee