People think of spring as a time for buds and blooms. But I love decorating my home for fall with branches, berries, leaves, and other natural elements.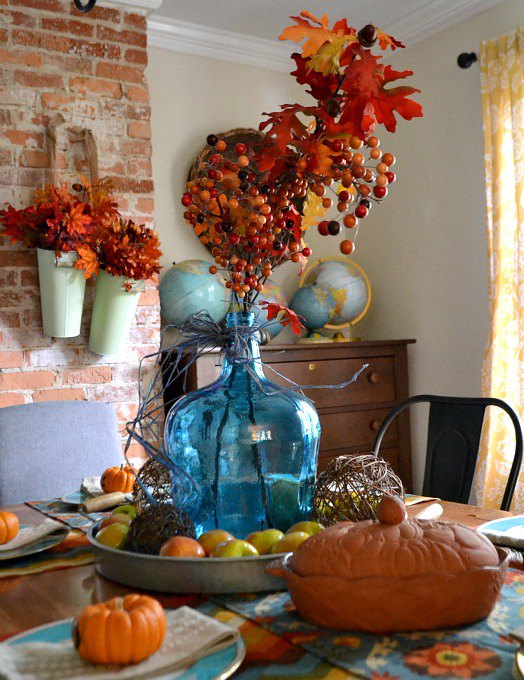 A fireplace mantel is the perfect place to add fall decor. Here are some great ideas for how to decorate a fall mantel with natural elements.
Use Different Textures
Nature gives us so many great textures. When choosing materials to decorate a mantel, choose different, contrasting textures to create interest.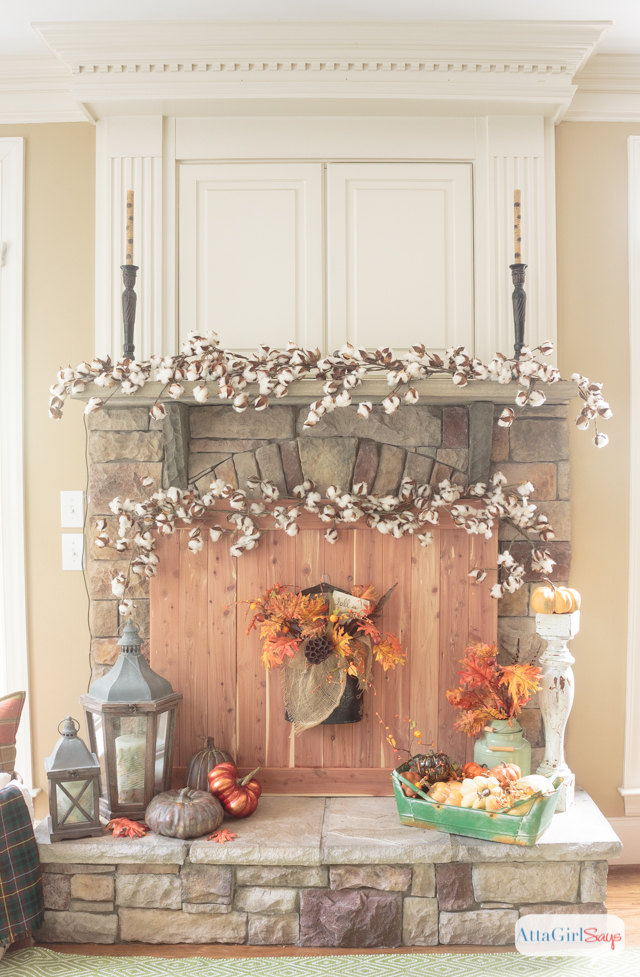 To complement the hard stone fireplace, Amy at Atta Girl Says mixed smooth cedar wood planks, wrinkled leaves, and soft, fluffy cotton garland. The distressed metal of the vintage mailbox contrasts with the smooth pumpkins and glass on the lanterns. This mix of textures – soft and hard, solid and wispy – keeps your eye moving around the fireplace, to enjoy all of the decorative elements.
Use Height for Interest
Speaking of keeping your eye moving, having the decor at different levels and heights also makes for a beautiful mantel.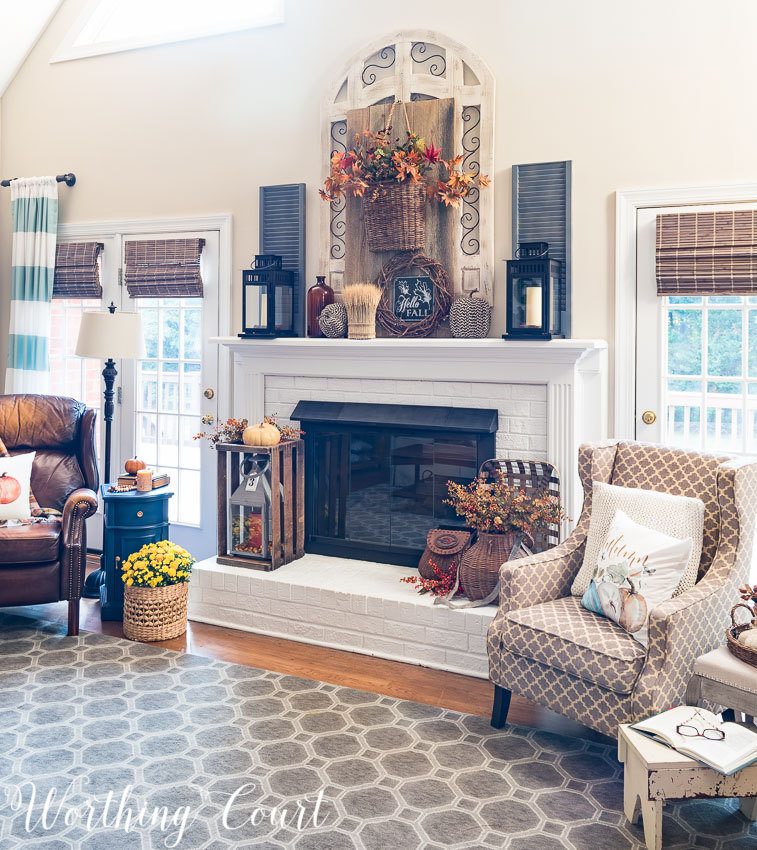 Especially when you have high ceilings, like Suzy at Worthing Court's living room does, using tall elements like shutters, reclaimed wood, and baskets really maximizes the space. Contrast the larger elements with smaller fall-themed items like pumpkins, wheat bundles, and candles.
Mix Natural and Faux Elements
The natural elements on a fall mantel don't all have to be "real." You can create a complete fall mantel by mixing both natural and faux elements.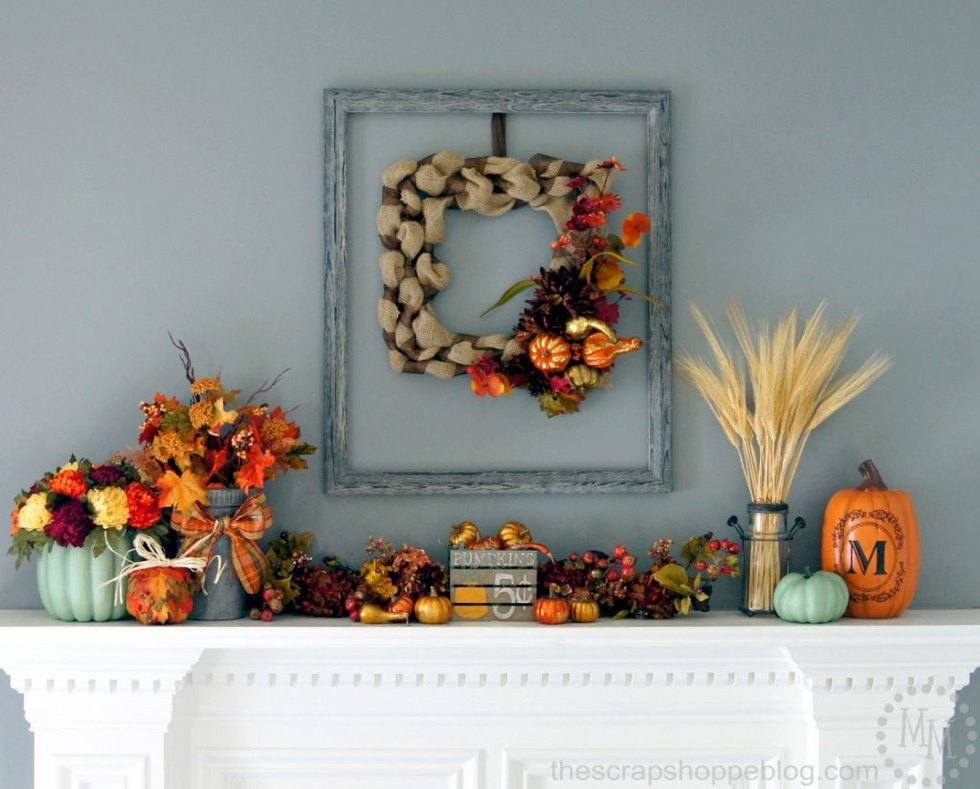 I love this fall mantel from The Scrap Shoppe Blog because it incorporates both natural and artificial elements. There are real flowers and pumpkins, but also faux leaves, berries, and branches. The combination gives a complete, beautiful look.
The other benefit to mixing natural and faux elements is that you can re-use the faux elements each year, but change their look with new, fresh natural elements.
Neutrals and Color
Neutral colors on the walls and architectural features of a home provide a perfect backdrop for warm fall colors.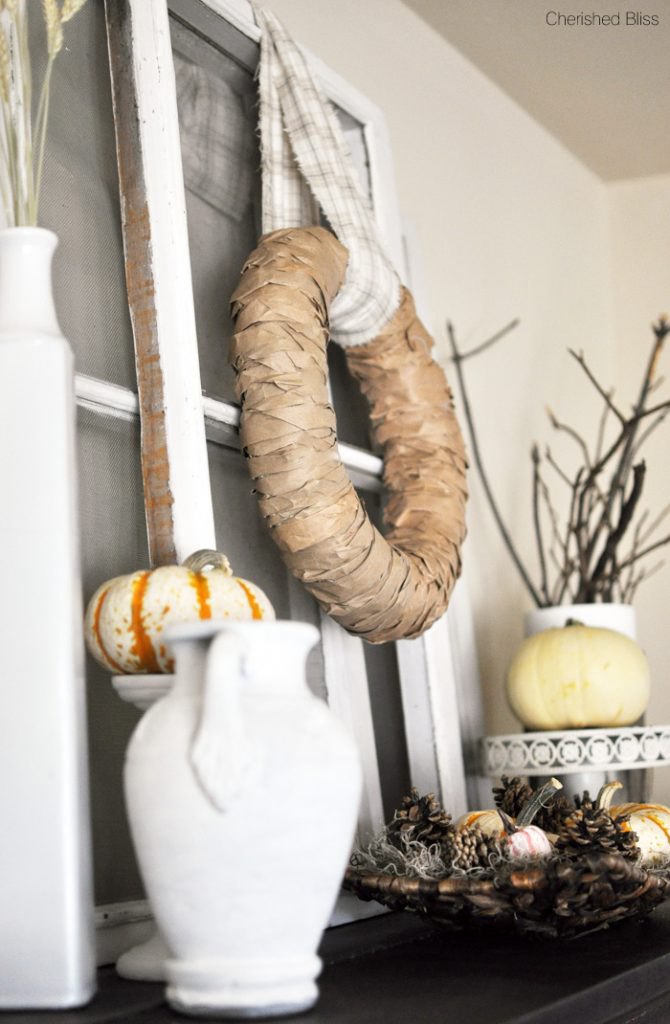 Cherished Bliss used white painted elements like the window, pitcher, and cake stand to showcase the warmer colors of the pine cones and pumpkins. And I love that wreath – hung with plaid flannel fabric, it's made from brown paper bags and looks like tree bark!
So don't let your fireplace mantel go bare this fall! Dress it up with fall berries, branches, leaves, and other natural elements!