Ever have that room in your home that just stumps you?  For years I wrestled with the look of my dining room.  When I first moved into my home 15 years ago, I painted that blah beige room a rich green that was a favorite color from my previous home.  And it was fine for a while.  Until our landscaping matured and those marvelous front windows weren't allowing a whole lot of light into that space.
It was also furnished with a hodge podge of great pieces — including some heirlooms I refuse to part with, so the challenge was this:  Take a dark drab space full of antiques and make it lighter and fresher.
Here's what I started with…
I had already repainted an adjacent room in a lovely shade of gray, Behr's Silver Sateen, and I knew it was the perfect gray to put in my dining room — not too light and not too dark.
The old blinds came down, the trim got a fresh coat of paint and then the biggest change — a gallon of paint.  Because I used a paint and primer in one, it only took two coats to completely cover that dark green.  With a lighter neutral on the walls, I polished up my antique buffet and trestle table and vintage piano.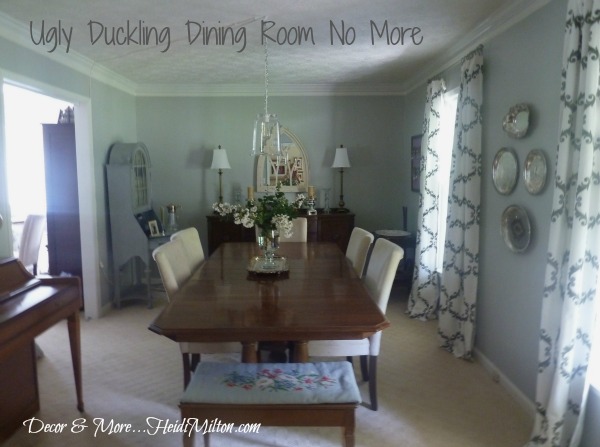 Rather than put the blinds back up, I opted for white drapes that I stenciled to keep everything bright.  You can read my full tutorial on this project HERE.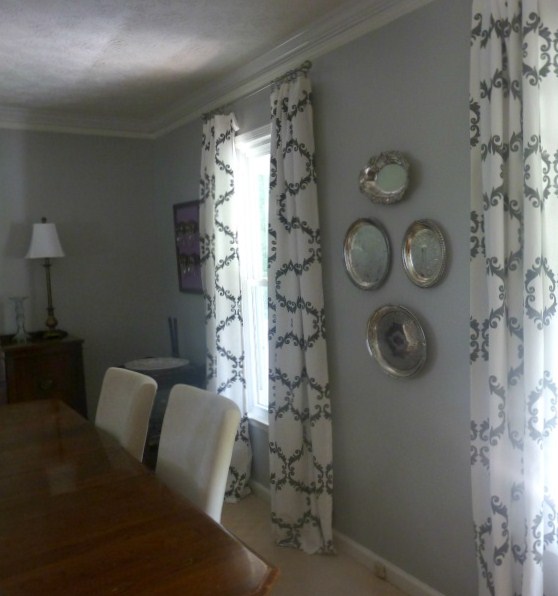 I also changed out my old artwork with heavy frames for mirrors and a wall of silver platters.  We had quite the collection that was languishing in the drawers of my buffet!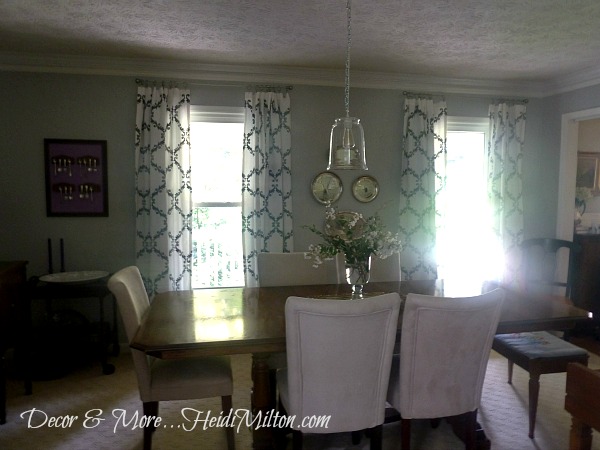 To keep light bouncing around the room, I used glass, silver, or mercury glass accessories: candlesticks, hurricanes as vases, carafes.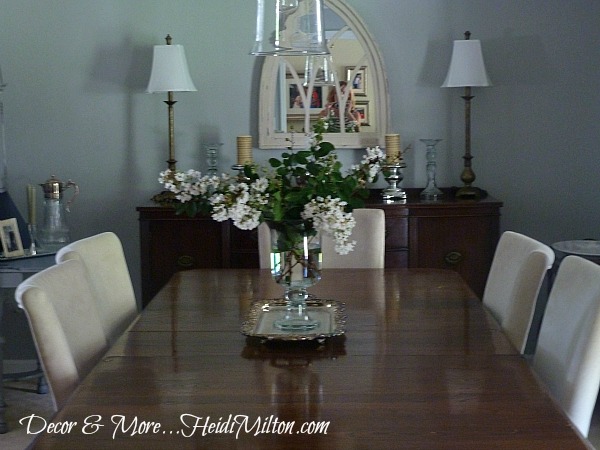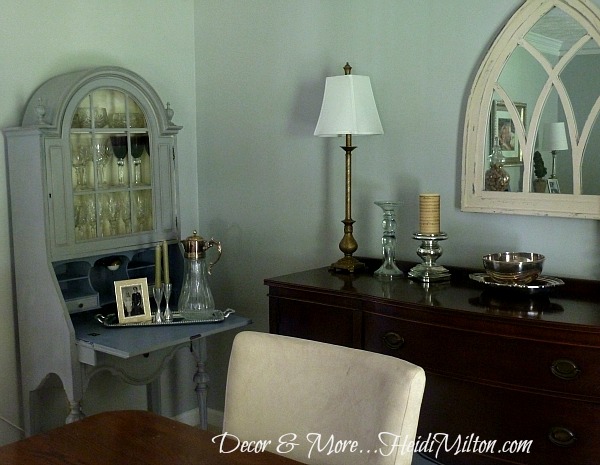 I kept any lamp shades a simple white and the DIY pendant fixture clear glass.  This way the only heaviness in the room are the antique pieces that ground the space.  This entire makeover was completed for under $300 — paint, drapes, a mirror, two white lampshades and the light fixture supplies were the only expenditures.   I challenged myself in the DIY department quite a bit, but the results were well worth it.
While we don't use our dining room often, the lightness of the room is a breath of fresh air in the house.  We walk by it or through it daily and so can enjoy the change often.
You can find more DIY and decor inspiration on my blog, Decor & More.