It's time for the kids to go back to school! Whether your child is in elementary school or about to finish high school, a quiet place to spread out and do homework is essential. Even if you don't have a home office, you can create a dedicated homework space in other rooms. Here are some back-to-school-inspired room makeovers that make doing homework fun!
When I redecorated my daughter's bedroom, I knew she needed a desk that could hold school supplies and be a place for her to do homework and art projects.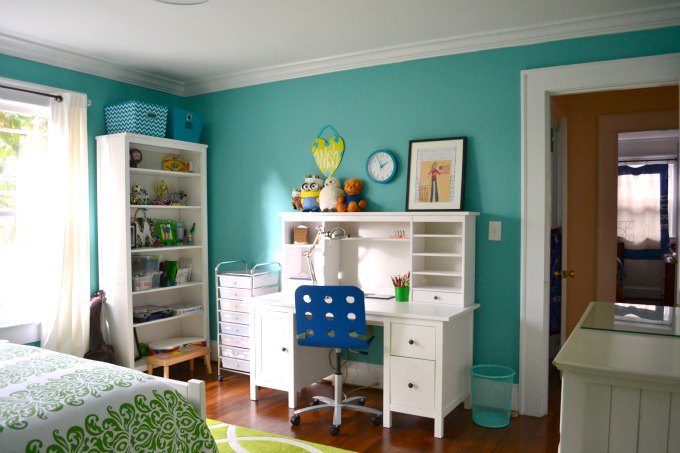 This desk and hutch give her both tons of storage and a large work space. I chose this desk specifically because it had a generous work space on top without being bulky and the hutch takes the storage up, rather than out into the room. And the crisp white finish really pops against the teal blue walls.
If your child doesn't have room in his room for a desk, how about turning another space into a study area?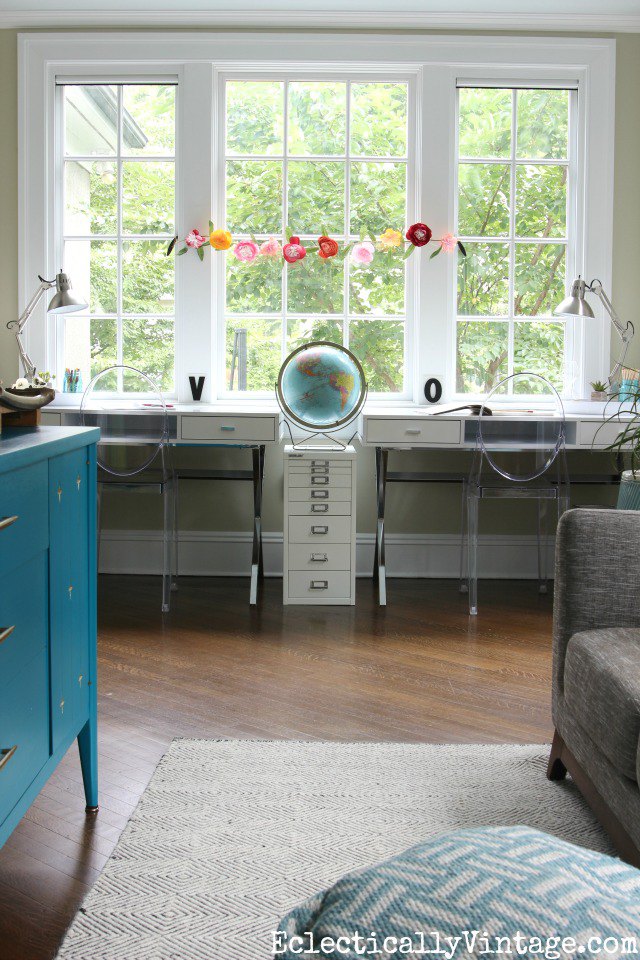 Kelly from Eclectically Vintage turned a sunroom into a homework space for her twin girls. By adding two narrow desks along the window, she created a sunny spot for working. And the clear desk chairs provide stylish seating while keeping the room airy and light.
Jessica from Mom4Real turned her breakfast nook into a homework station.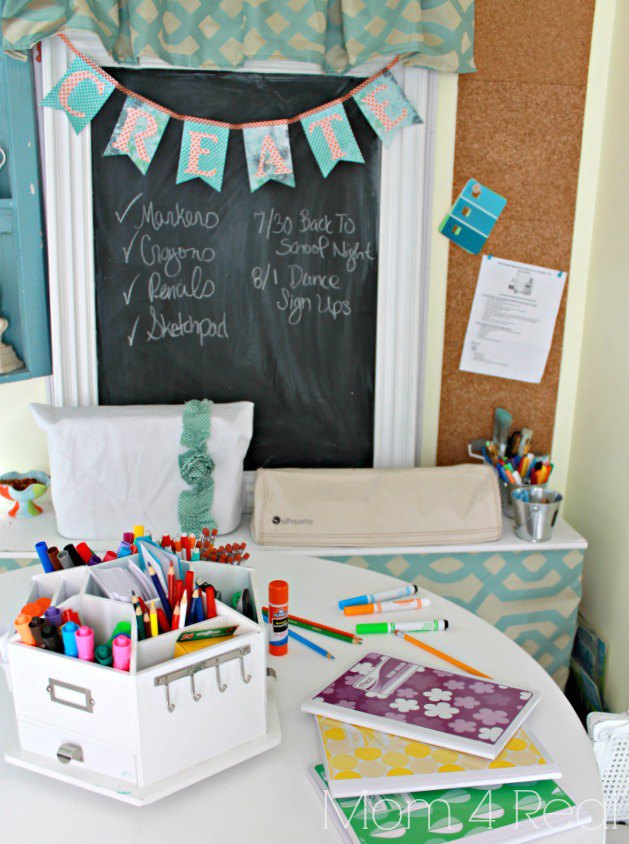 She added a large chalkboard and some corkboard squares to one wall, for lists, reminders, and displaying papers. Then she added a spinning caddy for art and school supplies like pencils, highlighters, and markers. Now, when her kids have homework to do, they just pull out the materials and get to work!
For a more portable homework station: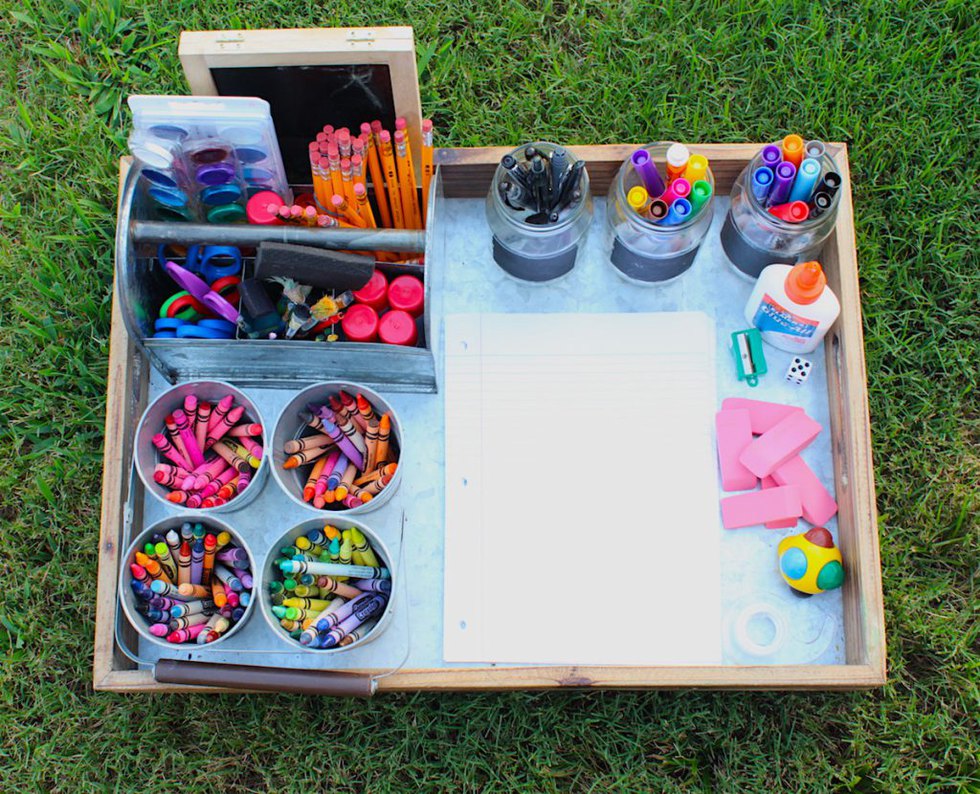 Lesley from Chaotically Creative took a serving tray and created a homework station that can go anywhere! Small galvanized buckets hold supplies, and the tray provides a flat writing surface for homework anywhere.
Keeping the kids organized is essential for the school year.
Elisha from Pneumatic Addict built this backpack and homework center when her kids started school. It's perfect for hanging backpacks at the end of the day, and staying organized with spots above that for homework and supplies. This would be perfect in an entry hall or mudroom.
And if you don't need a homework area, but want to add some school-inspired decor to your home, here are some ideas: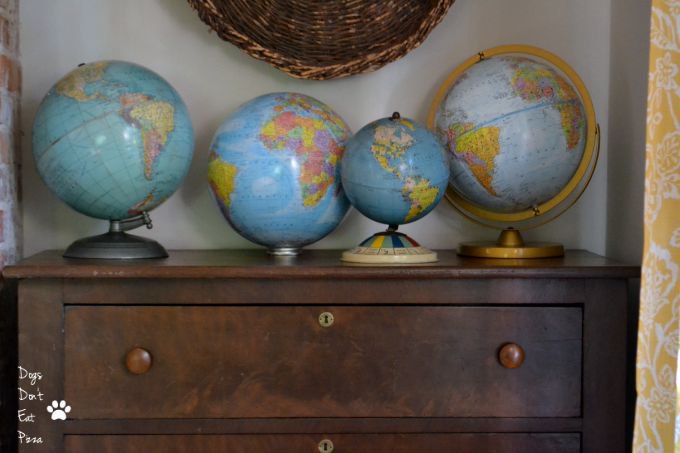 I have a vintage globe collection – I love the colors of the globes, plus it's fun to see how the countries have changed over time.
School lockers make great storage: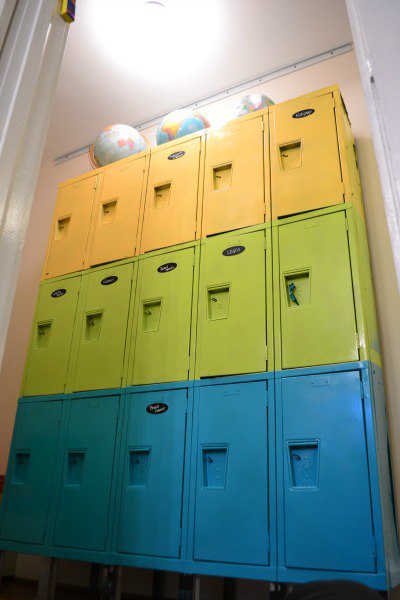 I found these old school lockers at the Habitat for Humanity ReStore. I painted them bright colors, and now they provide storage for art supplies and games.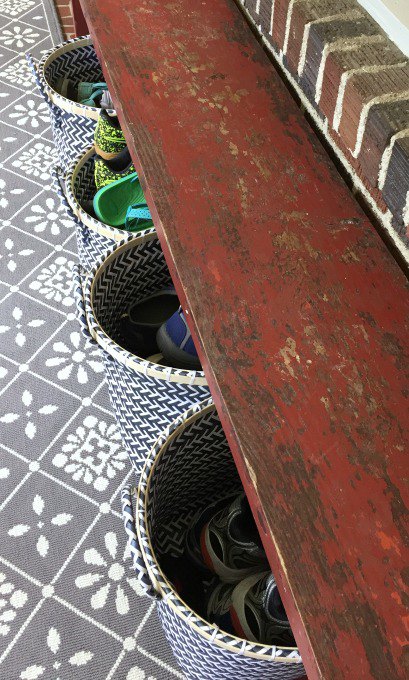 This old bench used to live outside a principal's office! Now, it provides a place for my family to put on shoes before heading out the door.
I hope these back-to-school-inspired room makeovers have inspired you! Have you carved out a homework space in your home? Please leave a note in the comments and share how you created that workspace.