Yo Ho Ho! It's a Girl & Boy Pirate Party! I love a good DIY birthday party. I'll take you through every tip and pointer so you can throw a fab party without breaking the bank.
Invites
There are a lot of designers on Etsy who will create a custom invite for you for a nominal fee. They will send you a jpeg of the image. You can then upload them to snapfish or shutterfly and have them printed for a fraction of the price of traditional invite printing.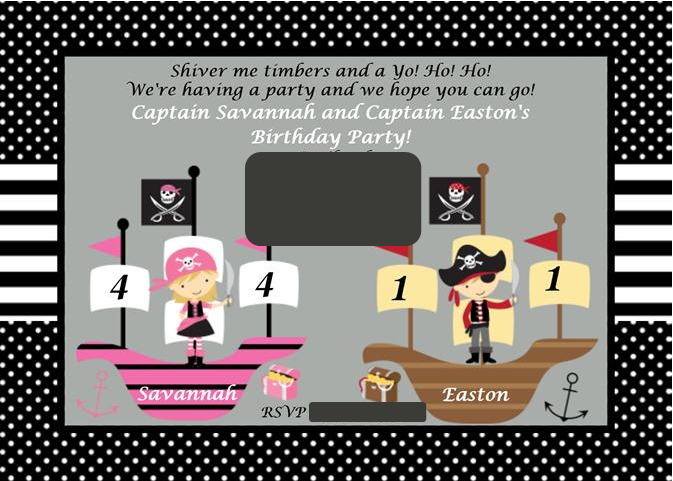 Cake
I love a good fancy cake. Bottom line though, kids don't care. Cake is Cake. Our local grocery store Kroger will make a cupcake cake into any image you bring in. The best part is the price. This cost a mere $15 for 27 cupcakes! Another bonus is you don't need a knife to cut the cake (especially important if you are having your party somewhere other than home). The cupcakes just pull apart!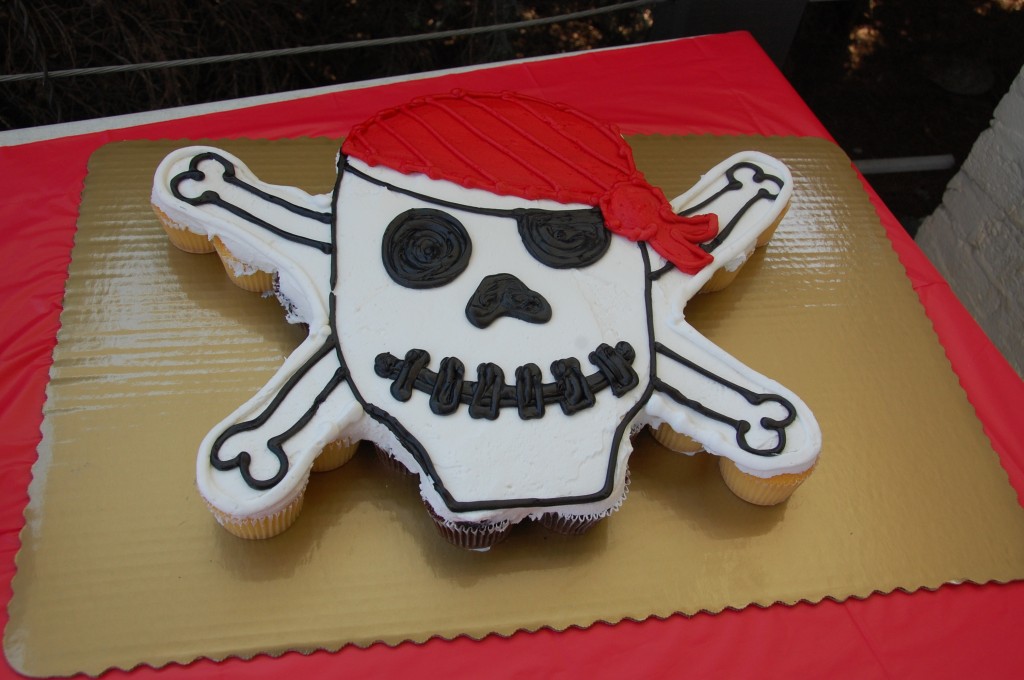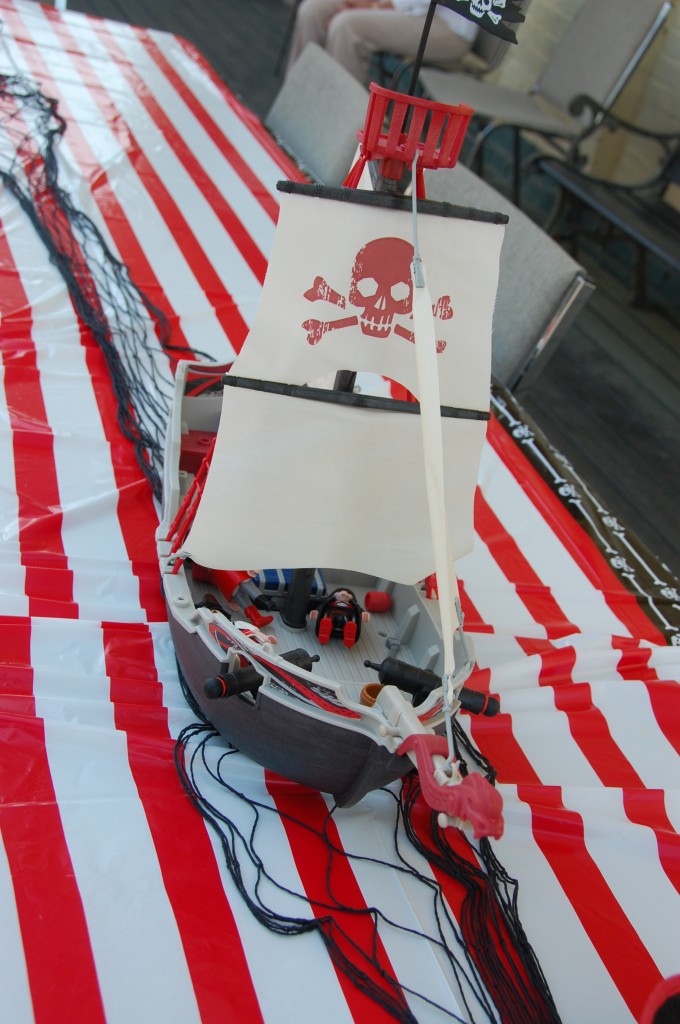 Decor
I like buying things I can use more than once. This Playmobil Pirate ship was the perfect centerpiece and it was a great gift for the kids! One tip I'd recommend is assembling this prior to the party. It came in 100 pieces and thank goodness I had a friend there to diligently put it together (while yelling at me in her head).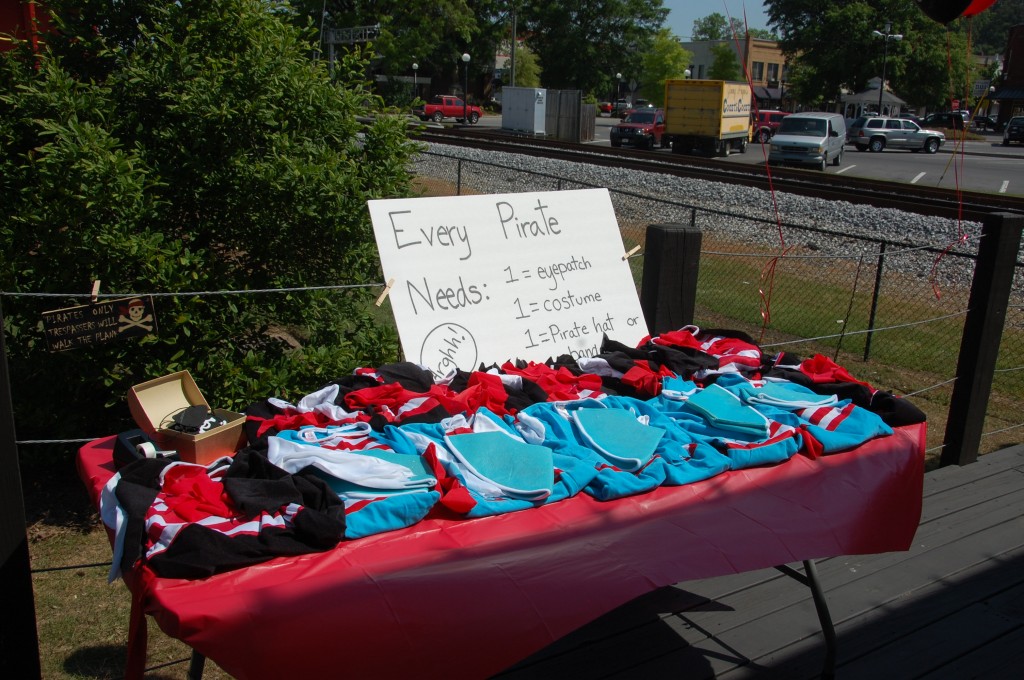 Costumes
Because I obsessively plan my kids birthdays I set the theme well ahead of time. The best time to buy costumes is right after Halloween. I snagged these 3 piece costumes from Little Tykes for .99 each! Score! Each kid when they arrived got into their choice of a pirate costume. I also got foam eye patches from Oriental Trading. Look for foam or felt so they are comfortable on delicate faces.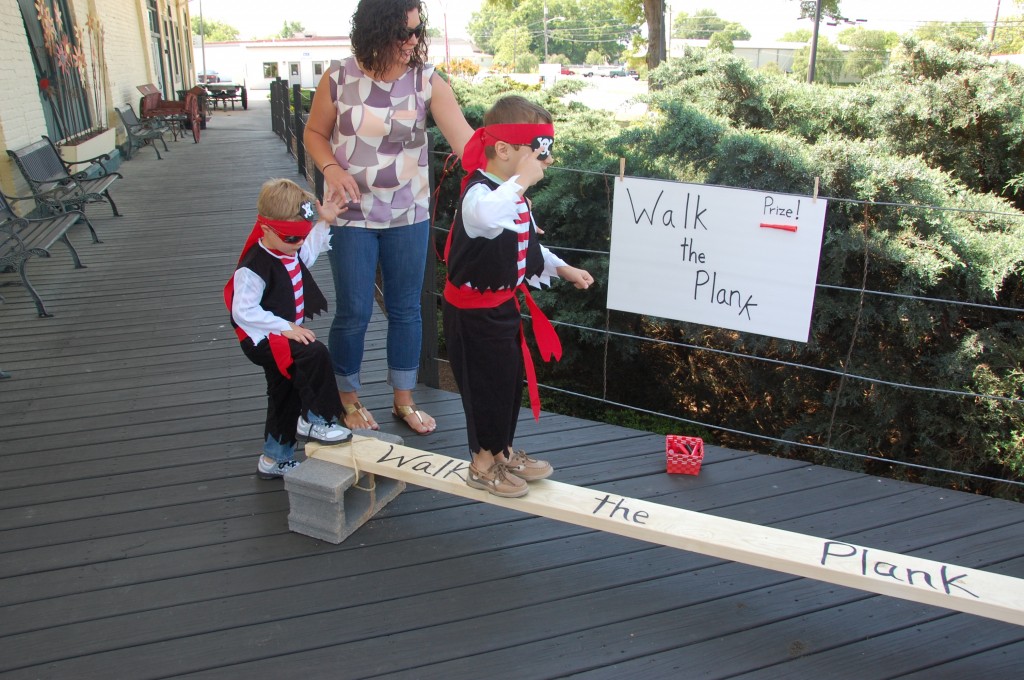 Games
Every kids party needs games! To keep things in budget I was determined to make all of mine. This is Walk the Plank. Cost virtually no money. We used two cinder blocks, purchased one 2'x12′ from Home Depot and tied the board to the blocks with twine. Every game had a small token prize. If you made it across the plank you got an extending telescope! Look at those swash bucklers!
Dig for Treasure!- We used a plastic kiddie pool filled with Sandbox sand. I filled the box with an array of pirate swag. Gold necklaces, plastic jewels, pirate rings, and gold coins! I gave each pirate a treasure bag and they went digging!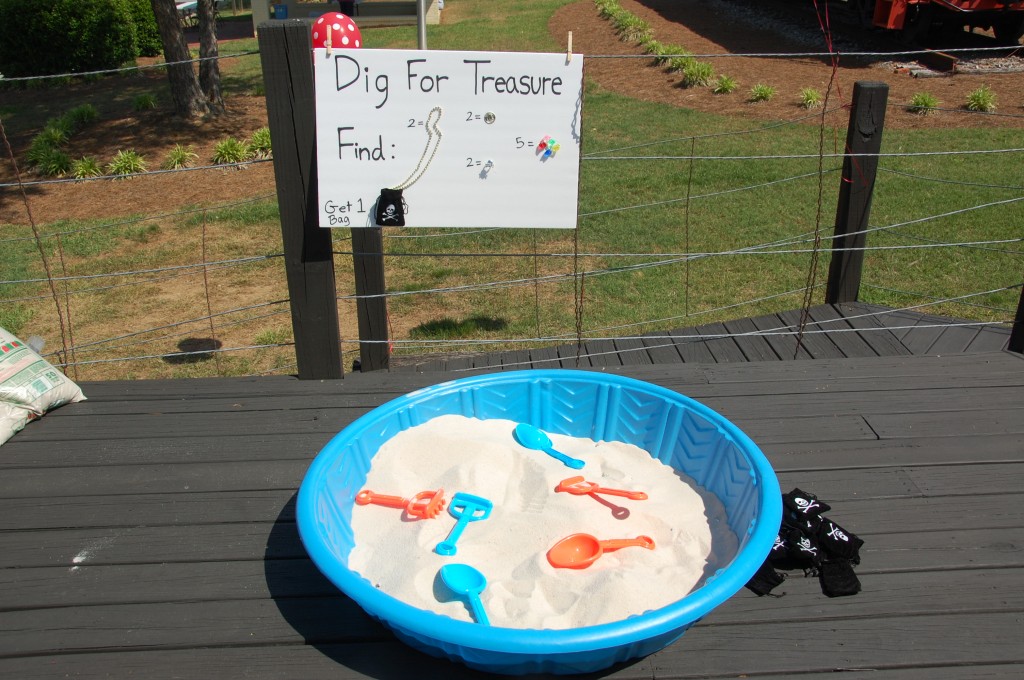 And boy did they dig! How many kids can you fit in a sand box??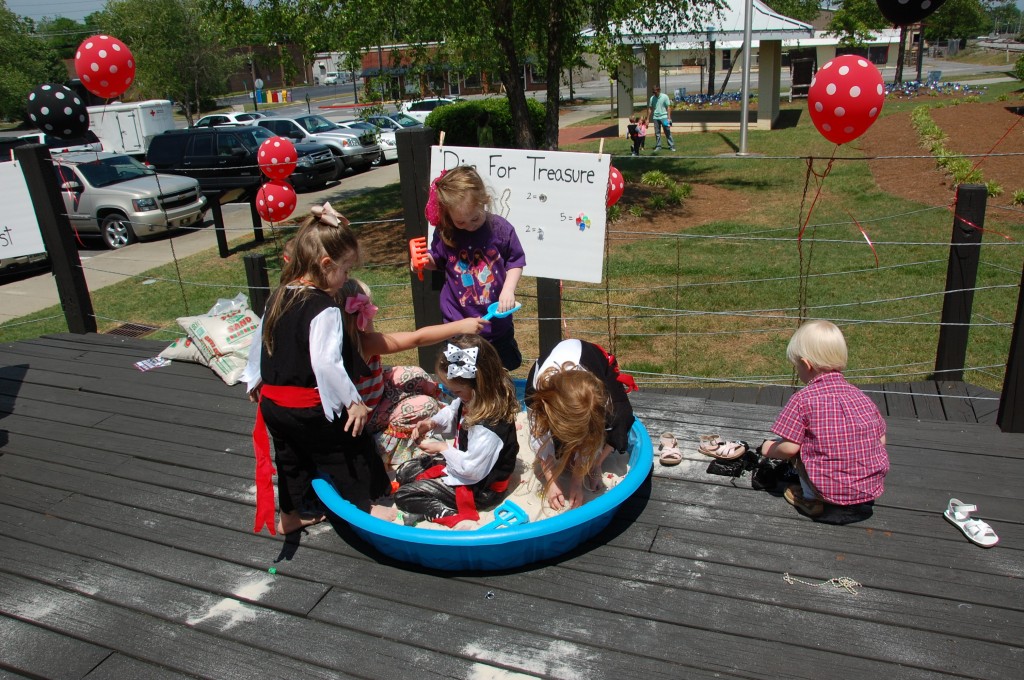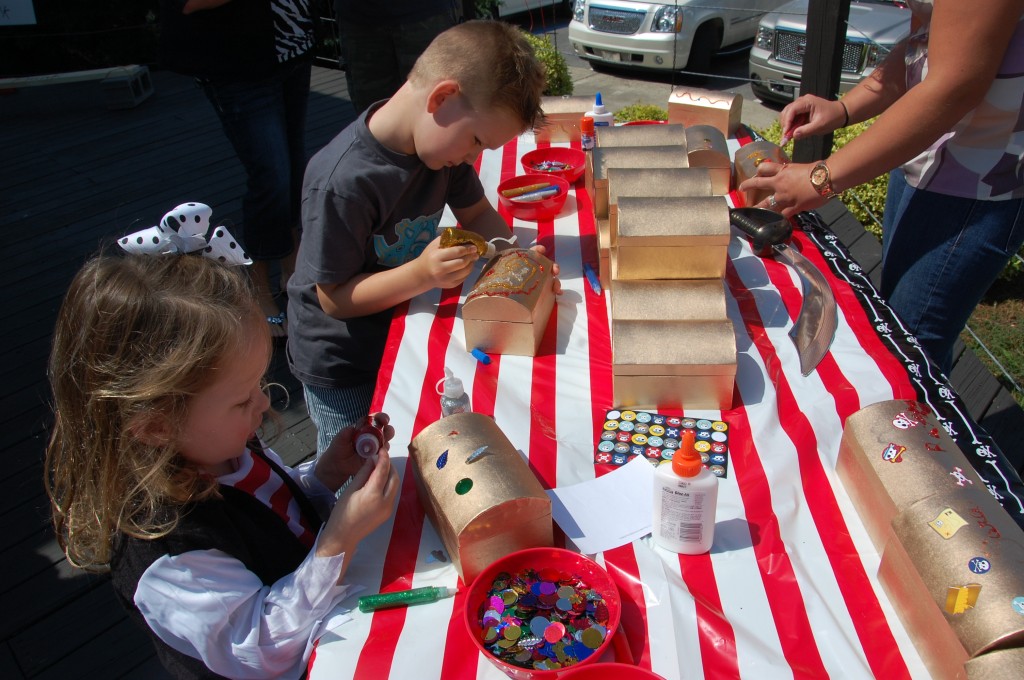 Arts and Crafts
My kids love being crafty! I bought a bunch of brown paper mache boxes with lids and spray painted them gold. I had an array of jewels pirate stickers, glitter glue, and sequins for the kids to decorate their boxes. This was a total hit. This also doubled as their favor bag. All the prizes they won they could put in their box to take home!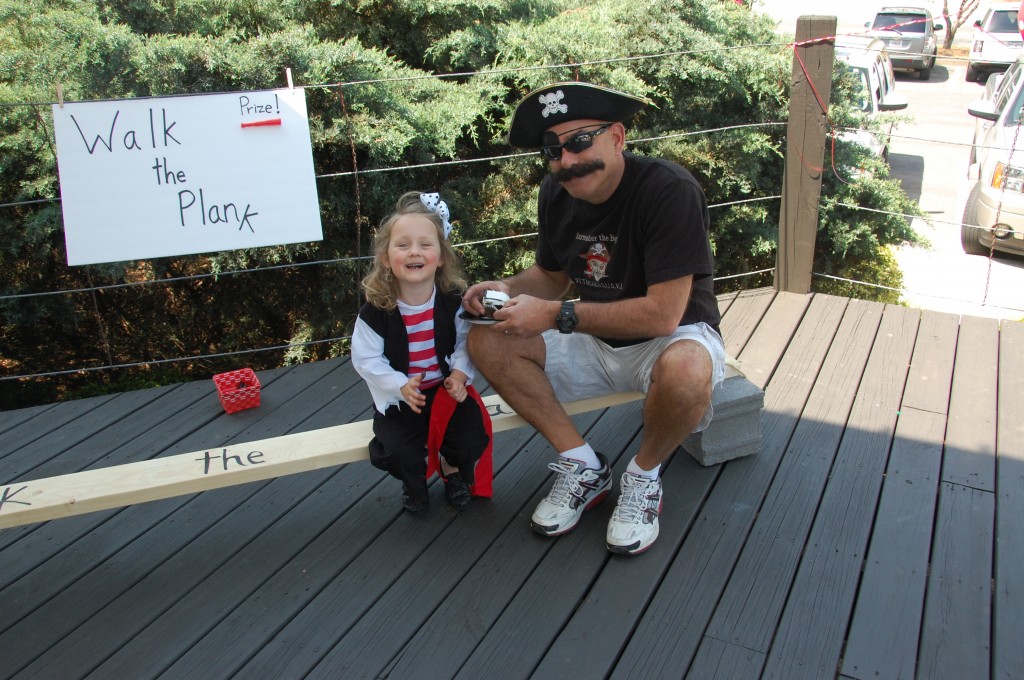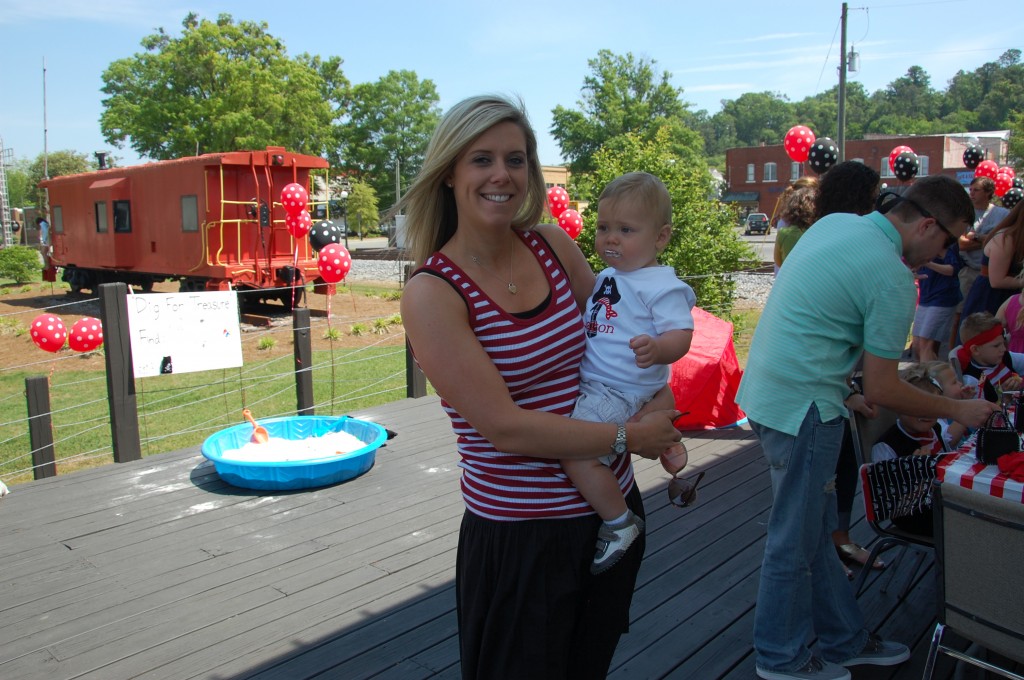 We had a swashbuckling great time! Even if we did have a Cupcake Fail…