Our master bathroom is beige, beige, and more beige. When we moved in, it had no personality at all – not exactly something that would wake you up first thing in the morning! But by adding some color and some funky accessories, I turned our boring bathroom into something a bit more fun. Here are five ways to add personality to your bath's decor.
(1) It's as easy as changing a lightbulb.
When we moved in, our bathroom had builder-grade light fixtures that had a Victorian feel – not our style.
I tried changing the glass shades on the fixture, but the style and feel still wasn't right. So, I removed the glass shades and lightbulbs and installed vintage-style Edison bulbs instead.
Now the fixtures have a more vintage, industrial feel, which is much more our style and consistent with the style of our home. You can find Edison-style bulbs like this at hardware stores or at online retailers.
Of course, you can also replace dated light fixtures with more modern ones.
You can find reasonably priced light fixtures at big box retailers and online.
(2) Add window treatments.
Of course, window treatments are essential in a bathroom for privacy. Why not make them fun?
I took shower curtains that I bought at a big box store and turned them into faux Roman shades. This is an easy project and you can use any fabric shower curtain, so it's customizable to your decor and taste. You can also make these with regular fabric, but I used a shower curtain because I'm using these in a bathroom and I know a shower curtain will stand up to the moisture and heat of a bathroom.
(3) Add fun accessories.
This option is probably the least expensive and easiest option for adding personality to your bathroom.
Find accessories that go with your style and the style of your home. For example, in our guest bathroom, I wanted a farmhouse, rustic feel, so I added gray and white accessories, a distressed-finish stool, and vintage touches like a soap dish and towel holder.
These accessories don't have to cost a fortune, either. I found the soap dish in the photo above at a thrift store for a dollar!
(4) Use contrasting textures.
To avoid a stark, cold feeling in a bathroom, use contrasting textures to create personality.
If you have a lot of neutral-colored tile in your bathroom (like I do), add some texture and color, like the wicker basket and wooden ladder, above. The warmth of the wood contrasts with the cold white of the tub and vanity.
(5) Pamper yourself.
For a way to pamper yourself and also add some color and decor, add bath salts in pretty jars to your bathroom.
You can find pretty jars at home stores or at thrift stores and yard sales. Or recycle a jar from your pantry!
Lastly, you can always add a bit of colorful comfort or unexpected quirk with a fun bath mat.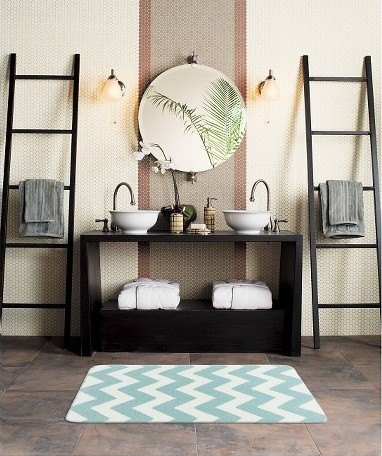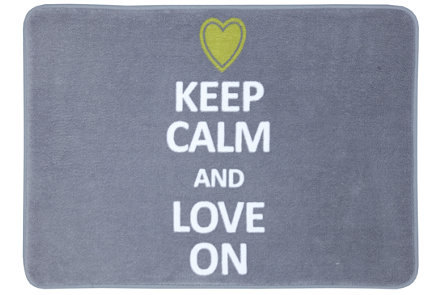 How have you added personality to your bath's decor? Share in the comments – I'd love to hear!