I always get questions about how to dress walls from renters, especially when painting is not an option.  There are plenty of options — from fabric covered walls to hanging large pieces of art and decorating with stencils — but I was still not satisfied with those options.  Since I stage so many homes with white boring walls,  I was also looking for a low-cost and low impact way to bring small portions of walls to life for staging.
So I was excited to learn about adhesive wall paper, a product I stumbled upon at a previous   International Contemporary Furniture Fair in NYC. It is called Tempaper, which describes it perfectly: temporary wall paper!  No glue or adhesive required. You just peel the backing off the paper and adhere it to the wall.  The installation is VERY similar to Contact paper, except that you are installing vertically rather than horizontally.
When one of my clients hired me to decorate her children's rooms in their rented house, I thought this the perfect solution. A way to bring in color and design to the room with low commitment – perfect for those tweens who have a tendency to change their mind.  The daughter's favorite color is blue and, after we selected the bed, Tempaper's Aqua grey was a perfect match for the room.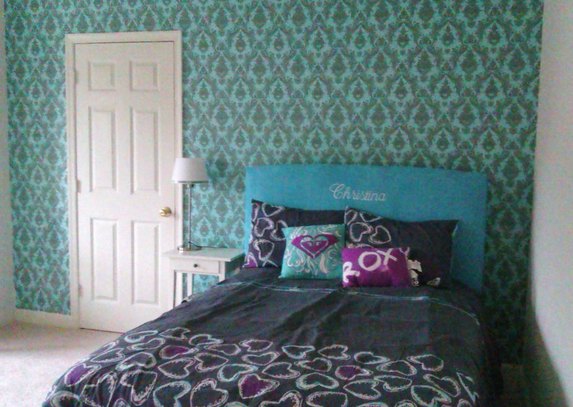 I'll admit – installation was a little frustrating – trying to ensure the paper went on the wall smoothly (no air bubbles) proved more challenging than I thought, but in the end – the space turned out GREAT!  I found this fabulous grey bedding set via Overstock and everything came together nicely. And best of all – the tween daughter loves her room…and the wall paper is not permanent!
For other temporary wallpaper options, visit:
I would definitely use Tempaper again and am hoping to have the chance to do just that with upcoming home staging projects. Check out your options, pick your design and color and get to covering up those white walls!  Temporary wallpaper can make a great addition to any room!
---
Written by:
Roslyn Ashford
Professional Designer & Stager, www.rarooms.com