It's fun to watch home renovation and decorating shows where entire rooms or even entire homes get redone. But you can make a big impact in a room without redoing the entire room or spending a small fortune. Just small touches can make a huge difference. Here are my favorite little décor buys that have a major impact in a room.
(1) Easy as changing a light bulb.
Our master bathroom is builder grade beige. The tile is beige, the tub is beige, the vanity is beige. There is nothing interesting or vintage about it, even though the bathroom is an addition to a 1929 home.
I couldn't afford to change out the light fixtures (there are three in our bathroom), so I removed the dated frosted glass shades and changed the bulbs to vintage-looking Edison bulbs.
For $10 per bulb, I completely changed the look of our bathroom lights.
(2) Shed some new light.
Lamps are like jewelry in a room. They provide light, color, and even sparkle to a room. I love taking lamps – or other items – from thrift stores and transforming them into something new and fun.
I found this tripod at a thrift store for $4! I turned it into a lamp with a lamp kit, shade and bulb for about $20! For a little bit of money and elbow grease, it adds an industrial element to our family room. Take that Pottery Barn!
(3) Paint makes a difference.
The easiest and often least expensive way to make a big impact in a room is with paint. Try an accent wall if you don't want to commit to the entire room:
Or paint a backsplash in your kitchen. I used chalkboard paint for a fun and different kitchen backsplash.
And it took less than a quart of chalkboard paint!
(4) Pillow fight!
Changing the throw pillows on a sofa completely changes the look of a room with only a little money.
This was my living room before this fall: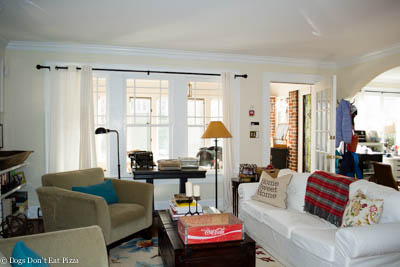 I wanted my living room to reflect the change of seasons to the fall, so I added oranges, golds, and teals with throw pillows and a matching quilt:
Total cost was about $70 for a totally new look!
(5) You Gotta Have Art
Adding art – whether traditional or more eclectic pieces – to your walls can be a low-cost way to add big impact.
Use maps, posters, or even architectural plans for inexpensive, but fun artwork.
Honorable Mention: Changes afoot
Though not as small of an expense as the other listed items, you can completely change the mood of a room by adding or changing an area rug. Perhaps you'd like to anchor a neutral palette with a pop of unexpected color or add a bit luxe or cozy — different patterns, textures and fibers can help you accomplish these and and other goals.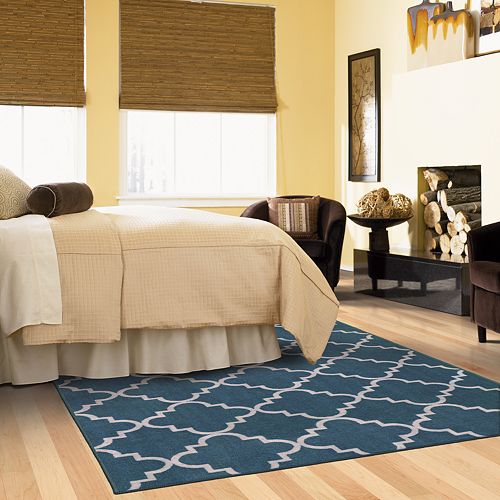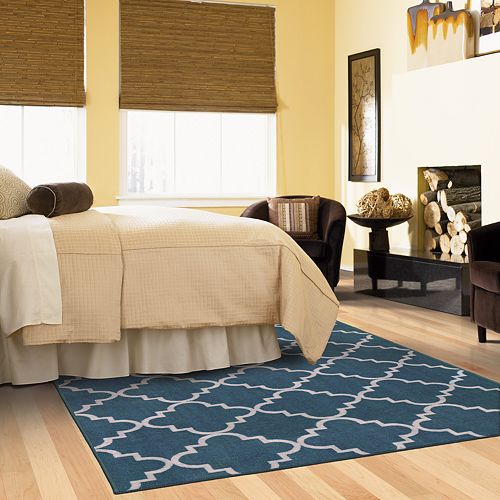 Small changes can make a big impact – go for it in your home décor!
What small décor buys or changes have you made in your home that made a big difference? Share in the comments!