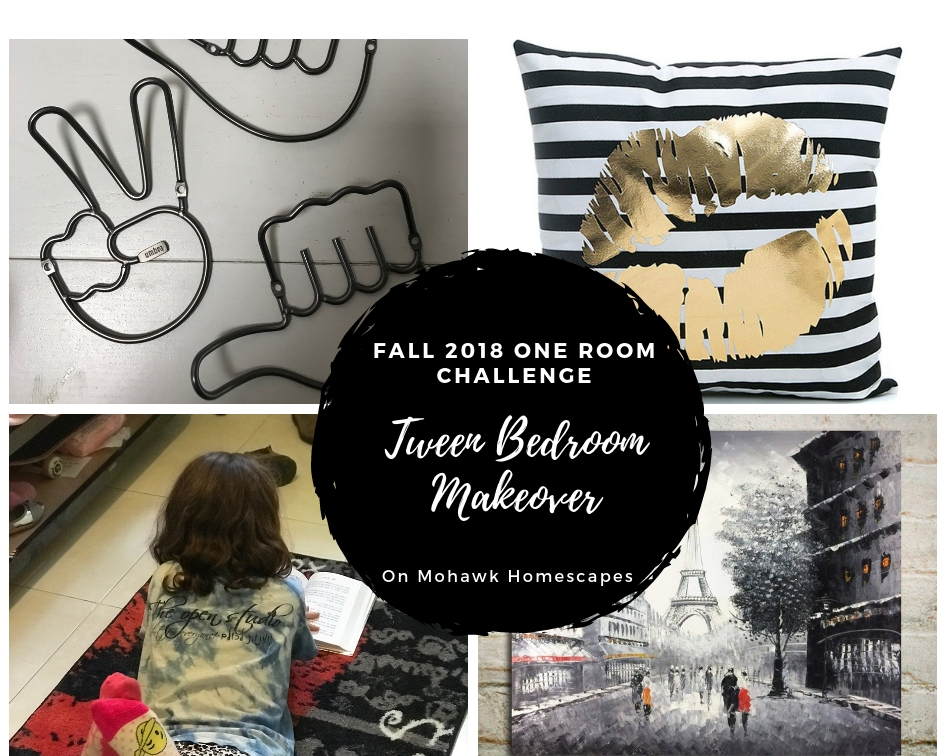 Bitter tears and fighting kicked off week four of the Fall 2018 One Room Challenge, as Jordan had to share a room with her younger siblings while the paint in her new bedroom dried. Even our tween needed to sacrifice a little bit for her own bedroom makeover, but I promised her the end result will be worth it! This week was definitely the most challenging for her, but truly the most exciting part of this challenge for me. Seeing the space come together week after week has been exhilarating!
On Monday, the painters showed up at the crack of dawn and replaced the baby blue walls – the last remaining representation of my son's nursery – with alabaster on the walls and ceiling, then added black trim. As surreal as it was witnessing an inspirational pin on Pinterest come to life in my own home, it felt nothing short of amazing!
Prior to starting, I was convinced that the painting process would take multiple days because of the wait for the coats of white paint to dry before applying the black trim. To my pleasant surprise, the painters were very efficient and finished the painting job in one day. I'm a perfectionist though, so I've been fretting about whether or not the white walls are white enough or if the black trim is neat enough.
What do you think?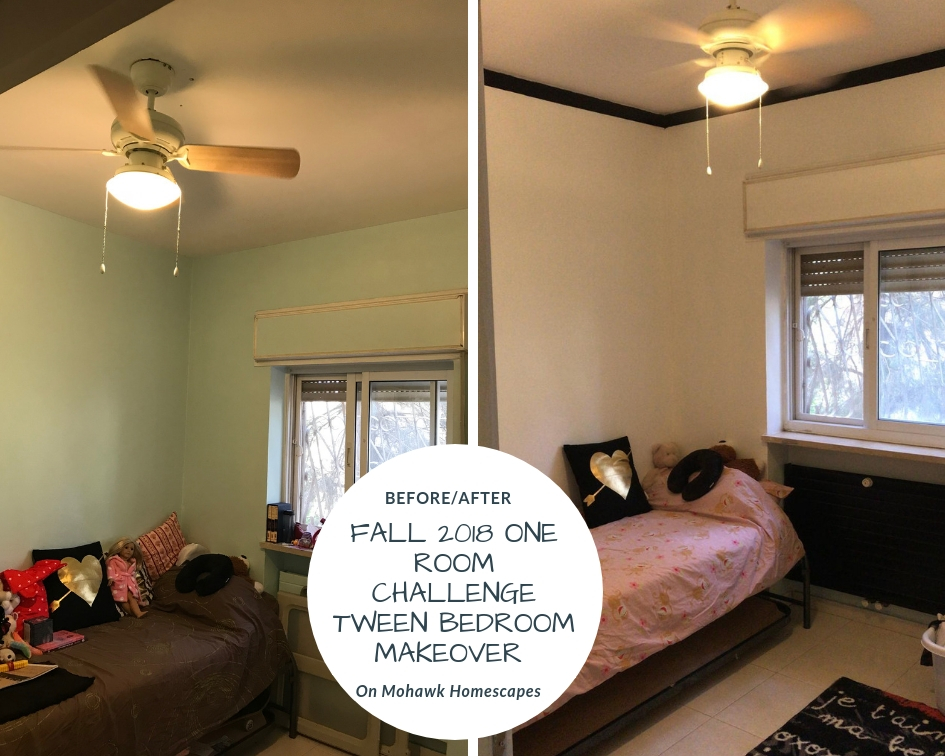 Once the paint dried completely, we were able to get into the room and really give it a thorough scrubbing. I highly recommend a deep clean like this at least once a year, when all the furniture has been moved away from their spots, so you can also vacuum and mop the floors before replacing the furniture. We found lots of fun things beneath Jordan's bed, which led to an entire afternoon of organizing and tossing out things she just didn't need anymore. Among these treasures were thousands of kinder egg toys she has been diligently collecting and the bottle of soda from her summer camp bag. Gross! And that was only the first day!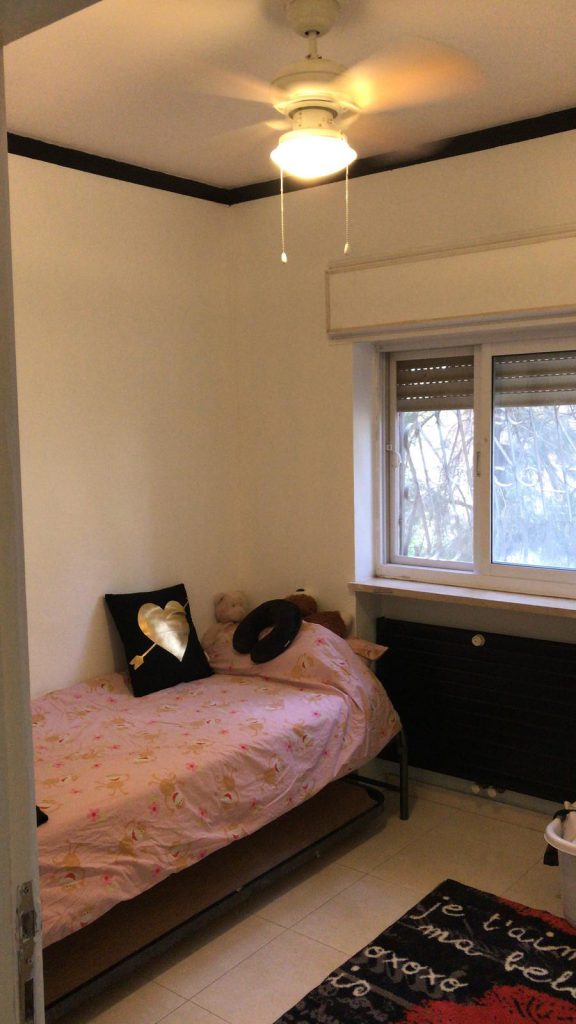 On Tuesday, after school and soccer practice, we piled the whole family into our car and drove to IKEA. I like to plan a trip to IKEA like a military general, pouring through the catalogue in advance to scout the target items and mapping the most efficient path to finding them. IKEA is built for people who want to make expensive impulse buys and since we're on a budget for this challenge, I didn't want something to catch my eye and sway me from our mission at hand.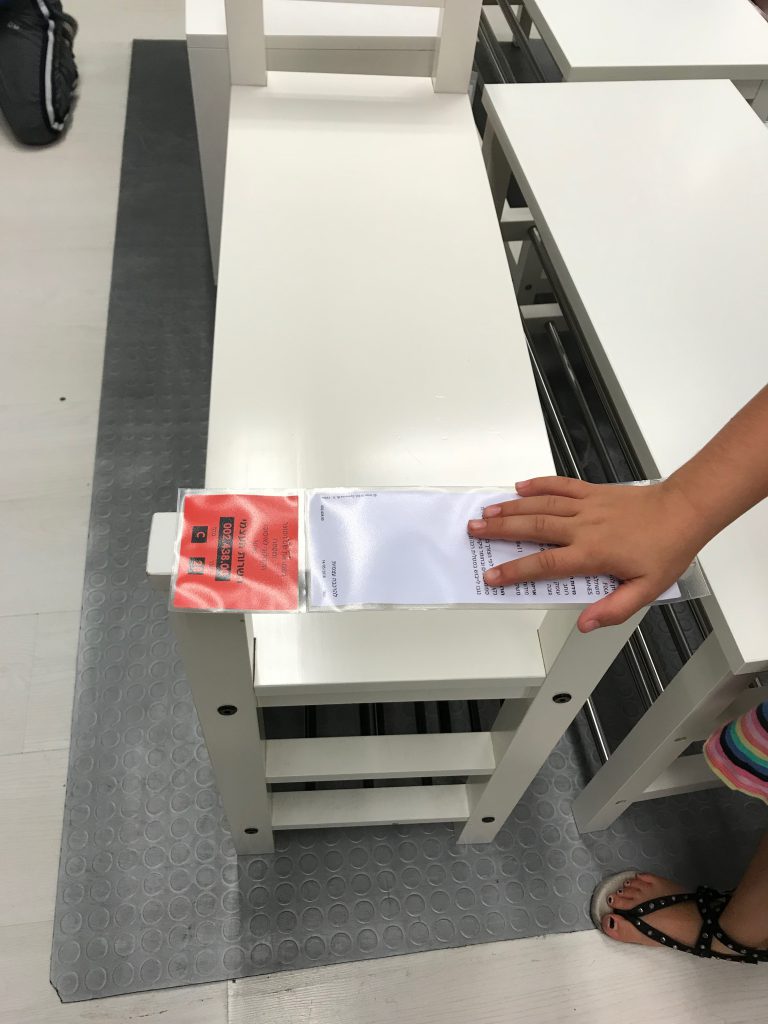 I am proud to say that Operation Tween Bedroom Makeover Furniture Reconnaissance was a success! We were in and out within three hours, a personal record for me. We purchased a small white desk and a black office chair that would fit beautifully into her room, while providing the space she needs to do her homework and study in private. We also picked up a small shoe rack so she can neatly place all of her shoes next to her bed. Other accent pieces included a black desk lamp and a (possible) black accordion window shade. Since her room faces west and doesn't get enough sunlight to begin with, I'm on the fence about installing a black window shade. The white walls makes the room look bigger, so I wouldn't want to take away from that by installing too much black. I am now researching for alternatives to the black shades and have been scouring fabric stores in my neighborhood. I have two more weeks to make this decision, so I hope to find something by then!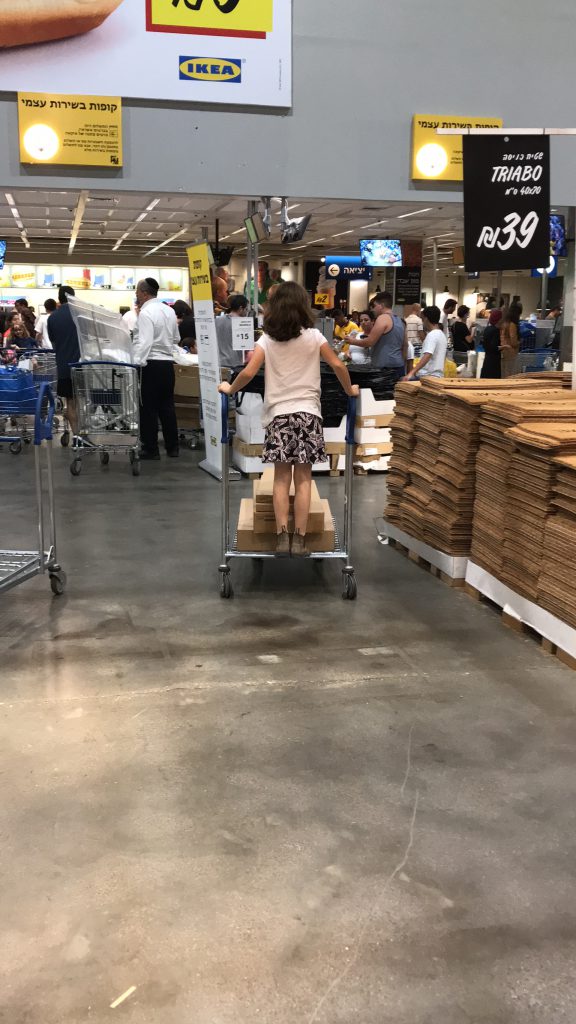 Next week is the last week before our final tween bedroom makeover reveal! We have IKEA furniture to build with artwork, mirrors, and a pin board to hang. I'm also waiting for a shipment from Pottery Barn with Jordan's new bedding; while various accent pieces are also en route, like the black skateboard stand I ordered from Amazon and some cute book holders for Jordan's desk.
To get a recap on how the whole process since the start, feel free to take a look back at the blog posts for week 1, week 2 and week 3.
There are also some incredible One Room Challenge participants this year. Check out Wednesday's group here and the roundup for Thursday's participants here.
Come back to Homescapes next Thursday to see Week 5 of my Fall 2018 One Room Challenge tween bedroom makeover.