Hello friends! I am Cassie Bustamante and I am so excited to be here today on Mohawk's Homescapes blog. I have been a fan of Mohawk rugs for quite some time and have had them in my nursery here in my new home as well as our living room, dining room, and my son's bedroom in our old home. I have always been thrilled with the quality and durability of each rug we've owned. Because of our past experience with Mohawk, when it came time to choose a new rug for my teenage son's room in our new home, I knew exactly where to turn! The only dilemma we faced was deciding on which would be "the rug" for his space.
Sawyer, my teenager, has always been a fan of color, but now that he is growing up he is gravitating towards more sophisticated palettes and moodier colors. He asked us to paint his room black and we negotiated on a dark cool charcoal gray accent wall. He's not much into design, but when I show him things he has strong opinions. When I started planning his bedroom, I therefore wanted his approval on each item. While he was at school one day, I created a design board and saved several rugs from the Mohawk website that were great options. His last rug was a gorgeous Moroccan inspired shag, and he loved the texture and feel. However, we knew we'd be getting him a storage bed and I was worried that the drawers might be harder to manage on a high pile rug, so I narrowed his selection down to several low pile rugs in the gray family. With a dark wall, dark floors, and a dark bed, I knew that a lighter shade of gray would help keep his room from turning into a black hole. When he returned from school, we looked over the choices together and zeroed in on the Russell Plaid in light silver gray. I added it to the design plan and we were both thrilled!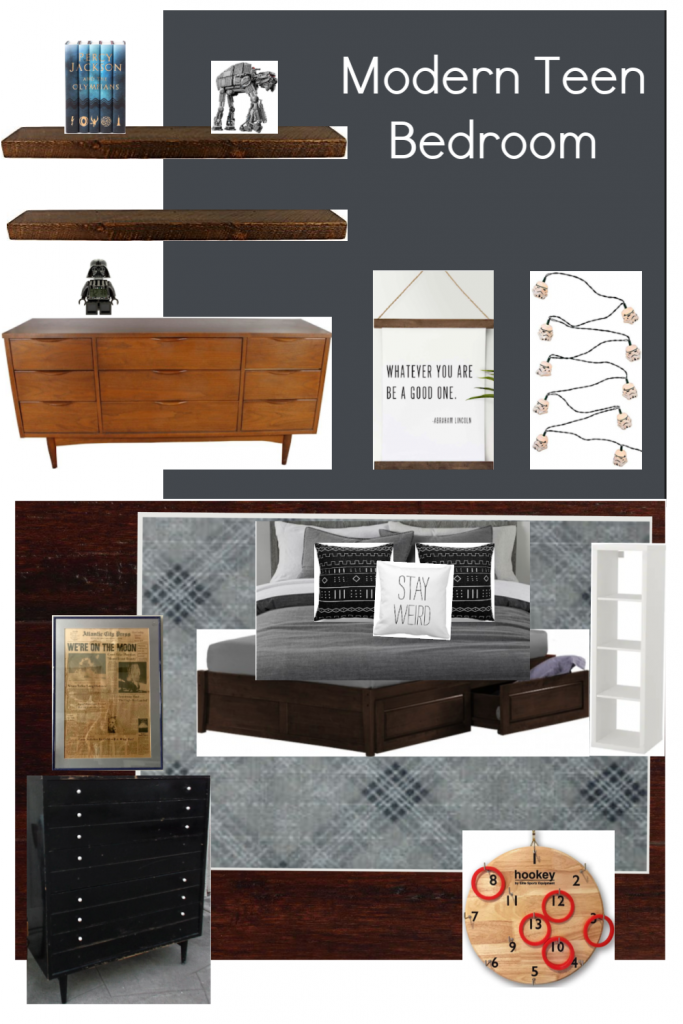 The darker shade in the rug seemed to have that cool hint of blue just like the wall color! It couldn't have been a better pick.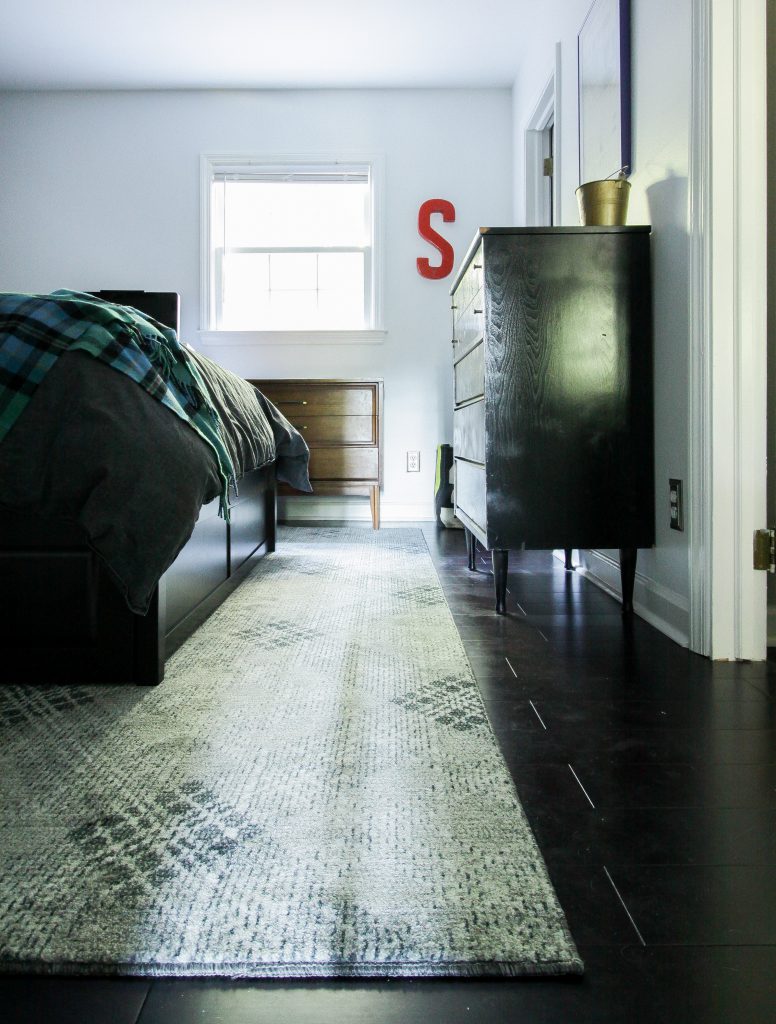 Additionally, the pile and texture of this rug are perfect for his space. It's soft, but the drawers of his bed can roll easily on it. The plaid design lends to the masculinity of the room and it truly brings all of his colors together.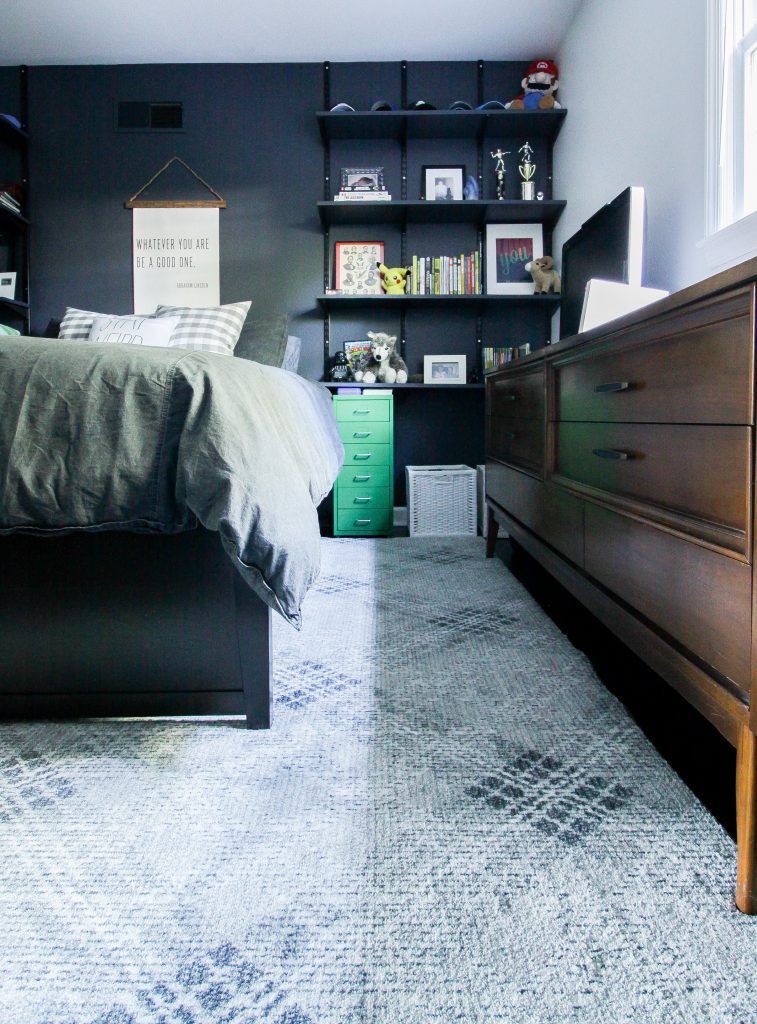 Below you can really see how the fibers of the rug seem to grab the natural light and brighten up his dark bedroom.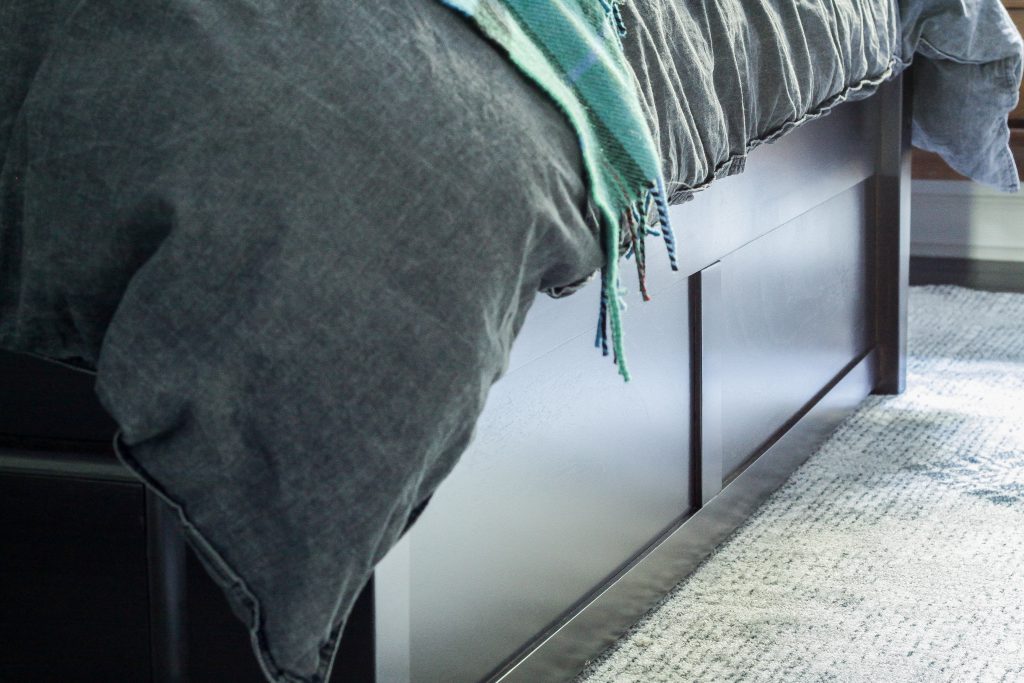 In addition to this rug suiting our aesthetic design of Sawyer's bedroom, it is consciously created, which is something that is extremely important to me. When it comes to selecting products to use in my home, I research companies, read reviews, and educate myself on what's involved in the fabrication process. This particular rug is part of Mohawk's Prismatic collection, which offers strength and stain resistance, but most importantly to me is created with recycled polyester made from post consumer water bottles. It's absolutely devastating what is happening to our oceans and planet with the use of plastic, and it's an awesome thing when a company can help reduce the waste and turn it into something beautiful and useful.
We still have a few minor changes to make in this bedroom, but Sawyer is absolutely thrilled with the progress and his new rug. As for me, I am once again thrilled with the quality, texture, look, and ethics of Mohawk!