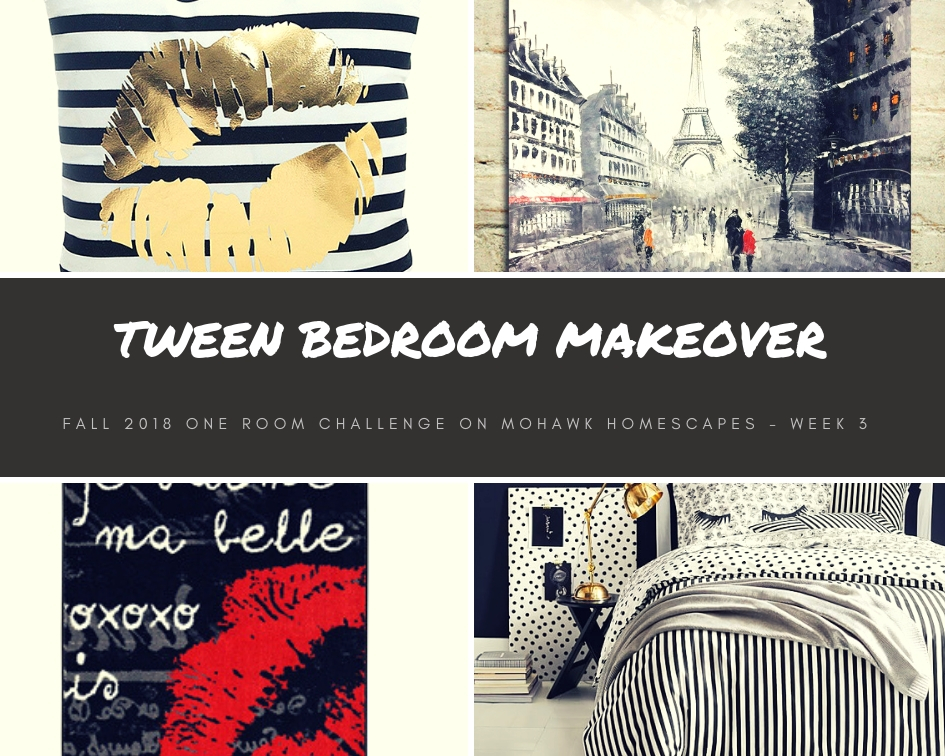 How are we already at the halfway mark on this Fall 2018 One Room Challenge? I'm not going to panic but yikes, there's lot more to do until the big reveal at the end of the next three weeks!
This week has been really exciting; I've felt like I've really made some progress on Jordan's tween bedroom makeover. First, we decided on a painter and discussed our vision for the room with him. He's on board and we're excited to start painting next week! We're going to paint the walls and ceiling white with a black trim and black radiator. It's going to look so great, I can't wait!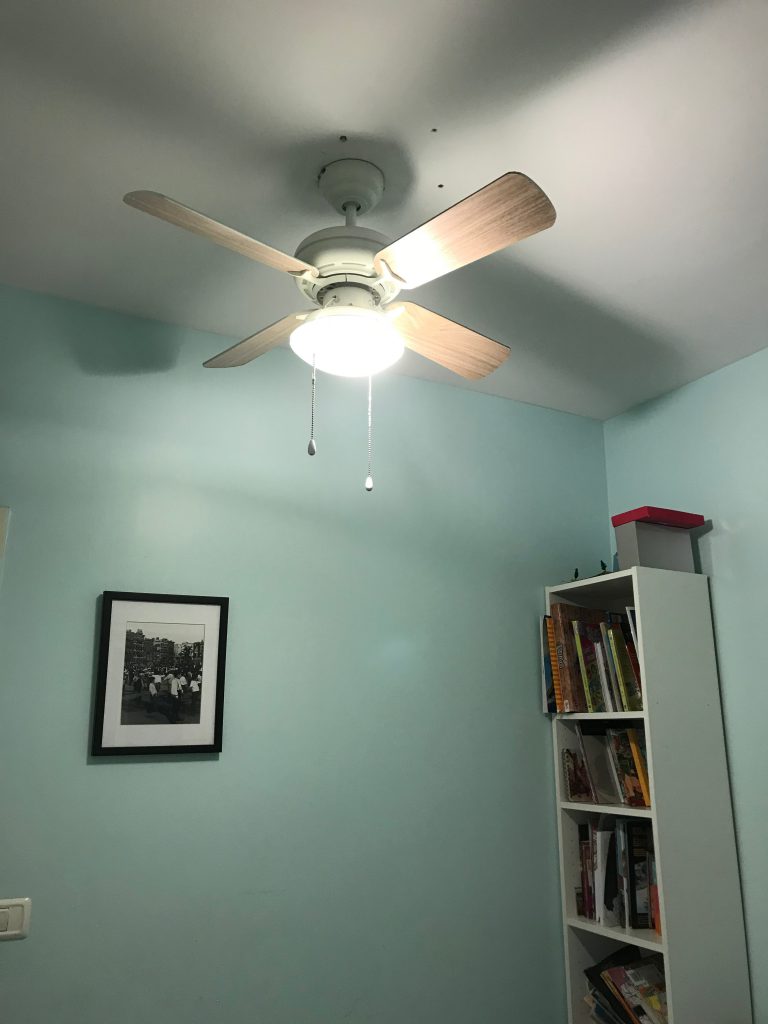 We started the week off with the construction portion of this challenge, and we had an electrician come and move the fan to the center of her bedroom. This was really messy work; every surface of the room was covered in plaster. But, we put out sheets and covered Jordan's bed, books and beloved skateboard so clean up wasn't that bad. When the work was finished, I was very thankful for my Dyson vacuum cleaner! It definitely got a workout that afternoon.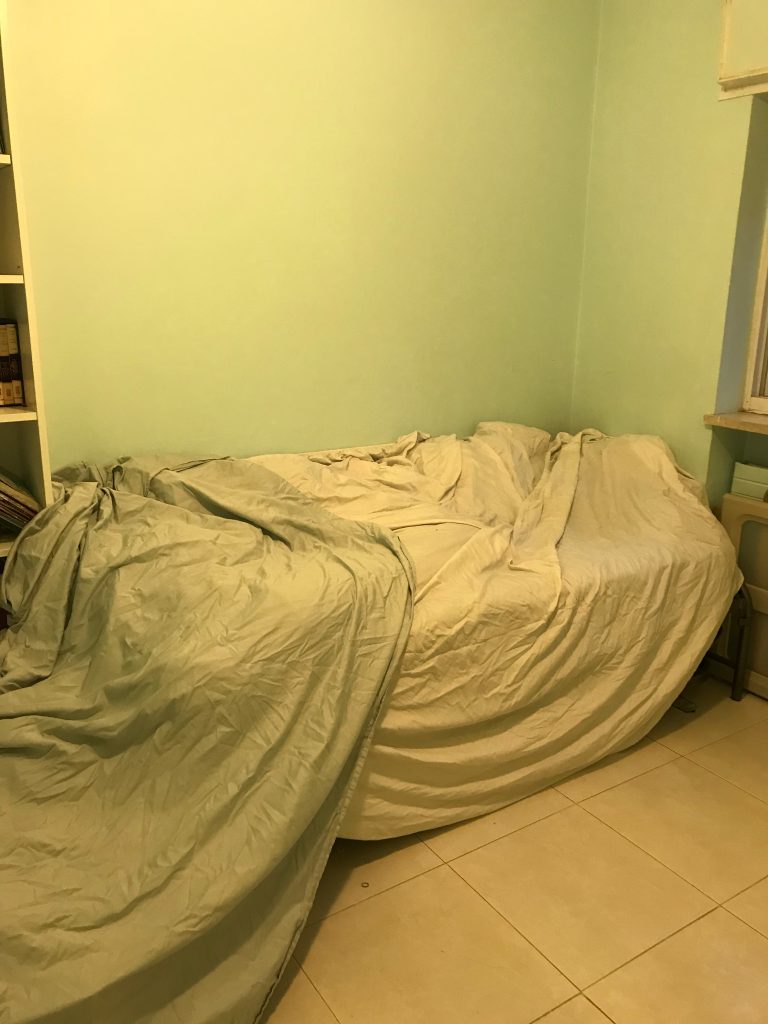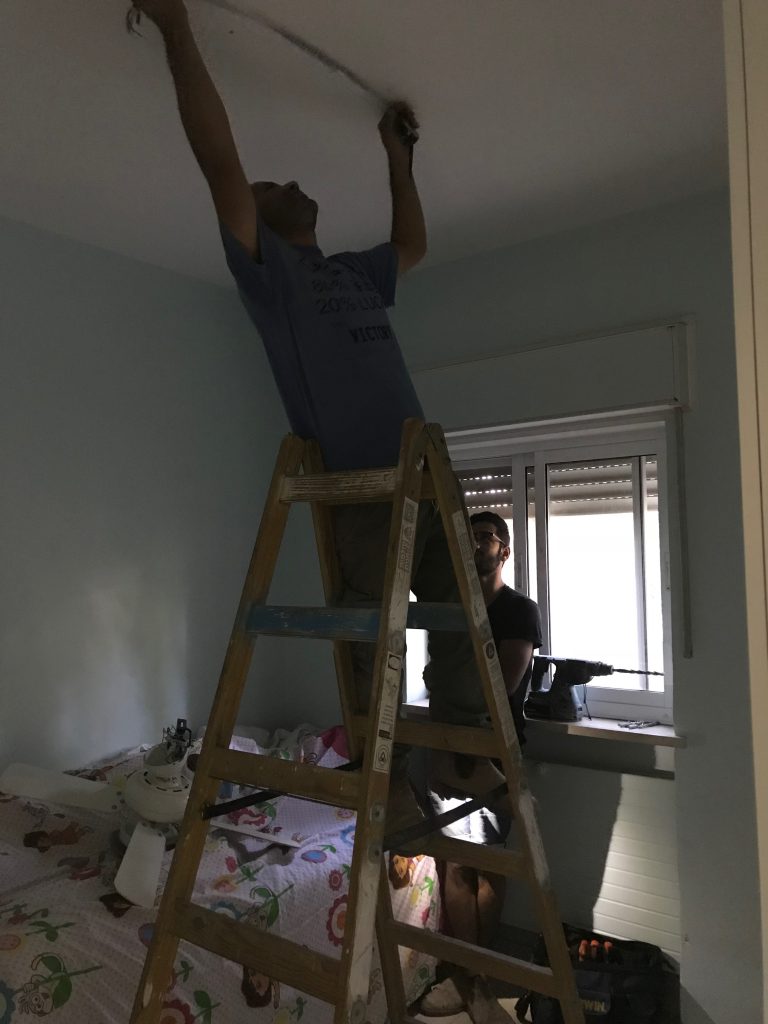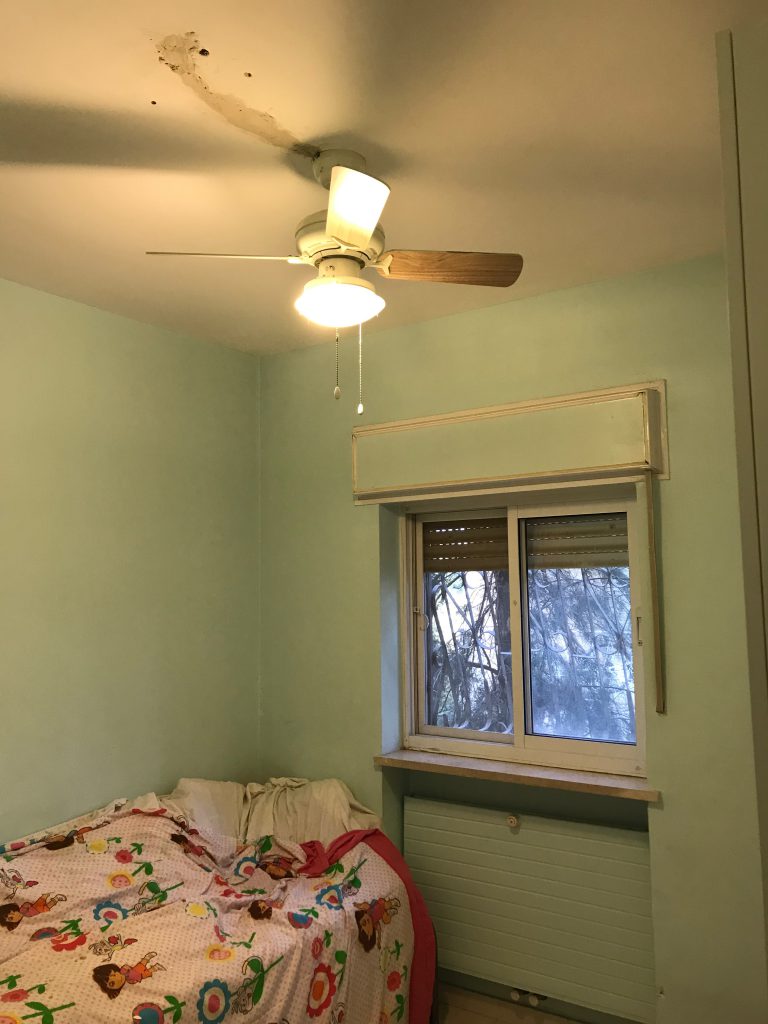 Jordan's Mohawk Home Aurora Kisses from Paris area rug and rug pad also arrived this week, and I wish I had photographed her face during the unboxing. She loves it! When it came time to decide on an area rug for her room, I had to first consider the size of her bedroom before selecting an appropriate area rug. Her bedroom is so small, and we are going to be adding a desk and chair into the room in addition to her hi-riser, bookshelf and cupboard, so that doesn't leave much surface area for an area rug. Initially, I thought a 4×6 area rug would be a good fit but once we factored in the desk, we realized we didn't have that much space!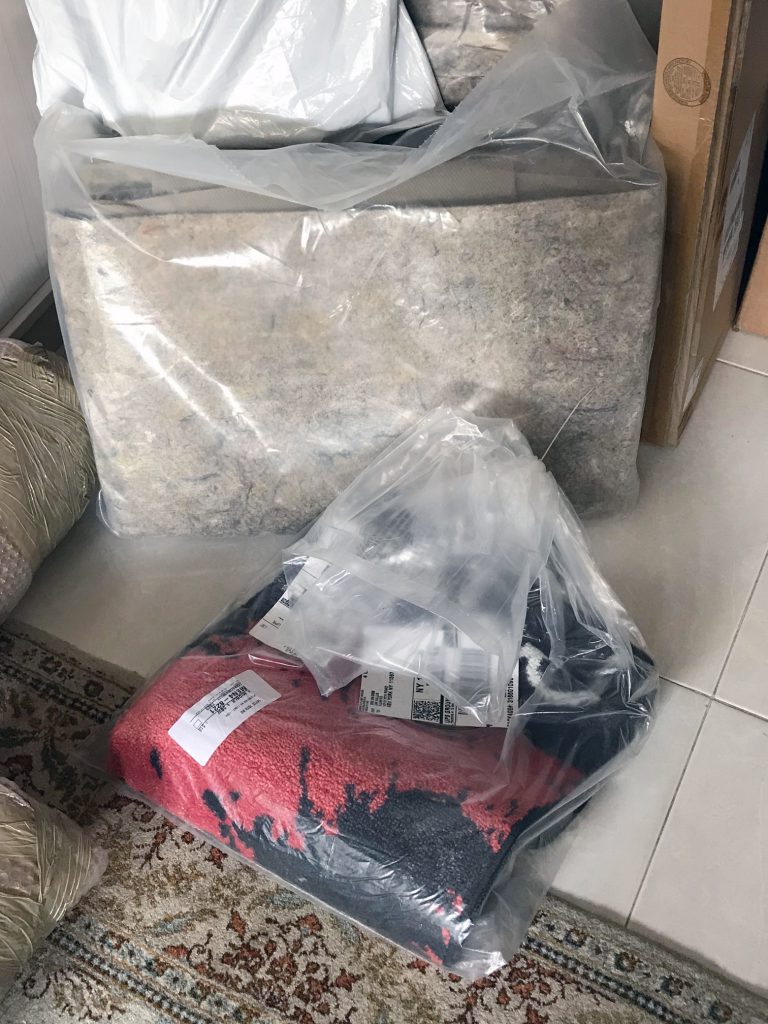 After finding the right size, I had to consider Jordan's taste in rugs. If you have a tween of your own,  you know that online shopping with them is just not a good idea. They love EVERYTHING! Once I narrowed down the Mohawk Home area rug selections by size, Jordan's eyes lit up when she saw the Aurora Kisses from Paris Area Rug. It fits her tween bedroom makeover theme beautifully; black, white and French! We ordered the area rug and rug pad from Amazon and it arrived within the week.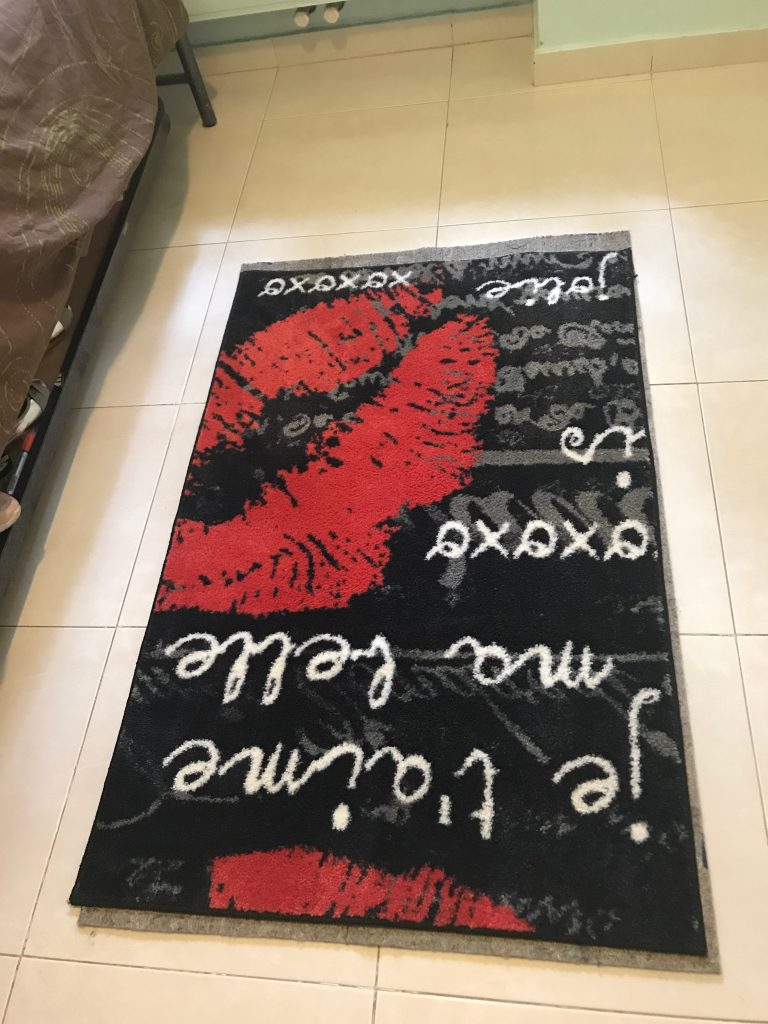 This 2'6"x3'10" accent rug really conjures Parisian charm with the faint scrolling grey script, French expressions of love, and stamped like a love letter with a playful burgundy kiss. This area rug is a beautiful complement to the Parisian artwork I bought for Jordan's wall.
I also really love the feeling of the area rug. It's so soft underfoot and will be easy to clean with its nylon material with stain protection. To go with the rug, I ordered the Mohawk Home dual surface felt non-slip area rug pad that's 2'6"x4". This area rug pad is made of 100% recycled material, has a latex backing, and provides both area rug protection and added cushioning. The only downside is the existence of a slight overhang, which can be easily resolved.
.
After letting the rug pad and area rug settle on the floor of her room for a few days, I got to work trimming! For a step by step how to guide to trim your area rug pad, check out this blog post.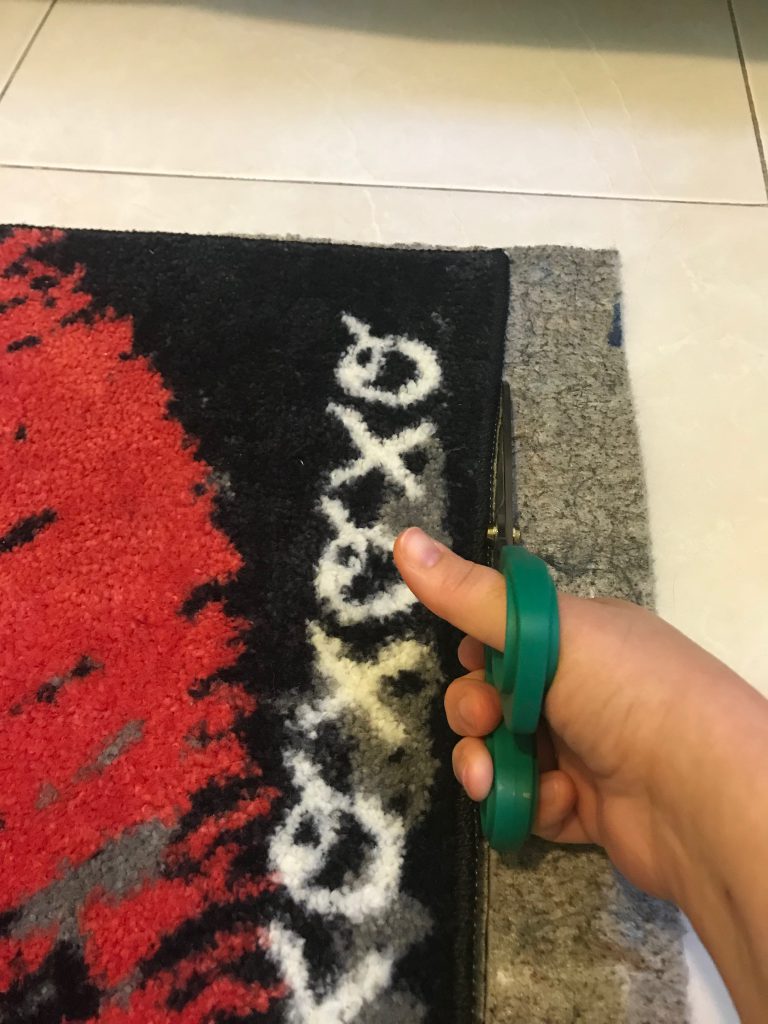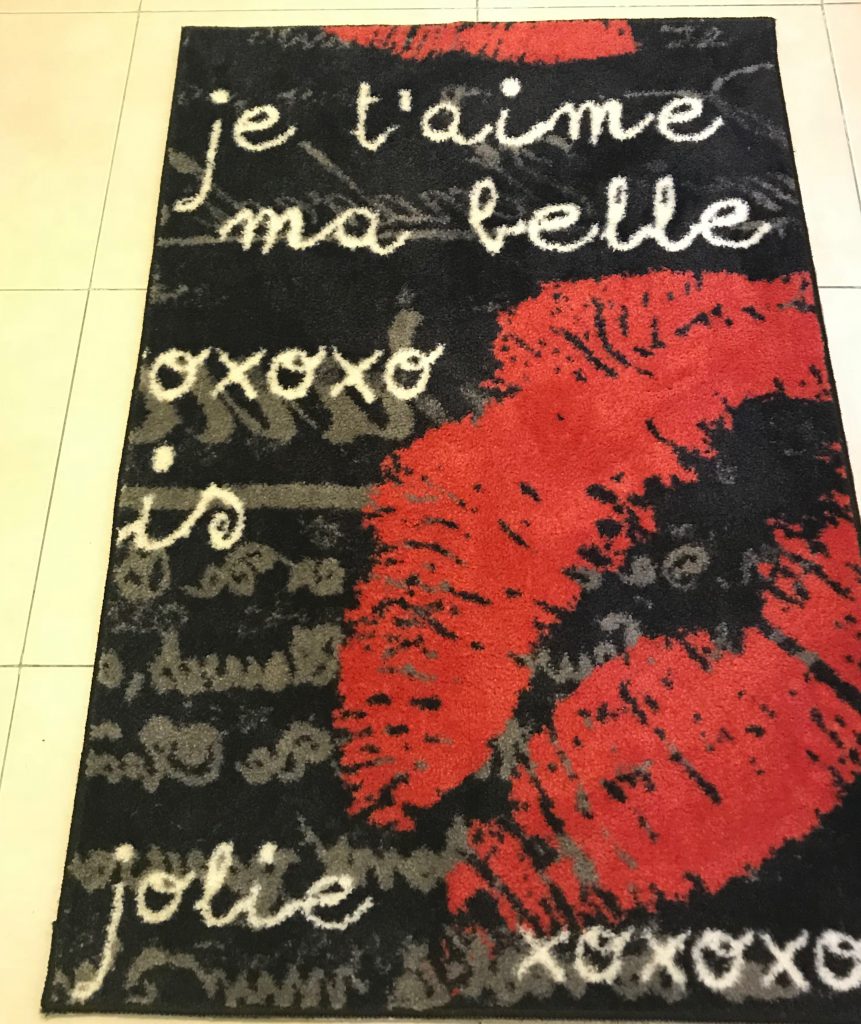 How great does that look? We're going to roll it up next week as we start painting, but, for now, Jordan has been happily doing her homework on her new area rug.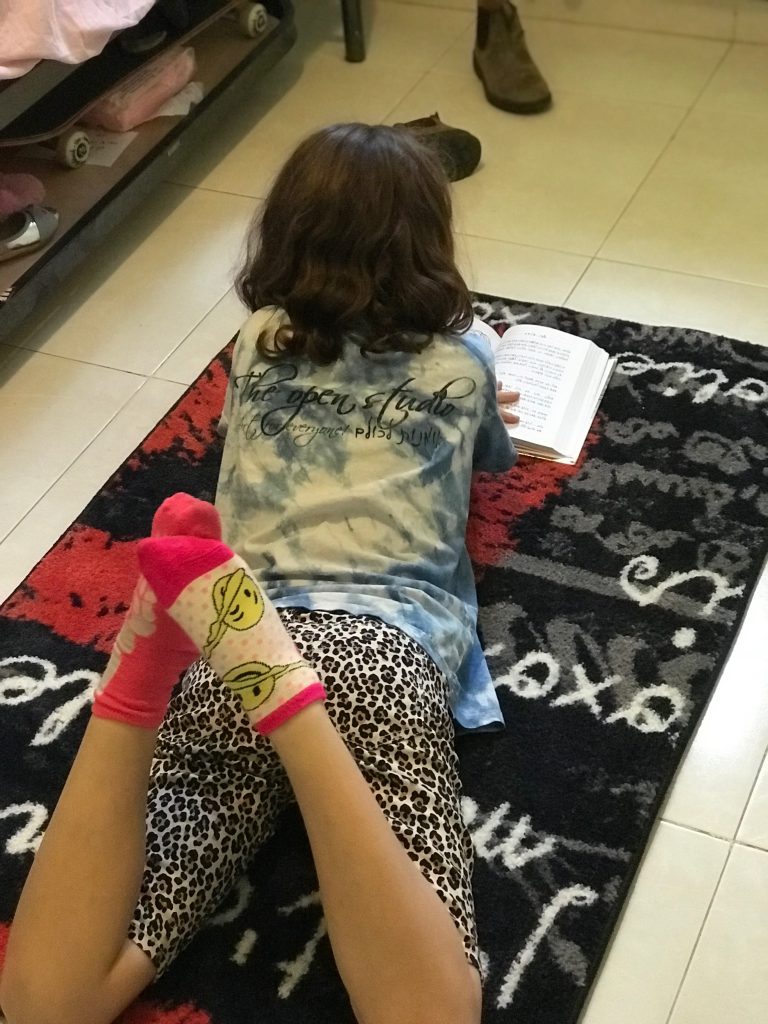 Next week is going to be really busy! I have planned an IKEA trip for furniture, lighting, and accent pieces, then room painting and some much-needed reorganizing (read: tossing all the junk Jordan doesn't need anymore). Make sure you check back here next Thursday; to catch up on my Fall 2018 One Room Challenge tween bedroom makeover.
Take a look back at my blog posts for week 1 and week 2.
There are also some incredible One Room Challenge participants this year. Check out Wednesday's group here and the roundup for Thursday's participants here.
Come back to Homescapes next Thursday to see Week 4 of my Fall 2018 One Room Challenge tween bedroom makeover.