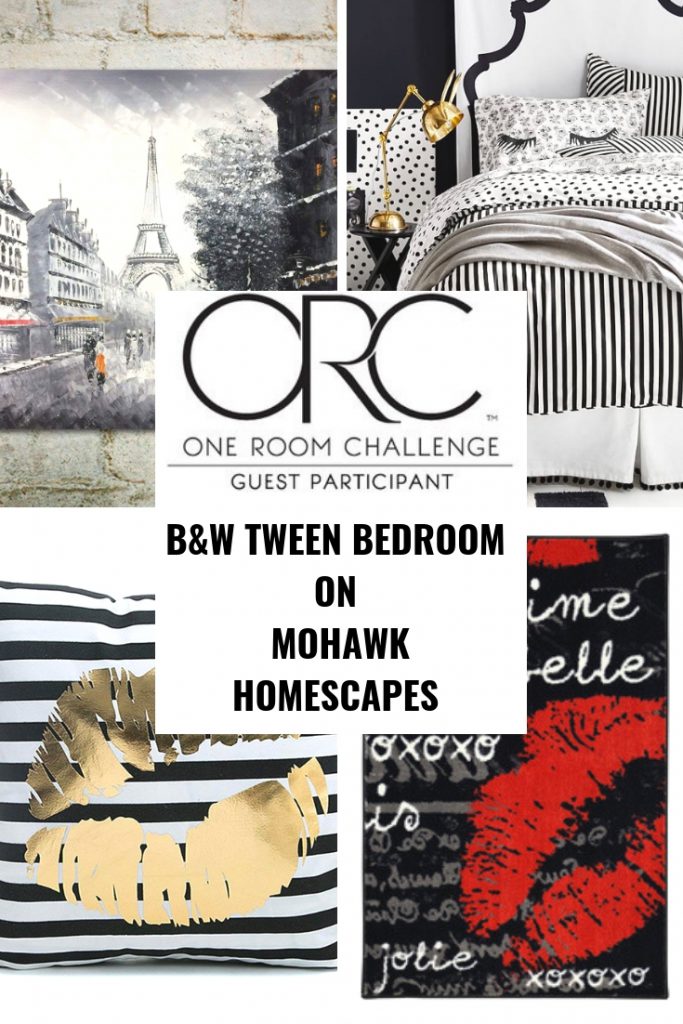 Welcome to week 1 of the Fall 2018 One Room Challenge! I'm so excited about the next six weeks, where I'll be infusing my daughter's amazing personality into her bedroom décor. My goal is to transform the bedroom into a tween dream, with plenty of smart additions that will make the extremely small bedroom functional and stylish.
Four years ago, when Jordan started first grade, she was sharing a bedroom with her younger sister. My son was still in a crib in the smaller bedroom and we were just transitioning him into a toddler bed. As the year progressed, we realized that the girls were just not compatible as roommates. You know how that goes; sometimes sisters just don't get along! When Jordan started second grade, and my son was already sleeping in a toddler bed, we made the switch. I just never got around to changing the décor, and so she inherited a bedroom with blue walls and a baby boy's personality.
Life happened and updating my home décor fell to the bottom of my priority list. Then last year, I was diagnosed with stage IV non-Hodgkin's lymphoma, and priorities really changed. As you can imagine, our lives turned upside down really quickly, and Jordan was impacted the most. As the oldest, even at the tender age of nine, she understood what I was dealing with and it took its toll. At some point this past April, somewhere between rounds five and six of chemotherapy, I decided it was time to transform Jordan's bedroom. I wanted to make her feel special, and to provide her with a sanctuary where she can escape all the cancer crap in her life and just be a tween.
The challenge:
Jordan's bedroom is really small. 9 feet, 1½ inches x 8 feet, 5 1/8 inches small so I really had to plan carefully when it came to furniture. I need to make sure that we don't overload the bedroom with too much furniture so that the already small room appears even smaller.
Decide on a theme and a cohesive color palette that will work well with the space.
Her bedroom sometimes doubles as our guest room, so I had to keep that in mind when deciding on the décor elements for her room. That meant I had to nix her desire for an emoji décor! There was no way I could host out of town guests with poop emoji wallpaper.
In the end, I'm really excited about what I have planned for her room. Jordan is a tomboy who tends towards Boho chic; she likes to wear a fedora while on her skateboard. Her bedroom will feature her personality beautifully, while also highlighting her love for Paris. The room will feature some great products from Mohawk Home, Wayfair, Amazon, Ikea and Etsy!
Here are some before shots of her bedroom; check back next week for Week Two, where I'll run through décor plans and my shopping list. Click here to check out some of the amazing room makeovers happening across the country!