Whether it's the Emmy's, Oscars, Grammy's or Tony's, we just love award shows!  It's so exciting to find out which of our favorite films or actors will win an award for their inspiring performances. When watching the award shows, what better way to celebrate than having a glamorous themed watch party with some of your closest friends?
You don't have to walk the red carpet to have a fun evening with friends! We put together some of our favorite ideas and tips for throwing the most fabulous Emmy party.
Themed Invitations
Everyone who attends the Emmy awards receives a gorgeous invitation to request their attendance at the event, so do the same with your watch party! Have each guest dress up in their finest attire and celebrate a night where you feel like you're rubbing elbows with Hollywood elite.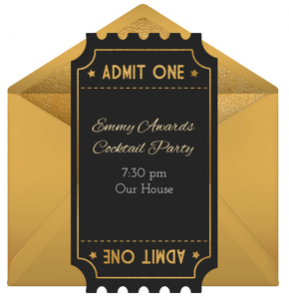 (Source – Punchbowl)
Red Carpet – Party In Style
No Academy Award watch party would be complete without that famous red carpet! Welcome your star-studded guests to your home with a scarlet Mohawk Home Urban Retreat Habitat Shag rug. Your guests get to take part in walking the red carpet while the shag of the rug will make them kick off their heels in no time!
(Source- Overstock.com)
Home Voting Ballots
After everyone arrives for the party, join in on the thrill of the night with your own voting ballots. Have your friends fill out who they think should win each award then tally the votes. Before each award is announced, have party guests announce whom they voted for and at the end of the night, present a special gift to the person who guessed right the most!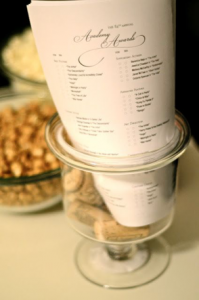 (Source – Pinterest)
Awards Night Bingo
Keep the crew having fun throughout the night with Bingo! Everyone loves a friendly game of Bingo and it gives them a chance to win an award of their own that night. Every time a female winner is wearing a black dress or someone is seen in a bow tie, mark the spot off on your Bingo board. Each time someone wins a game, give them an Emmy of their own to take home.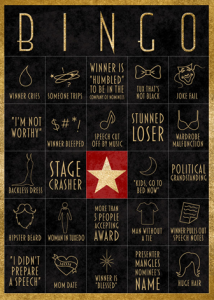 (Source – Evite)
Festive Cocktails – Party Recipes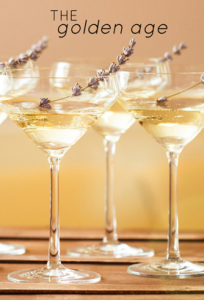 Champagne is a staple of any celebration, but it's fun to have Emmy themed drinks available for your guests as well. Add some fresh ginger and a sprig of lavender to your favorite bottle of bubbly for a Golden Age inspired delight.
What about TV show themed drinks?  If Stranger Things is your favorite show this year, top maple syrup whiskey shots with a mini Eggo. A shot so tasty, Eleven (if she could drink) would be proud.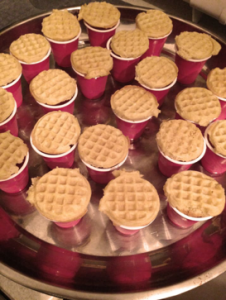 (Source – Buzzfeed)
Award Winning Foods
Every time we watch an episode of House of Cards, we wish that we could join Frank by chowing down on ribs at Freddy's BBQ Joint.  For delicious award themed fare, make these sticky, saucy barbecue ribs and you'll feel like you're dining with Kevin Spacey.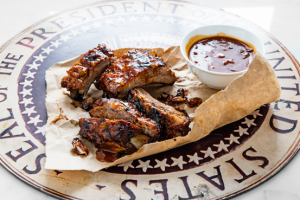 (Source – Parade)
Disappointed that you won't see Game of Thrones winning any awards this year? That's okay, bring GOT to your party with Theon's Pigs in a Blanket! Using bratwurst instead of a traditional hotdog truly honors Theon himself.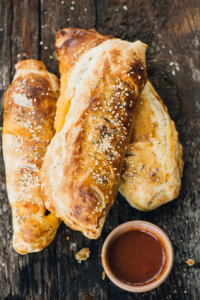 (Source – Buzzfeed)
Are you planning on throwing an Emmy Award watch party? Share your plans with us in our comments!