Around here, decor is always changing to keep things fresh as well as functional. Last fall I moved some rugs around the home and ended up placing one in our dining room that worked, but wasn't what I truly wanted in that space. Additionally, our dining room opens to our kitchen and I had plans to repaint the cabinets, so a rug was really just a temporary fix. In January, I finally painted those cabinets in a soft aqua green and had since been on the hunt for the perfect rug to unify our dining room and kitchen.
When the opportunity to partner with Mohawk came along, I was thrilled to finally lay down the rug that would bring our spaces harmoniously together. *I did receive this rug and accessories as well as compensation to facilitate my honest review.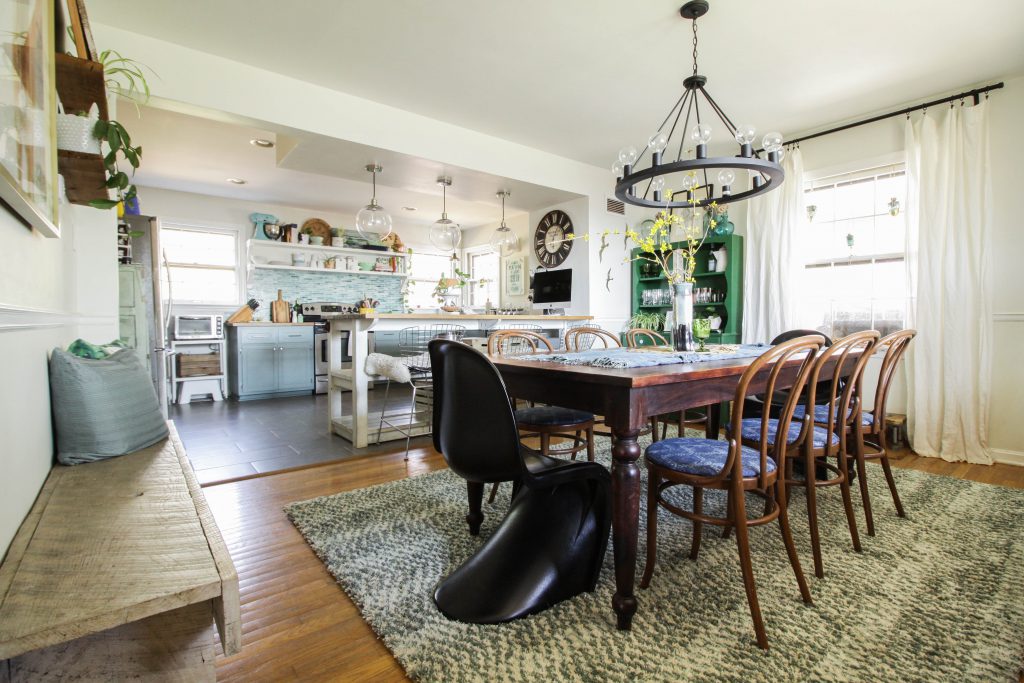 As you can see, the kitchen cabinets have been painted a soft blue green, and I was looking for a rug that would bring in that color as well as a bit more green as we have a green hutch, and loads of green plants. I have a bit of a plant addiction. The Clinton rug from Mohawk appeared to have a hint of aqua, green, a nice subtle herringbone pattern. Here you can see side by side how well the new rug complements the kitchen cabinets.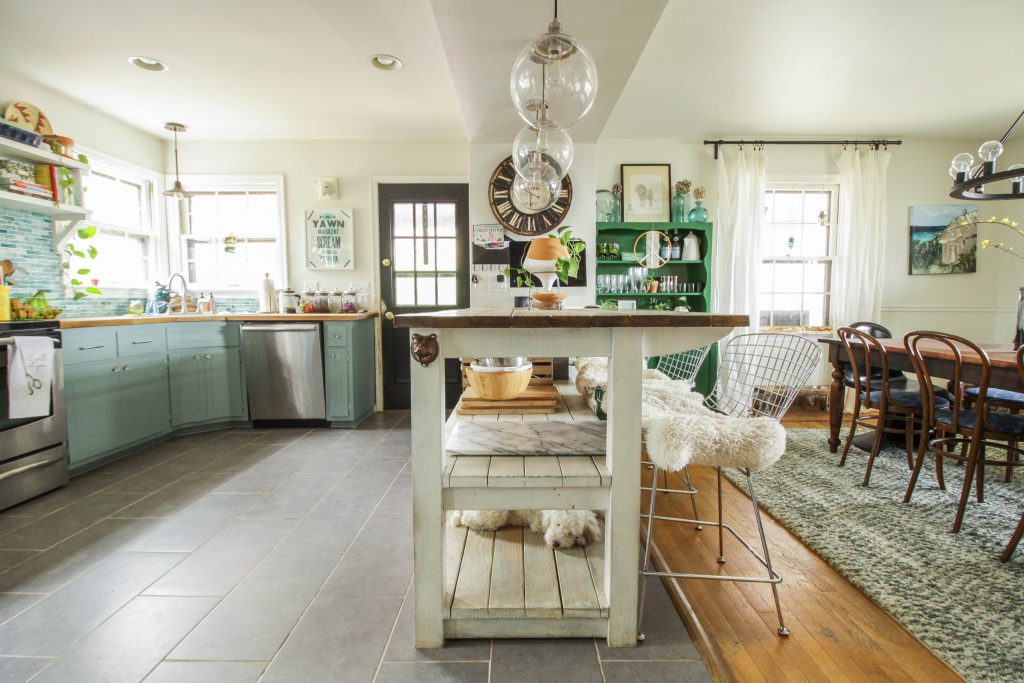 You can also spy one of our pups on the bottom of the island there. We have two dogs and this rug features as a softness which feels great under feet, but also is adored by our dogs who spend much of their time in this area. As you can see, Catcher approves and loves the shaggy texture.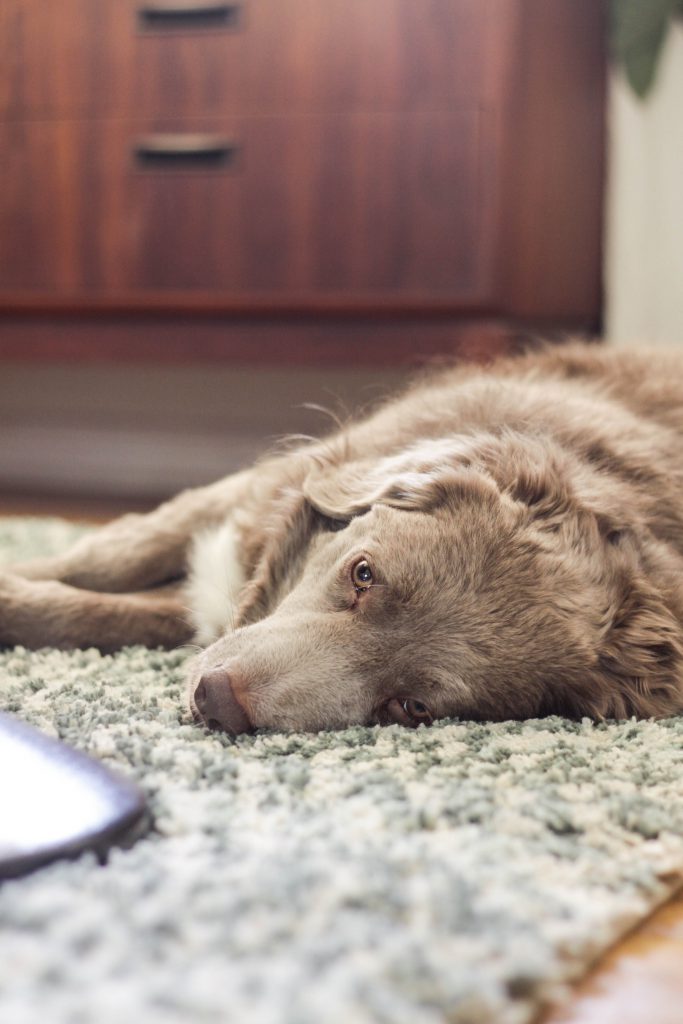 While the dogs comfort is somewhat important to me, it's really just a bonus! I just wanted a rug that would fit the aesthetics of our space. After I painted our kitchen cabinets this January, I had second thoughts about our vintage green hutch. I fell in love with this piece just as it was in its bold emerald coat, but I wasn't sure if it was working with the aqua cabinets. Thankfully, this rug brings in the color of the cabinets as well as the greens in our dining room and it all plays together nicely now.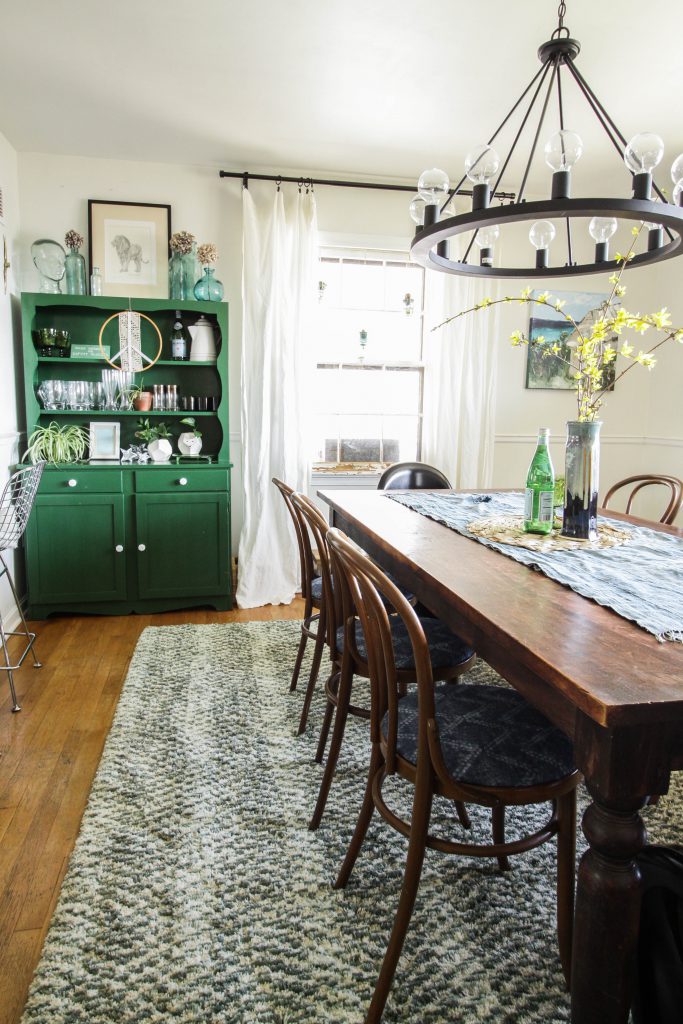 I mentioned above that I have a wee bit of a plant addiction… And something about propagating my own plants is so rewarding! They just bring such life and freshness to a space, and they help purify the air, so they're worth it. In my opinion, plants never look out of place in any room, but they really look fabulous with this rug. Don't you think?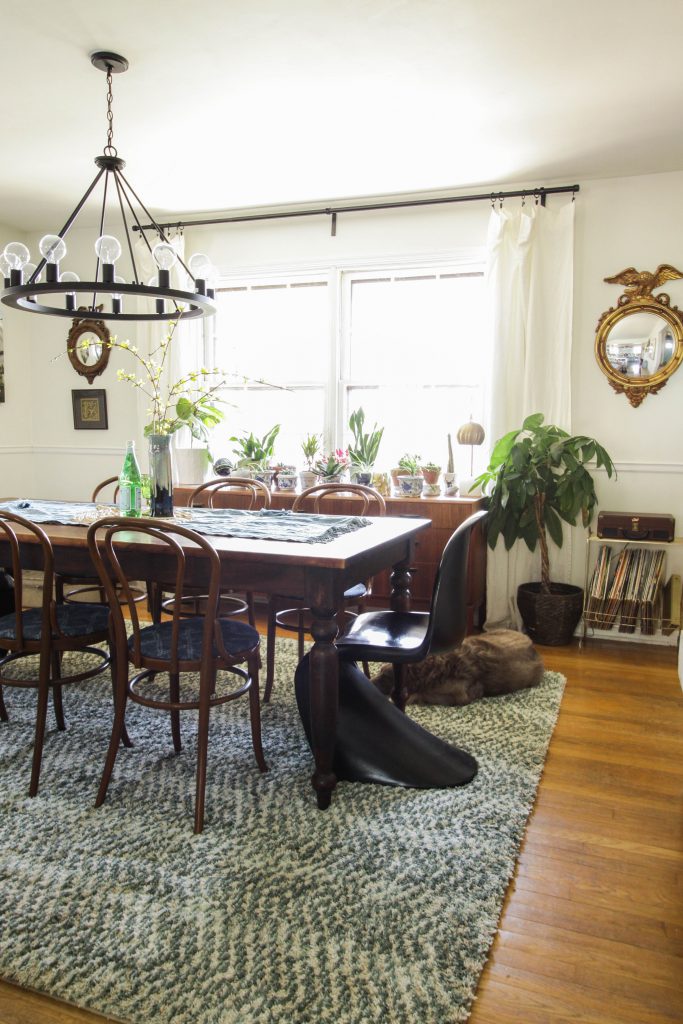 As seasons come and go, so do the smaller decorative touches in my home. Our home is small and our kids need a backpack drop zone during the school year. This bench in our dining room serves that purpose, but also gives me a chance to bring in some colors and patterns of the season with pillows. I love seeing how the current situation pulls the greens and aquas out. I am already looking forward to changing it again in the future to fit the season as well as the room.
As much as this rug is perfect for the current season and shades of spring, it's also perfect for our home which is constantly in an array of blues and plants. Thank you so much to Mohawk for providing our family with a comfortable and beautiful rug that is sure to last us for years!