Inspiration for a room's design can come from all sorts of places – a picture on Pinterest, a home seen in a magazine, a scene in nature – but one of my favorites? Rugs. I mean, think about it, there are thousands of rugs, in a wide variety of styles, all just waiting to provide inspiration for a room! Whether a calm and simple jute rug or a bold and vivacious bohemian, each rug emits a specific feeling and style that can easily be translated into a stunning room design.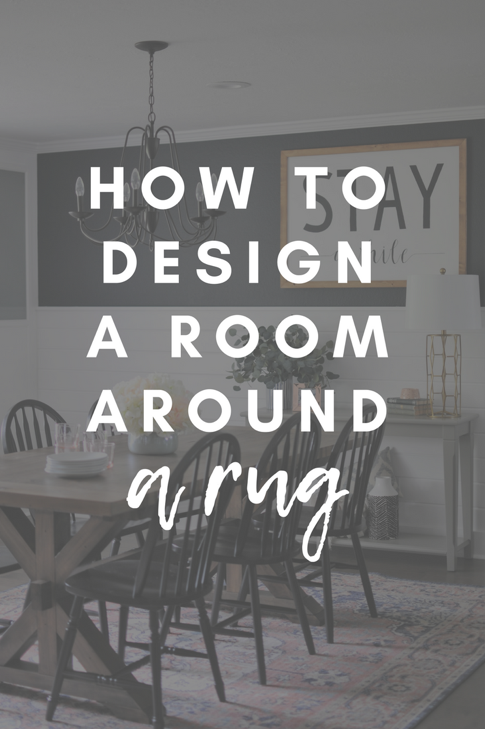 The process of designing a room around a rug really is both simple and fun. The first step, of course, is choosing a rug you can't live without! Then, you let the rug's size, colors and style inspire and lead you in each choice you make throughout the designing process.
I recently found my inspiration for our dining room makeover in Mohawk Home's Heirloom Thame rug – a traditional, Persian-styled rug made up of rich pinks, blues and creams. I had already decided that I wanted to incorporate blush tones in my room's design, so when Mohawk offered to provide me with this rug (it was love at first sight) its stunning style quickly set the tone for all my furniture, paint, and decor choices. I couldn't wait to showcase such a beautiful rug in my favorite room of our home!
CONSIDER THE RUG'S SIZE
The first (and maybe most important) step in designing a room around a rug is making sure you get the right sized rug for your space.
Before you go and buy your dream rug, be sure you have identified what room you want to design around it and what size (or sizes) of rug are appropriate for that room. On the other hand, if you've already fallen in love with a rug that only comes in one size, choose to use it as inspiration for a room or space that will fit that size of rug well. For example, if the rug you've fallen for is a runner, consider placing it in an entryway or kitchen and styling that space around it rather than a large room like a living or dining room where a runner might feel awkward.
Not sure what size to get? Click here to get my Roadmap to the Perfect Area Rug and it will walk you through the steps!
After you've found the rug of your dreams and chosen a room suitable to the size of the rug, you then use the rug's size to determine both the layout of the space and the size of furniture you want. It's typically said that the larger the rug, the larger the room feels, but try to leave about 18" of flooring exposed on all four sides. In certain rooms, selecting a larger rug can also allow for larger furniture pieces like sofas or dining tables.
In our dining room project, I knew the rug I wanted was a 7'6"x10' size, so when looking at dining tables I searched for something no bigger than 4'x6'6" to leave enough space for the chairs to sit on the rug too. I also selected a slim console table, rather than a deep buffet or sideboard, to go on the wall behind the table because I knew I only had 20" of flooring between the wall and the rug and I didn't want that piece of furniture to overlap the edge of the rug.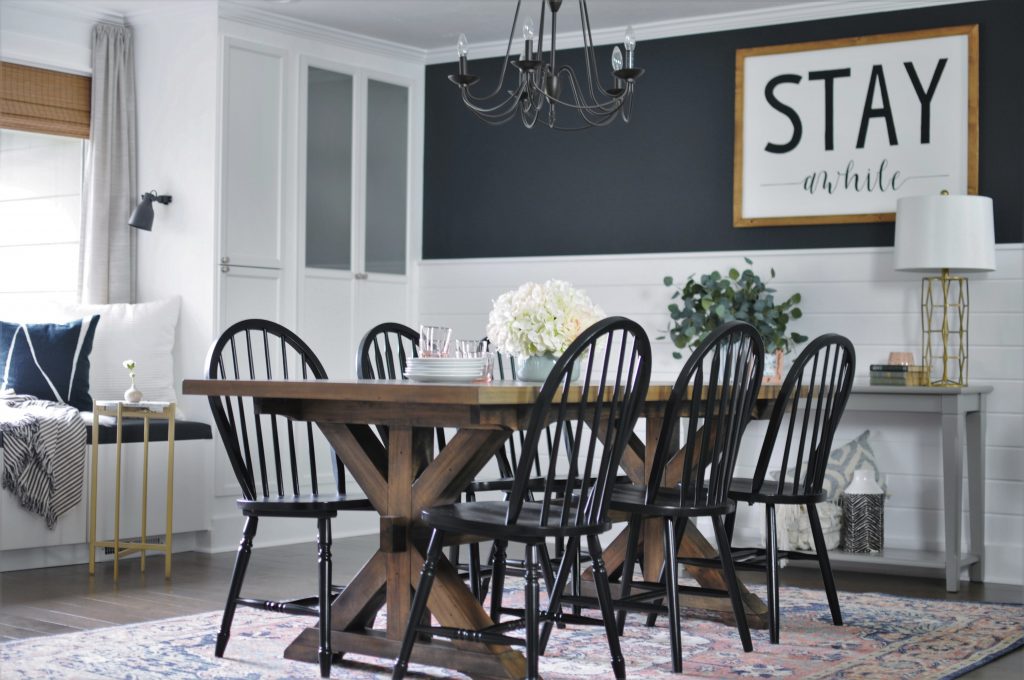 USE THE RUG'S COLORS
The second way you can use a rug to inspire your room's design is to let it depict what colors you use throughout the space.
If your rug is a bold, colorful style, pick 2-3 main colors from the rug's palette and use them as the room's primary colors when selecting paint and furniture. If your rug is a simple, neutral pattern, then select colors with the same undertone as the rug – for example, a beige rug with a gray undertone may inspire brushed nickel fixtures and black furniture compared to a beige rug with a yellow undertone that may look better with gold accents and natural wood furniture.
No matter what type of rug you're using for your inspiration, it is very important to take your time when selecting paint colors for your space. I'd encourage you to bring home swatches and test the colors next to the rug. Get samples and paint small sections on each wall in the room to get a feel for the colors in all different lightings with your rug.
Then, use decor as an opportunity to accentuate minor colors from the rug or add fun pops of color. For example, my dining room rug has some pale blue and green colors in it that I didn't want to use for the room's main colors, but I was able to bring into the room through a vase on the table and a bouquet of eucalyptus on the buffet. I also painted the interior of my front door a bright pink for an added pop of color. Most importantly, don't be afraid to take have fun here – color is one of the best ways to liven up (or cozy down) a room!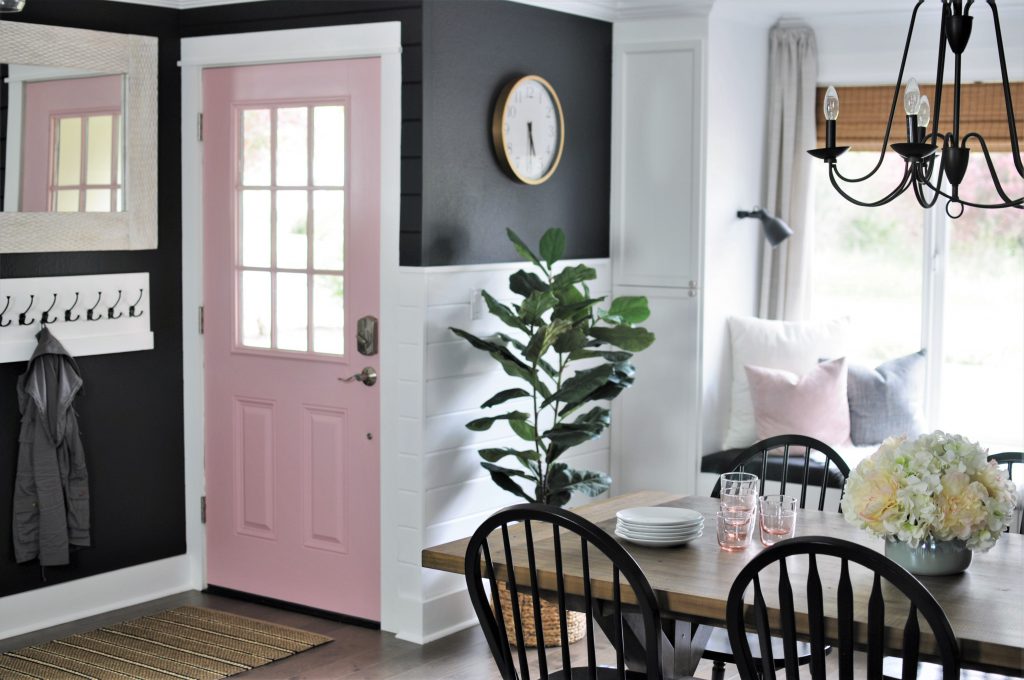 ACCENTUATE THE RUG'S STYLE
The final thing to consider as you design your room around your rug is what style of rug you've chosen.
Is it a Moroccan shag that would look great with chippy farmhouse decor? Is it a bold, geometric pattern that would go perfect with some mid-century modern furniture? You want to be true to the rug's style and design the room with that in mind.
Now, don't get me wrong, I'm all about merging your favorite styles to get the room of your dreams. But there's a difference between merging two complimentary styles for a cohesive design and ending up with a room that looks entirely mismatched. Make sure the pieces you're selecting to place on or around the rug are at least similar in style and accentuate the style of the rug.
I stayed true to my dining room rug's style by selecting furniture with a bit of a modern feel and adding bits of feminine decor throughout the room. I am a huge fan of the rustic farmhouse style, but knew that in this room, with this rug, I needed to keep things a bit classier. And I'm so glad I did! Because that rug is the star of the show, and I LOVE IT.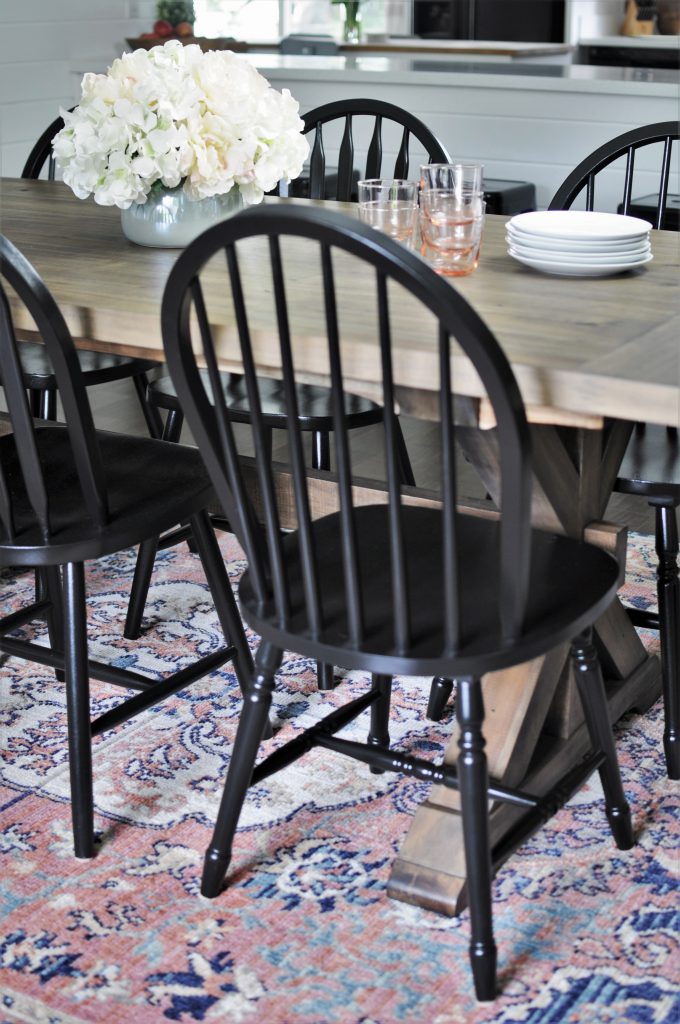 As you can see, designing a room around a rug is rather simple. After you find the rug of your dreams, just consider its size when selecting furniture and layout, use its colors to influence your color choices throughout the space, and accentuate its style with similar styled furnishings. See? Easy! And fun!
So, next time you go to design a room or space in your home, I say start with the rug!