The eclectic farmhouse style takes us back to a simpler time when folks watched the sun instead of a clock and a hard day's work was rewarded with a home-cooked meal and good night's rest. The style is homey and comforting, a blend of unpretentious materials that have their own timeworn artistry. Furniture and fixtures are of plain design but sturdy and functional. Decorations come catch as catch can, either handed down or repurposed. Quilts and steamer trunks, milk paint and mason jars – this easy-to-love style takes the best of the past to give us a fresh perspective on simple living.
Most of us don't live on a farm or even near a field, but we can re-create the easy-breezy farmhouse style and surround ourselves with cozy comfort. This mood board shows the basic elements to achieve the look.
This mood board shows the basic elements of how to achieve the informal look of farmhouse style.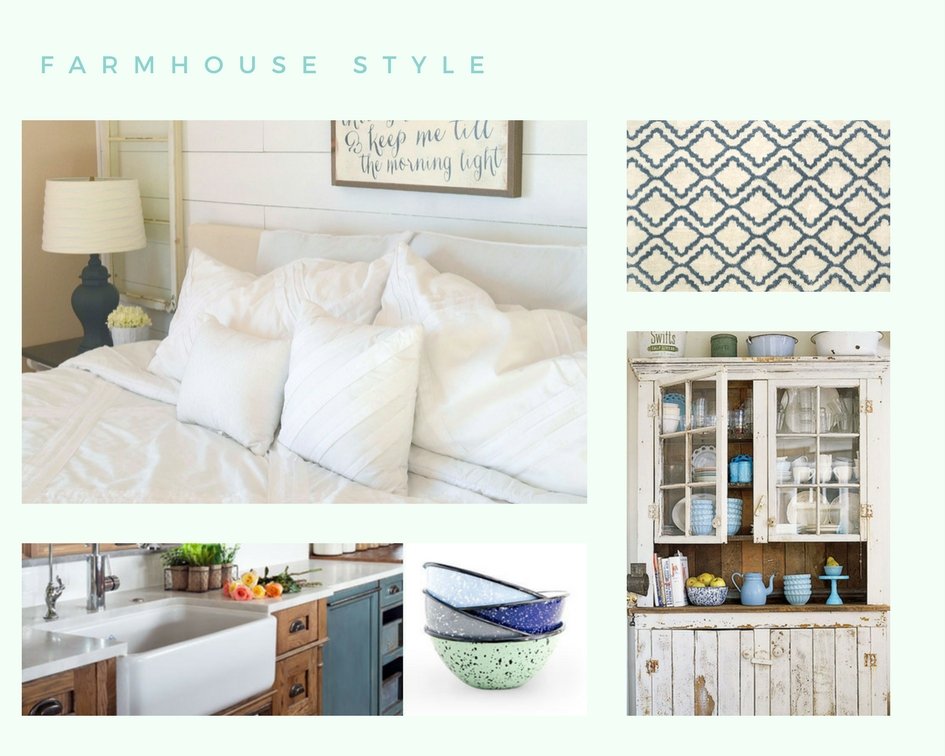 Mood board, from top left:
1.) Wood on walls is quintessential farmhouse style. Back in the days of living off the land, wood was abundantly available: floors, doors, exterior and interior walls on barns and buildings were all wood. Turns out those farmers were on to something – wood plank walls continue as an haute trend today.
2.) Rustic bare floors are a beautiful feature of every farmhouse. Soften the hard surface with scattered area rugs that add warmth to bare feet and pattern to a room.
3.) Worn and faded glass front cupboards are perfect for displaying and storing dinnerware and collectibles.
4.) Humble enamelware was a step up in kitchen utensils for farm wives used to cooking on heavy, rust-prone cast iron skillets. Today, the simple design remains the same but the patterns and colors are anything but plain.
5.) Every farmhouse needs a farmhouse sink with its roomy capacity and tall apron front. True farmhouse sinks will protrude from the counter edge to eliminate forward leaning and back strain on those spending long hours washing dishes.
Even if you live in the suburbs, you can add rustic touches to give any style home a farmhouse feel.
Is farmhouse living the lifestyle for you? Let us know in the comments!