As the beginning of the school year approaches, there are so many different things that you need to get ready. From finding all the right school supplies to getting new school clothes, it may feel like the to-do list is never ending!
In these last few weeks of summer, crafts are great back to school ideas and a great way to have fun and spend some time with the little ones before they head back to for a new year of education. These crafts encourage creativity and help get your kids get excited for the school year.
To help get ready for your kids to go back to school, we've put together a list of our top 10 DIY back to school crafts.
Chalkboard Notebooks
Notebooks are handy, but keeping a task list on top is even handier. Grab some quality notebooks and chalkboard vinyl. Cut a design around the edges and apply it to the front of each notebook – then voila! This is a DIY school supply project because it makes plain old notebooks more fun and it helps keep the kids on top of their homework. Not to mention, if you have some first graders who are learning to read and write, it gives them a useful way to practice!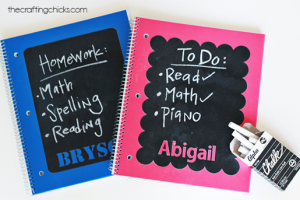 (Source – The Crafting Chicks)
Milk Jug School-Supply Container
Back to school also means back to doing homework. This DIY back to school idea can help your kids by having all the pens, pencils or markers they may need stored in a fun container. All you need is a milk jug, some paint and a little creativity.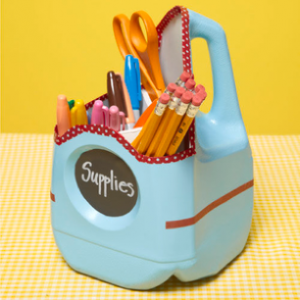 (Source – Prudent Penny Pincher)
Pencil Bouquet
Back to school crafts aren't only for the kids! Teachers work incredibly hard to educate our children and a DIY pencil bouquet is a fun and easy gift for a teacher. It's a great way to show your appreciation. Help your child put together this cute pencil bouquet and make a great impression on the first day of class.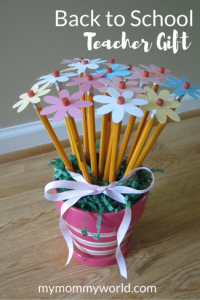 (Source – My Mommy World)
Backpack Tags
Just like luggage at the airport, there's a good chance that someone at school will have the same backpack as your kid. Not only does personalizing a backpack help your child reinforce their identity, it can ensure that their bag never gets mixed up with a crafty backpack tag. A plastic protector, some bright crafts paper, glue and a ribbon are all you need for this little project.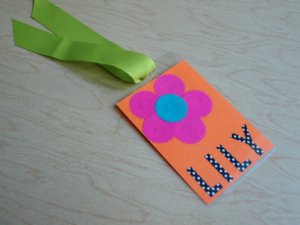 (Source – Less Than Perfect Life of Bliss)
Waterproof Canvas Lunch Bag
Buying school lunches can be expensive. This super simple bag only has two pieces and can be made in no time! This hip kids' lunch box is made by simply attaching a leather string to some waxed canvas and you're ready to pack a healthy lunch for your kiddo every day.
(Source – Pretty Prudent)
Handmade Bookmarks
Whether it's in a textbook or novel, bookmarks make it easy to find the right page or help your child keep their eyes on the right line of text. Decorate with a positive note and get your kids reading with this fun DIY bookmark.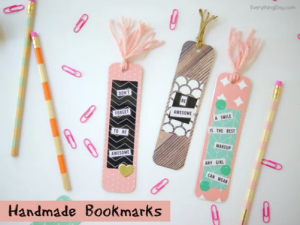 (Source – Tatertots and Jello)
Watercolor Backpack
Growing up, one of my favorite parts of the beginning of the year was seeing everyone's cool new backpacks and gadgets they got over the summer. This colorful, creative backpack is super easy to make and your kids can even help you color it. To get this look, use fabric markers and lightly color spots all over a white backpack. Spritz a little water on top and watch the colors fade into a fun watercolor tie-dye.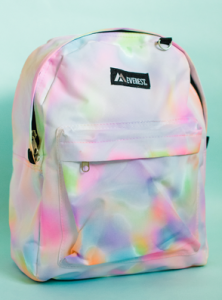 (Source – Momtastic)
Nerdy Chic Book Clutch
Students have enough to carry; can you imagine adding another item to their packed knapsack? This is a great project for your tweens and teens. Help them make this sly little book clutch bag to hold smaller daily items. It fits right in your daughter's backpack and is made out of an old book, fabric and a little bit of Mod Podge.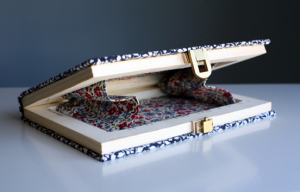 (Source – Caught on a Whim)
Earphone Holder
Don't you hate constantly untangling earphones after stashing them in your pocket or backpack? These DIY earphone holders clip right on to your child's backpack for easy access and prevent those annoying tangles. Plus, they're fun and easy to make with your kids! All you need is an old mint container, stickers, and a keychain!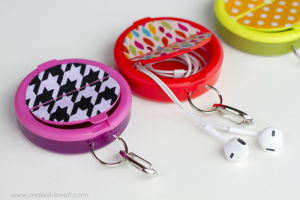 (Source – Make It Love It)
Rainbow Crayon Holder
This rainbow crayon holder serves a couple purposes. It keeps your kid's crayons neat and tidy and you can use it to teach colors as well. Grab some Balsa wood from the local craft store and paint it any color you'd like. Glue some old veggie cans to the top, wrap them in colorful tape and you have a neat little shelf organizer!
(Source – Sugar Bee Crafts)
Do you have a favorite back to school craft? Share with us in the comments!