While the rest of America was glued to the Super Bowl Sunday night, I was busy multitasking. Between movie and NFL commercials and Tom Brady's superior quarterbacking skills, I was feverishly scrolling through Pinterest and planning this year's Valentine's Day.
Each year, I go all out on the annual holiday of love since it's also our engagement anniversary. That means buying gifts for the kids and gifts for my husband, booking a day of beauty to get me glam and gorgeous for our romantic evening out, and wracking my brain for the perfect Valentine's Day gift for my beau. We just got a puppy, so now I need a Valentine's Day gift for my precious pooch too!
Fortunately for me, my husband is a chocoholic so he is more than happy with a heart shaped box of dark chocolates and a nice dinner out on the town. While my kids are pretty low maintenance when it comes to Valentine's Day gifts, I like to get them involved in Valentine's Day because it's fun and provides some precious bonding time. I'm not a crafting Mom by any means, I can't cut a straight line and I can't tell you how many times I've super glued myself to inanimate objects. So, I leave Valentine's Day crafting to my incredible babysitter and I focus on the yummy treats I can make with my kids.
Since my decorating skills are about as stellar as my crafting skills, I simply replace my kitchen area rug with this Mohawk Home Prismatic Siena area rug to let the family know that Valentine's Day is coming! We love this area rug, it's so soft underfoot and stain resistant, so any treat ingredients that may fall on the area rug is easy to clean and won't soil. It's puppy proof too, so our Cavalier King Charles puppy Wyatt can curl up under the table comfortably as we're busy making our yummy Valentine's Day treats.
I decided to go out and buy a vegan chocolate making kit at the organic store and I'm going to pick up a silicon heart shape mold for making chocolate candies. Add some pink and red sprinkles and voila, we've got a fun and easy Valentine's Day chocolate making activity. I can't wait!
There are so many easy Valentine's Day recipes for kids; here are just ten of my favorite alternatives to chocolate making:
Easy Heart Pretzels – I love anything that has just three ingredients but these are really cute and a great recipe that your kids can make by themselves (with a little supervision).
Valentine's Day Marshmallow Pops – This is the lazy Moms version of cake pops but collectively they are delicious and so simple to make! With a few ingredients and some more candy melts, it's a marshmallow bouquet your kids will love!
5 Ingredient M&M Cake Bars – There is no shame in using a box of cake mix! Plus with only five ingredients (can you see the theme here?) you'll have these M&M cake bars done and cooled in no time. Make use of your kid's tiny fingers to decorate these cake bars!
Easy Mini Heart Emoji Pancakes – This recipe is perfect for my mini pancake pan and the look on their little faces when they see the heart shaped eyes on these emoji pancakes is just priceless!
Strawberry Milkshake Cupcakes for Kids – A more involved recipe that you'll have to make with your kids, they'll be excited when you take out the strawberry milk powder and turn these cupcakes fairy pink!
Valentine's Day fruit Kabobs with Strawberry Dip – This is my healthy treat, for when you want to make something fun and festive for Valentine's Day but without the added calories.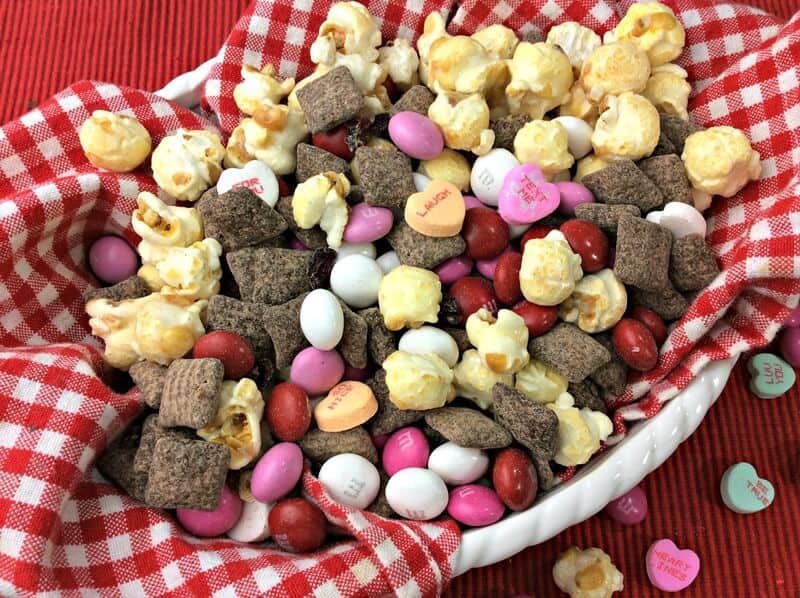 Valentine's Day Cherry Muddy Buddies Snack Mix – I love snack mixes, especially ones where you just pour everything into one bowl and mix. If you prefer an easier recipe, swap out the make your own kettle corn for bagged kettle corn and you'll have these snacks made and eaten in no time!
Valentine Dirt Cake Parfaits – There actually isn't any cake in these Valentine's dirt cake parfaits but there are plenty of Oreo cookie crumbs and delicious whipped topping. Use a couple of drops of pink food coloring to turn them pink for Valentine's Day and top with your favorite candy hearts or sprinkles.
Valentine's Day Candy Popcorn – Coat the popcorn with red and pink candy melt chocolate or just drizzle them both liberally. Either way, this Valentine's Day candy popcorn is just what your kids will want to eat during snack time.
Chocolate Caramel Poop Emoji Fudge – I couldn't resist! This is for my 5-year-old son, who thinks that love is "yuck". Watch the video for tips on how to shape the fudge into the poop emoji, complete with appetizing cracks for authenticity.
Planning on making Valentine's Day treats with your kids! If you make any of our recommended recipes, please share photos in our comments section or tag us on Instagram @mohawk_home!