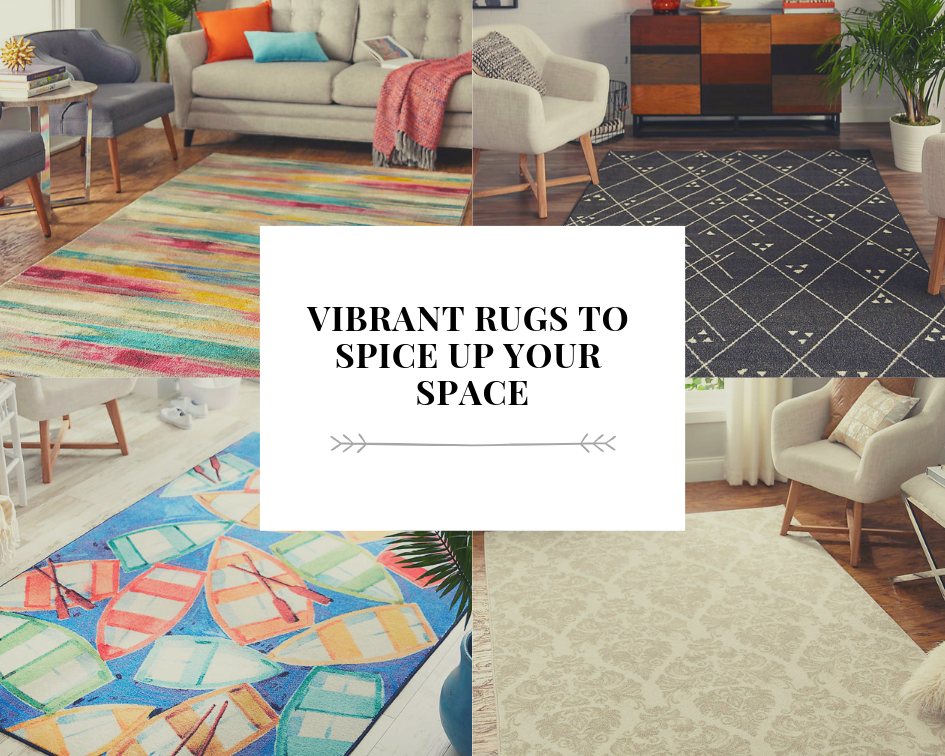 Regardless of your personal style, an area rug reflects your personality and fashion choices. With spring rapidly approaching, now's the perfect time to make some changes to your home. Do you want to try out a completely new interior design style or would you prefer to just update some of your furnishings and accessories? However you choose to refresh your interior, we recommend you spice up your space with a new area rug.
Here are some of our favorite area rug picks to fit your personal style:
Farmhouse style – From a trend perspective, farmhouse style is consistently a popular choice! Farmhouse décor is warm and cozy, rustic and simple. Rooms typically feature a combination of natural textures and materials, like wood and steel. Set your long wooden tables with Mason jars and white dinnerware on top of this gorgeous Zorra area rug in Gray from Mohawk Home.
Mid-Century Modern – Distinguishing features of this style consist of a classic, understated look, and clean lines with minimal fuss. Bold colors, the liberal use of black and white, and an array of materials, including Lucite and vinyl epitomize this style. The abstract motif of Mohawk Home's Tribal Lines area rug from the Prismatic collection is a beautiful choice for your Mid-Century Modern living room. Add to it a Florence Knoll sofa, Eames James chair, Flos Arco lamp and Andy Warhol artwork to complete this look.
Contemporary – It's a common misconception that contemporary design is cold and minimalist; when in reality it's both comfortable and welcoming. Clean lines, deliberate use of texture, and above all subtle sophistication are all elements of contemporary design. When it comes to flooring, bare and smooth vinyl or hardwood are the norm with added color and texture from an area rug. The pattern and bold use of color in Mohawk Home's Pazima Sierra area rug is a great choice for any contemporary home.
Hollywood Glam – Old Hollywood glamour is perfect for this century, where velvets, greys, mirror and glass bring a fresh and modern feel to any space. From faux fur throws to rich, purple velvet, and shiny, metallic accents, Hollywood glam makes any home look and feel like a million bucks! It's really all in the name with our Paris Damask area rug in Linen; the understated color and design provides the ideal balance for all the bling, glitz and glam.
Nautical – Coastal inspired design is popular beyond the beach house, where the navy blue and white color palette has become a classic choice for many interiors. White wood flooring, blue and white striped accessories and furnishing, and plenty of sailing memorabilia are the hallmarks of this style. Mohawk Home's whimsical Rowboat Rendezvous in Multi adds subtle orange, red and green color to an otherwise blue and white interior. While the Coastal Life in Linen is much more classic, featuring oars, anchors and floats in traditional coastal colors that would make a beautiful addition to any nursery or toddler's bedroom.
Tropical – You're definitely looking to make a style statement when you choose tropical décor! Oversized plants, animal prints, vibrant colorful accents, and the ability to both uplift and relax are the telltale signs of this design trend. Get vacation worthy décor without ever leaving your home, including meditation spots, crisp, hotel bedding and plenty of palm prints! Our Verde Palm area rug in green is a great foundation for your tropical interior. Mix and match patterns and go bold with color by decorating your room with palm tree wallpaper, animal print accent pillows, and this gorgeous Spring Window in Multi area rug from our Prismatic Collection.
Which design style is your favorite? Share with us your area rug picks and preferences in the comments!