The time for beach vacations and warm sunny weather has come and gone.  Up until about a week ago, it still felt like summer and then BAM, fall hit! We've started to have frost warnings in the mornings and it's time to grab that scarf for some extra warmth as we head out the door.  Comfy sweaters have hit the racks and a bowl of hot, steamy soup is starting to look more and more appetizing. Fall is here and orange hues from rich auburn-colored leaves to whimsical carved pumpkins begin to steal the spotlight.
Why not take a cue from nature and infuse your home with wall and floor surfaces, accent pieces, and furniture shaded in this bright, punchy tone? Here are some fun and unexpected ways to add and pair the season's most natural hue with your decor.
Home Accents:
Within sitting areas, it's easy to toss in some bright pillows with bold prints. They add warmth, color and texture to a space.  Pick styles with velvety feels, corduroy, faux furs or chenille.  These can all be found in beautiful designs fit for any budget and add the perfect level of coziness for your fall snuggles and naps.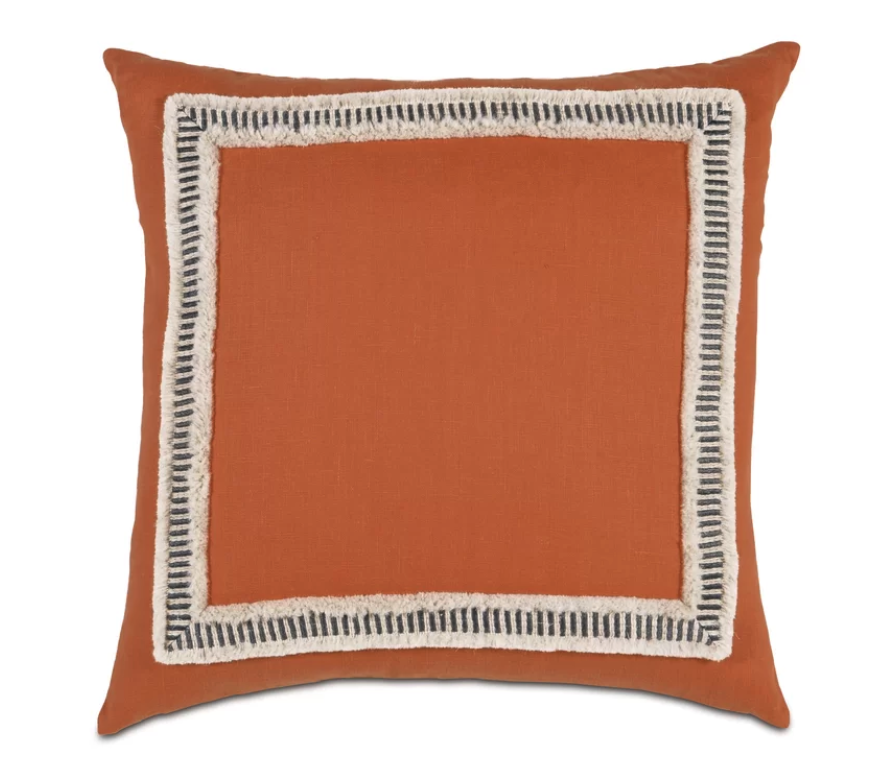 Source: Perigold
Finding orange accent pieces of the same hue can be challenging. Mix various shades of orange to create a more modern look + lively punch.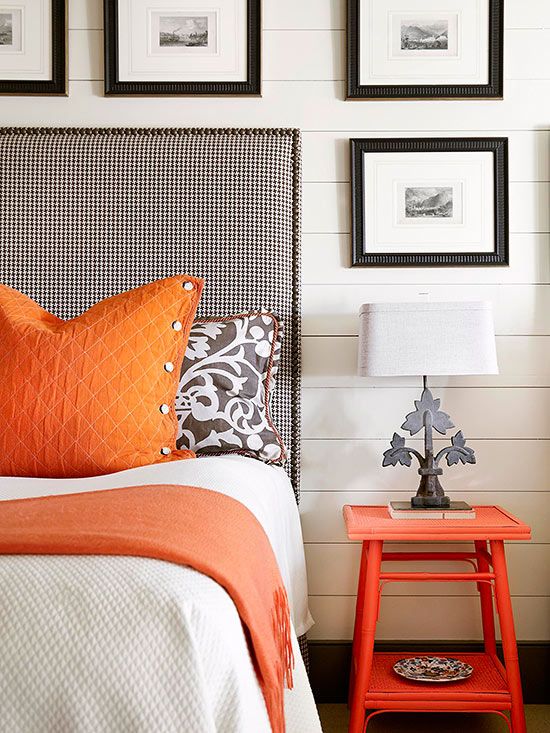 Source: Better Homes & Gardens
Don't forget your outdoor space. These orange outdoor accents compliment the rich hues of a fall landscape or sunny summer days.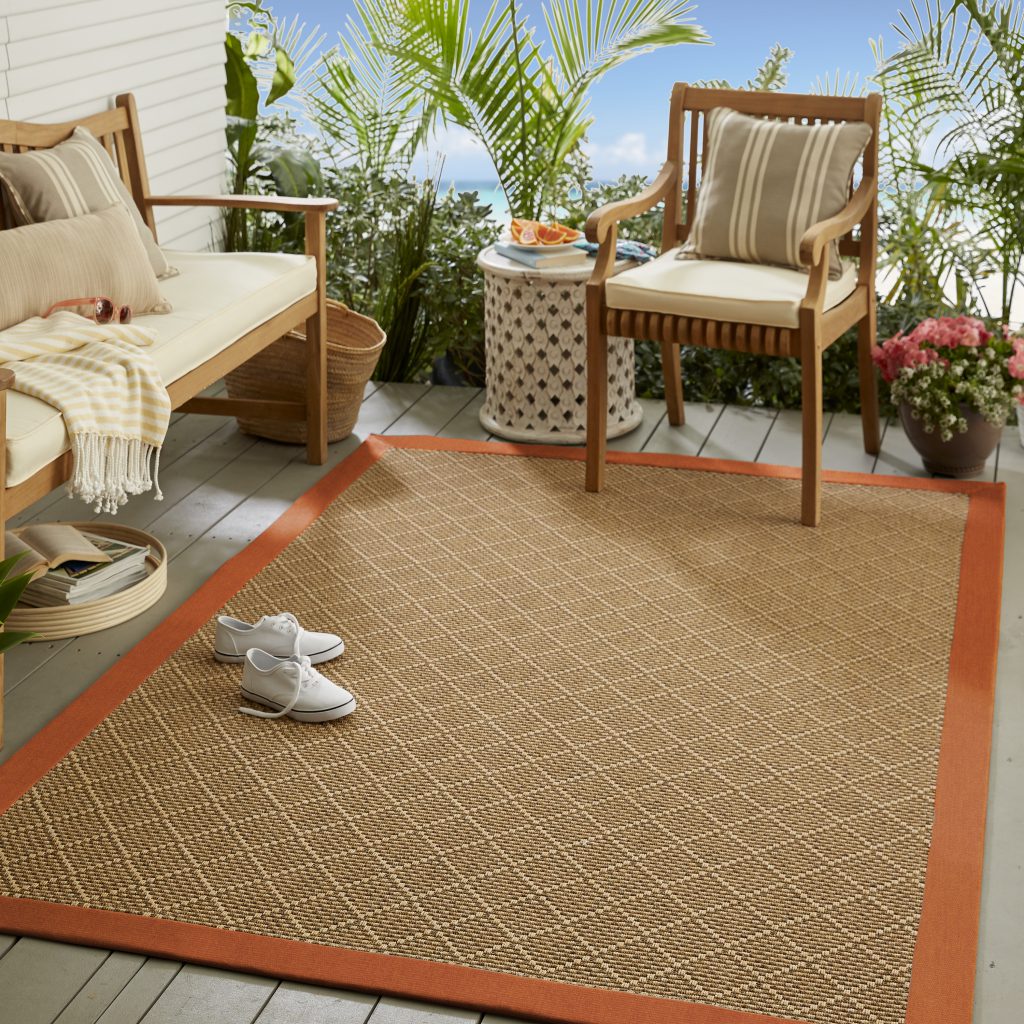 Did you know that an orange area rug goes well with almost any shade of hardwood flooring or tile flooring?  Pick out two or three rugs to throw down in your space and see which matches the best.  You could even try layering your rugs as well to achieve a different (and trending) look.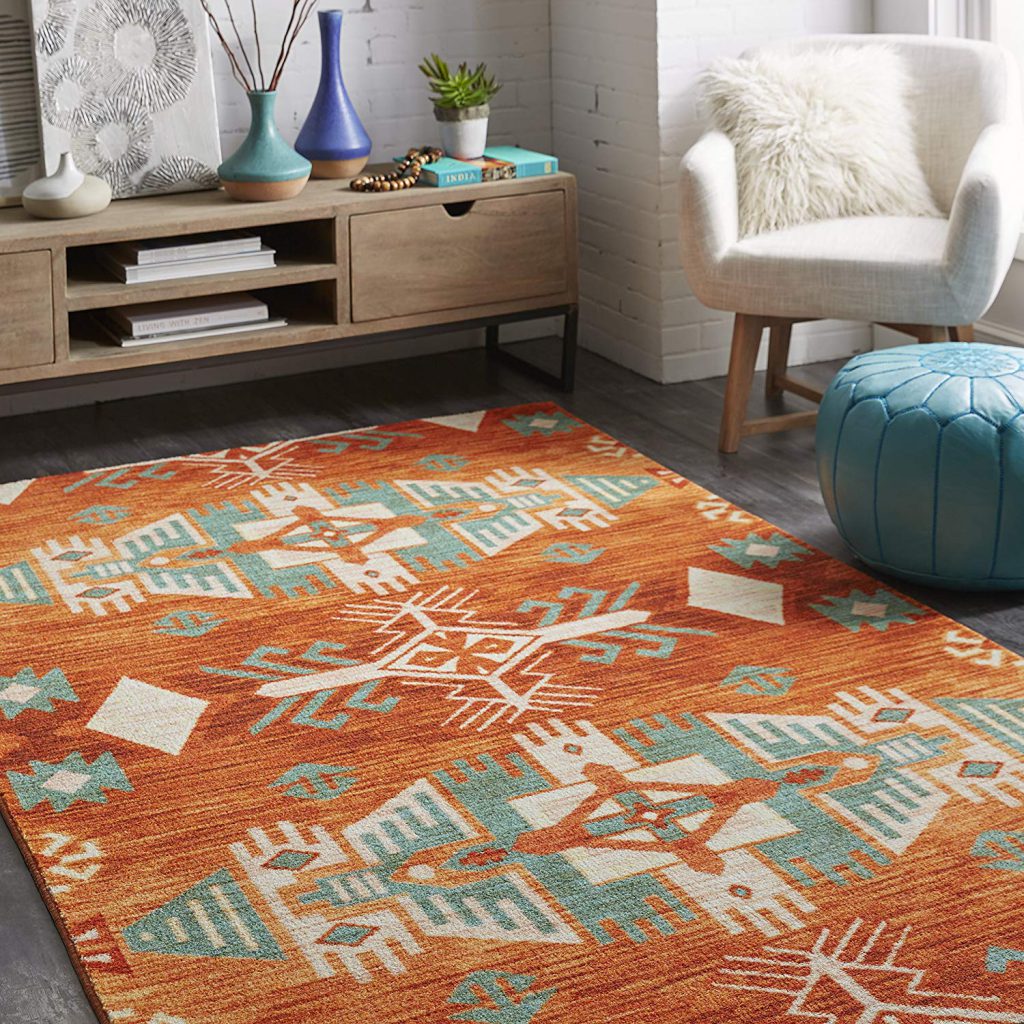 Mohawk Home: Prismatic Eidenau Area Rug
Wall and Floor Surfaces:
Adding a bright orange accents can really add the spark you're looking for.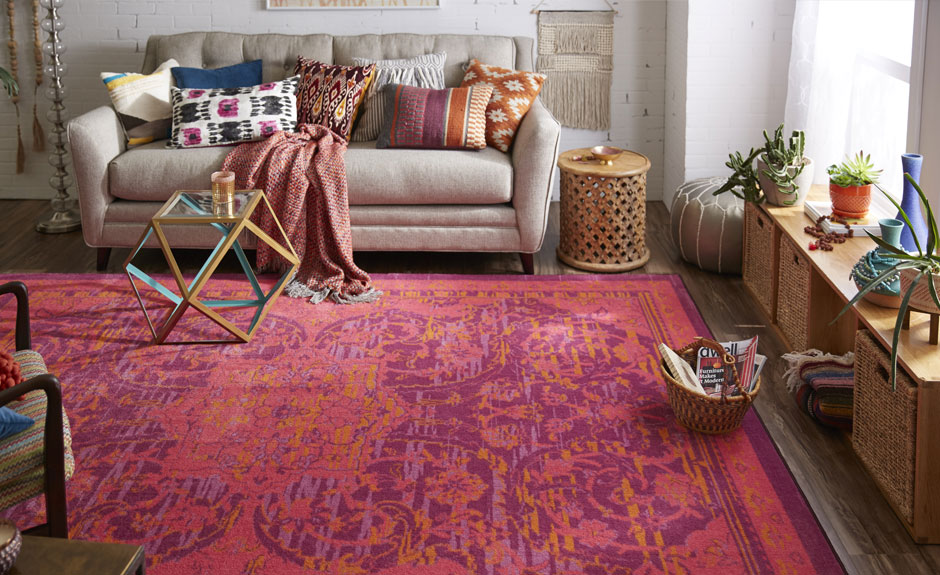 Consider using a pop of color in an area of your home that might otherwise be neutral and boring, like a stairway or foyer. Time to liven it up!
If want something a little edgy but don't like the risk of bright orange, opt for a softer shade, like terracotta. We love how Kala at My Breezy Room decorated her modern boho nursery.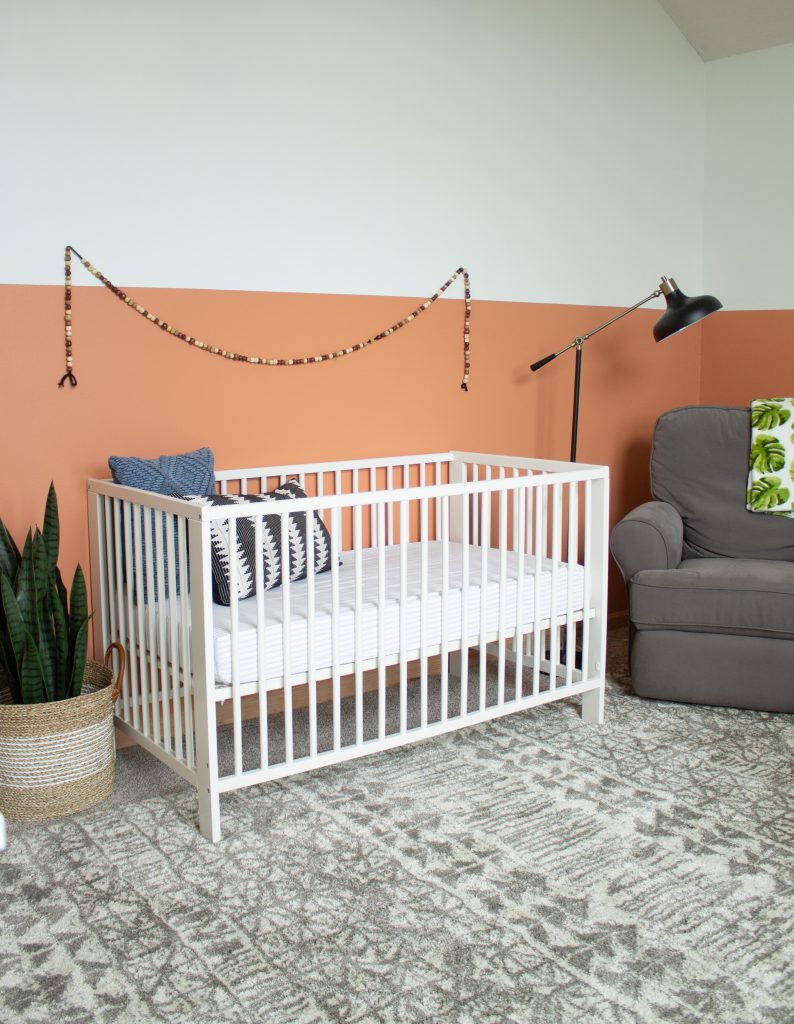 Mohawk Home: Berkshire Billerica
Mixing textures and neutrals with an orange piece of furniture adds depth to any space. Challenge your space with contemporary flair or a whimsical touch.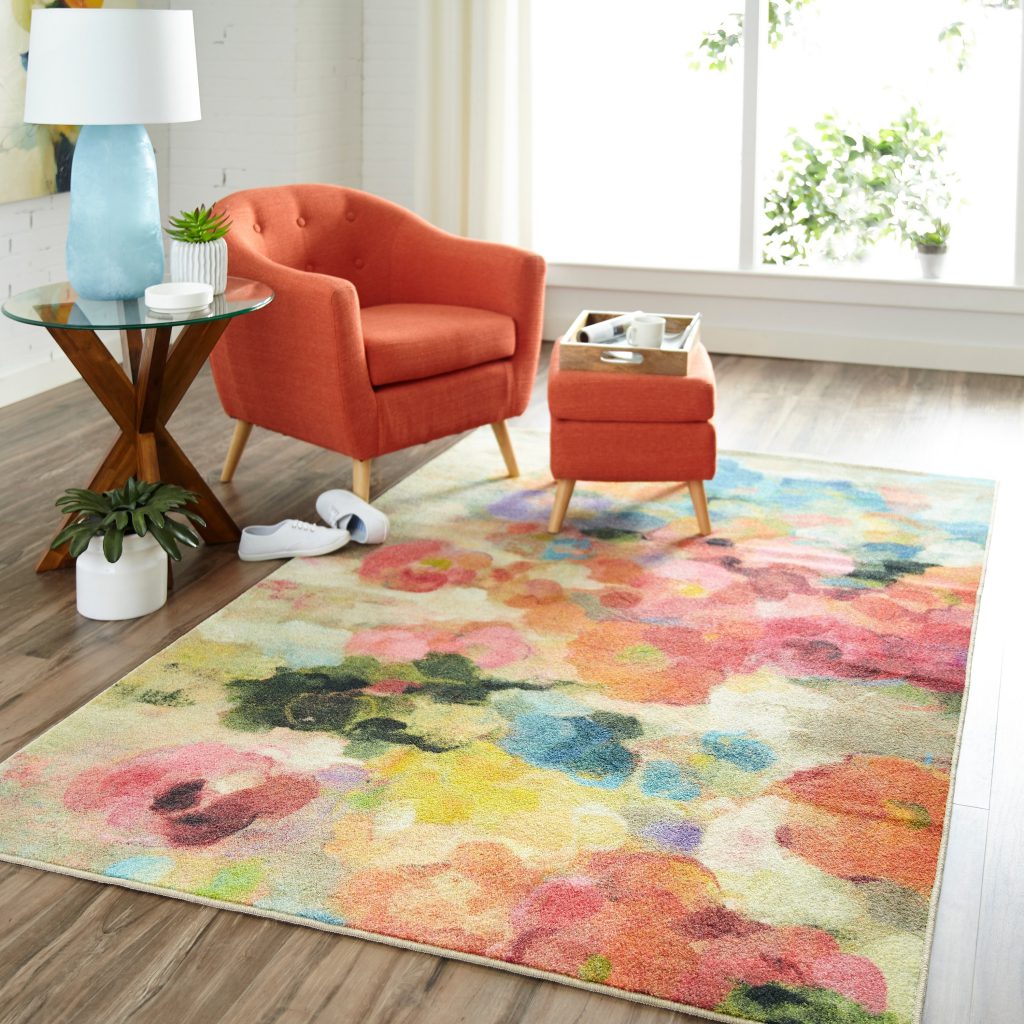 Have you ever seen that 70's shag carpet that is orange, orange, orange?!  Well, we aren't suggesting pushing that limit, but we do have some beautiful area rug options that could fit quite nice into your living spaces.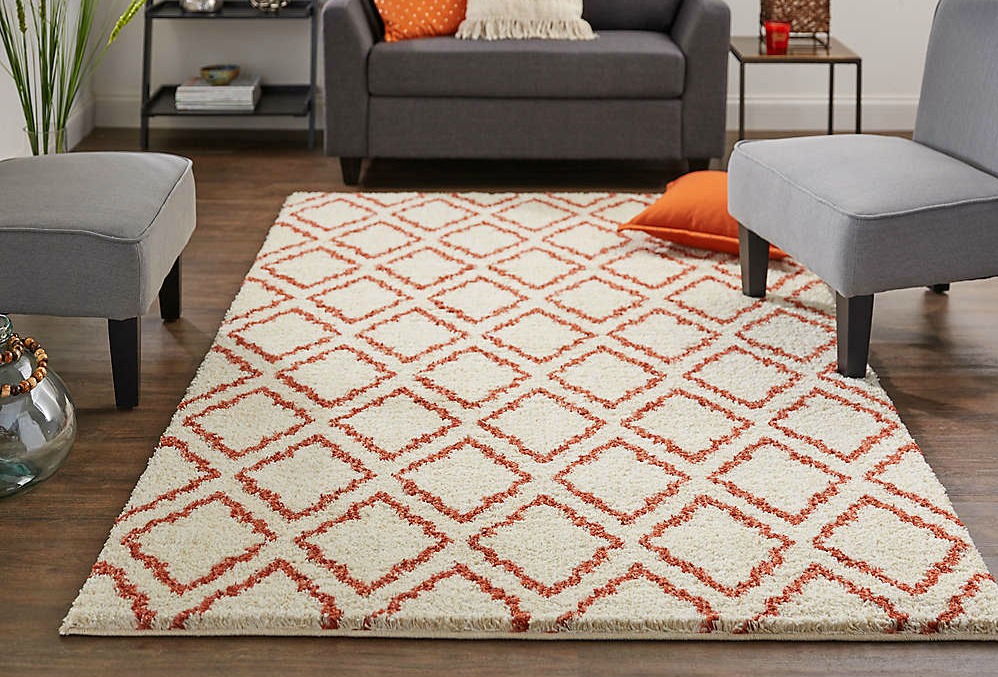 Mohawk Home: Magic Fret
You can shop the entire Mohawk Home Rug Collection, HERE and spruce up your space just in time for Fall and the Holidays. We know your house guests are going to love it!