Whether you've designed, remodeled, kept your kitchen the same or rent your current home, there's always a way to brighten up your kitchen with the best backsplash for your space.
Most backsplashes are a small space, which make this portion of your kitchen not only one of the more simple changes, but also one that is easy on your budget.
Designer tip: If your backsplash space doesn't have a clear ending point, stager the design for an abstract look, add a border of quarter round at the base and top of the backsplash (typically along the top of your counter space and along the underside of your upper cabinet space) along with half round at the sides to create a framed look. You can also finish off a stone or tile pattern with a coordinating texture to finish off the edges.
Design and Style
There's no reason why you need to stick with the standard square tiles as a backsplash. Decorative tiles, stones, DIY wainscoting and different textures (copper plaques or silver panels, for example) offer a new twist on what is typically a boring and overlooked focal point of a home's kitchen. After all, a kitchen is where the family gathers, why not make it reflect your personality and style, too?
Vinyl Decals
Vinyl decals or stenciling can be a great way to stay within a tight budget or to spruce up your space in a rental home. You can go the simple route with wording or images that pertain to a kitchen environment or the more labor-intensive route with a design to create a pattern along your entire backsplash.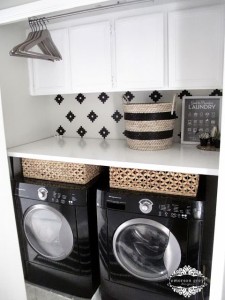 P. S. I know this isn't a kitchen, but I just love this image!
Subway Tiles
Subway tiles are very popular at the moment. Especially in white, black or bright pops of color. This simplistic look can be brought into almost every style of kitchen and is one of the easiest to pair with any design style. This is a great option for a home remodel before listing your home for sale or for an investment property due to its versatility.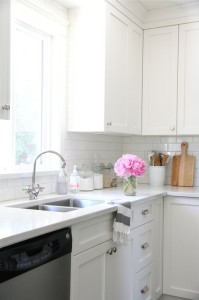 Color
Paint is the fastest and easiest way to create a backsplash effect in a time crunch or as a weekend project to freshen up your kitchen. It's also the best way to create a backsplash that essentially was never in place – for instance, if your kitchen doesn't have cabinets located above your counter space. Besides, who doesn't love a bright green, orange or dramatic white or black wall in a modern- looking kitchen?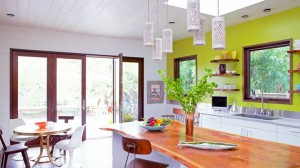 Chalk
We have a very small backsplash wall space between our kitchen cabinets and our existing kitchen counter tiles extend up the first six inches of our backslash space. Removing the low backsplash was not an option, so we painted the remaining space with black chalkboard paint. This is also a great idea for renters as you can easily paint over it. Chalk paint is also a great way to personalize your space and get creative. Some ideas include: writing out your dinner menu, jotting down morning messages for your kids and marking helpful reminders for yourself of spouse.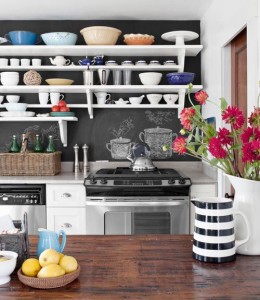 Your backsplash options are as infinite as your style and imagination. From different materials, such as stainless steel, to DIY projects like painting your existing tiles, your kitchen's backsplash can be a point of major style and interest.
What's your backsplash style?
Written by:
Christina Holt, Writer/Teacher- Mommy Loves Coffee