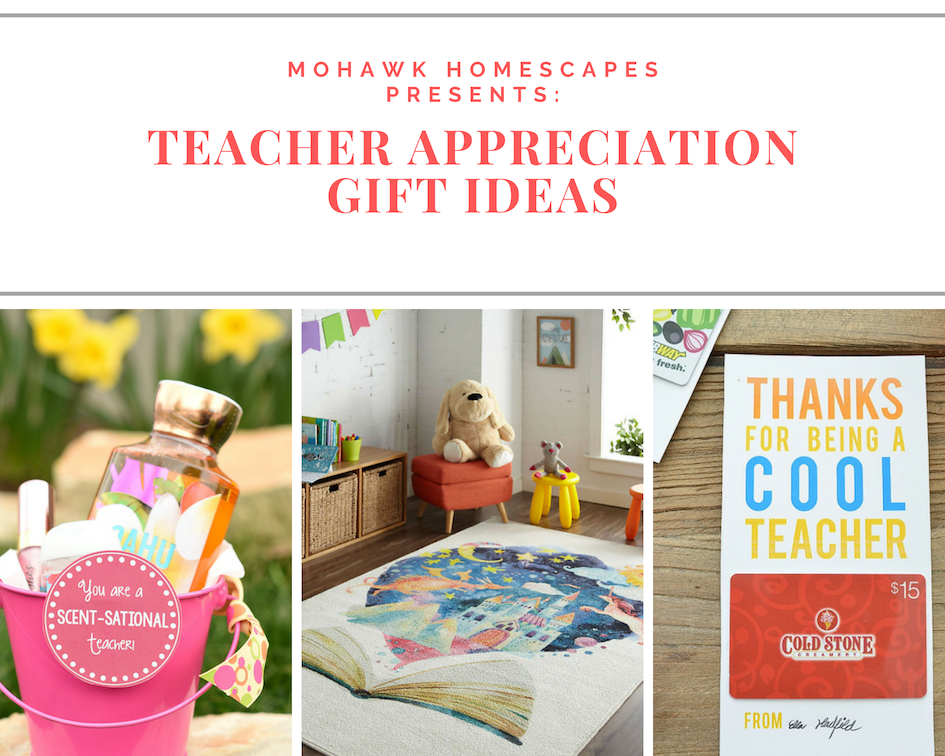 If your children are anything like mine, they are counting down the days until summer! We made a sticker chart since everyone is so excited that the school year is about to come to a close, and each night before bed they get to add another sticker to the chart as we cross off another academic day leading to summer vacation.
I've been spending most of my days thinking about our summer vacation, finalizing camp schedules and planning our annual August trip away. I've also been thinking about the best way to show our appreciation to our children's teachers this year. Did you know that Teacher's Appreciation Week is the first full week of May? That's literally around the corner!
While my eldest daughter and youngest son will both continue with their current teacher next year, my middle daughter is saying goodbye to her first and second grade teacher and it's a big deal! How do you find a gift to thank the woman who helped our daughter with the difficult transition from kindergarten through first grade? She taught her how to read and write, how to do basic math and navigate social situations in a class full of girls! She also was there when I was diagnosed with cancer; she braided my daughter's hair in the morning when chemo left me too weak to wake up in time before the morning school bus, and she dried her tears and listened to her fears when I spent half a month in the hospital undergoing treatment.
Regardless of your personal circumstances, I truly believe that all teachers deserve to be celebrated for guiding our children through another successful school year! So, I've been searching and researching and talking with my kids and wracking my brain trying to come up with the perfect teacher appreciation gift! I've entertained ideas that include movie tickets and gift cards, massage and nail appointments, and of course a nice bottle of wine and some new wine glasses. But my kids also want to take part in whatever we end up giving to their teachers' as a thank you, and their participation will make all of the difference!
For inspiration, here's just a couple of my favorite teacher appreciation gifts that your children's teachers are bound to love: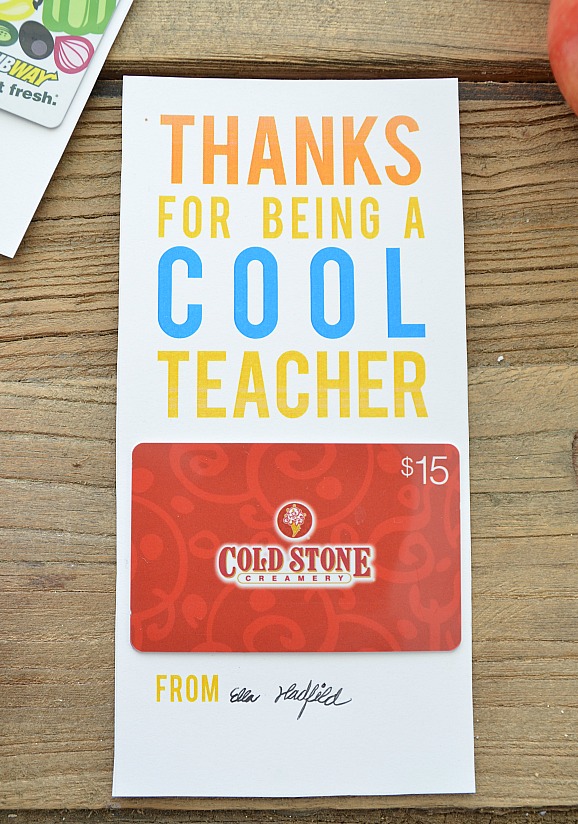 Gift Cards – The teacher in your life will absolutely love a night out with a loved one, on you! Depending on your budget, you can select gift cards for Starbucks, frozen yogurt, even a romantic dinner for two. I love these cute and witty gift cardholders from Jen at TaterTots and Jello. Available as a printable on Skip to My Lou's blog, they make this gift festive and fun!
Sweet Treats – there are so many great baking gift options out there! I loved the "I Donut Know What I Would Learn Without You" treat box by Smart School House ,but this oven mitt sweet teacher appreciation gift takes the cake (haha, pun intended!).
Find a cute oven mitt, fill with your favorite boxed cake mix, a spoon, spatula and any other baking tools and tie it together with this adorable note! Click over to Jen and Jodie's blog for the downloadable tags here: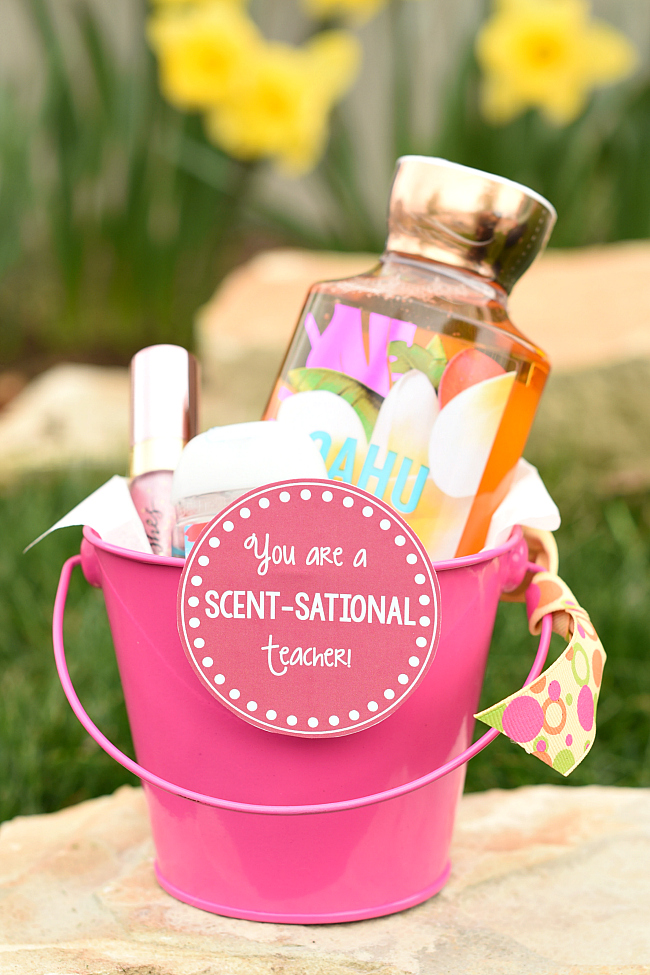 3. Spa Date – Teachers deserve to head into summer break and just pamper themselves. I love helping them get some R&R and this adorable scentsational gift basket idea from Danetta and Amber at Fun-Squared is really perfect. Visit any bath and body shop to load up on spa night supplies and click the link for their cute printable. Throw in a gift certificate for either a massage, facial or mani/pedi and it's a gift the teacher in your life will really appreciate!
4. Growth & Gardening – I love my balcony garden so I'm really partial to this adorable and meaningful teacher appreciation gift idea. If crafting is just not in your wheelhouse (like me), order a beautiful orchid or any other indoor plant/flower and print out this free "Thanks for Helping Me Grow" printable.
5. New Supplies – Teachers go through a ton of school supplies each and every year, and there are so many clever and fun ways to replenish their stock while saying thank you. From "you've been the HIGHLIGHT" of my year box of highlighters to this "school supply cake" by Stephanie Lynn there is a ton of great school supplies gift giving ideas! But for the gift that will really keep on giving, buy your teacher a brand new area rug for her classroom's creative/reading corner. We recommend these four from our prismatic collection: States Map, Tell Me a Story, Be Creative and Submarine Dream.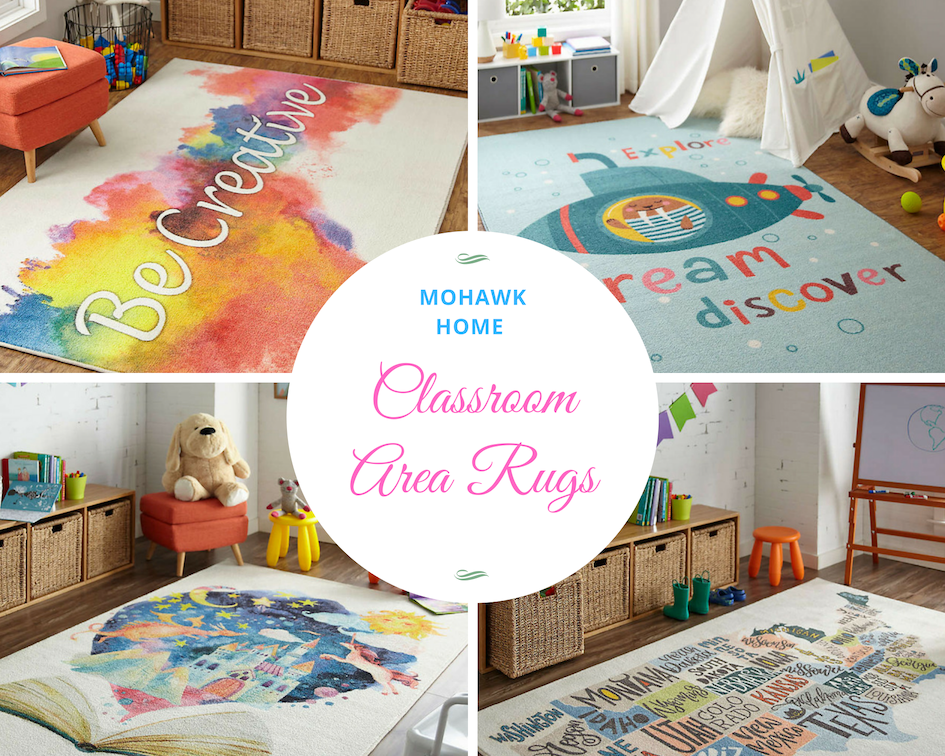 Soft underfoot plus extremely durable and stain resistant and beautiful to boot, students will love to sit around during recess and dream big dreams!
Do you have a creative teacher's appreciate gift idea you want to share? Let us know in the comments! Looking for other great ideas? Click on related posts below.