The Christmas season is in full gear, and I've been spending the last few weeks decking the halls with trees, greens, and other sparkly treasures. This year, I decided to tackle a DIY eucalyptus wreath for an interior French door in need of some style and whimsy. Nothing says "Christmas" quite like the beauty of fresh greenery, and eucalyptus is both affordable and easy to arrange into a stunning holiday wreath.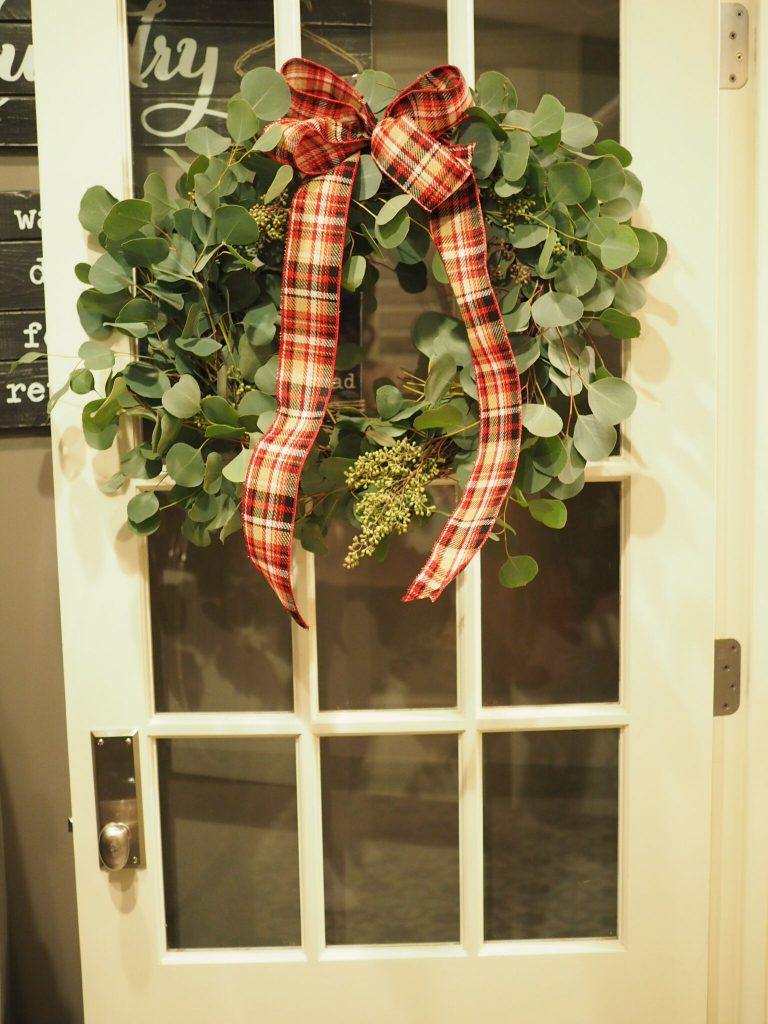 As much as I love doing interior design, DIY craft projects can still be intimidating. The best thing about making a DIY eucalyptus wreath is that there is no wrong way to do it. Set your perfectionism aside and embrace the loose flowing leaves of eucalyptus. Enjoying a glass of wine while making your DIY eucalyptus wreath helps in the process, too!
To start your wreath, gather supplies from our shoppable supply list. You can purchase fresh Silver Dollar Eucalyptus and Seeded Eucalyptus from your local grocery store, Trader Joe's, florist, or even online. I've also noticed lovely faux eucalyptus at places like IKEA. The floral supplies like wire, wire cutters, and grapevine wreath are available at Wal-mart, Hobby Lobby, or Michael's craft stores. To incorporate the wreath into your Christmas décor, consider adding a holiday bow or shatterproof ornaments.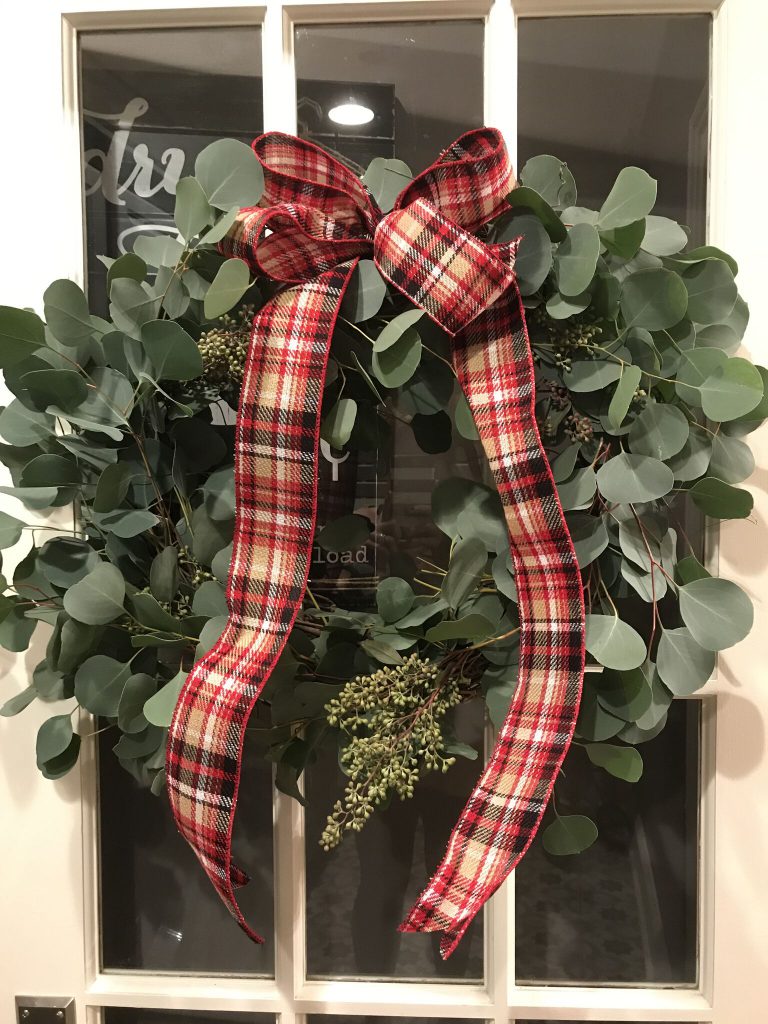 Supplies:
3 bunches of Silver Dollar Eucalyptus
2 bunches of Seeded Eucalyptus
Holiday Ribbon or Accessories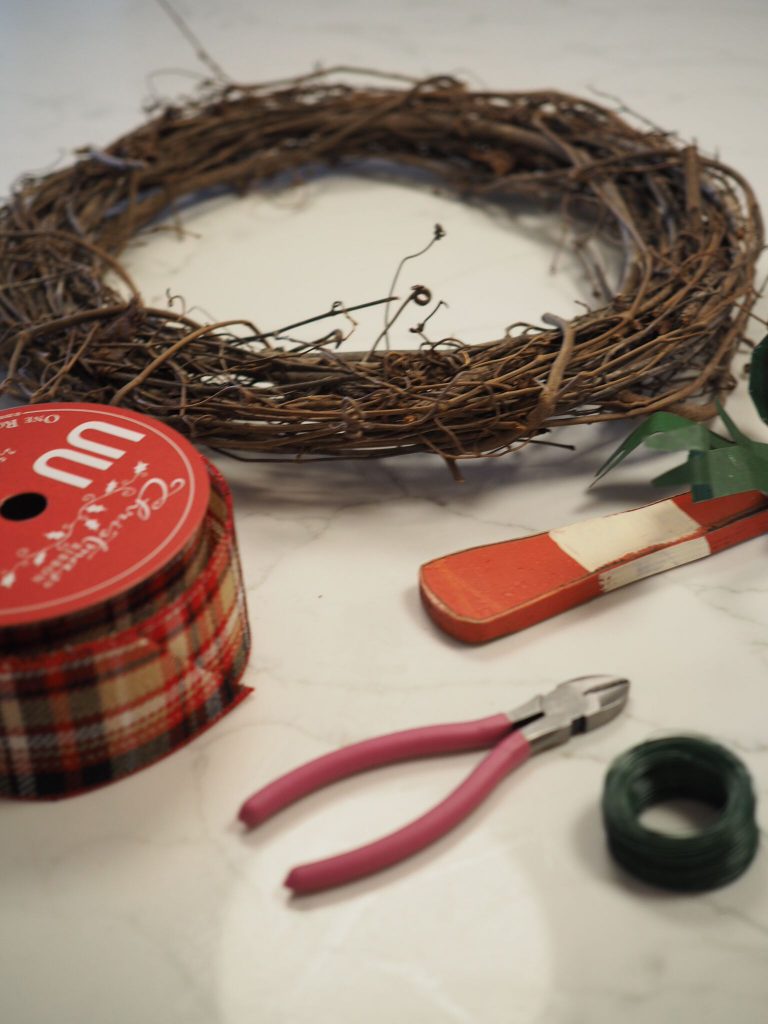 For extra comfort and style while crafting my DIY eucalyptus wreath, I placed Mohawk Home's new Prismatic Santa Stop Here rug in 2'6" x 4'2" in front of my oversized stainless steel sink. The rug added a much-needed punch of Christmas cheer to my kitchen workspace. Made of stain-resistant fibers with a washable latex backing, the rug is the ideal worry-free choice for the hub of your kitchen this holiday season and is quite the deal for $40 from Wal-Mart. Thanks, Santa!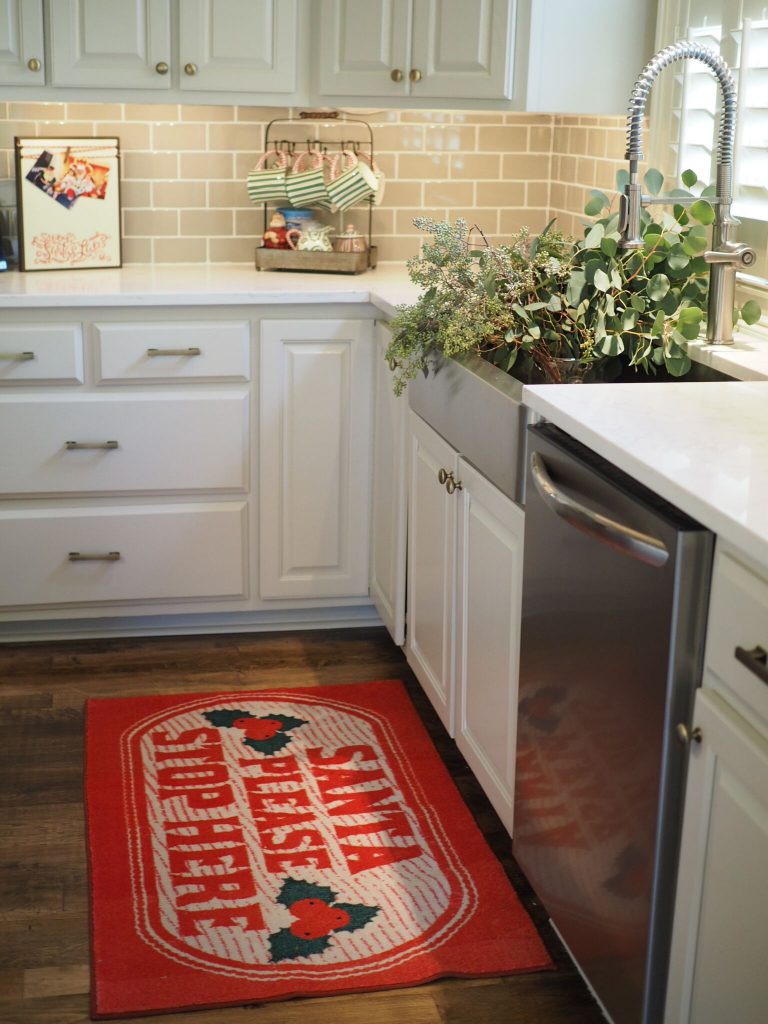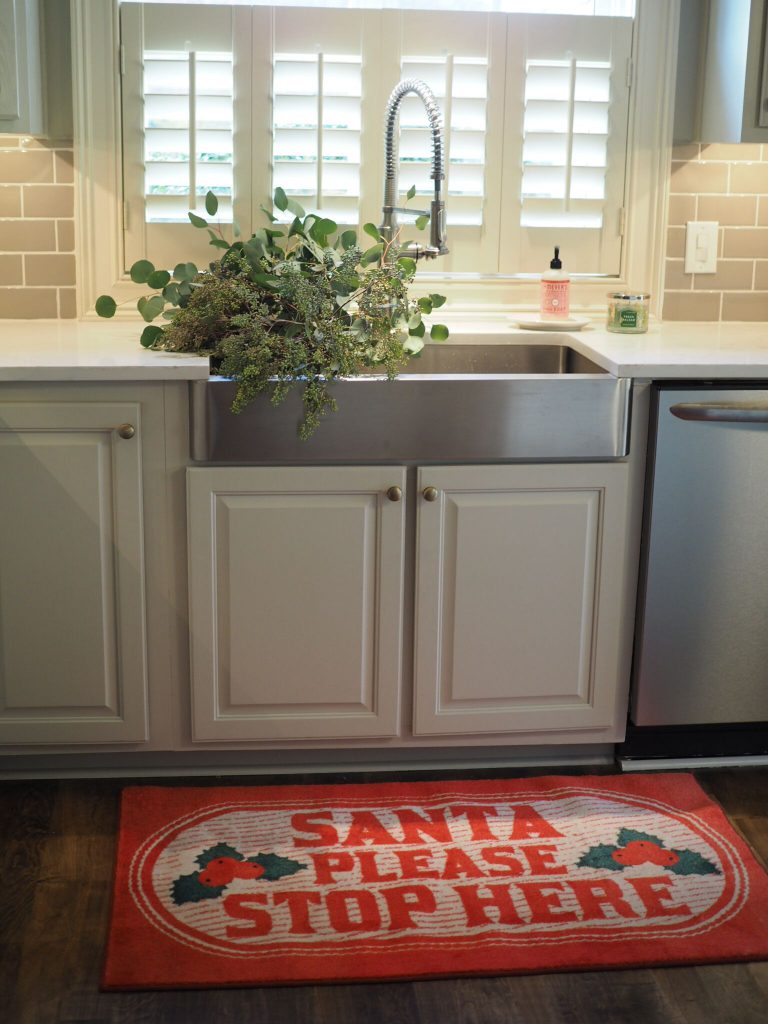 Time to Create
Now that you have all the supplies, it's time to create your wreath! First, trim all of your eucalyptus branches into 5" to 6" pieces and place in fresh water until you're ready to get started. You will start your wreath by first only using the Silver Dollar Eucalyptus since it has fuller pieces. Once ready to start tucking the Silver Dollar Eucalyptus branches into your grapevine wreath, you can try one of two different methods.
One method is to start by tucking the longer, fuller pieces directly into the grapevine wreath until the stems feel secure. Make sure all of the branches are facing the same direction so that your design eventually follows a circular shape. Using this method, you'll tuck the branches directly into the grapevine wreath little by little until the wreath is full. You will then go back and add sprigs of the Seeded Eucalyptus throughout the center of the wreath to add texture. To finish the wreath, use floral wire to secure loose pieces and attach your holiday bow.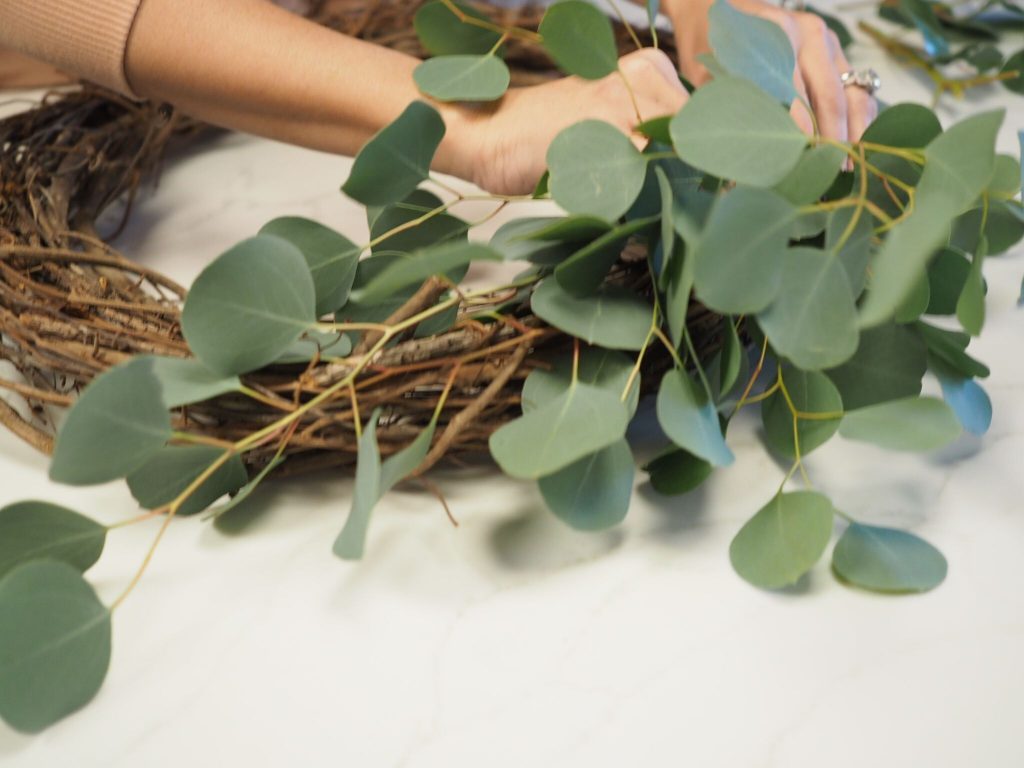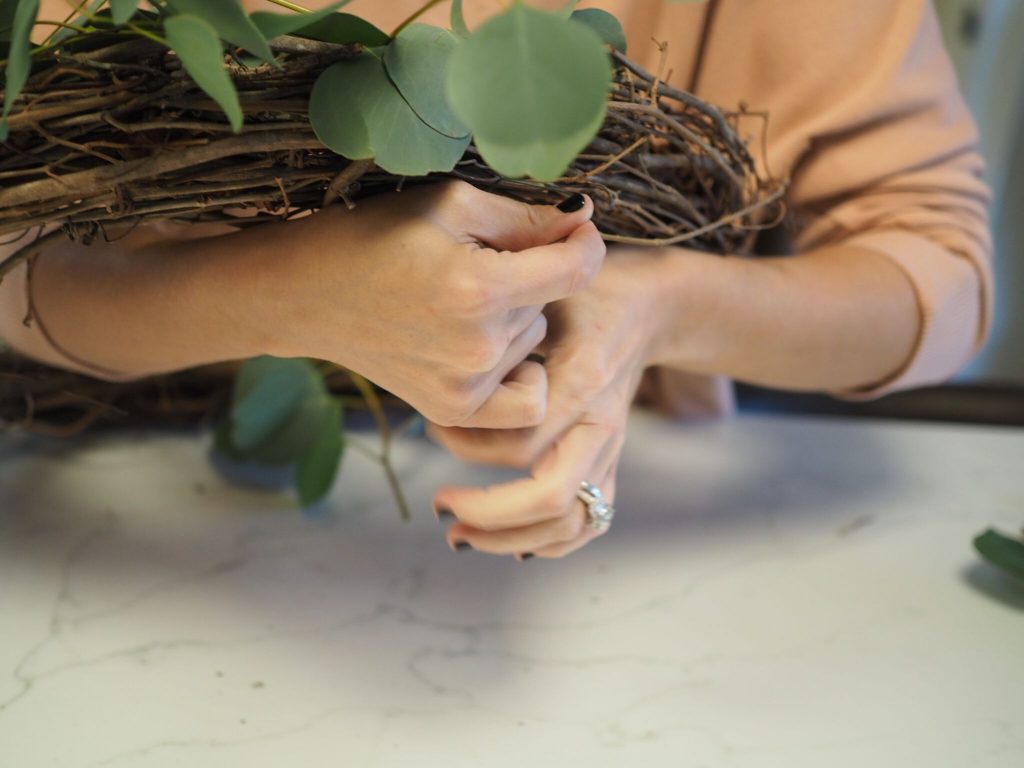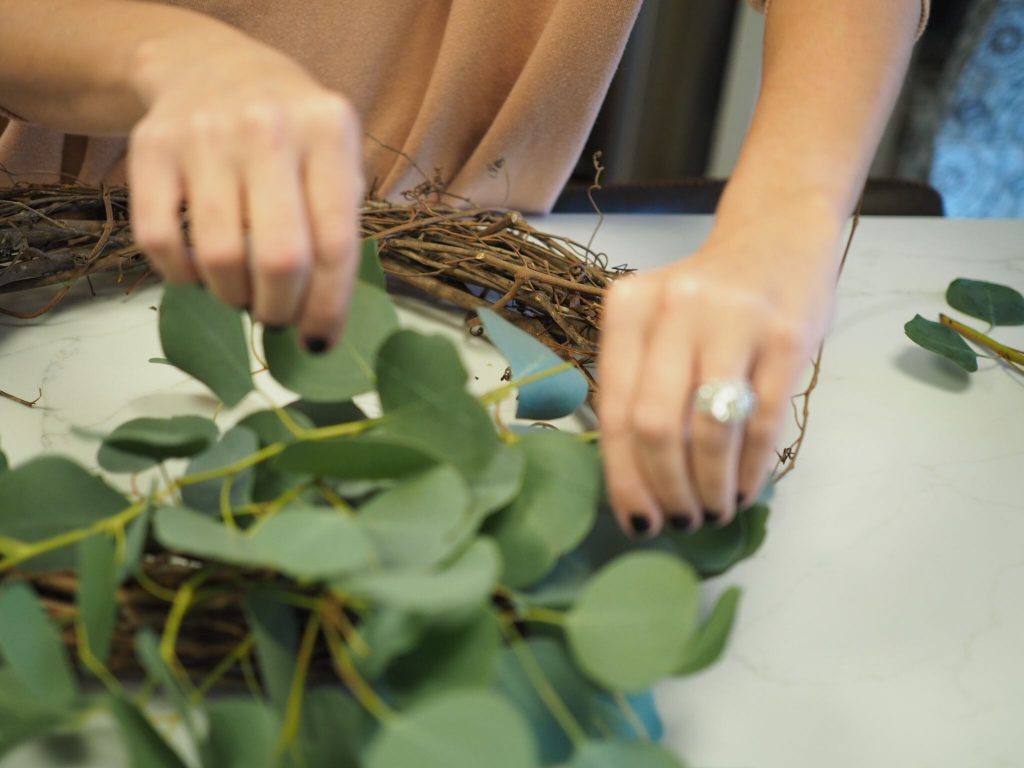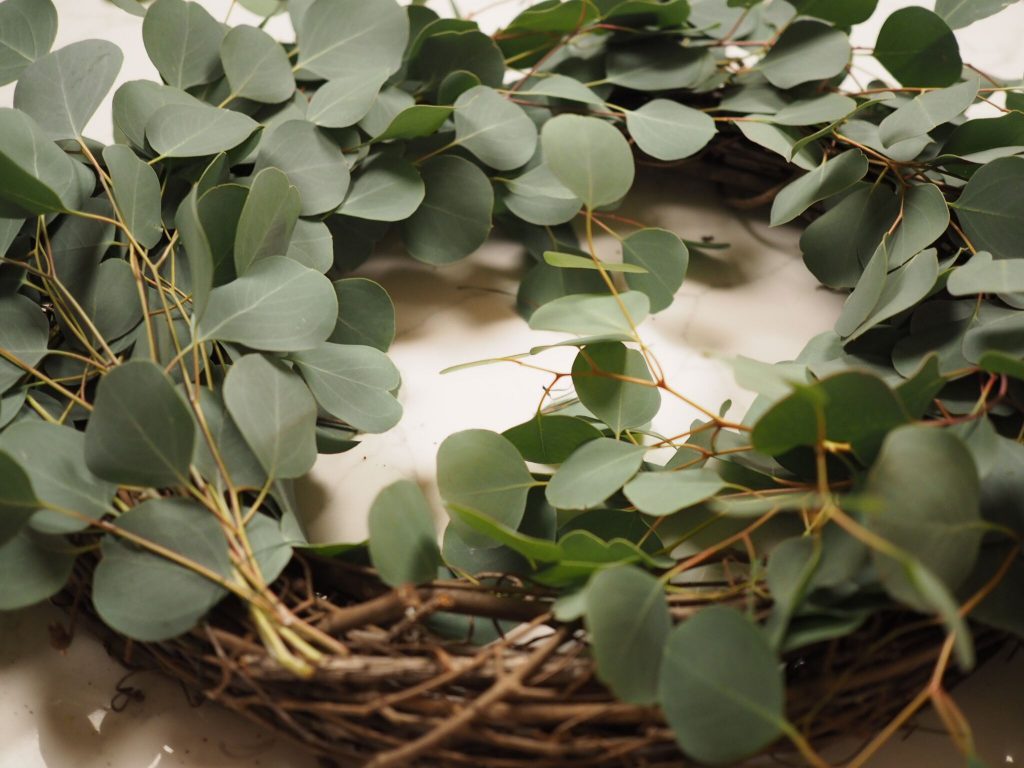 An alternate method, and the method I used, is to create small bunches of eucalyptus first. I secured each small bunch with a piece of floral wire. Once the bunches are finished, place the bunches in a circular pattern around the wreath and go around the wreath with your floral paddle wire to tightly secure all of the bunches. Finally, fill in any gaps with Seeded Eucalyptus. Add holiday bow, hang, and enjoy! I secured my finished wreath to the French door with a wreath holder suction cup.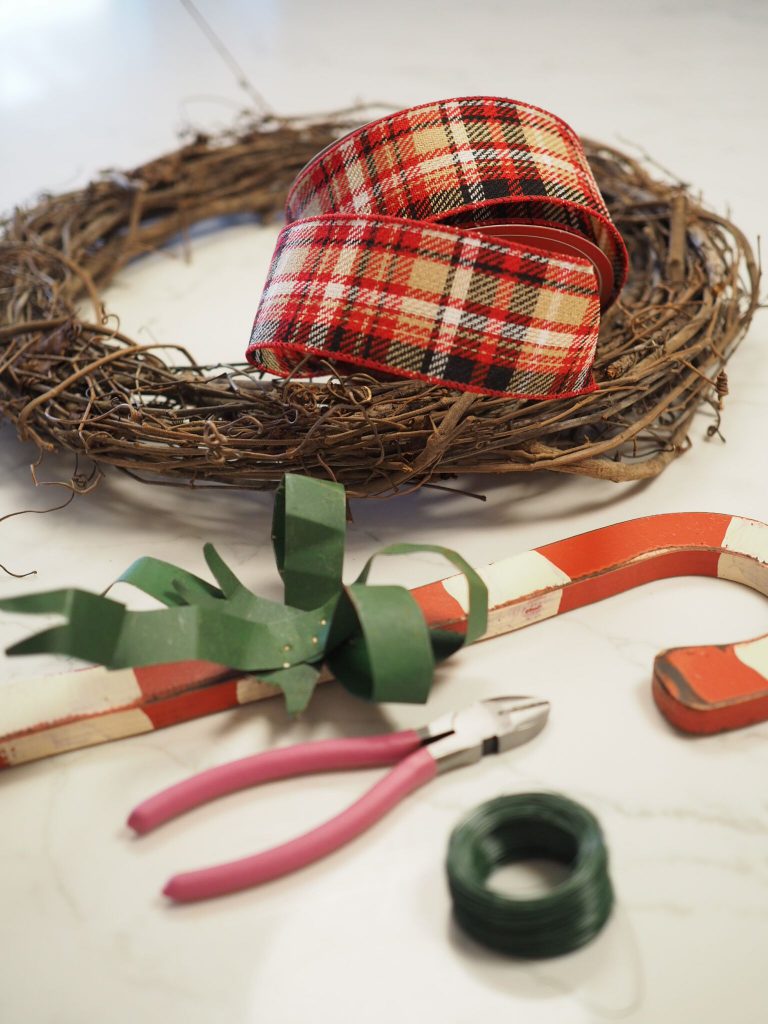 My vision was to create a romantic, whimsical, and loose DIY eucalyptus wreath, and either method will create a gorgeous final product. Your DIY eucalyptus wreath will dry beautifully and easily transition into the New Year.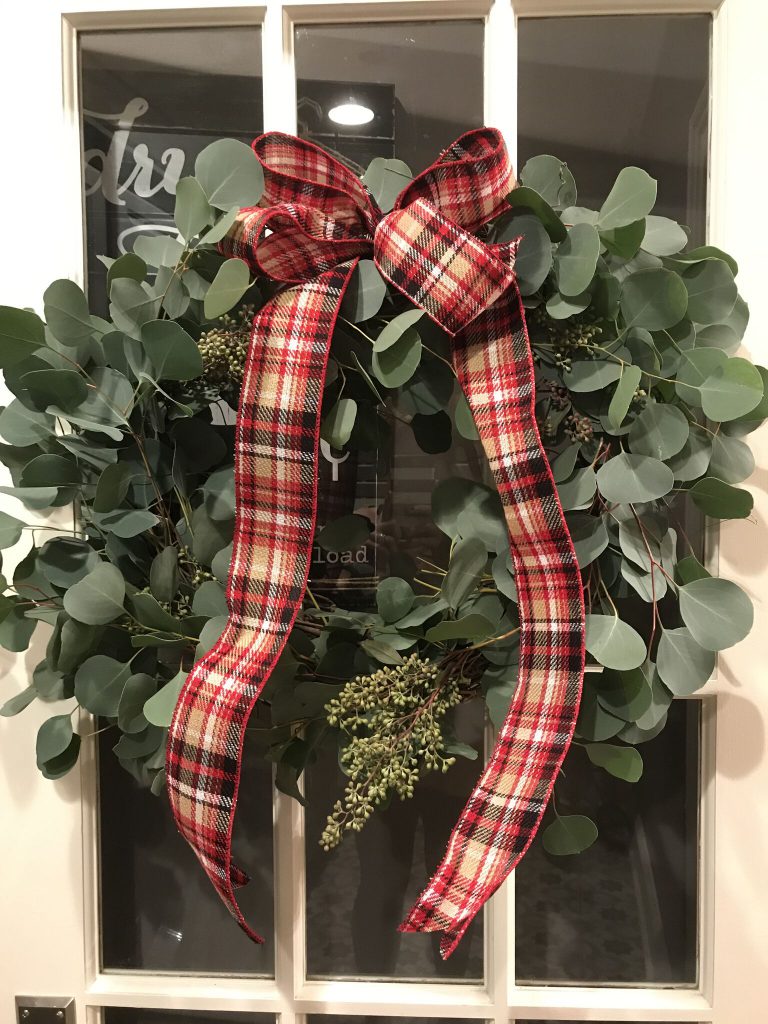 We can't wait to see your DIY eucalyptus wreath, so be sure to share with us on Instagram. Merry Christmas and Happy Holidays from your friends at Mohawk Home!