Living in a sorority house is truly a once in a lifetime experience. There's nothing like getting to be around your friends constantly, sharing a home together and make amazing memories that you can cherish forever!
This summer, I have been busy preparing for my senior year at The University of Tennessee at Chattanooga by commuting to Mohawk Home in Sugar Valley, Georgia, where I've been working as an intern. Not only have I learned about the world of e-commerce and social media, but I've gained a lot of knowledge about area rugs, too! When my supervisor offered some new area rugs for the Delta Zeta sorority house where I live, it was a no-brainer for me and my sisters.* Having a fresh new look in all of our bedrooms and shared spaces is a great way to kick off a new school year!
Each pair of roommates already has a color scheme in their bedroom, including coordinated bedding, pillows, and accessories. This helps the room to feel more like a home, which is important for any college student experiencing living on their own for the first time. A rug is a really great way to tie all of the colors and decor together! It also takes the chill off of the cold hardwood floor in the morning, which is a nice perk!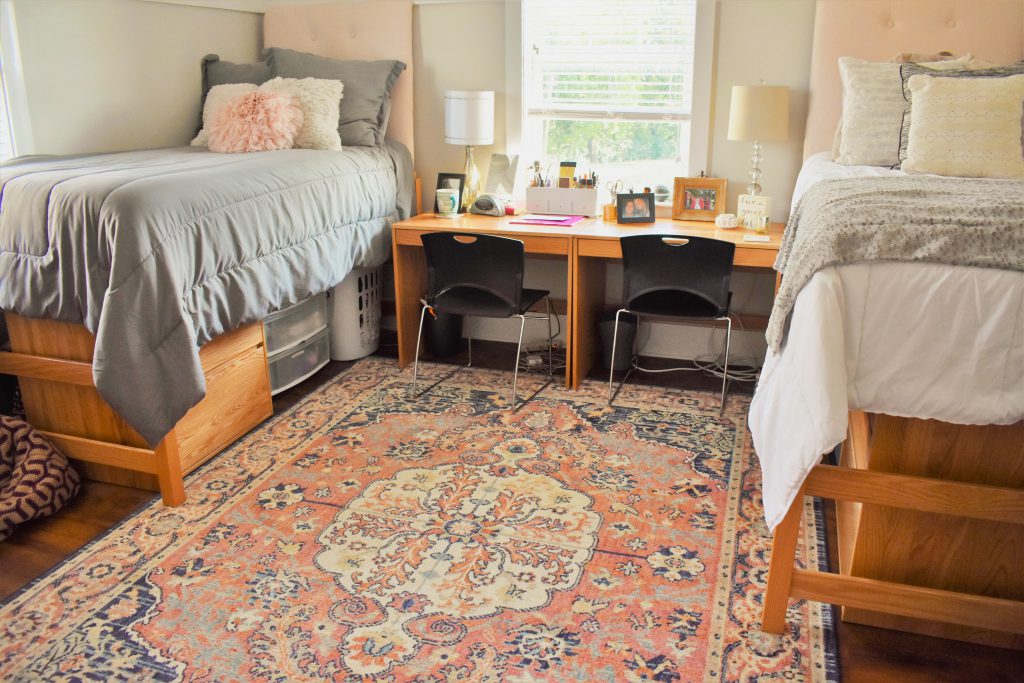 Shop: Mohawk Home Heirloom Thame Area Rug
The Thame area rug from Mohawk Home's Heirloom collection perfectly tied together the gray and millennial pink that my sisters used in their bedding, plus, it added fun pops of navy and soft denim blue to the scheme. (P.S. How cute are those tufted headboards?) This rug was also unique in that it has a soft but thin pile with a hand-knotted look, so it can literally fold up like a true handmade rug would. (Moving day will be much easier!) If you're looking for something heavy and plush, this isn't the best rug for you, but we absolutely love it in this space! It really adds a vintage, boho vibe. We loved it so much that we also chose Tamur rug from Heirloom in another bedroom.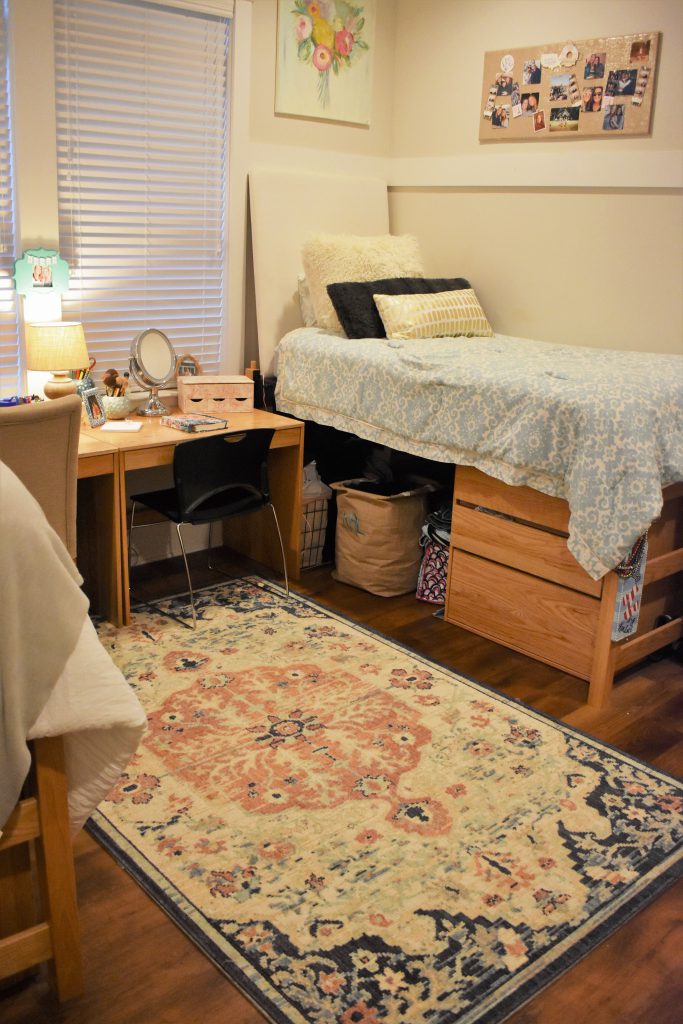 Shop: Mohawk Home Heirloom Tamur Area Rug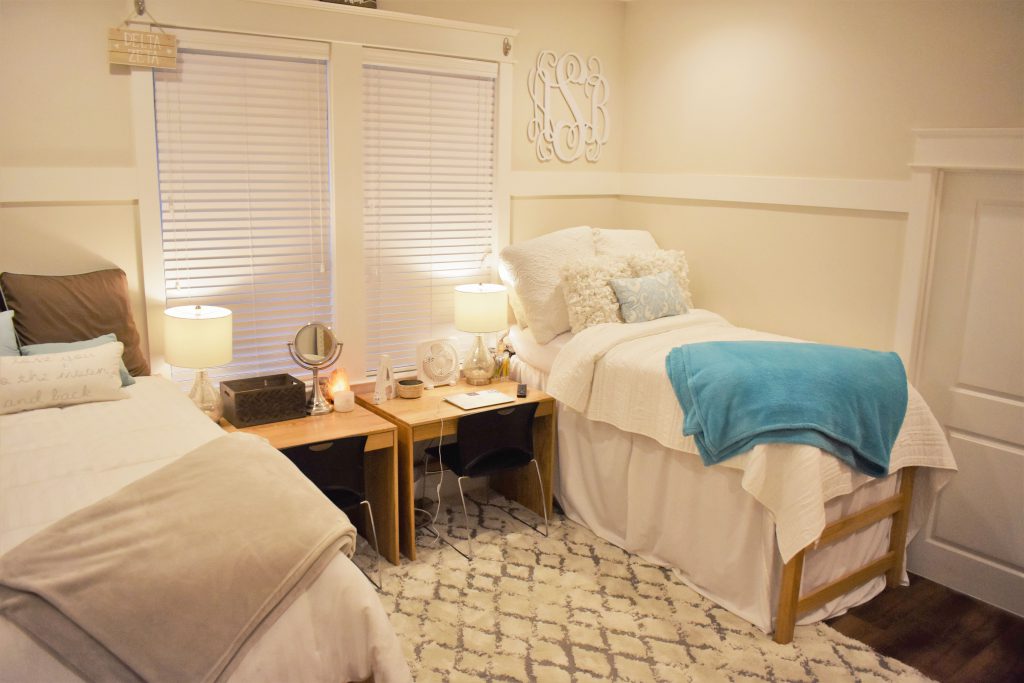 Shop: Mohawk Carlsbad Area Rug
Much like the dorms, the bedrooms in our sorority house are small, so it's important to make good use of the space. Lofted beds provide us with extra room for storage so we can stay organized and keep any items that aren't in use neatly tucked away.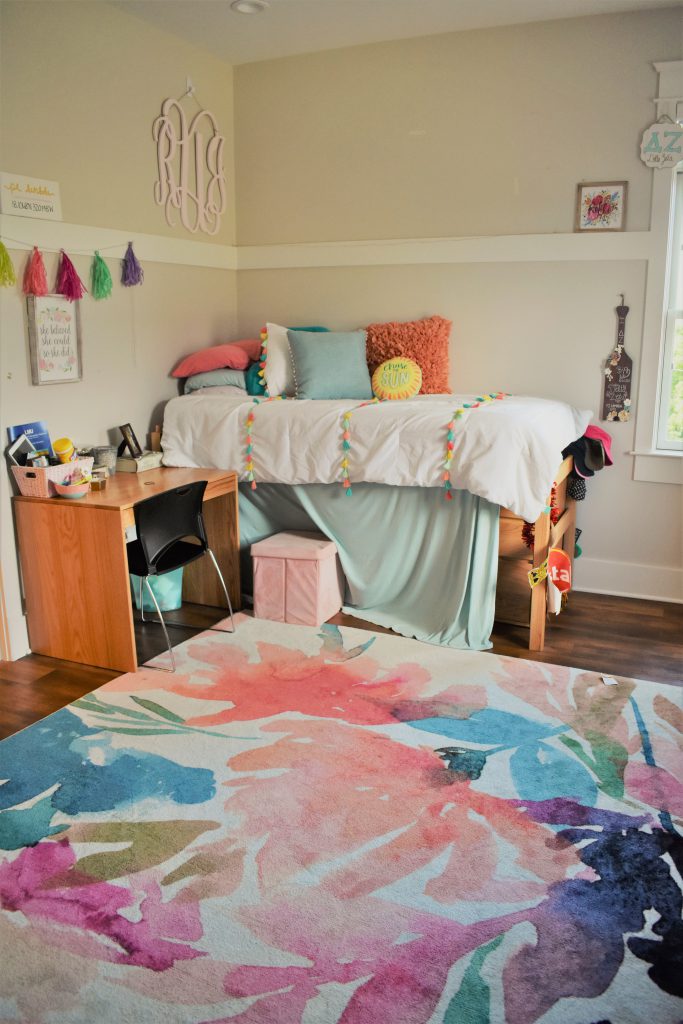 Shop: Prismatic Embry Area Rug
Even in a small space, an area rug is such a fun way to show some personality. The Embry rug pictured above ties into the corals, pinks, and blues of the existing decor. The floral pattern has a bit of a watercolor effect that makes it look dreamy! It's super soft, too!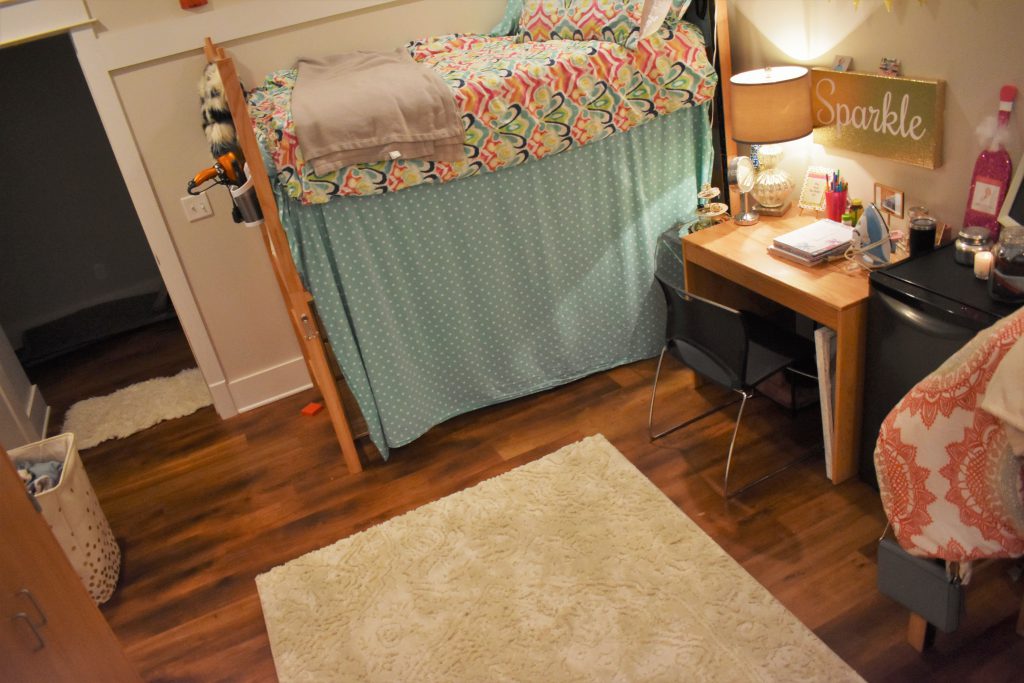 Shop: Mohawk Home Francesca Rug
The Francesca area rug is a best-seller at Mohawk and it's not hard to see why. It has a beautifully carved high-low pile and dainty detailing that makes it look feminine and so unique! After eyeing it all summer and reading rave reviews from Mohawk customers, it was a perfect pick for my bedroom!
This mini-makeover was a such a fun way to end an awesome summer! I'm excited for Rush to begin next week and for the year ahead. I know I'll be in my cap and gown sooner than I think and on to life's next chapter. Until then, I'll be making lots of memories here in the house and soaking up all of the moments spent with my dearest friends.
-Caroline
*I am an intern at Mohawk Home. Delta Zeta was provided with area rugs in exchange for feedback and product reviews. All opinions are my own.