With the new school year fast approaching, a lot of my friends are starting to think about how to decorate for the year! Some of my girlfriends have single rooms while others will have a few new roomies, but dorm room décor is definitely one of the most exciting parts of the school year! Going into a blank room can be a bit daunting, so today I am sharing some of my favorite must haves to make your dorm room a little cozier while mixing in some of today's hottest dorm trend.
Loft Beds
If you and your roommates loft your beds, you can add in a comfy love seat or futon along with a side table to give you more storage space. Putting your desks on the other side of the room will create a clear divide between hangout time and crunch time. To give a little more character to the room, add throw pillows that have some texture and details. I love the tassels on this throw pillow from Target!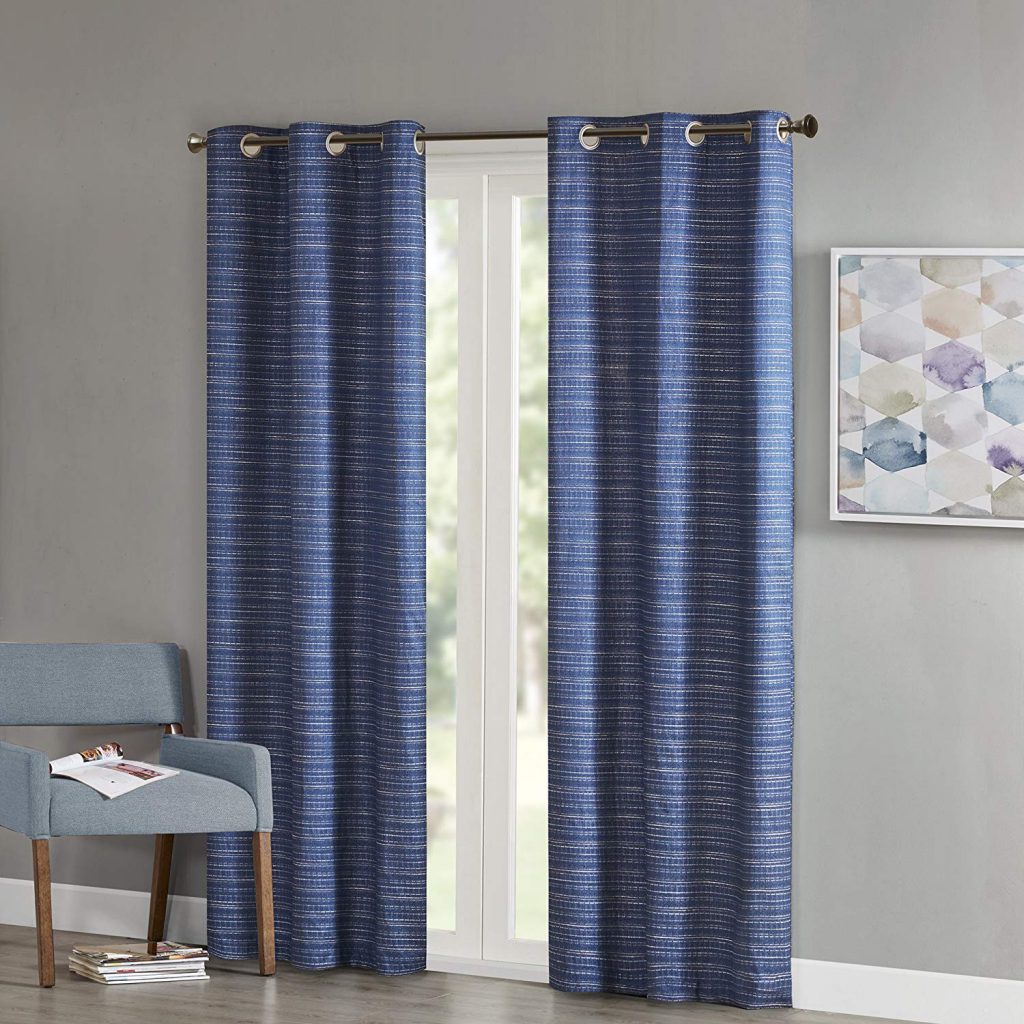 Curtains
I always try and warm up the room by adding in a little bit of color! An easy way to accomplish this without actually painting the walls – which is not allowed at most on-campus dorm rooms – is by hanging curtains in an array of colors and patterns. You can try adding a light weight material with a muted color to not overpower the room if a more neutral tone is your thing. Keeping the colors light and airy will actually help make the room look bigger. Don't just focus on curtains for the windows, hang curtains if your dorm closet has no doors! Note: For most dorm rooms, tension rods are the easiest way to hang curtains.
Appliances
College life is filled with late night study sessions and often rushed morning, so both a mini fridge and a microwave are essential dorm room appliances. Not only will you enjoy the flexibility of eating in your room, but chances are you'll be the most popular kid on campus once your hallmates find out you have a microwave and fridge! To store dry foods, I love using metal baskets and bins. From gold to black these are trendy and functional pieces to have.
Area Rugs
Area rugs are a must have for your dorm room! Accent and area rugs can bring warmth to not only the room, but also your feet when you hop out of bed to head to that 8am class on a Monday morning in the winter! If you like patterned area rugs, choose this cute diamond pattern rug from Mohawk Home or go a little more bold with a tribal pattern rug like their Crowley Printed Area Rug.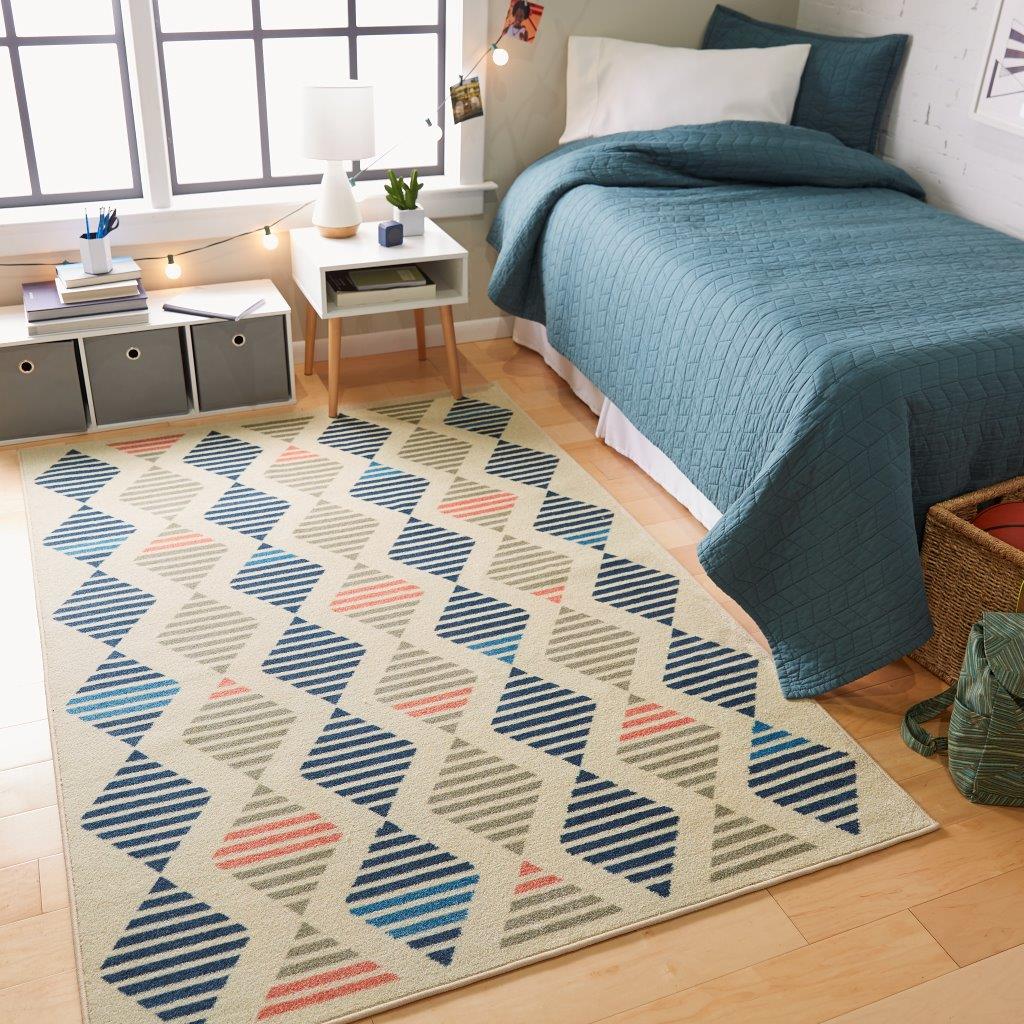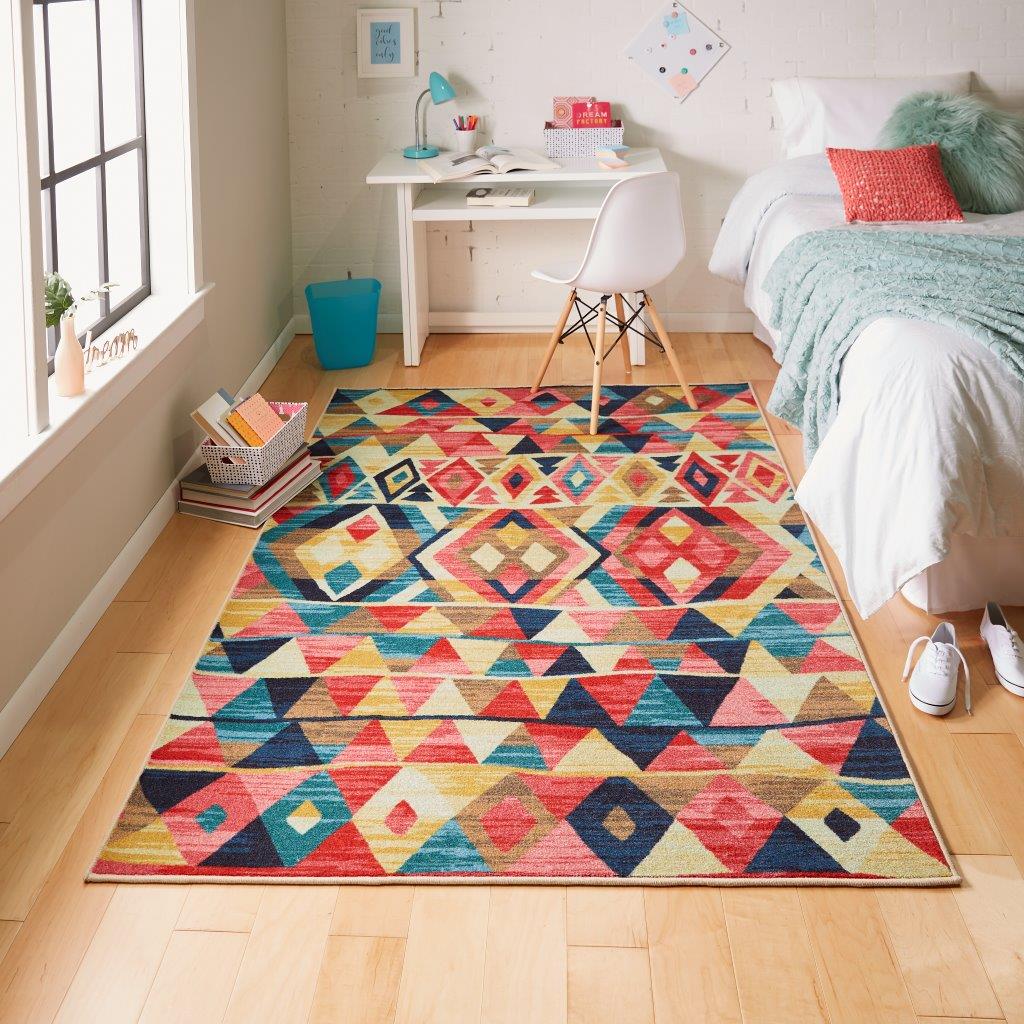 For a more modern feel, a simple neutral area rug is perfect! If you and your new roommate have different styles, try Mohawk Home's Avon Park printed area rug in Gray, which will blend seamlessly with the décor without overpowering the other colors in the room. These area rugs aren't just soft and comfy, but also durable and stain resistant, so you never have to worry that spilled mac and cheese will leave a stain!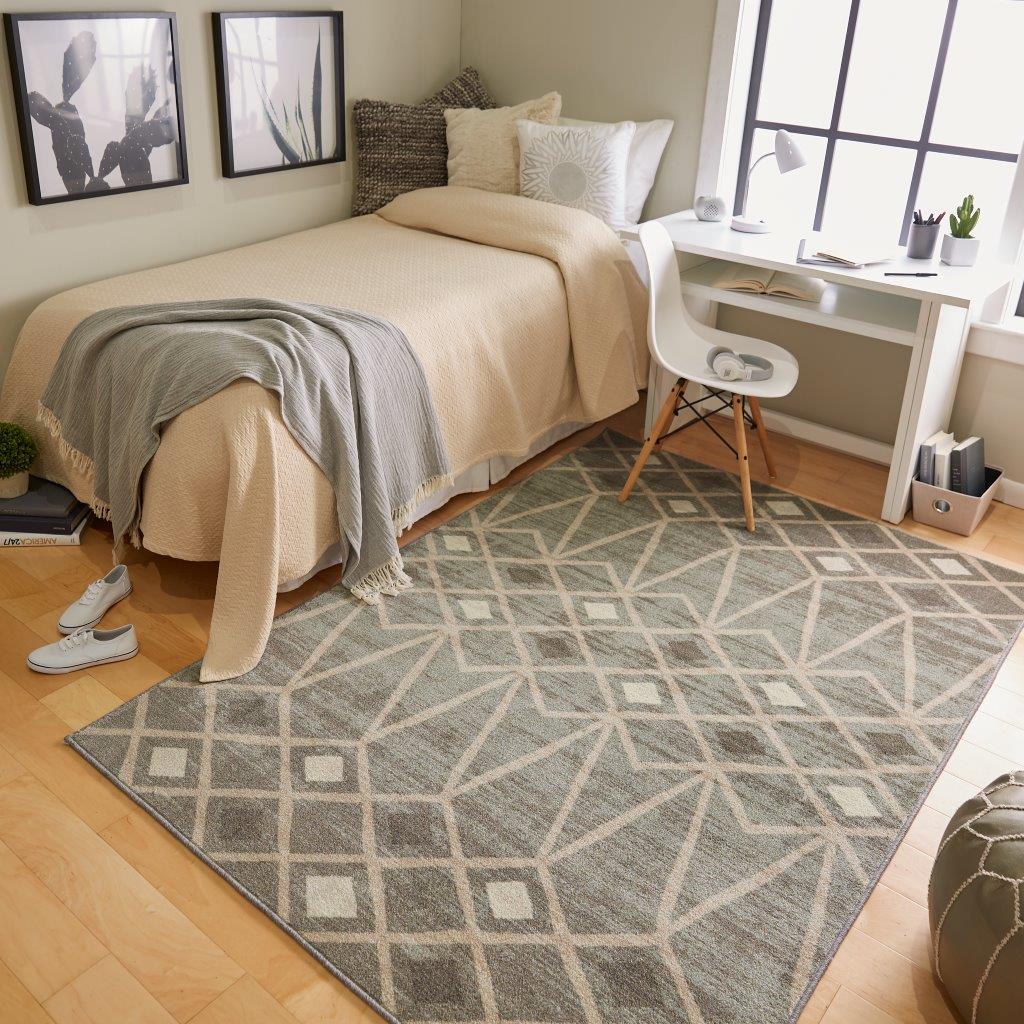 Plants
One of my favorite trends in dorm room décor are hanging plants. For my best friend's dorm room, I suggested that we hang a couple of plants by her bed but you could also easily hang plants next to your closet or in any small space. Plants bring a little more life into the room while improving the air quality, so it's a win-win!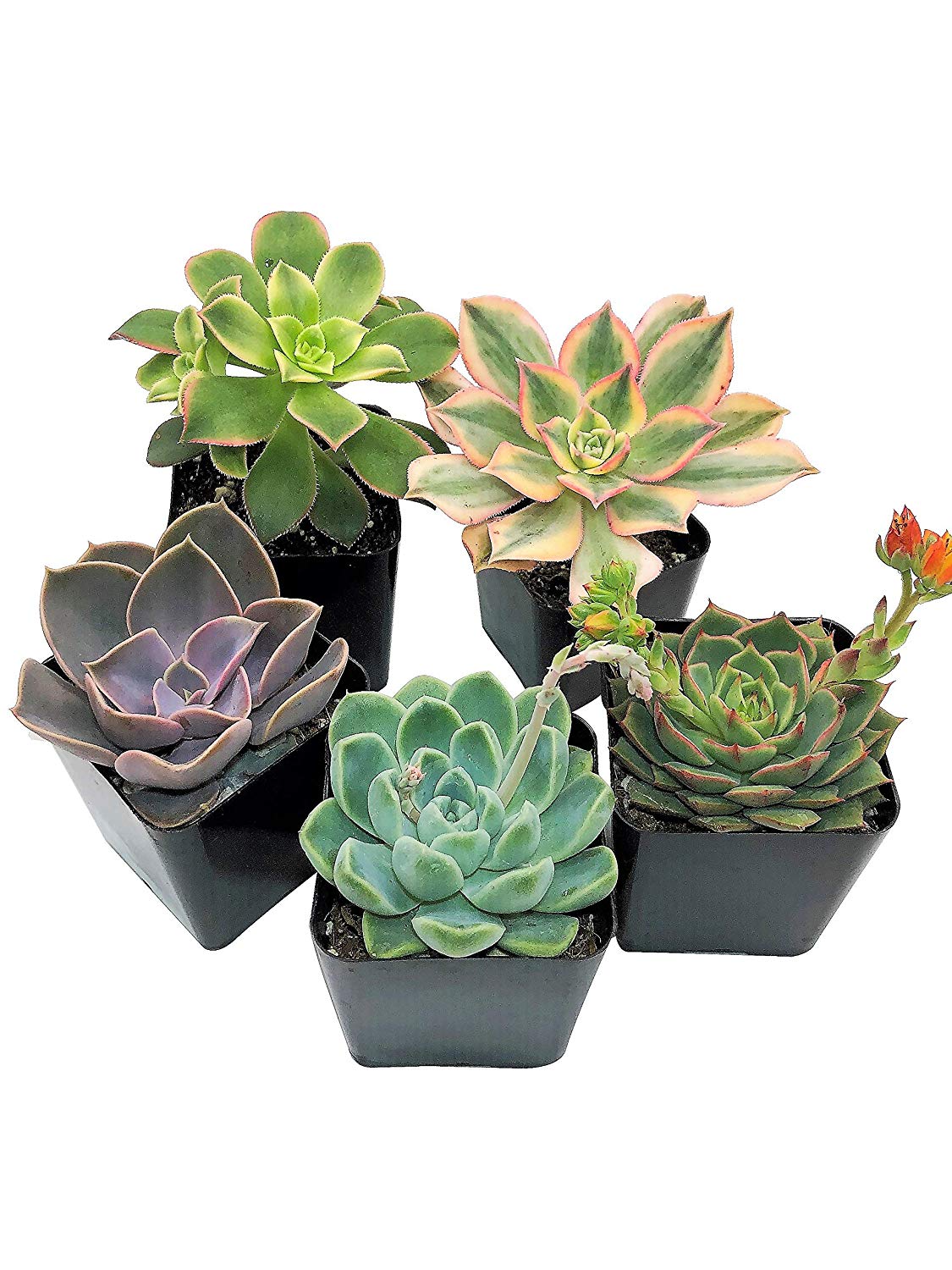 Small succulents are also great for your desk or window sill. If your college won't allow live plants in the room, don't worry, I've got you covered! These artificial succulent hanging terrariums are so stylish and pretty!
Wall Decor
I have yet to find a college that allows paint on the walls, but that doesn't mean you have to stare at boring walls every semester! Having a picture collage over your bed with a string of fairy lights is a super cute way to show off those memories from home! It's also a great conversation starter when you are meeting other hallmates during the first few weeks! Another great option is to add stick-on-wallpaper if it's allowed in your dorm; it is one of the hottest trends for good reason. This can transform any section of your room in no time!
I love the modern look and feel of this zigzag design while black and white stripes are always a classic look!
College is an exciting time that is filled with wonderful memories! I cannot wait to see how you decorate your dorm room and turn your spaces into your new home away from home! Tag us @Mohawkhome on Instagram and use #mohawkhome for the chance to be featured! Share your favorite dorm room trends in the comments below.