Back to school and the flood of papers and art projects has already begun!  Your child will be bringing home some masterpieces this year and it's time to rethink using the refrigerator as your only means of display.
Creating a gallery space for your little Picasso's works can be quite simple.  Start by choosing a corner or section of wall to designate as art display — it can be in a mud room, kitchen, playroom, or stairwell.  Children love it when their art is something they walk by each day.   And if you choose a flexible display method, this "gallery" can have regularly changing exhibits!
Put some empty frames to work.
Choose one big one, add some wire and small clips if you're limited in your wall space.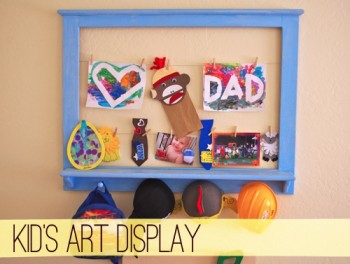 Or hang a few frames with clips if you have the space.  If your collection of frames is mismatched simply paint them all the same color for a more cohesive group.  Thrift stores are a great source of affordable frames.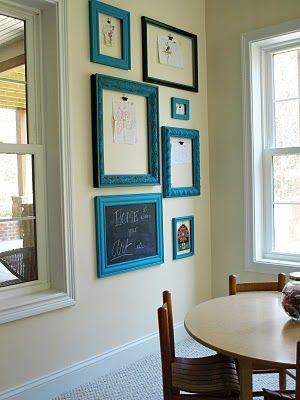 If wire and clips aren't your thing, consider just hanging the frames and attaching the art work inside the frame but directly to the wall with decorative washi tape.
Wall decals are the rage now and are the perfect solution if you prefer to not put holes in your walls.  Use decal frames to create an easily removable gallery space on the back of a door like this…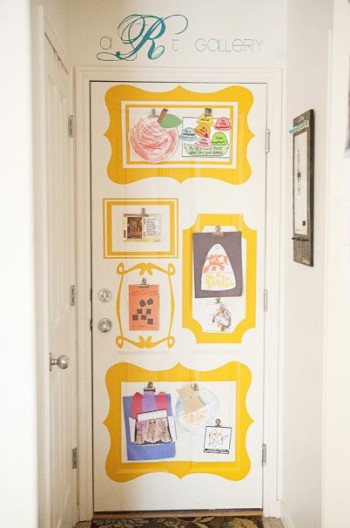 String it up! 
Use a simple length of twine and clips to string your child's art across a wall.   Many home decor and improvement stores also carry wire and clip sets for art and photo display.  Switching out the art is as easy as unclipping and clipping!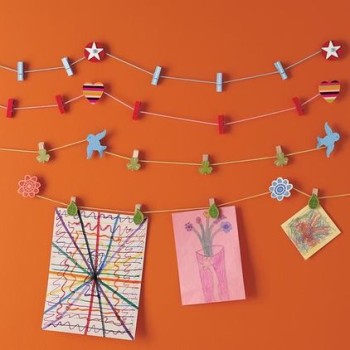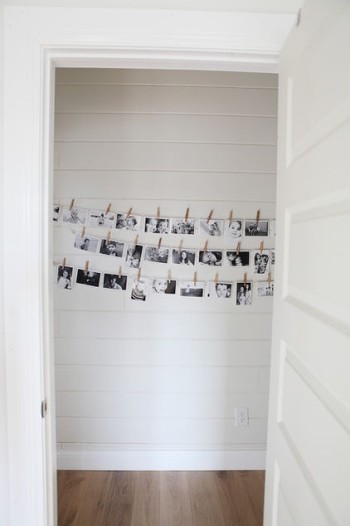 Clip it on! 
Consider repurposing ordinary household items, such as pants hangers or clipboards to created an orderly display.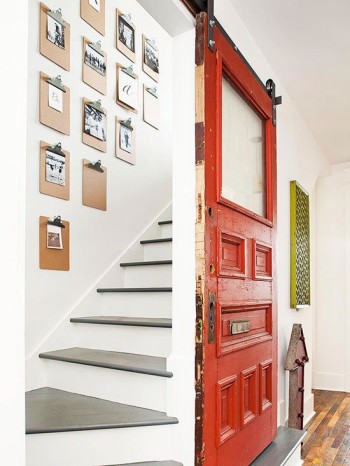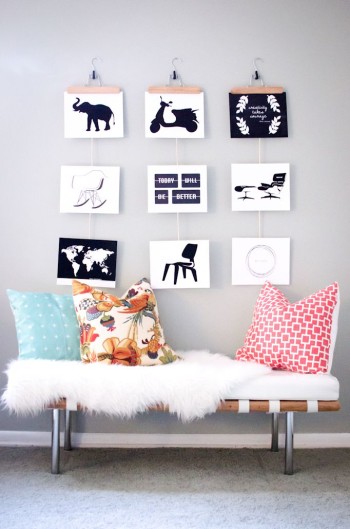 A drapery rod and clips serves the same purpose.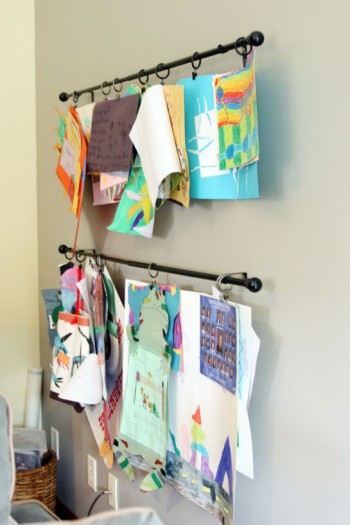 Again, these display methods make rotating the art work super simple and allow for multiple pieces to be showcased at once.    Of course, you could always choose one masterpiece instead…
Showcase one at a time. 
Maybe your child created one special piece that you want to elevate to masterpiece status.  Have a designated frame in your bedroom or their bathroom to display that one special work of art.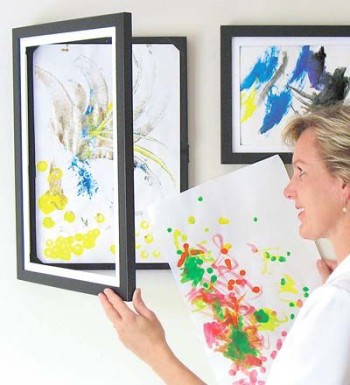 Preserve them in collage form.  
Now that my own children are long past the days of bringing home artwork, I can't bear to part with some of their masterpieces!   I'm currently working on a large collage for each of them of some of our favorite creations.
We plan to hang them in our game room downstairs, but I wouldn't be surprised if they want them for their own homes someday!
Enjoy celebrating your child's creativity!
Find more home decor ideas and inspiration on my blog, Decor & More.